Tata Volunteering Week 4

Update No. 1
Eight Tata companies come together to launch TVW4
Pune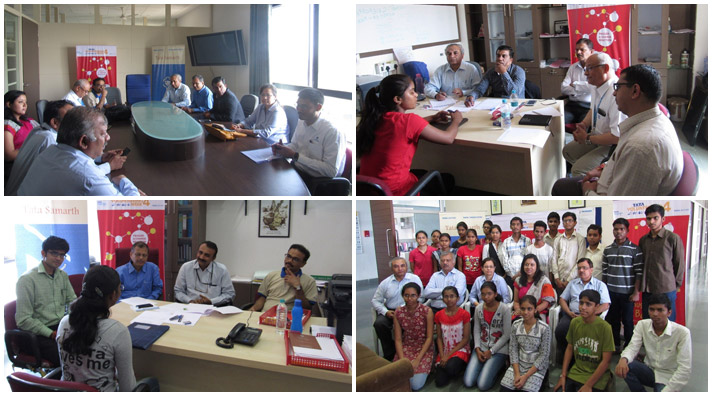 Senior Leaders from 8 Tata Group of Companies (Tata Motors, Tata Toyo, Tata Consultancy Services, Tata Communications, Tata Business Support Services, Tata Technologies, Tata Hendrickson and Indian Hotels Company) walked the talk, reinstating the philosophy of "business with a heart" by volunteering half a day to conduct a panel interview for deserving engineering students in Tata Samarth Scholarship Programme at the launch of TVW4 in Pune.
This programme awards an annual scholarship of INR 25,000/- for every student, along with mentoring by senior leaders, life skill workshops and projects at companies hosted by Tata Motors and Tata Communications. As a part of the Tata Affirmative Action Programme, this project supports students from marginalized sections of the society - Scheduled Caste and Scheduled Tribes.
The selected students represent three colleges - College Of Engineering, Pune (COEP) Vishwkarma Institute of Technology (VIT) and Government Polytechnic College (GPP).
Tata Motors
Mumbai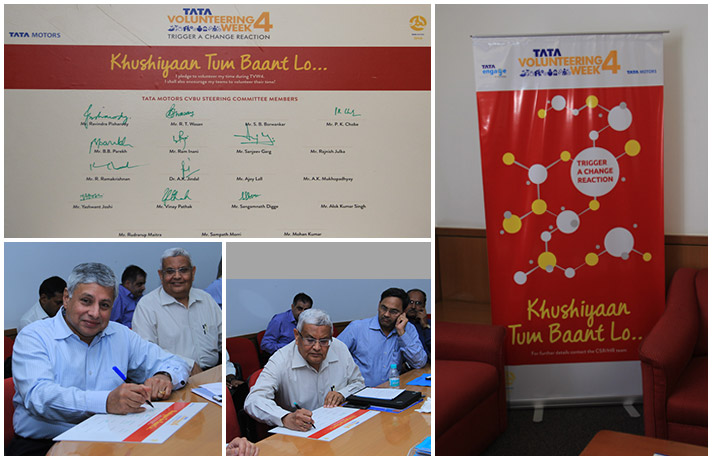 Tata Motors launched the TVW4 at Bombay House. Referring to Chairman's Message, the Executive Director (Commercial Vehicles) pledged to volunteer his time during TVW4 along with his colleagues. The Sr. Vice President (Head Manufacturing Operations CVBU) and the Executive Director (Commercial Vehicles) encouraged the company employees across its manufacturing locations and corporate, commercial offices to volunteer their time for social causes, along-with family members. Dealers will also be encouraged to participate in the company's volunteering activities and supported in initiating volunteering activities on their own during TVW4.
Tata Power
Mundra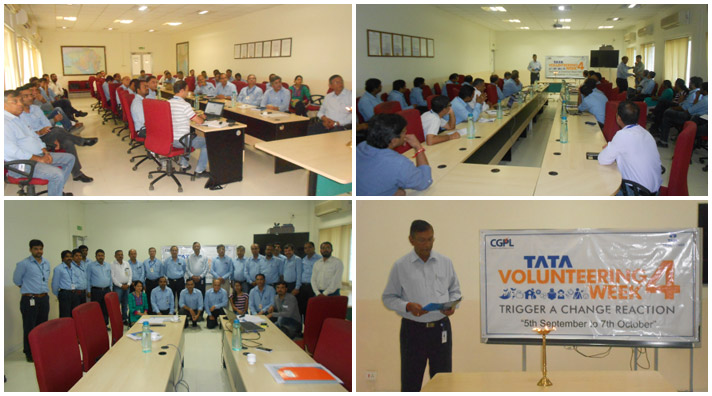 Coastal Gujarat Power Limited (Tata Power), Mundra launched the Tata Volunteering Week 4 on 5th September, 2015. The opening ceremony was inaugurated by the ED & CEO and attended by all senior leaders. He started by reading the Group Chairman's message and addressing all CGPL employees on importance of volunteering for social causes. In his speech he also applauded all the esteemed volunteers of CGPL (Tata Power) who have always participated in all the social development programs/ activities wholeheartedly. To commemorate the launch, a lamp was lit by the ED & CEO along with Higher Level Officials of CGPL (Tata Power). They collectively took the pledge to give their time for a social cause. Teaser Movie was shown and all employees in CGPL have pledged their time to volunteer for noble causes.
A discussion on how CGPL can increase the number volunteers and volunteering hours took place. An internal award for the best volunteers has also been institutionalized at CGPL (Tata Power). The program details and approach of this year's TVW4 has also been disseminated in the CGPL (Tata Power) township so that this time, we can get the maximum participation of the family members.
Tata Steel
Jamshedpur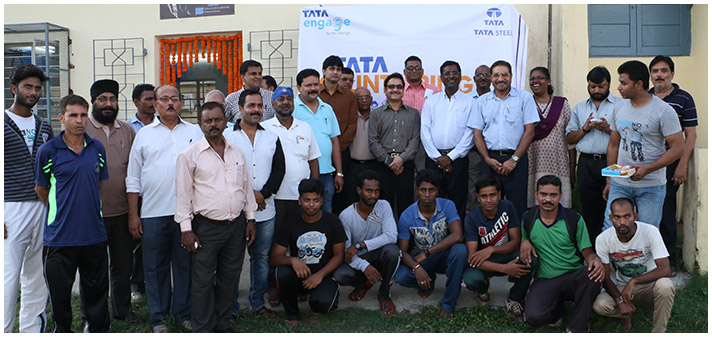 Inauguration of a Community Gymnasium: On September 5, 2015, Urban Services department of Tata Steel inaugurated the revamped gymnasium at R. D. Bhatta Community Centre. Mr. Charles Borromeo, Head Sports graced the occasion as the Chief Guest along with 22 volunteers.
'A sound mind resides in a healthy body' – realizing the importance of this age old dictum, Tata Steel's Urban Services department conducts training in diverse disciplines of body building like Weight Lifting, Power Lifting, Bench Press through well-equipped Gymnasiums across its community centres in Jamshedpur. This intervention aims to inculcate a fitness-seeking spirit among the youth and encourages them to participate at state and national level competitions. It also provides a platform to discover and hone local talents.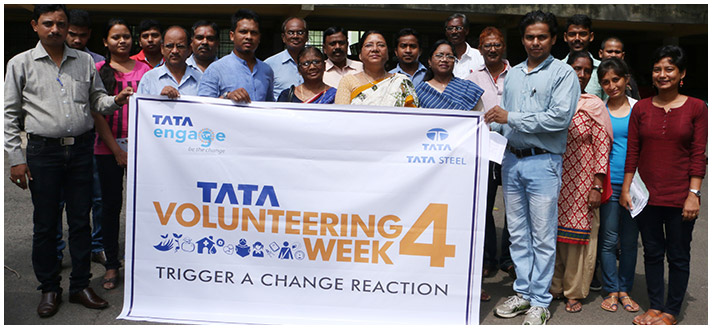 Padhyatra for needs assessment: A Padhyatra was organised at Tentla Panchyat covering 6 villages. A team of 10 CSR volunteers of Tata Steel walked around interacting with the villagers and conducted a needs assessment of each village. The team concentrated on the immediate needs which can be addressed by Tata Steel. It was a heart-warming experience wherein the villagers not only actively participated but also graciously invited the team to have lunch and dinner with them and also offered their homes to stay.
Tata Chemicals Ltd.
Mithapur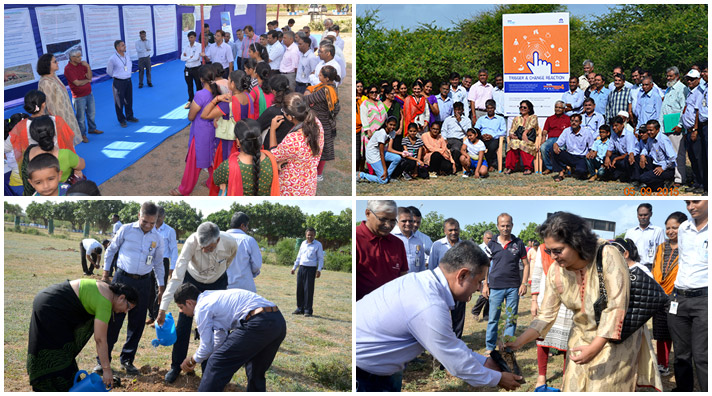 TVW4 was launched at Tata Chemicals Ltd. (TCL), Mithapur, on 5th Sept. 2015 morning in the presence of the Independent Director (TCL), Location Head, Senior Executives, Employee volunteers, their family members as well as retired employees. Endangered Gugal (Commiphora wightii) plant was sown in various locations and an exhibition on Biodiversity Conservation was organised at the Mithapur Biodiversity Park. This event witnessed participation of a total of 58 volunteers.
| | |
| --- | --- |
| *This update covers only some of the activities undertaken by companies. | www.tataengage.com |
| | |