Indian Hotels
Mumbai
Visit to Prerana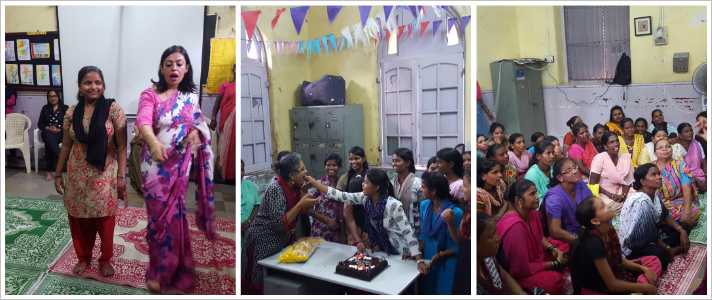 On 15th September, 2015 as part of the Tata Volunteering Week 4, a team of volunteers from The Taj Mahal Palace, Mumbai visited an NGO Prerana in Kamathipura which help protect women and children from the threats of human trafficking by defending their rights and dignity. The Taj Group of Hotels has a long standing relation with Prerana and supports their cause to help the women and children associated with this NGO.
The Learning and Development Manager conducted a very interesting session for the ladies there on etiquette, personality development and grooming. They learnt the basics of personal hygiene, cleanliness and the correct body language. The session which went on for about an hour was interesting and informative. The interactive session taught the women a little about society's perspective of body language and etiquette. This boosts the women's self-confidence and motivates them to interact with people from society more.
The volunteers and women of Prerana then interacted over snacks and cut a cake which was provided by the hotel itself. The women were really glad to interact with the volunteers of The Taj Mahal Palace, Mumbai.
Natsteel
Singapore
Bowling Good Times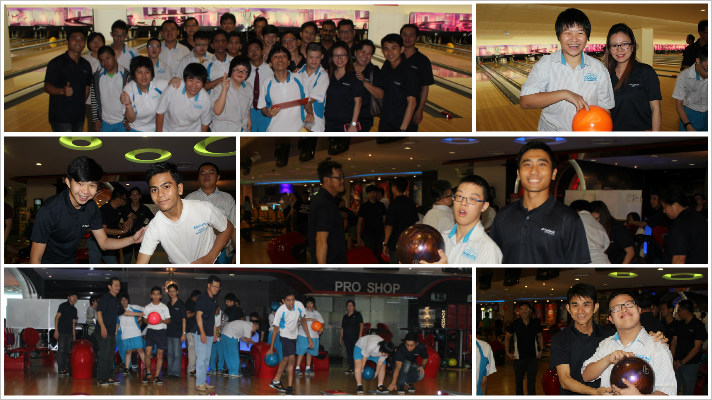 Fernvale Gardens School (FGS), one of NatSteel's very own beneficiaries, strives to provide a vibrant learning environment that inspires intellectually disabled students towards independence and integration into society. As part of the Movement for the Intellectually Disabled of Singapore (MINDS), FGS currently holds 19 classes in both the morning and afternoon sessions, with 6 junior classes, 7 senior classes, 6 special classes and a total enrolment of 250.
On September 21, a bowling session was organised for the students of Class Senior 3P to experience the sport for the very first time. It was 3 hours of non-stop bowling action as the students put their new skill to the test and even challenged the volunteer to a friendly match. Their energy was off the top. The enthusiasm of the students was so infectious, the volunteers had a tough time keeping up.
Visit to SPD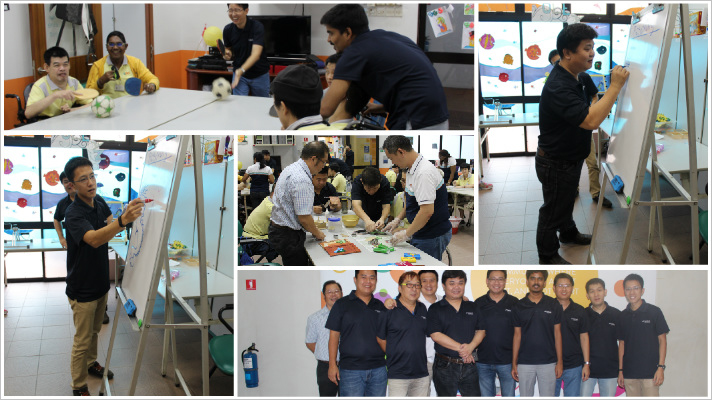 The Society for the Physically Disabled (SPD) has a strong focus on helping people with disabilities maximise their potential and integrating them into mainstream society. Through various programmes such as early intervention, rehabilitation, employment support, training, education, consultation and assessment in assistive technology, day care, and social service support, SPD now serves approximately 5,300 people with physical, sensory and learning disabilities, helping them become more self-reliant and independent.
11 volunteers from NatSteel made their way down on September 18 to mingle and interact with the clients of SPD. Activities for the day included a stroll in the park, handicraft sessions and games such as charades, table soccer, quizzes and pictionary. Nothing could dampen the spirits of the participants and close friendships were forged along the way.
Tata Chemicals Engineering
Chennai
Visit to an old age home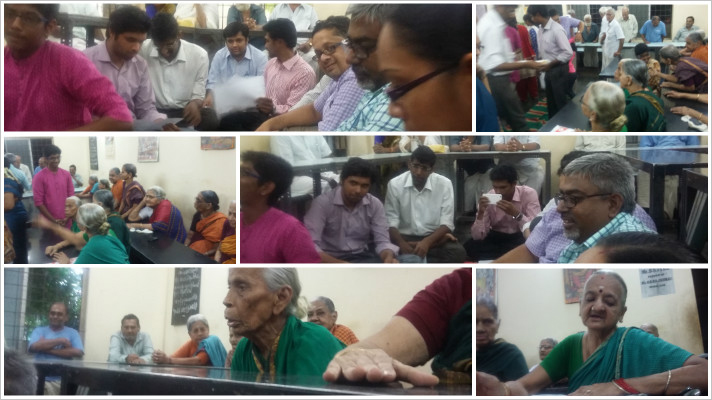 TCE Chennai spent time with the old aged people at the home. Contributed Bed spreads and food and shared musical evening with them. All of the inmates enjoyed the moments and shared their nostalgia. TCE volunteers listened to them and motivated them to participate in the musical evening. Both volunteers and inmates enjoyed the time.
Tata Global Beverages
Canada
Distribution of books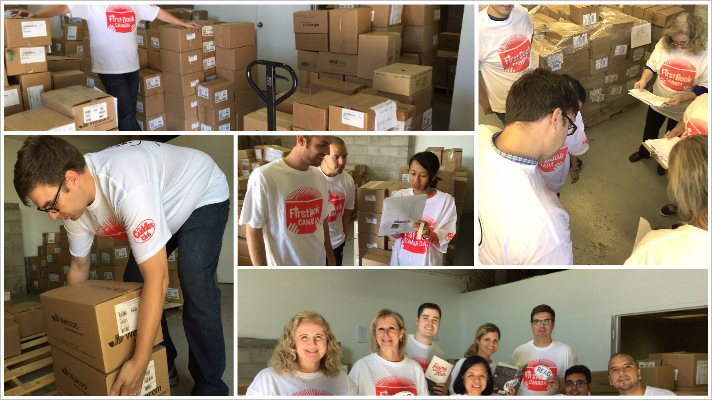 We partnered with First Book Canada, assisting them with the distribution of 100,000 books to needy children in the Greater Toronto Area.
Ten volunteers spent the morning of Sept 22nd fulfilling book orders submitted by various schools and organizations that work with children in Toronto and the surrounding regions. The First Book warehouse was overflowing with books so finding the correct case of books and maneuvering around the remaining boxes was often tricky. But the teamwork paid off! They prepared about 20,000 pounds of books for their eager recipients! Even the First Book administrators were amazed.
It was a great event and the volunteers had lots of fun bonding together as a team.
Tata Housing
Mumbai
Visit to an orphanage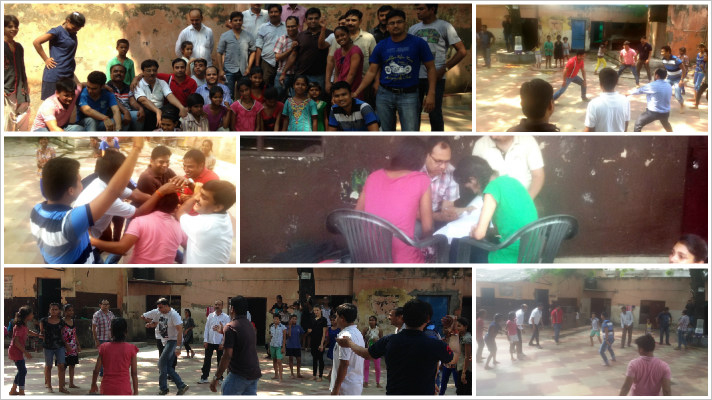 Volunteering event was organized on 19th September at an Orphanage Khushi Rainbow Home. The volunteers had a great time with the occupants. Children were extremely happy and all were overwhelmed with company of each other. On popular demand they started playing Antakshari . A lot of songs were sung in competition. All the children were enthusiastic and joy was visible on their faces. The volunteers also played games like Kabaddi and cricket with them. Children were proactively mingling as if the volunteers were their old friends. They also distributed snacks and cold drinks to them. All in all it was memorable visit.
Coastal Gujarat Power Ltd
Gujarat
Beach Cleaning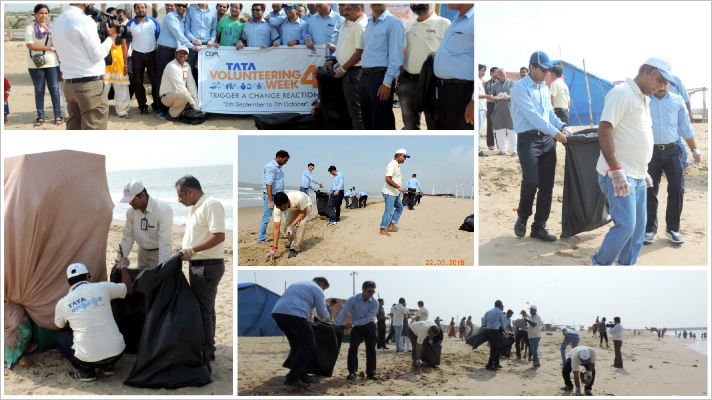 On the occasion of Tata Volunteering week, the team at Coastal Gujarat Power Limited ( Tata Power) thought why not to schedule a program for Mandvi Beach cleaning program by the esteemed and enthusiastic volunteers. So the program was planned, all the volunteers were informed through robust and innovative internal campaign. The date was fixed on 22nd Sep, the Municipality of Mandvi was contacted and necessary arrangements were done like provision of plastic bins, Gloves, Collection bags, Waste loaders, broom etc. The program was started at the beach in the morning and continued till afternoon. This has also marked the International Beach Cleaning Day on 19th Sep, 2015. The huge presence of volunteers was appreciated by the officials Municipal , Mandvi and applauded the efforts of CGPL ( Tata power) for this noble cause. The presence of senior management has also infused and triggered the enthusiasm among the volunteers. The awareness was spread among the public to join the hands in making the beach clean.
Tata Sons
Mumbai
Citizenship awareness session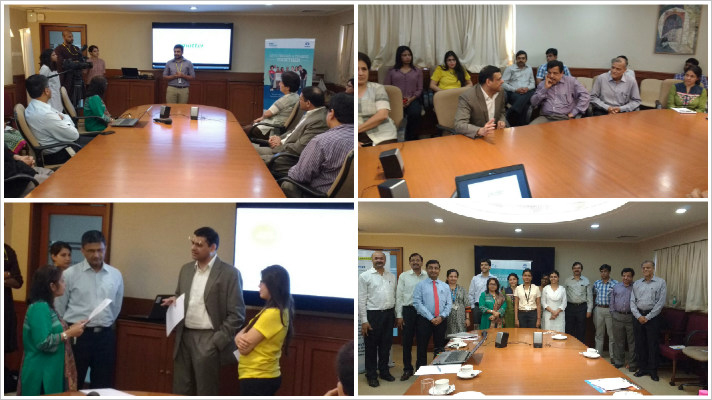 On 23rd September 31 volunteers from different Tata companies came together to participate in an interactive session on how to be a better informed citizen. This session was conducted by Janaagraha a non-profit that works toward the objective of transforming quality of life in urban India through good governance and citizen participation. The participants volunteered to do roleplays in different situations of everyday concerns. The facilitators informed the participants of different avenues they could tap into in times of need. The session was applauded by all as they saw value in standing up for citizen rights. The session ended with more enthusiasm to do something for the areas we reside in and participate actively.
Tata Steel
Jamshedpur
IT Training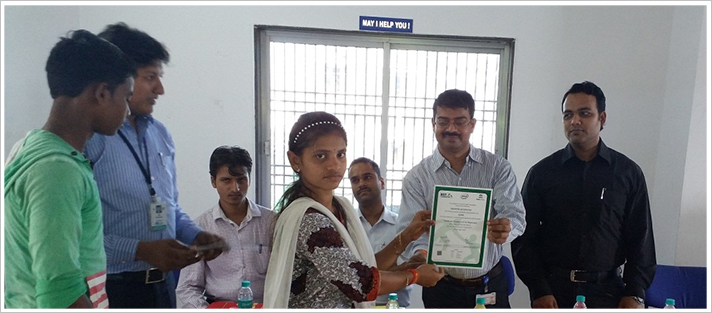 Today's world is a world of Information Technology (IT). IT savvy people possess advantageous position in comparison to IT challenged. Realizing the same, Tata Steel in collaboration with NIIT Foundation launched a new Skill Development Center in early 2015 at Khodasinghi, Berhampur. The center provides cost effective and basic Computer & IT skills for undeserved youths of Tata Steel periphery areas and other parts of Ganjam. Youths aged between 12 to 35 years imparted training for two hours including practical with six systems in a single batch. In a day four batches continues where soft skill training is also touched upon.
The first batch started on 27th Mar'2015 and continued up to June'15 where in 54 students had got enrolled and out of which 49 successfully completed the course. On 22nd Sep'15 a Certificate Award Ceremony was organized by at NIIT Foundation. Employee of Tata Steel counselled the students.
Free health checkup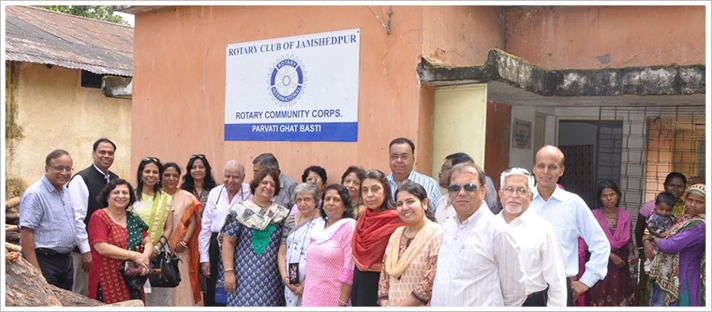 A free health check-up camp was organised by Rotary Club of Jamshedpur for the residents of Leprosy Ashram. Ex Doctors of Tata Steel volunteered their time and skill.
Donation of books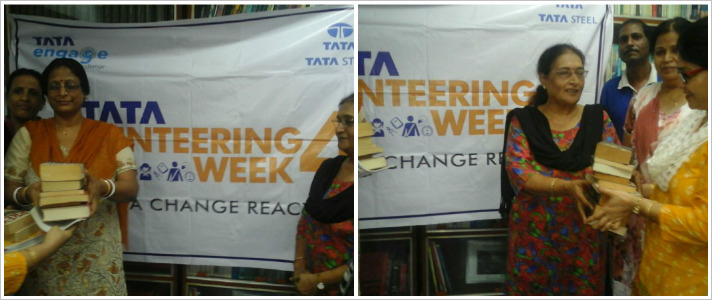 The volunteers donated some old and useful books for the library at Sonari community centre. The Library is open for the community.
Distribution of food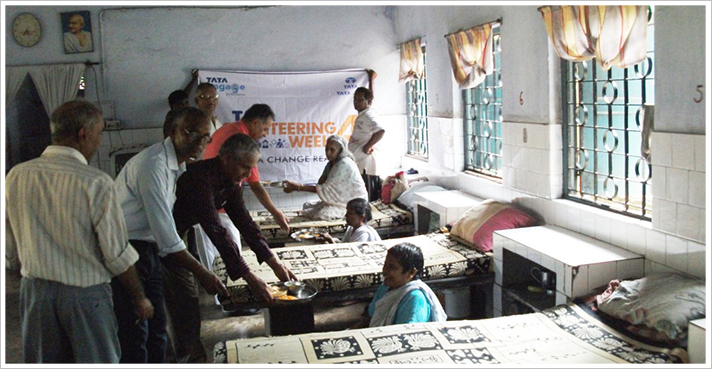 The members of Divine Life Society interacted with the residents of leprosy Ashram and sponsored breakfast for all. Ex-employees and employees are member of this society.
Deaddiction session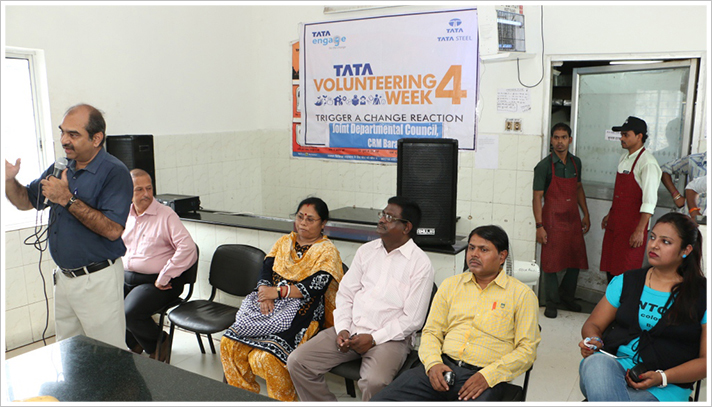 A session on De-addiction for contractual employees was undertaken by CRM Bara in association with Calcutta Samaritans. The session was quite beneficial as lot of the participants looked interested and promised to get away from substance abuse.
Coaching on powerlifting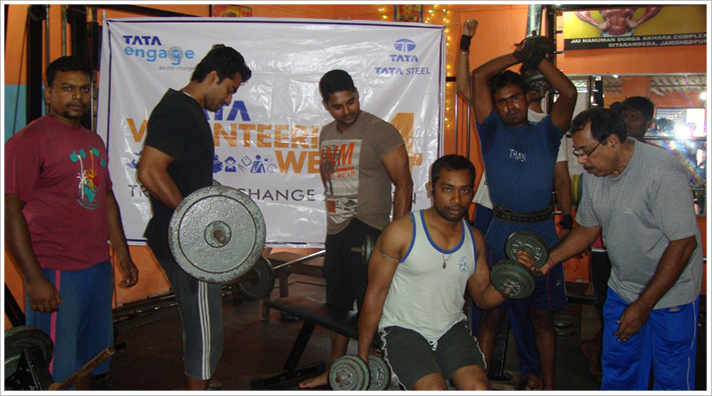 A special coaching session on new techniques of powerlifting was organised at RD Bhatta Centre for aspiring power lifters. Mr. A Khalid took the session and explained the various safe techniques.
Volleyball training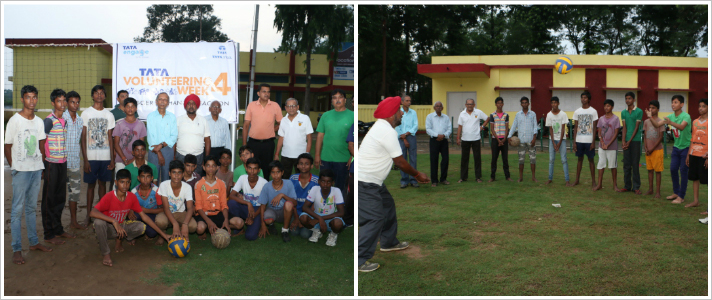 Mr. B Singh, Ex international volleyball player took a special session on motivation and modern techniques of volleyball. He not only explained but also gave practical demonstrations.
Gym training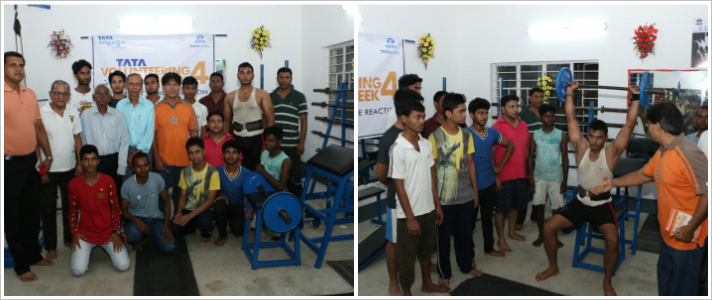 A special session for gym participants was arranged at Baridih Centre. Employees gave tips on safety and safe use of weights and bars.
Interaction with children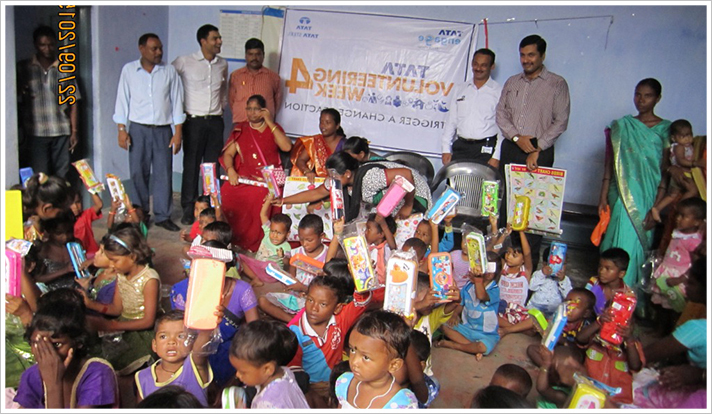 Employees of Aviation Dept. visited Bal Vikas class at Bagbera and interacted with the young kids. Bal Vikas is a special initiative where children of poor and needy are coached before mainstreaming into formal schools. The volunteers distributed school stationary, toys, candies etc. to the children
Cleanliness drive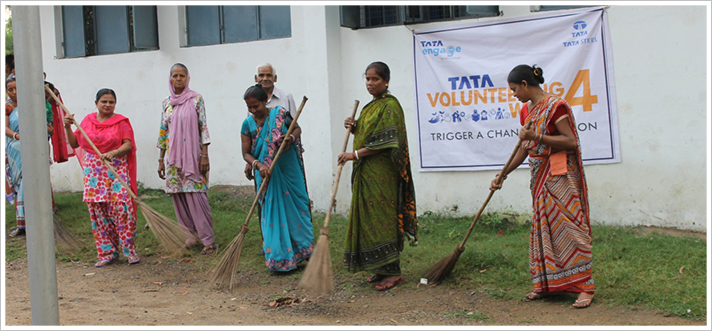 A cleanliness drive was undertaken at Namda Centre. CC Members and wives of employees participated and cleaned the area.
Plantation drive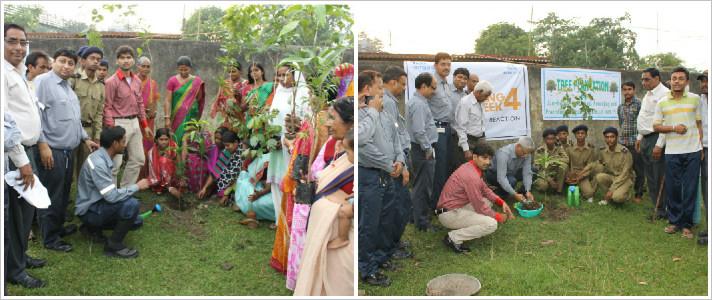 A plantation drive was conducted at Namda Community Centre. Employees of Tata Steel participated and planted few saplings.
Jharkhand
Interaction with children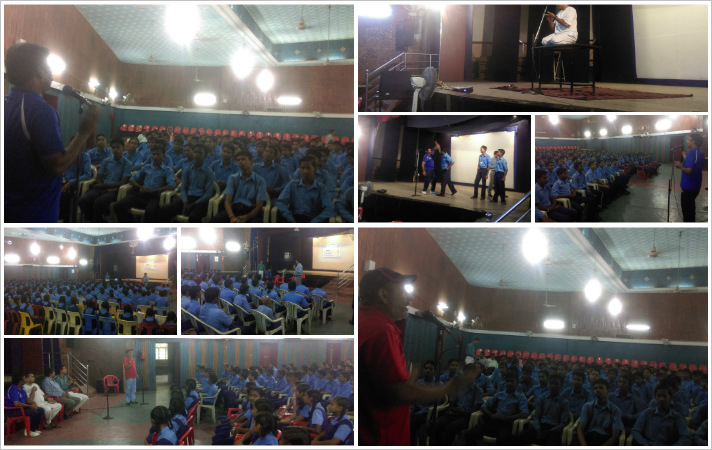 The volunteers visited KSMS Hindi School on 23rd Sept along with senior colleagues. The volunteers gave a talk & demonstration to 250 (Girls & Boys) students on the importance of Education and Sports in building career. They motivated & spoke about ways to maintain good health. A session on yoga was demonstrated and taught. This was followed by a session on Self Defence by a Karate Expert. The day ended with a session on Laughing is good for health.
Tata Teleservices
Noida
Retail management and call centre training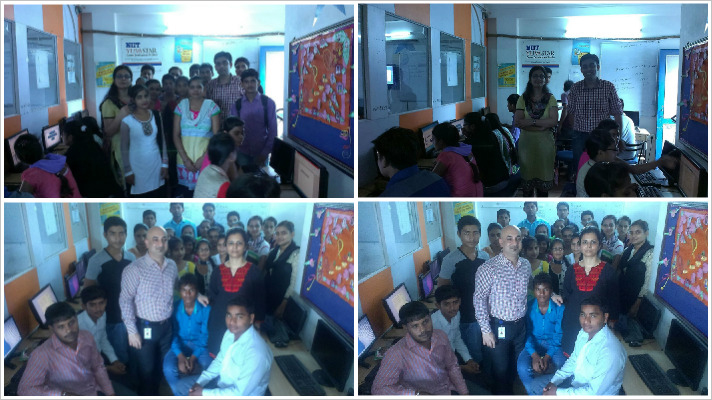 On September 12th & 19th, 2015, the CSR team of UPW circle organized a skill development session for the students of NIIT foundation, Hoshiarpur NOIDA. The session included a Program on Retail Management as well as Customer Service in BPO Industry. This session was conducted for the students attending the respective courses at the NIIT foundation with a view to help in enhancing their knowledge and broaden their horizon. The session on Retail was delivered by UPW Retail Head and the CEM Head conducted the session for BPO Customer Service. This session has motivated the TTL employees to impart knowledge to students at the centre every month through such interactions.
Amalgamated Plantations Pvt Ltd
Assam
Medical camp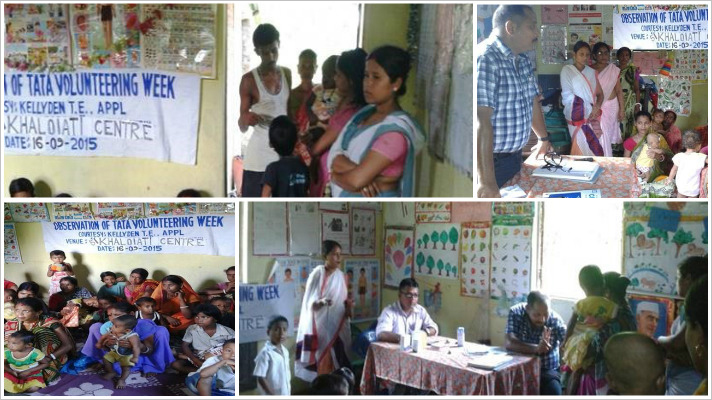 KELLYDEN TEA ESTATE observed Tata Volunteering Week 4 by organizing a Medical Camp on 16th September'2015. The camp was organized in a village named "Khaloiati" which is in a remote area of Misa quite far from immediate medical facilities. The estate Medical team headed by Dr.P. K. Sarmah conducted health checkup of the children of 0-6 years group in a child care center located within the village. Free medicines were distributed amongst the needy children. The parents accompanying the children along with other villagers appreciated the effort of the Company for delivering such a noble service in their locality which according to them has happened for the first time and expressed their sincere gratitude towards the organizers.
Health check up for women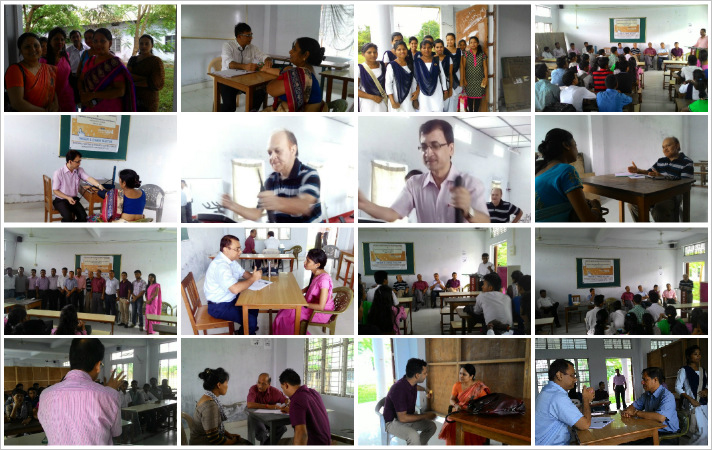 Referral Hospital & Research Centre, an APPL Foundations, organized the activity "Health Checkup of College Teachers by Medical Specialists & Experience Sharing Motivational Session with Students" on September 20, 2015 at DDR College, Chabua in Dibrugarh, Assam. The team comprised of Specialist of various medical departments viz. Surgery, (Dr. A. Sarman), Medicine (Dr. S. Buragohain), Eye (Dr. S. N. Goswami), ENT (Dr. M. K. Das) & Dental (Dr. V. Pathak). Various health checkup as well as health counseling was done to all college teachers. Health check was also extended to the college students. The CMO APPL & Sr. Administrator of RHRC also counseled teachers on importance of good health. After completion of the health checkup, the "Experience Sharing Motivational Session with Students" session was conducted, where all Medical Specialists shared their experience what triggered them to become a doctor. Besides sharing experiences, they also spoke on importance of good health, hard work, personality development, determination, dreaming big and exploring own talent etc. Principal of the college, The volunteers highly commended the activity organized by RHRC & especially mentioned about the Experience Sharing Session, as one of the best programs organized in the remote college so far.
Tree plantation and health awareness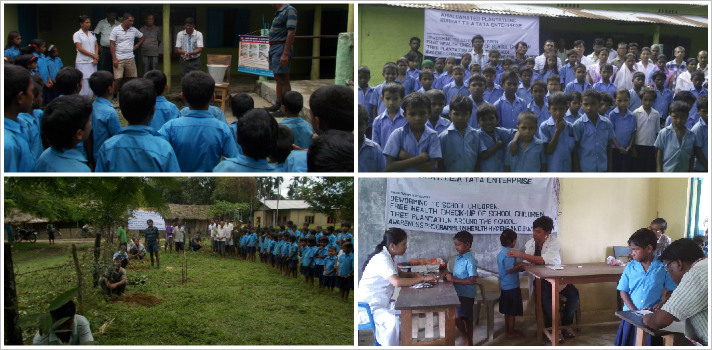 Volunteers carried out activities Kheronibari L.P. School,Teokia Village,Near Borhat T.E. 40 Indigenous Fruit trees were planted around the L.P.School. In this Programme the School teachers, Students and the volunteers from Borhat T.E. participated. 67 School Children were checked up by the Medical Officer of Borhat T.E. De-worming and Iron-Folic acid tablets were given to all the students. An Awareness meeting on Health-Hygiene was organised. The School students, teachers and local villagers participated in the programme. In connection with the awareness programme a demonstration on Hand Wash was also carried out.