Coastal Gujarat Power
Gujarat
Distribution of Fish Drying Materials

During the TVW-4, the volunteers of Coastal Gujarat Power Limited organized a "Distribution of Fish Drying Materials at Tragadi Bunder" on 23rd September. This bunder is a temporary fishing hamlet of the transient fishermen. In association with Village Development and Advisory Committee and the Boat owners, the program was planned and executed with active support of the volunteers of Coastal Gujarat Power Limited (Tata Power). It was felt that they need Tarpaulin and other materials which they can use for drying the fishes for better price realization. During the event 84 boat owners in Tragadi Bunder were benefited. The entire distribution program was coordinated by the CGPL volunteers, who had devoted their quality volunteering time for the smooth execution of the event. Kudos to the CGPL volunteers.
Indian Hotels
Chennai
Mind & Body Relaxation

During the Tata Voluntary Week-4, of Taj Coromandel, Chennai had a session on Mind & Body Relaxation after long hours of work for security guards who are outsourced. The team was represented by the Yoga Instructor and the manager at the Jiva Spa. The team joined together on 23rd September at the Grande Jiva Spa. The session was for about an hour and above.
There were 6 security guards, they were taught different kinds of exercises and Asanas like loose joints for energy release and the Asanas were Tadasana, TriyakTadasana, KatiChakrasana, MarjariAsana, Bhujangasana, Chalasana, Full yoga Breathing, Alternate Nostril Breathing, Brahmani and Yoganidka.
The volunteer also provided a wellness talk to the guards and an interactive question and answer session was conducted to solve their health queries. All of them enjoyed the exercise and asanas which were being done.
Nutrition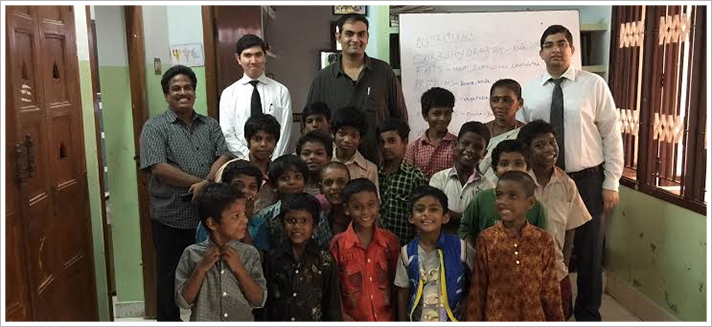 During the Tata Voluntary Week-4, team Taj Coromandel partnered with UDAVI Society-Upliftment of Democratic and Village Improvement Society. The team was represented by Learning & Development Manager, the Sous Chef of Main Kitchen and the Industrial Exposure Trainee from SRM IHM.
The team joined together on 19th September at the Time Office and reached together at the UDAVI. The hotel team greeted all the little children and the staff at the UDAVI. Around 20 children of age 5 to 12 years were excited of what was going to be done. There was a session on nutrition which was taken by the Sous Chef of Main Kitchen. The chef explained the children about what is nutrition, why is it important and different types of nutrients like carbohydrates, fats, protein, vitamins, minerals and water. The children enjoyed the session very much and were interactive during the session. Some children were noting down important points. In the end the hotel team distributed nutria bars for the children and thanked the hotel team for their valuable time.
Delhi
Cleanliness awareness

The team Vivanta by Taj Ambassador, New Delhi conducted awareness drive on 24th September on the occasion during the Tata Volunteering week. Team took initiative to screen Animation film on "Water, Sanitation & Hygiene - Drinking water" showcased in the vicinity for the common public at Police Station of Khan Market. The purpose of screening of this movie to educate the passer by ,Taxi driver, Auto driver, shop keeper to keep nearby areas neat & clean and what will happen if they will not keep clean & hygiene their surrounding area.
Jodhpur
Clothes distribution camp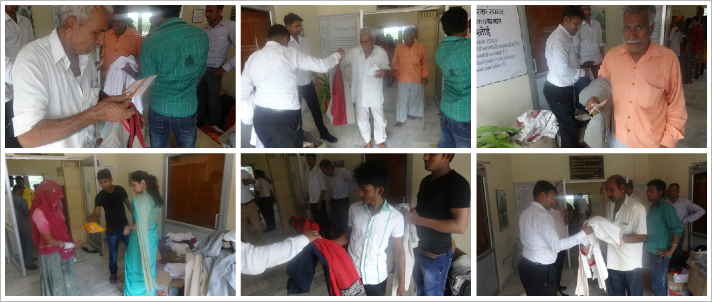 Taj Umaid Bhawan Palace, Jodhpur organized a Clothes distribution camp for the needful at Sardar Samand Village in Pali, Rajasthan as a part of TVW4. The associates were invited to donate any clothes which they can which are not in use by them. The associates happily donated many clothes for the welfare of society and the needy. Many associates volunteered to be a part of the donation camp. The clothes collected were for both men and women and included basic clothes like trousers, shirts, suits, dupattas, sarees etc.
Medical camp

Umaid Bhawan Palace organizes a Medical camp at Sardar Samand Village, Pali, Rajasthan as a part of the Tata Volunteering week 4. The associates who were interested in participating were invited to be a part of this noble cause for the welfare of society. The associates distributed free medicines and free medical check up to all the local people of the village with the help of the qualified doctors from Rajdadisa Hospital, Jodhpur. Eye specialists were invited from Wason Eyecare to support the noble cause and provide free eye check-up. The Medical camp was organized to provide medical help to the villagers of Sardar Samand who are unable to visit the Doctor.
Udaipur
Celebrating Happiness together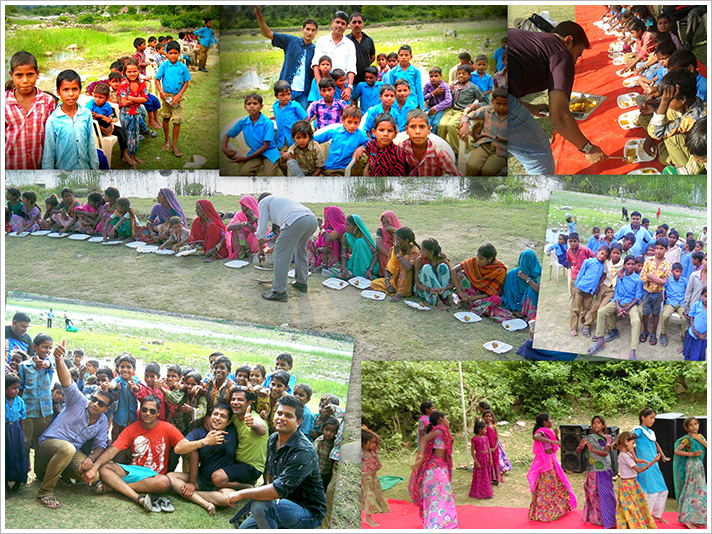 Taj Lake Palace strongly believes in the concept of giving back to the society and almost on all special occasions it organizes community lunches. It had recently organised an annual staff picnic for its associates from 7th to 9th September 2015. As it was during the Tata Volunteering Week, the hotel came up with an idea to celebrate it with the less fortunate. The picnic spot was near a village where rural and tribal communities live; the hotel invited the villagers to join it in the picnic. Each day during these three days of picnic, the picnickers used to invite the villagers & their children for Lunch and other activities. These villagers are all underprivileged, and it was a different & wonderful experience for all of them to see a DJ & dance on it and relish such a delicious lunch. The volunteer picnickers served them lunch and experienced joy of giving. The children from the village loved dancing & playing with the picnickers a lot. It was great fun for the picnickers too, they mentioned that it was very nourishing to their souls when they served lunch to the villagers. This initiative was very much appreciated by the General Manager.
Tata AIG General Insurance
Bangalore
Visit to Nehru Planetarium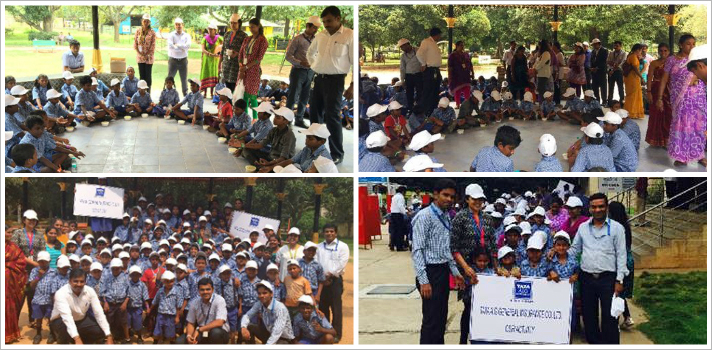 27 Happy Volunteers from the Bangalore Office took a group of 75 Govt School Children to Nehru Planetarium. They walked them to the Centre and gave the kids white caps, chocolate and mini water bottles. On reaching, they let them play and then took them inside the Planetarium for the solar system show in Kannada, which they really enjoyed. Post that they went to Indira Gandhi Defence Park where they made groups and each of the volunteers played with the children and had fun. Lunch, Frooti and water were served to them in the park and after which took them back to the school. Children were very happy and wanted to play even more, the Volunteers too wanted more…Truly Happiness is Limitless.
Tata Consulting Engineers
Chennai
Visit to an old age home
TCE Chennai planned to visit the Old age home – a place where there is food and shelter but no bonds of love from family. It was on 23rd September TCE Chennai volunteers spent three hours with the elderly people there. They engaged them with a musical evening of Bhajans. There were 12 volunteers and 5 family members who came forward to give their time to the old aged. The old aged inmates enjoyed the Bhajans very much as it took them to their nostalgic memories of listening and singing Bhajans. Many inmates also came forward to present their singing talents which were enjoyed by both the volunteers and inmates as well. TCE Chennai volunteers also contributed bed spreads to all the inmates and the care taker of the Old Aged Home.
It was a useful and happy evening spent together with the inmates of the old aged home. The inmates shared that they felt being loved and expressed their happiness to all the volunteers.They left the place symbolising the message "You are not alone".
Tata Metaliks
Kharagpur
Health check-up camp

Gynecological health Check-Up Camp was organized on 25th September at Amba Primary School, wherein 138 villager of Amba, Chunapara & Gokulpur have been examined by the doctors. 17 employees provided support to conduct this camp. The community in the radius of 5km of the plant are financial weak and illiterate as a result of which they are not aware about their health and importance of hygiene in their life. Tata Metaliks under the banner of Sadbhavana Trust has always given importance to the health care of the community. 54 % population of our community are from AA community. Tata Metaliks regularly organizes health camp and Awareness programme on Health, Hygiene & Alcoholism in particular.
Tata Motors
Pune
Donation of digital equipment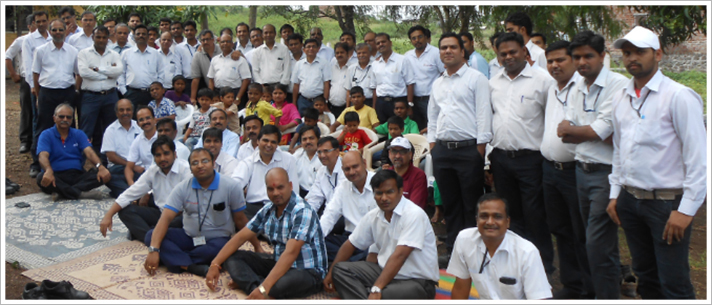 A team of 66 volunteers from AQ CV Pune visited Nirmal Bal Vikas Sanstha (NBVS) an Orphan Organization in Chakan, Pune on 19th September. NBVS was started with a noble cause of bringing new identity to the orphans and destitute to be part of community. The Organization is run by a team of young selfless individuals without taking any grant from government. The team spent their time with the children. The team donated one TV set, DVD player and set of CDs to children and also distributed fruits and sweets. The team understood the background of institute and promoters which inspired everybody. The children introduced themselves with high spirit and few of them exhibited their talent in singing. Their innocence and zeal touched the visiting TML team. After understanding the challenges faced by NBVS the TML team took further decision to contribute for the milk requirement of the children for a span of one year which comes to INR 3000 per month.
Immersion of Ganesh idols

Team of 20 volunteers from CKD and SPD volunteered at Sanskar Pratishthan on 21st September. The organisation work for respectful disposal of immersed Ganesh idols and related flowers & offerings which were made by devotees on the banks of Mulla River in Chinchwadgaon. Devotees hand over Ganesh idols to these volunteers. Volunteers make human chain to transfer the idols into trucks. The trucks made trips to carry the idols to a private pond at a quarry in Wakad about 5 kms away. Here they were unloaded respectfully, a puja was performed and then immersed into a 25-ft deep quarry filled with rain water which is not used by anyone. Thus the non-bio-degradable POP and other harmful paints on the idols were kept away from polluting the river. Around 2500 idols were safely immersed this way.
Medical Check-up

Team of volunteers along with Medical Team conducted medical check-up for police men at Chinchwad Police Station. Total 85 police men received benefit of the same. In view of Ganpati festival and work pressure that police team goes through, this activity was very much appreciated police department. The Deputy Commissioner of Police Zone 3 was present for the check-up.
Tree plantation

Team of 15 volunteers from TCF (PV) shop volunteered at Ghoradeshwar Hill. Team planted 15 trees and dug two trench. These trenches will help in arresting water on hill. Team did cleaning activity of the area.
Visit to an old age home

FMQ PV team, led by the Head, FMQ PV visited Kinara Old Age Home, Talwade, Pune on September 19th. Kinara provides shelter to destitute aged people with mental and physical disorders and helps them to live their remaining life with joy and happiness with basic amenities. There are total 37 residents in Talwade branch of the shelter who are in need of personal and emotional support from society. Team interacted with the inmates and spent a few hours of quality time with them. The residents mingled whole heartedly with the team and joined them in singing and dancing to some old tunes. The team distributed snacks which the residents relished. The team was touched by the incredible response they received.
Cleanliness drive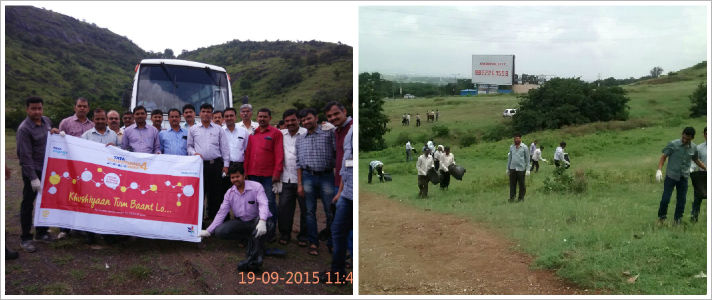 Team of 51 volunteers from PE was engaged in Swachata Abhiyan at Ghoradeshwar Hill on September 19. Team started the activity by sharing of Chairman's message on volunteering. Team did cleaning of the entire hill. Total 47 big bags garbage was collected. Team also interacted with the visitors and appealed to them to maintain cleanliness on the hill.
Exposure visit for children

Team of 24 volunteers from PPPM volunteered at Bahujan Hitay, an NGO working in Education sector. They have hostel facility for children studying from 5th to 10th std. Team volunteered at Bahujan Hitay's hostel at Dapodi. Team had organized an exposure visit for children at IUCCA. Children enjoyed scientific toy making session & visit to IUCAA (Inter-University Centre for Astronomy and Astrophysics ) in Pune University Campus. 47 children participated in this activity. Snacks were arranged for the children. Each participant received notebook and Pen. Team felicitated all the care takers in the NGO for doing a noble work. All of them were touched with this kind gesture of team.
Donation of essential provisions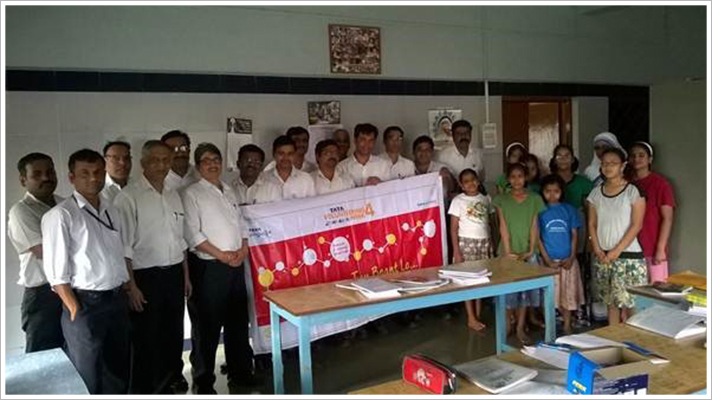 Team of 17 volunteers from TCF and Logistics group of Technical Services (CV) visited PRERANA BHAVAN on 22nd of September, 2015. This is an initiative by the Missionaries of Charity with the objective of taking care of mentally and physically challenged children and women. A team of dedicated and devoted sisters take care of 180 inmates with round the clock support. They are also assisted by some local residents. The Technical Services (TCF) team distributed essential provisions as per the advice of Prerana Bhavan. The team has decided to pursue the initiative on a regular basis.
Tata Steel
Jamshedpur
Sexual harassment awareness

As a part of volunteering week 4 Sports department organised talk on prevention of sexual harassment for lady cricketers of JSCA.
Say no to plastic

Talk on non-use of plastics was organised at Kitadih Area. Plastic has become a worldwide threat as it is non-bio-degradable. As part of our environment initiatives, no plastic drive is an important and integral campaign.
Archery training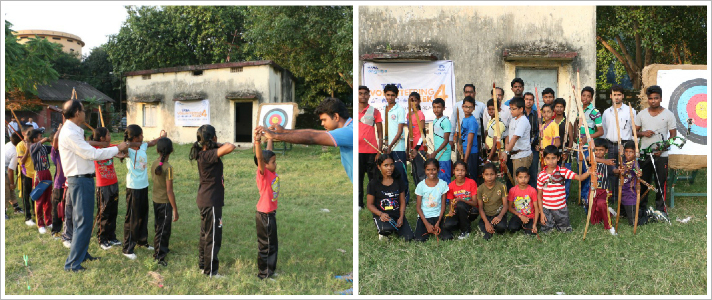 Archery is the prime sports of Jharkhand. Many international archers hail from this area. To promote archery among the young kids, a special archery training cum awareness session was organised at Namda Grounds. Many young children showed their enthusiasm and participated in the session.
Visit to Cheshire home

JDC_Coke Plant visited R.P. Patel Cheshire Home, Residential care for girls on 26th September under the Tata Volunteering Week 4 activities. At the start of programme volunteers interacted with the girls and shared a few light moments with them. Altogether they distributed some chocolates to girls. The volunteers collectively brought grocery items like rice, wheat flour, Sunflower oil, Dal, biscuits etc. All girls were equally surprised and contented after receiving the gifts. The day ended with some joyful moments like singing and dancing of volunteers with all disable girls, which was full of learning, wonder & fun with each other. The Volunteers as always were full of admiration for the girls, who against all odds are joyful, energetic and looking ahead for a better life. With this visit the Volunteers resolved to continue their support to the girls and grab every chance to spend time with them
Trent Hyper Market Ltd-Star Bazaar
Pune
Cleanliness drive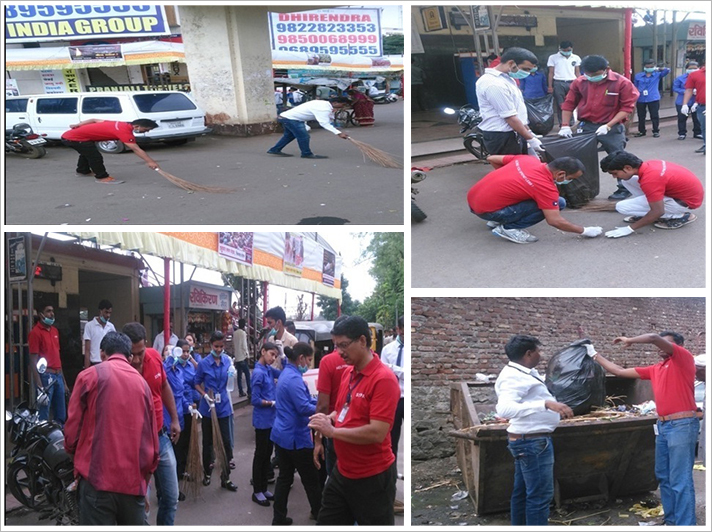 Volunteers of Trent Hypermarket Ltd- Star Bazaar Pune conducted a cleanliness drive at Pune Chinchwad railway station.
Visit to a destitute home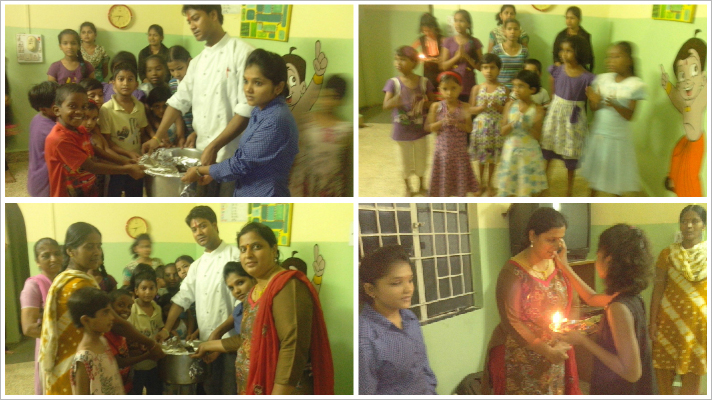 Volunteers of Trent Hypermarket Ltd- Star Bazaar –Pune visited Maher Ashram (a home which works towards destitute women, children and men to exercise their right to a higher quality of life) and distributed Nutritious meal prepared in the store.