Indian Hotels
Jodhpur
Donation of shoes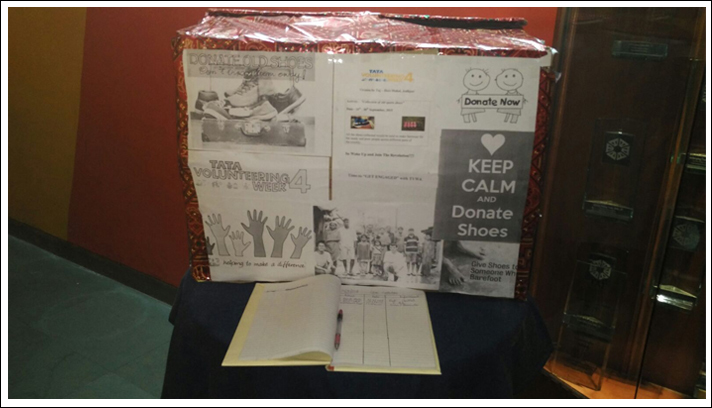 Vivanta by Taj- Hari Mahal has taken an initiative under Tata Volunteering Week4 of collecting as many shoes as possible. There is a collection box provided to the associates where they can donate shoes and trigger a change reaction. This box then would be dispatched to Green sole, Mumbai, a social venture which recycle discarded shoes to comfortable footwear and provide them to the neediest, underprivileged sections of the society through corporate, NGOs and schools.
Distribution Of Free Lemonade Drinks to the Devotees & Passers-by:

With the heat becoming unbearable & truly oppressive in Jodhpur everybody might just want to survive on fluids so that our system is well hydrated & we do not fall sick. That gives an idea of making Lemonade Stand in front of the staff gate. In the spirit of celebrating TVW4, VBT-Hari Mahal Jodhpur had distributed 1000 free Lemonade & Khus drinks to the passers-by devotees who offered Ram Deora to the presiding deity of the Baba Ram Dev temple. The supply of drinks proved to be blessings for the devotees in the sweltering heat & no one went thirsty.
Rallis India
Akola
Visit to a school for blind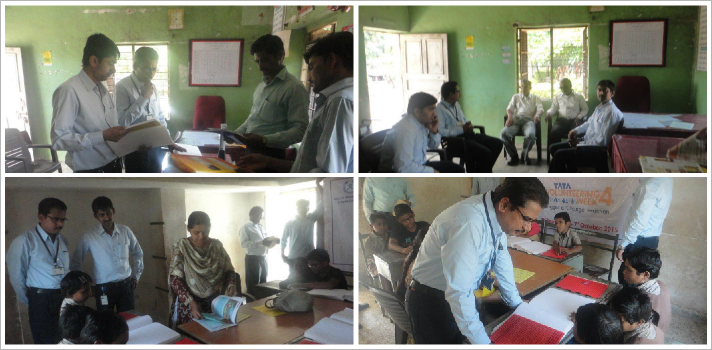 As a part of TVW-4 activity the volunteers of Rallis Akola unit visited Kanubhai Vora School for Blinds on 1st October. The purpose of this visit was to understand the basic needs of the blind students and to study the daily activities of the students. The volunteers involved themselves in the students life, understand their routine activities, how they learn new things, and participated in their special skills of music. The volunteers were motivated by the enthusiasm shown by the students of school.
Career counselling

On 26th Sept-2015, Rallis Akola Volunteers visited Polytechnic collage (Tirupati Tantra Niketan, Keshao Nagar, Akola) and conducted career counselling session for DCE & IT students. Around 200 students benefited by the session. The volunteers given the motivational lectures and suggested the career opportunities available for them. The feedback of students was very positive and enthusiastic.
Road safety awareness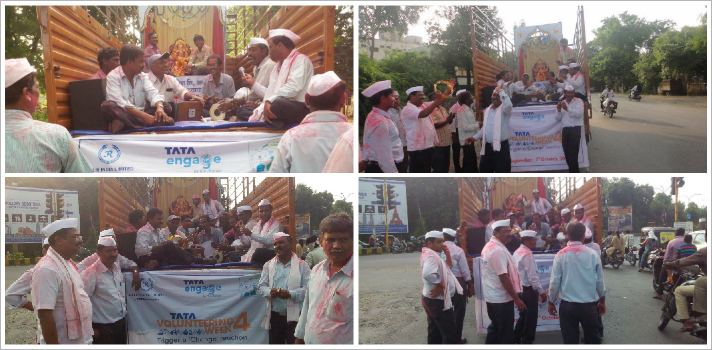 As a part of ongoing TVW-4 activities and Ganesh Visarjan on 27th September, the Rallis Akola volunteers organised a Road Safety & Environment Protection awareness campaign through various songs and street-play. The volunteers sung the safety songs and invited people to join the awareness campaign for Road Safety and Environment Protection. The volunteers taken rally throughout the Akola city which lasted for almost 4 hours.
Deaddiction

Rallis Akola volunteers conducted awareness session on side effect of tobacco & wine consumption for the contract workers on 26.09.2015. Normally these people belongs to villages where such type of habits become part of their of life even though the sufferer is their families. To make them aware of side effect taking their life to the end, the Akola Volunteers tried to become the partners to be away from such type of bad habits.
Mumbai
Playing games with tribal children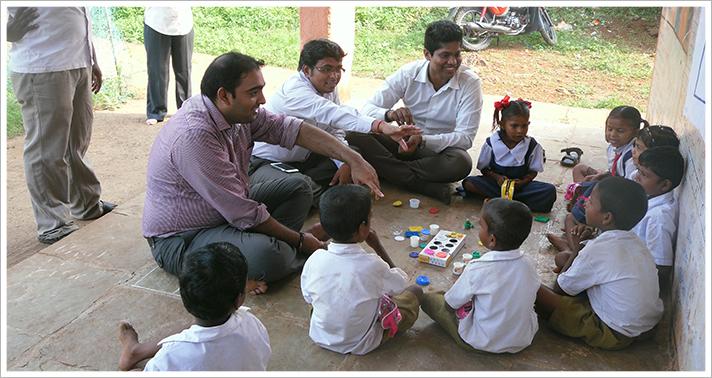 Rallis Volunteers have visited tribal school children from 1st to 4th standard at Kel Cha Mal village. Children played various games like maths with fun, painted the pictures, sung various poems. Volunteers enjoyed quality time with them. 10 volunteers participated in the activity
Health awareness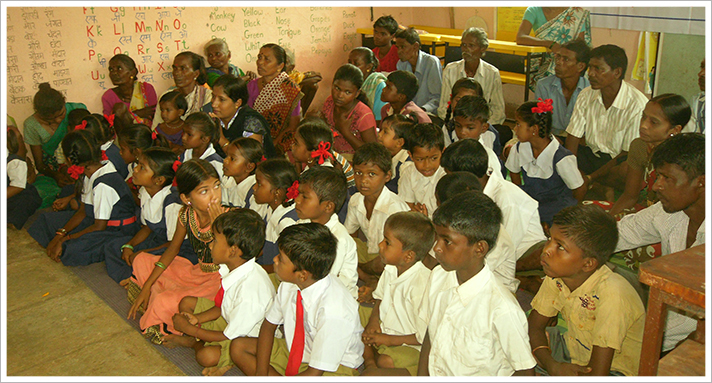 Rallis India volunteers have organized Health & Hygiene awareness camp at Kel Cha mal village for villagers and school children. Volunteers shared useful information in respect of various deceases due to unhygienic condition and how to avoid them by adopting good habits in behaviour. Children also were taught to maintain regular cleanliness for self and surrounding area. 10 volunteers participated in the activity
Career Guidance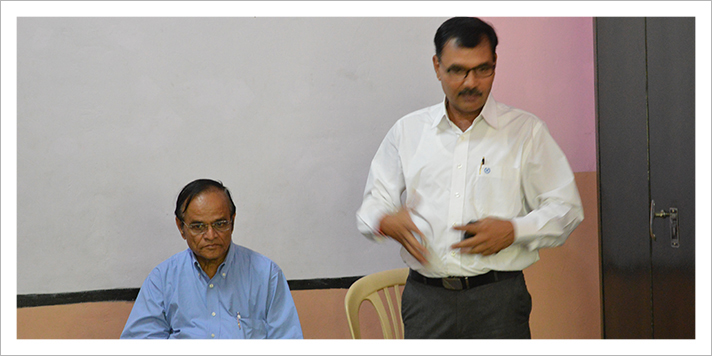 Rallis India volunteers have organized Career Guidance Session for 10th standard students of Municipal School of Divale Gaon Belapur. Students learned various career options after 10th standard. 6 volunteers participated in the activity.
Tata Chemicals
Babrala
Swachh Ganga Mission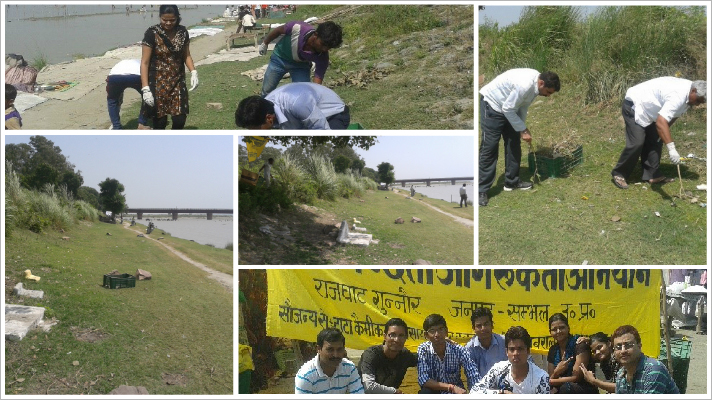 Ganges is the largest and the most sacred river of India with enormous spiritual, cultural, and physical influence. It provides water to about 40% of India's population in 11 states. Due to Increased inflow of industrial waste, and untreated sewage leading to pollute the water of Ganga. When Sri Narendra Modi launched his dream projects "Clean India" and "Clean Ganga". To make this dream success TCSRD initiated Swachh Ganga Mission under its moral and social responsibility. Tata Chemicals is regularly cleaning a stretch of 2 KM of Ganga Ghat in Rajghat area, Uttar Pradesh on every Sunday & making awareness among the local people for keeping the stretch clean & make it no plastic zone, more than 100 volunteers with more than 500 hours of volunteering are cleaning the ghat.
Animal Health Camp

TCSRD organized one day animal health camp on 20th September 2015 (Sunday) at Gunnaur Tehshil during the fourth Volunteering month where many TCL employees actively participated in the camp and more than 300 animals were examine and treated. The objective of organizing this camp was to protect these animals form some endemic disease like (Foot & Mouth). This camp lead by the TCSRD Animal Health doctor and volunteers.
Tata Consulting Engineers
Pune
Safety Awareness Program for School Teachers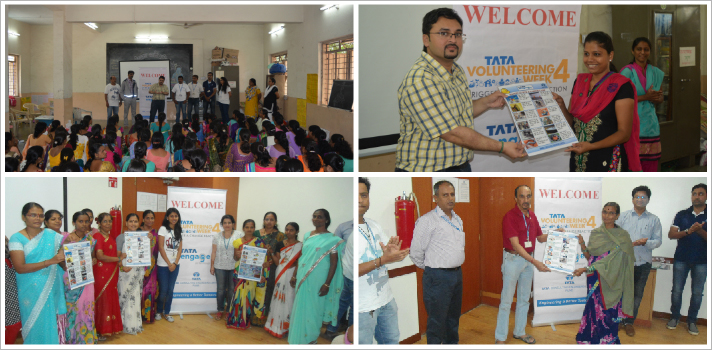 On 5th September 2015, on account of Teachers Day, 15 employees of TATA Consulting Engineers conducted workshop on first aid, safety at labor camp/site & road safety for 170 teachers of Doorstep School NGO, Pune. The teachers double up as caretakers for the kids of construction laborers at the Schools run by Door Step at Construction Sites, hence the session was based on educating the teachers regarding various potential hazards and remedies to ensure safety and well being of kids. The sessions were conducted at two locations viz. Golwalkar School, Aundh & TCE Pune Office. The sessions were demonstrative & interactive in nature to have more impact. TCE volunteers had prepared 3 posters (first aid, safety at labor camp/site & road safety) to illustrate various types of hazards and their remedies. 40 copies of the posters were handed over to Door Step which will utilized across schools to ensure safety of almost 5000 kids. The teachers thanked the volunteers for the knowledge sharing and felt better equipped to handle challenging situations at the school.
Orientation to ITI Students on CAD Training

In continuation with TCE's Endeavour to impart CAD Training (Theory & Practical) to ITI students and upgrade their skills for better employability, on 08th September 2015, volunteers from TATA Consulting Engineers, Pune conducted Orientation Session for 50 ITI students on CAD. The facilities & training at Institutes is felt to be inadequate and hence the students got opportunity to learn and interact with experienced professionals and operate on latest software platform. This program definitely motivates students to develop their CAD skills and equips them to have better job prospects in future.
Swachh Bharat Abhiyan (Visarjan Clean Up Drive)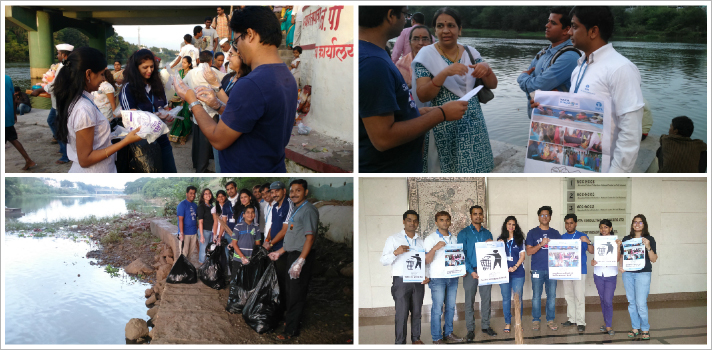 As TCE's participation in the national movement of Swachh Bharat Abhiyan, on 23rd September 2015, 10 volunteers of Tata Consulting Engineers Pune along with family members, took initiative to visit Visarjan location at Aundh and undertook cleaning of the river bank, facilitating disposal of items in garbage bins and encouraging people to utilize the Municipal tanks for idol immersion. Several items like plastic bags, wrappers, bottles, boxes etc had accumulated downstream under the bridge at the Visarjan location. The volunteers were able to successfully clean that particular portion with several bags of garbage collected and disposed properly in Municipal Bins.
Tata Motors
Lucknow
Health and hygiene awareness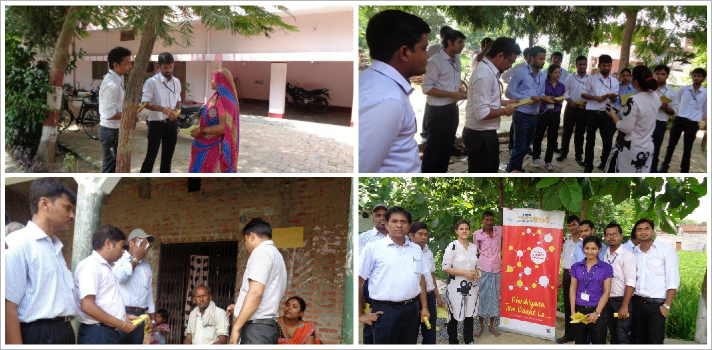 A camp was organised at by Jan Parivar Kalyan Sansthan (one of the NGO promoted by Tata Motors) on 16th September. The employees of the company along with villagers coordinated dengue awareness along with Cleanliness Drive at Dhawan, Imiliha and Raipurwa village of Lucknow District . They covered around 300 households for prevention of Dengue and other seasonal ailments and on need of cleanliness and hygiene.
Co-Curricular Activities in Primary Schools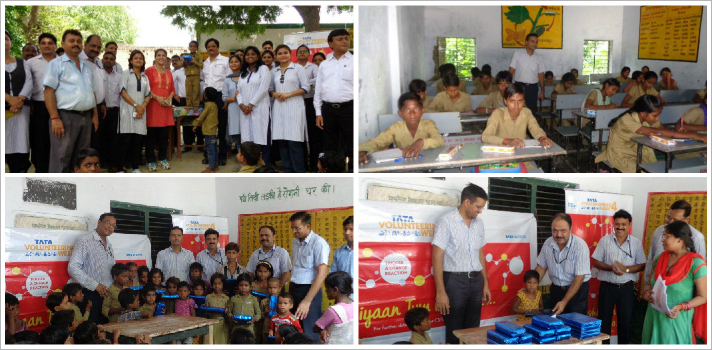 The active involvement of employees led in conducting the co-curricular activities in the two primary schools. The volunteers successfully conducted the drawing and essay competition for around 200 children of Muradabad Primary and Middle School of Barabanki District and 70 children of Nargishmau Primary School of Barabanki District. In the end, volunteers along with school teachers distributed the distributed the prize to children. The teachers and children thanked the volunteers for successful conduction of the program. The Volunteers also conselled the villagers and children on need of cleanliness and hygiene.
Health checkup

A camp was organised at Primary School, Barabanki by Jan Parivar Kalyan Sansthan (one of the NGO promoted by Tata Motors) on 22nd September 2015 . The employees of the company coordinated in the conduction of the health check-up camp for the school children of Muradabad village of Barabanki district. Besides routine health Check Up conducted the by medical team of Jan Parivar Kalyan Sansthan , the volunteers from company counselled the children about health and hygiene and value education. The volunteers served the mid day meal to around 100 children of the school
Candle march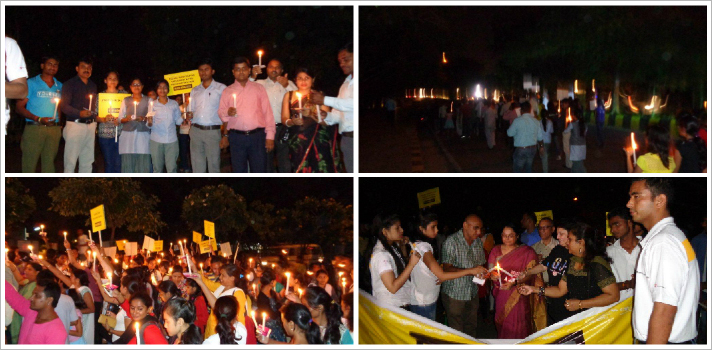 Volunteers participated in the candle march organized by Save the children (An international NGO) 24th September 2015 at Lucknow for lighting the way for child and women rights . The event saw the participation of 500 students and dignitaries from development sector.
Road Safety Awareness for College Students

The volunteering initiative continued on 28th September 2015 with active involvement of employees of Safety Department. The volunteers successfully conducted an awareness session on Road Safety for the secondary school students of RU Ashram Inter College , Lucknow The awareness drive involved around 300 children and school teachers. The teachers and children thanked the volunteers for successful conduction of the program.
Pantnagar
Lifeskill training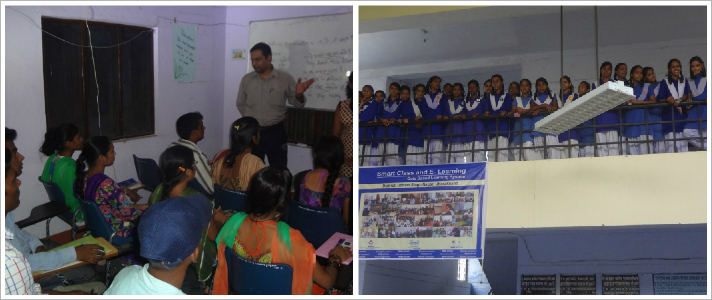 The Head HR Tata Motors Pantnagar Plant self volunteered for life skill education session for the trainees residing in community skill development center coming from underprevilged communities. The participatory approach and interactive session with simulations, games & group theory made the entire session live and fruitful for the benefacries. He also monitored the smart class project and had interaction with students engaged in smart class smart education.
Puppet Making Training Session:

The volunteers from the Tata Motors having diverse team conducted session over making puppet from the recyclable material available at schools. The team interacted with students and conducted session for half a day in government school. The best students coming out with good puppet was recognized and puppet was displayed at plant for other volunteers and employees.
GET Batch 2015 training

Team session at Government Primary School,Tanda Jungle in association with forest department & Education department conducted school to home visit with students to counsel their parents about dropout students, understanding of biodiversity and games show with students at schools in presence of teachers. 40 volunteers participated in the drive.
Mentoring to underprivileged scholarship grant students

The volunteers groups from the P & SC and Quality team volunteered for day long session and mentoring to scholarship grant students under Vidyadhanam programme. The 40 volunteers comprising of senior team and diverse population had one to one interaction and group interaction with students on subjects like English, Maths & Science. The students too asked many puzzles with volunteers & had fun interaction with team. The team is geared up for concrete action plan to bridge the gap between target and action.
Awareness Programme for Group Companies & Core Vendors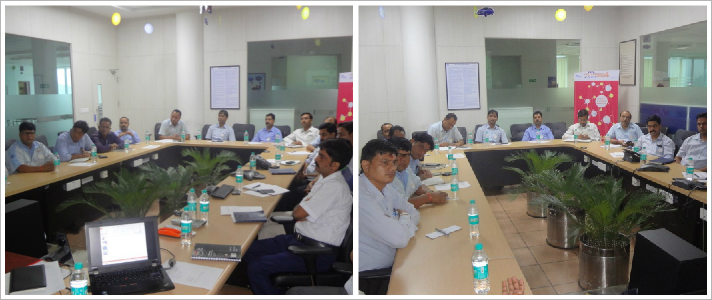 Team CSR in association with team ER & P & SC organized a day awareness workshop on CSR company act 2014 for the group companies located in SIDCUL and core vendor company. The interactive and participatory mode of workshop had emerged for concrete plan of action and involvement in upcoming Volunteering drive. 6 Group companies and 14 core vendor participated in day long workshop followed by field visit to CSR project area.
Tata Projects
Odisha
Visit to an orphanage

As a part of Tata Group, we are committed to contribute to our society in a number of ways. In continuation of extending our support in the areas of providing education and developing social entrepreneurs, the TPL team visited Orphanage and Child Home at Rampass, Jajpur Road.
The volunteers distributed bed sheets, shoes and sweets to the students, along with other volunteers. The volunteers provided counselling to students and organized a singing competition for them. Boys, Girls and other staff members of the orphanage and TPL staff attended formal handing over function.
Donation of water purifier

Being a Tata Group company, we are committed to make a positive contribution to society in a number of ways. Therefore, in continuation to extend our support in the area of developing social entrepreneurs and developing health care, Kalinganagar site employees visited schools in rural village, discussed with the teachers and students on various issues in Biramanipur Nodal Upper Primary School. They donated one RO+VU water purifier for providing pure and Safe drinking water. They organized awareness program on Computer literacy & basic training program through our employees and distributed sweets & health drinks to around 85 Students. They also did housekeeping activities for 4 hours along with Teachers & Students.
Tata Realty Infrastructure
Mumbai
Cervical cancer checkup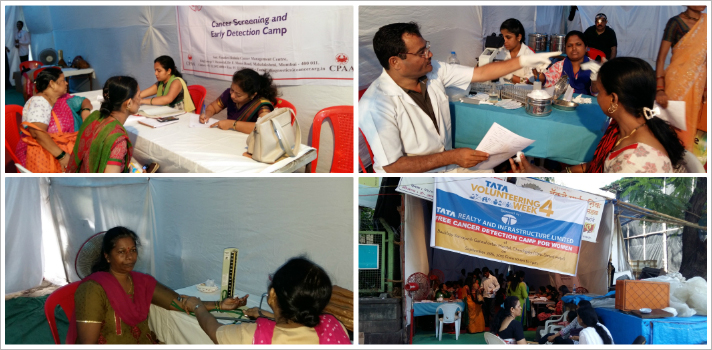 As a part of the TVW4 initiative, the TRIL volunteers organised a Check-up Camp for Cervical Cancer at Backbay Sarvajanik Ganeshostav Mandal, Churchgate on September 25 in partnership with Cancer Patients Aid Association.
Tata Starbucks
Mumbai
Beach clean up drive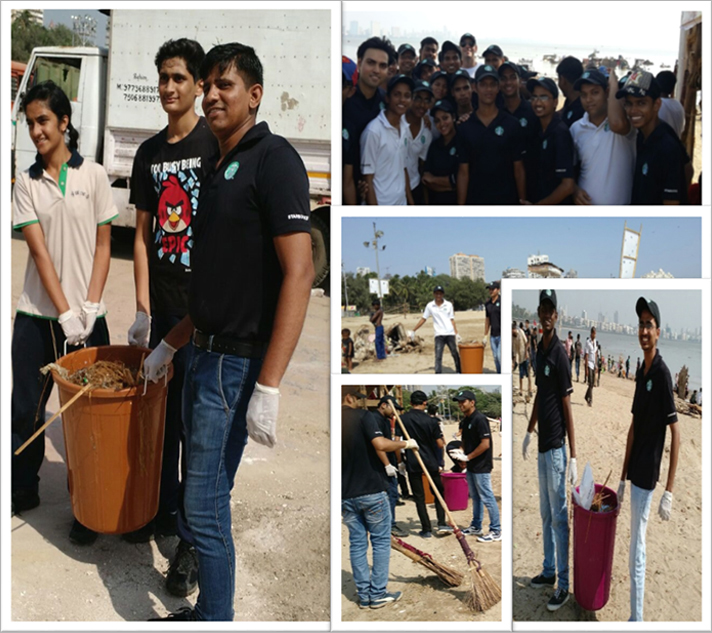 On the day after Ganesha Visarjan, around 60 partners from Mumbai, along with 30 students of Indian International Model United Nations (IIMUN), an NGO, conducted a cleaning drive at Girgaum Chowpatty beach. Starbucks partners and volunteers came together to display love and care for the community.
Tata Steel
Jamshedpur
Sports event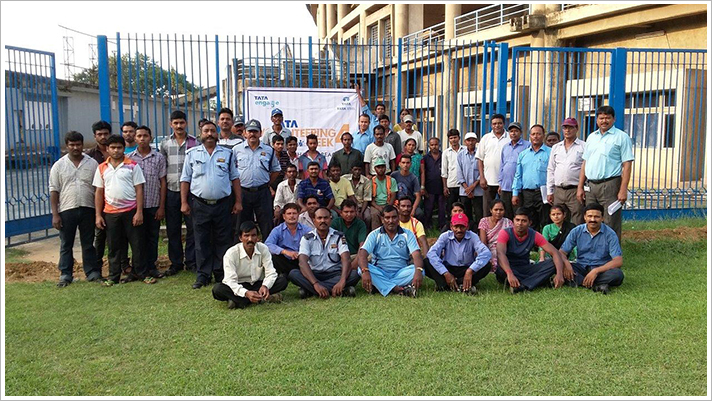 The labour class and the contractual staff put in a lot of effort in the overall functioning of any department/organisation. As a motivational and recreational initiative for them a one day sports event followed by lunch was organised by employees of Sports Department.
Yoga session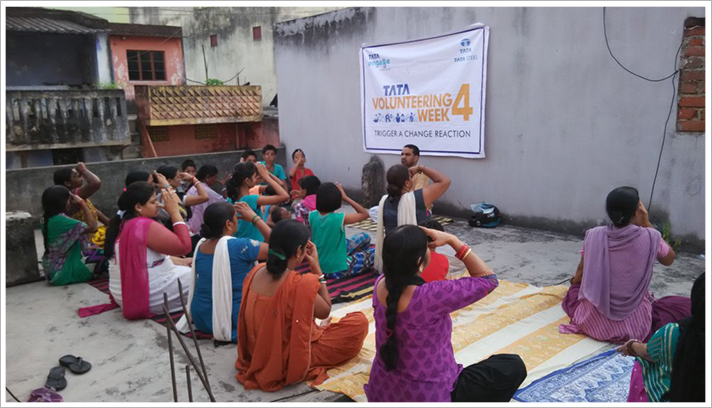 A special yoga session and talk on health was organised for the residents of Road No. 12, Adityapur. A volunteer demonstrated various yogasanas and gave inputs on the diet and other healthy habits.
Distribution of goodies

Employees of Intelligence department visited Centre for Hearing Impaired Children and distributed school bags, pencil box, tiffin box and candies among the hearing impaired children
Tarapur
Health camp

As part of TVW - 4 on 25th September 2015 Tata Steel Ltd (WD), CSR council association with TMRCT Thunga Hospital, conducted Free health, Eyes and Dermatology camp (Skin specialist) check-up camp at Thunga Hospital for underprivileged girls staying in the hostel in Maan. These girls are basically street children from Mumbai. There are total 45 girls staying in the hostel. The name of hostel is "Premanjali" which is being run by 'Society of Saint Ursula of Pune' (sisters' congregation). A total of 4 sisters look after the girls on daily basis. All the girls are between 5 to 16 years of age. The camp was conducted in the hospital.
Warli art

As part of TVW - 4 on 26th September 2015 Tata Steel Ltd (WD), 8 volunteers visited "Kansari Warli Arts- Bhopoli, Manor in order to Learn how to make the Warli painting in more innovative way and Promotion, development and marketing of tribal arts / crafts as an important livelihood opportunity.
Knowledge sharing session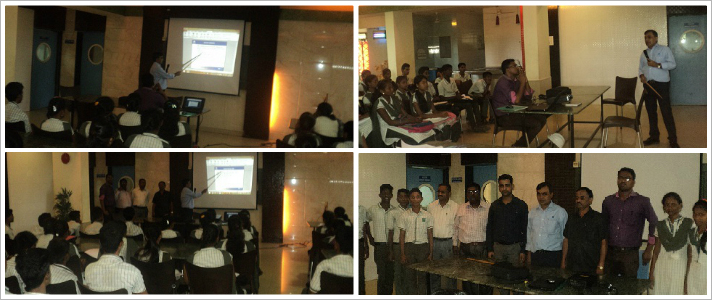 As part of the Tata Volunteering Week-4, Tata Steel Wire Division has arranged a knowledge sharing session with the local junior college (Technical junior college of Murbe) on the stores management and inventory management. Around 75 students took the benefit of the session.
Tata Technologies
Bangkok
Visit to a school for the blind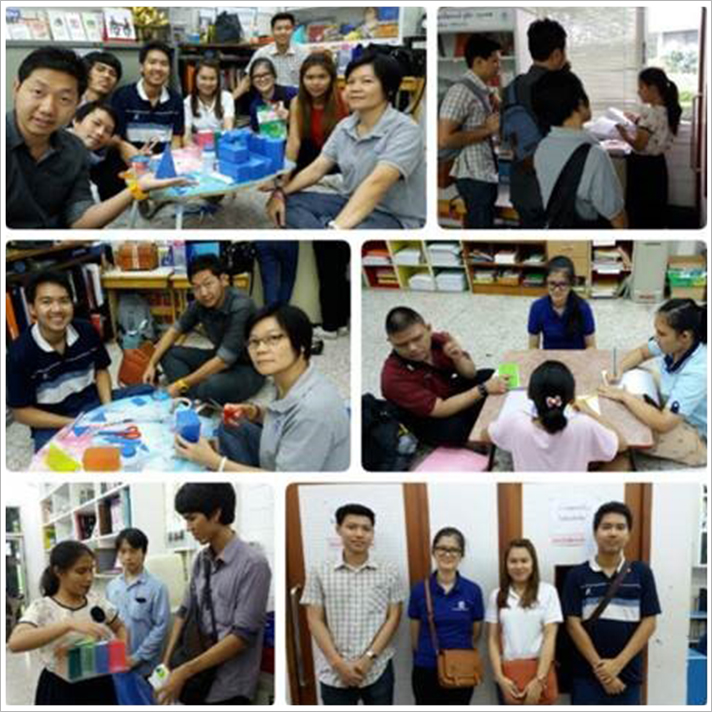 The volunteers visited The Bangkok School for the Blind of Thailand. They tutored blind students for exams. They also read books for blind students. They did reading and recording in MP3. They also assisted the blind students for their homework and helped the school for blind for making learning media and notebooks for Braille.
Blood donation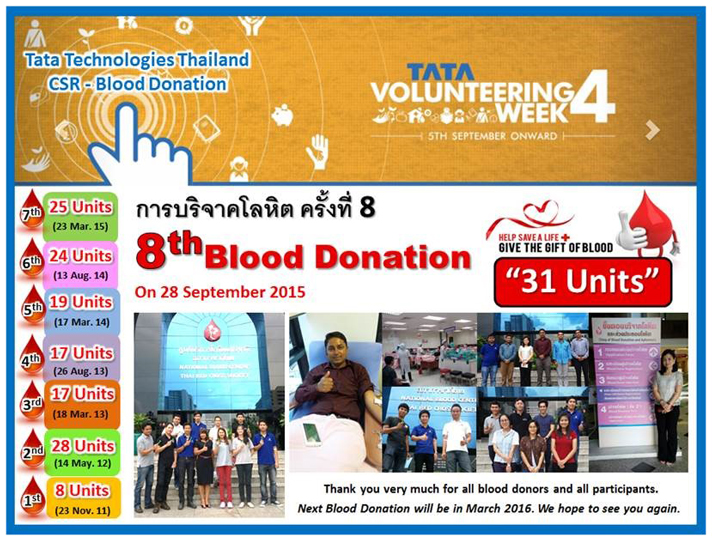 The volunteers enthusiastically donated 31 units of blood as a part of TVW4
Jamshedpur
Visit to Nirmal Hriday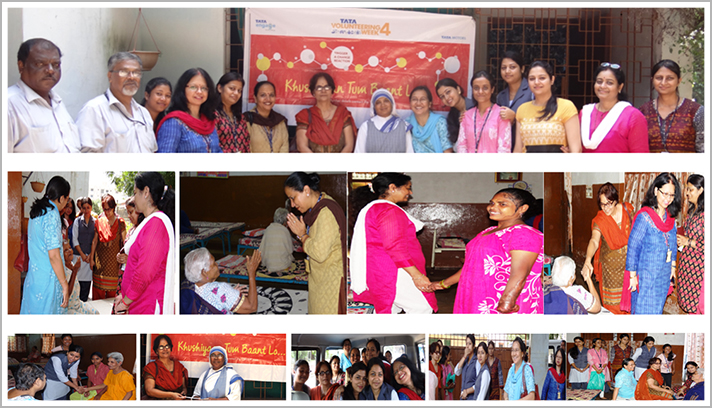 Enthusiastic Lady employees of Tata Technologies set aside some time from their busy work schedule for a noble cause of bringing smiles on the face of the inmates of Nirmal Hriday – the old age home in Baradwari, Jamshedpur. Nirmal Hriday, also known as home for sick and dying, is a home for 73 inmates. Sisters welcomed the team and briefed about the mission and working of the home. It was leisure time for the inmates after breakfast and they were very happy to see the visitors. The team spent quality time with them and listening to them talk and also hearing an inmate sing. They also distributed items of daily use like rice, flour, dal, cooking oil, soap, toothpaste, chana , Dettol, biscuits etc. This was a very enriching experience for the team and pledged to visit the home at regular intervals.
Tata Teleservices
Delhi
Session on Interview & Communication skills

The SVP-SCM from Tata Teleservices conducted a session on Interview & Communication Skills at NIIT Foundation for a mixed batch of Tally & Data entry students. He emphasized on the importance of education, skill development, confidence, grooming & time management to the youth. It was an interactive session where the students freely interacted with him & got the opportunity to receive his guidance to move ahead in career. He was accompanied two volunteers to support the initiative.
Voltas
Ahemdabad
Donation of grain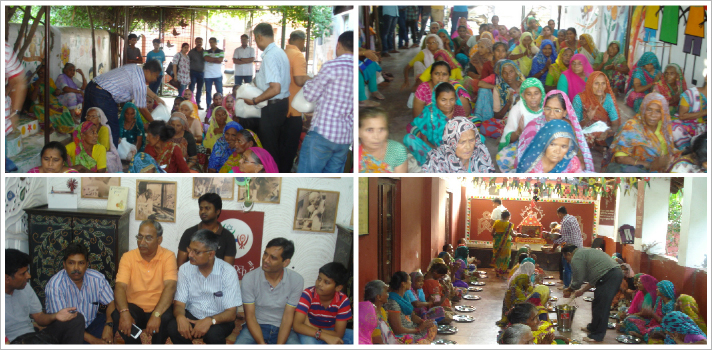 Manav Sadhana" a NGO based in the 'Gandhi Ashram' is dedicated to the upliftment of the underprivileged through love and care. 'Manav Sadhana' is guided by Mahatma Gandhi's unshakable beliefs in love, truth, non-violence & compassion
The 'Annadan' project was started in 1994 as a way for the community to assist its underprivileged members, based on Vinoba Bhave's principle of 'Mutthi Annadan'. The literal meaning of Annadan is a donation of food. Recipient of 'Annadan' : 50 needy widows residing in slum areas.
Volunteers from Voltas visited 'Manav Sadhan' on 26/09/2015 with 50 'Anna Dan Kit' of 5kg grains. They spent a few hours with these needy women of slum areas , giving them a feeling of being with the part of the society and distributed the grain kit to widows residing there with dignity & affection.
Bangalore
Donation of sport kits
Employees from Voltas Bangalore visited tent school located at HSR Layout -Bangalore. These schools have been established to provide education to children of migrant labour involved in construction activities across Bangalore/ Karnataka. These schools are supported jointly by Government of Karnataka and GMR Group. This initiative ensures that children of migrant labour are provided with education at doorstep. Voltas volunteers spent valuable time with these children. They donated educational accessories like note book, pencils, pens, colour pencils, charts etc. They also donated sports items like cricket bat, stumps, ball, football, volleyball etc. At the end of the visit all the volunteers opined that they had spent valuable time with these children and look forward to more such visits in future.
Delhi
Lifeskill training

As part of the Tata Volunteering Week-4, Tata Steel Wire Division has arranged a knowledge sharing session with the local junior college (Technical junior college of Murbe) on the stores management and inventory management. Around 75 students took the benefit of the session.
This sessions topic was Creative Writing and young Volunteers taught about how to think creatively on a given situation and then express them in writing, for example a report on a Cricket Match or a report on a speech given by a leader. The idea is to touch upon the abilities of young minds to think and visualize beyond what is seen and available and express them in impactful words in writing. Other volunteers also gave new ideas to students to improve their thinking and writing powers. The next session in the school will be on the guidance and importance of Career Planning.
Kolkata
Fundraising campaign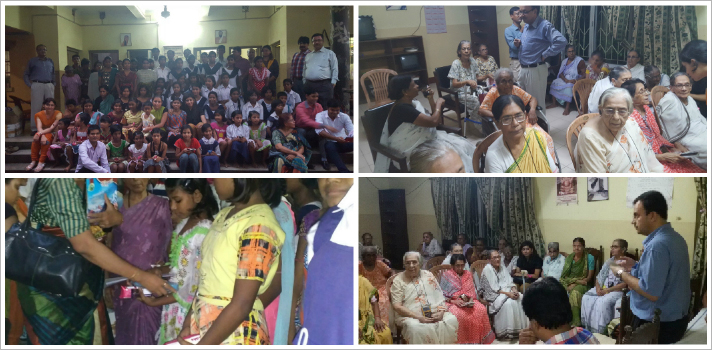 As a part of the Volunteering Initiatives plan in Tata Volunteering Week 4, the staff of Kolkata office visited Mahila Seva Samity at Rajpur on 24th September. The Samity - a nonprofit organisation - is the home for the orphaned children, aged ladies and ladies with social risks. Since the Samity had conveyed their requirements to us in advance, we requested all the staff to voluntarily make cash contribution to meet the expenses for this purpose. Within a very short span of time, a sizeable amount was collected. With the generous contribution of the staff, the volunteers could donate one LED TV, 50 Bed Sheets and Pillow covers for the old ladies, 50 Pencil Box sets with pencils, erasers etc and books for the children and INR.22, 000/- in cash for the purpose of buying the inmates new clothes for Durga Puja.
The Children of the Samity welcomed them with Songs and performed dance as well. During the visit, the staff spent the quality time mingling with the inmates who were really delighted to see us which was evident from their expressions. During the interaction with the inmates, the staff talked about the Health, Hygiene and personal safety which was very well received by all. Chocolates and Cakes were distributed to all.
The aged members of Mahila Seva Samity who reside in another dedicated building (Ashoka Niketan) greeted them like their own children. They interacted with each one with enthusiasm and shared their sorrows and interests. They mingled sang chorus songs and asked us to visit again. It was really a heart touching experience for all. The Management of the Samity was very appreciative and thanked for all the efforts.
Pantnagar
Blood Donation camp

Blood donation camp was organised by Red Cross Society in collaboration with Radisson Blu Hotel Pantnagar. Voltas UPBG team comprising of senior colleagues and volunteers from Pantnagar manufacturing unit, participated in the camp and donated blood for social cause. They were excited to participate and felt happy after donating blood and received certificates also.
Mumbai
Visit to school for differently abled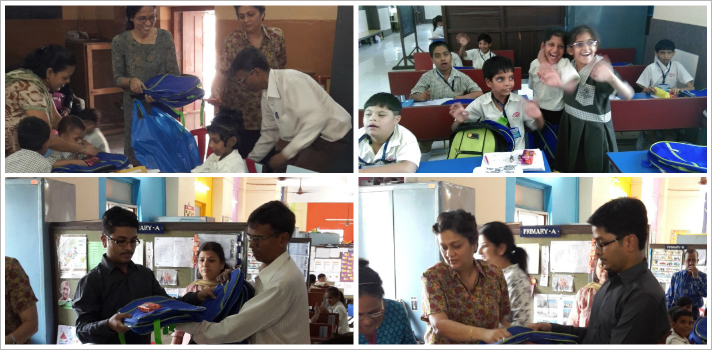 On Oct 1st, the eve of "Joy of Giving" week, Voltas Mumbai Team visited Anza Special School, administered by the Church of our Lady of Glory, Byculla. The School caters to 103 children with a team of 23 teachers.
The mission of the school is to empower and rehabilitate mentally challenged children by imparting education and training in the areas of self-help, self skill, motor skill, language, cognitive skills and pre-vocational skills. In addition to academics, teaching non-academics is also focused to develop their overall personalities.
A team of 7 volunteers visited the Special School children at 11.00 am and received a warm welcome from teachers and cheerful greetings of the children. The volunteers enjoyed interacting with all the children in different classes across all age groups while distributing a school bag with biscuits and chocolates.
It was a great joy to see the enthusiasm and happiness of receiving the gifts on the children's faces.
Tata Advanced Systems
Hyderabad
Visit to a park

Under the banner of TASL-TVW-IV Day Outing , 23 volunteers started in the morning at 8:30 am along with 45 students from Zilla Parishad High Schools, Nadergul for visiting Nehru Zoological Park. It was a day full of fun & enjoyment both for the children and the volunteers who participated in the program. The enthusiastic bunch kept the volunteers busy with their inquisitiveness whilst marvelling at the myriad animals & birds in the park. The tired gathering then enjoyed a relaxing lunch in the Zoo premises. It was a memorable experience for all the volunteers who promised the kids they will soon plan another picnic together.