Indian Hotels
Malaysia
Cleanliness drive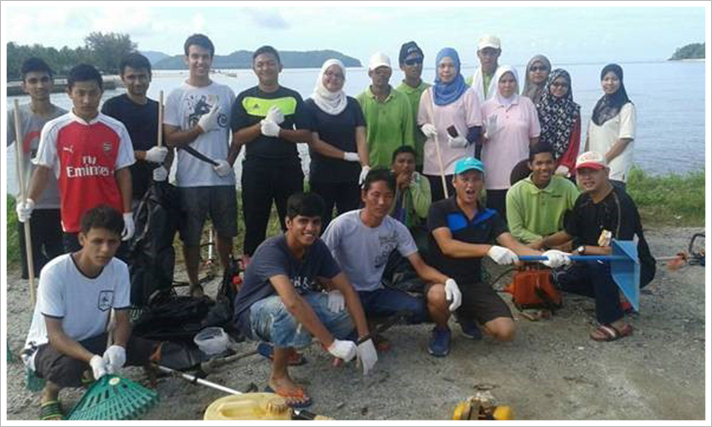 Vivanta by Taj, Rebak Island Langkawi, Malaysia volunteers carried out a jetty area clean-up campaign on occasion of the Tata Volunteering Week recently. The jetty area is outside the island resort and is a public space leading to the airport and tourist stretches. The resort has taken this area up as its own zone since the past one year and continues to drive cleanliness here at intervals. The volunteers devoted half a day from their work to drive cleanliness in this patch. This time round the drive was for two days instead of the usual – one.
Maldives
Lunch with children from Villingili islands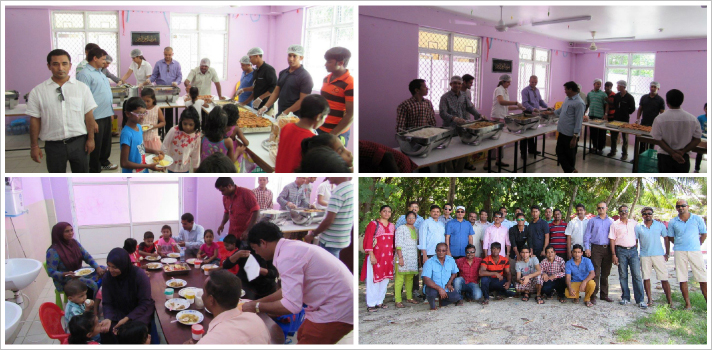 As a part of the Tata Volunteering week , Vivanta by Taj- Coral Reef, Maldives organized a visit to a Children' Home, Villingli Island on 26th September 2015 coinciding with the celebration of Eid Al - Adha. The home takes care of more than 100 Children, who are basically abandoned, or does not have parents to look after them. Such children are brought to this Island and housed at Children Home under the Ministry of Law and Gender, Maldives. As small as 3 months old baby to 16 year boys and girls are given shelter in here. There are 62 care takers look after these children in shifts. 35 associates from various departments volunteered in serving food to these children and care takers today.
A special full course menu was prepared by the kitchen team, which was then prepared early morning on 26th September 2015. The menu included dishes like, Chicken Biryani, Mixed Salad, Maldivian Fish curry Rice, Veg Haka noodles, egg curry & Bread. For deserts, Assorted fruits, custard, muffins and different kinds of Beverages. The bakery team also prepared a big cake for the children, for all those who have been celebrating their birthdays.
Food & Serving Chefing dishes were then transported via a speed boat by all the Volunteers to Villingili Island which is Approximately 2 hours sail from our Resort. At the end it was a day to remember- to have lunch with the young ones and show them that we care.
Srilanka
World Tourism Day & International Beach Cleaning day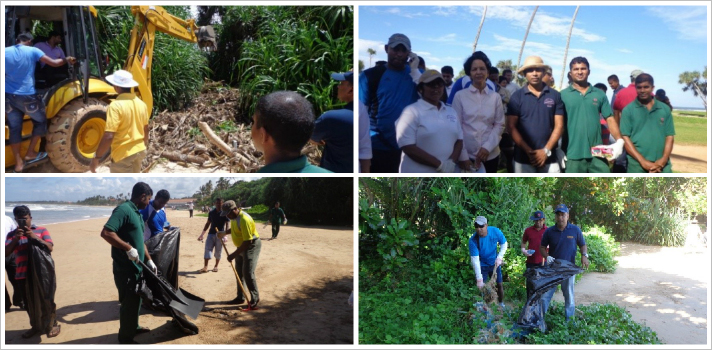 Under the theme of "1 Billion Tourist, 1 Billion Opportunities" Sri Lanka celebrated the World Tourism Day &The International Beach Cleaning day. Taj volunteers together with near- by hotels participated in beach cleaning in Bentota on 23 September 2015. Many officials from the Sri Lanka Tourism Development Authority too participated for the event.
The golden sandy beach being the most popular tourist destination in Southern coast it is a prime responsibility of all the stake holders to initiate a hassle & pollution free clean beach. Polluted beaches pose a serious health threat to the local population. The rubbish is an excellent breeding ground for mosquitoes carrying the dengue virus and other diseases. Many volunteers from Vivanta by Taj, Bentota turned up for the beach cleaning campaign and was able to collect lot of general waste, glass, empty plastic bottles and aluminium cans etc. The volunteers were very proud of the support and the guidance they received from the government institutes and the nearby school children for the initiative.
Chennai
Cleanliness drive

As part of TVW 4, VBT Connemara , Chennai initiated a cleanliness drive near Koovam River adjacent to the hotel area followed by Chennai Corporation Park and planted saplings, watering of plant in and around the hotel premises with our associate's and General Manager and all HOD;s department. All associates assembled near hotel time office area and HK Team organized brooms, carry bags, rag picking sticks, bucket and other equipments for cleaning. All volunteers geared up and returned back after 3 hours of continuous cleaning and picked all waste materials like plastics bags , plastic cups and metal items of decomposed items in and around Koovam River bud which cause for water stagnation and mosquito's breeding for the dwelling huts and neighbouring areas. Apart from the hotel volunteers, few morning walkers joined us for the cleaning drive and appreciated the initiative taken by us.. At hotel, the Cafeteria Team organized Buttermilk and Lemon Juice and snacks for the volunteers.
Visit to an orphanage

VBT Connemara Team and volunteers visited Christian Mission Children's an Orphanage home situated at Poonamalle high road 5 km from the hotel with inmates of 90 students age group between 5 years to 14 years.
Volunteers spent time with the kids and teacher and enquired about their well being and L & D manager made presentation on Hand hygiene and how to keep the surrounding neat and tidy. All students appreciated and enjoyed the session and assured us that they will follow the steps regularly in their day to day routines.
They also conducted Art& drawing competition for the kids making them in four groups depending upon on their age and we have gave the topic of Waste management, Saving of Energy, Hygiene way of leaving and Global warming. The Judges identified and nominated best drawing and gave prizes for winners.. Children enjoyed and shared their thoughts by explaining about drawing and how to control natural sources like electricity, water etc.
HR Department organized snacks, soft drink and other eatable for all intimates of home.
Mumbai
Visit to a center for physically handicapped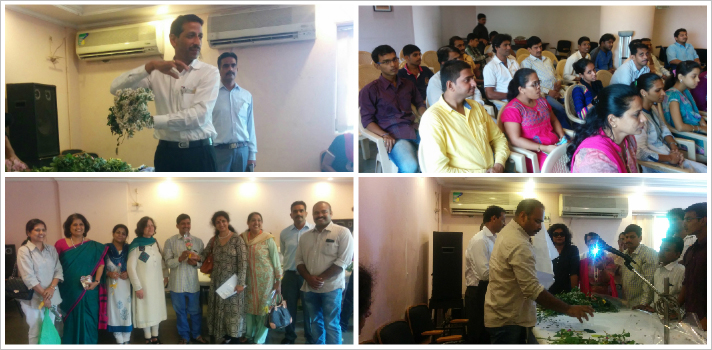 As part of Tata Volunteering Week 4, volunteers from Taj Mahal Palace, Mumbai visited the Fellowship for Physically Handicapped. The florist from Housekeeping department and Food and Beverage department joined the volunteers along with associates from the Human Resource department. There we were greeted by the General Secretary. She welcomed everybody warmly. The members of FPH then showed them around. They demonstrated the wonderful work done there by the children. Different departments like assembly, prosthetics, sewing, carpentry, etc. with different items made by people who themselves are physically challenged was inspiring. After the show around, the volunteer did a wonderful job by teaching the children flower arrangements, which they started practicing immediately by making small bouquets. The volunteer also showed them various napkin folding techniques which could help the children. The children there were thrilled with the sessions and thanked the volunteers by presenting them with decorated diyas and pouches.
Nashik
Cricket match

The Gateway Hotel Nashik organised the Cricket match between the Prabhidhini Trust and The Gateway Team during the Tata Volunteering week .Prabodhini trust is one of the first institutions for the care of mentally challenged, in Northern Maharashtra. We invited the children on 26th Sep at 11 am for the Match after that special lunch was organised for them in the Chancery dining hall. At the end of the event a small thank you gift was presented to all the children. They all were very happy and thanked the Gateway team for inviting them.
Amalgamated Plantations Pvt Ltd
Assam
Visit to a school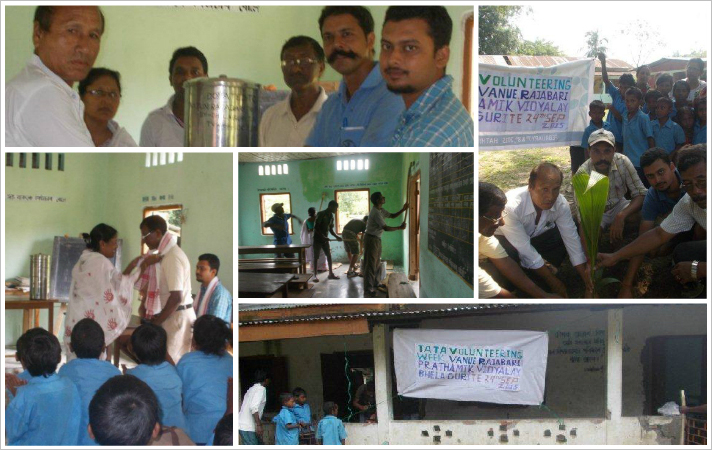 As part of the TVW4 commitment the volunteers undertook the White washing of Natun Rajabari Prathyamik Vidyalaya , an LP school in Rajabari from both inside and outside. They also conducted free health- check-up of school children of the same school. The volunteers planted coconut tree saplings inside the school campus. They donated a water filter to the said school. They created awareness amongst school children not to use plastic and save the environment as a part of Swaach Bharat Abhiyan in the school by way of cleanliness drive. They also did Minor plastering and touch up masonry work with own mason where required. The program was a great success and the school Head Master and Teachers were appreciative of our contribution.
The response and warmth received from the Head Master and teachers was fantastic and they were very happy with the initiative and felicitated all with hand made Phoolan Gamusa.
Swacch Bharat Abhiyan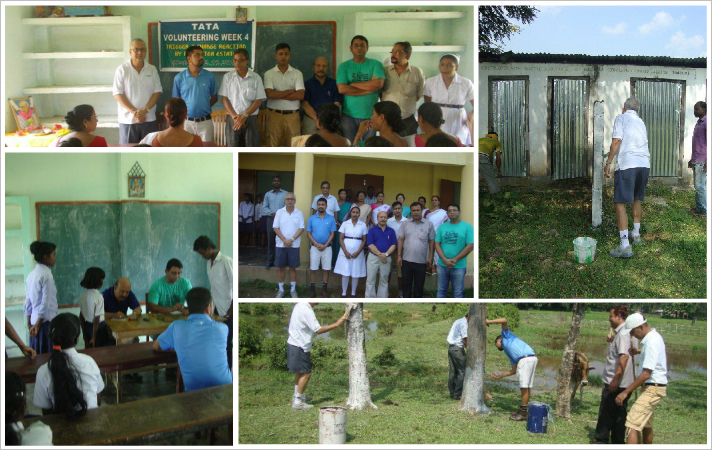 The Sr. Manager of the estate gave an introductory speech regarding the importance of Swacch Bharat Abhiyan initiated by honourable Prime Minister Mr. Narendra Modi and appeal the student to spare some time at least once in a week to carry out volunteering activity which not only improve their vicinity but also help to boost up their moral as well as to create a binding within the society. A free Medical camp was organized. They cleant the entire school compound and Lime washed the trunk of the all shade tree available within the campus upto 4 feet
Visit to an orphanage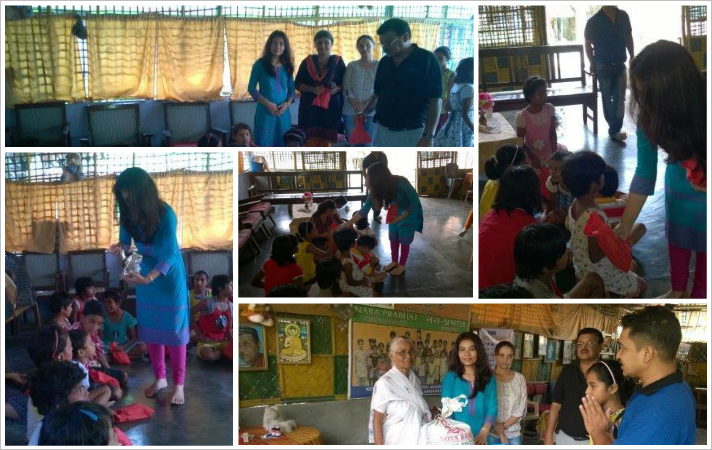 The estate organized TVW4 in Nabaprabhat orphanage home at Tezpuron. The volunteers organised a health check up of all the children and issued medicine where necessary. They distributed Iron and Vitamin supplement along with food packets to all the children. They also donated grocery item and food container to the orphanage authority.
Health check-up

Consequent to the TATA Voluntary Week-4 the Management, Staff and Welfare & Medical team of Nahorkutia Tea Estate spend 4 hours voluntarily on performing General Health Checkup camp and health awareness campaign on 22nd of September'2015 at Jeuti Morol School.
Entire attendance of 118 children were medically checked by the Estate Medical Officer, Pharmacist and Health Assistant and accordingly distributed general medicines to the children. Few children were detected with specific diseases were prescribed for further special treatment. Entire volunteers were extending helping hand on the event.
The senior colleagues of Nahorkutia Tea Estate delivered speech on importance of health care, habit of follow-ups and personal hygiene.
Coastal Gujarat Power
Gujarat
Educational Kit Distribution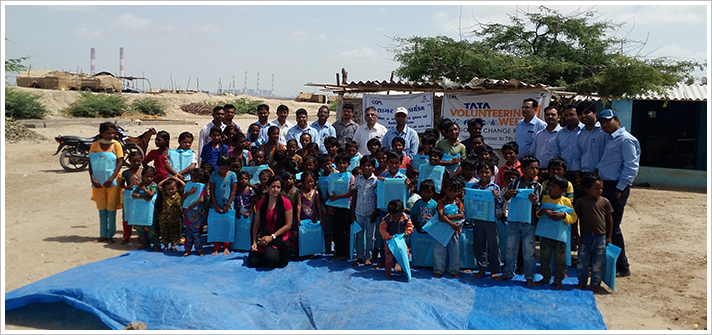 The volunteers from Coastal Gujarat Power Limited (Tata Power) is association with partner NGO Swadeep distributed 90 educational kits to the children of fishermen community in the Tragadi Bunder ( a temporary hamlet of fishermen). CGPL is already running makeshift school for the children of Transient fishermen with the support of Sarva Shiksha Abhiyan". The volunteers spent the morning of Sept 24th along with the Senior Leadership of CGPL. All the volunteers participated in the event wholeheartedly and also interacted with the students. The volunteers also gave a lecture on importance of education and how they can build their career if they continue with the school and their education. The volunteers were overwhelmed with the support and welcome they received from the fishermen community.
Magic show for the school children

15 Volunteers from Coastal Gujarat Power Limited ( Tata Power) organized a magical show in nearby Government school (Faradi Prathmik shalla, Faradi ) for the children. As it was a magical show, a large number of villagers also participated in the show along with their children. Around 175 school students attended the program. One volunteer from CGPL, through his Magical skills thrilled the audience. The show was for 5 hours. The children of the schools also performed. The thought of the magic show came from the volunteers and they had the view that when one of the volunteer of CGPL has the skills then why not spent the day with village schools children. The villagers have requested CGPL volunteers, if CGPL can organize more number of these type of event in the schools.
Rallis India
Akola
Health check-up

Akola volunteers conducted Health & Hygiene session for students of Shri Sarswati Primary & Higher Secondary School at Malkapur, Akola. Doctors gave valuable information of diseases normally occur in childhood, the reasons behind the illness and precaution to be taken to avoid the same. The students were given the awareness on Good Hygiene practices so as to keep all the diseases away. Around 150 students taken benefit of the session.
Science quiz competition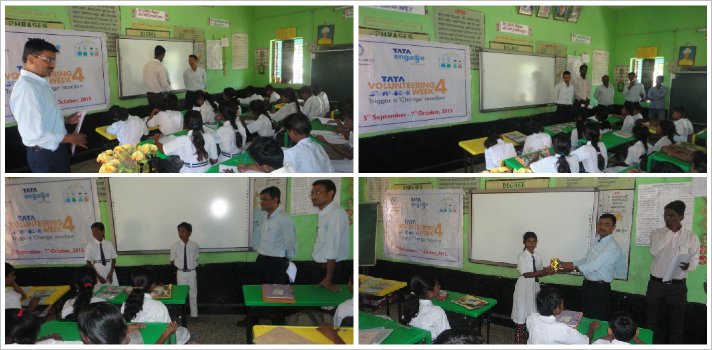 To create the liking & interest about science subject and as a part of TVW-4 activities, Rallis Akola volunteers visited Z.P.Primary School at Shivar on 26th September. The volunteers conducted Science Quiz Competition for class 7th students of the school. Normally the kids from the rural background not having sound exposure and liking of science subject. To create interest about the subject the Rallis Akola volunteers developed the 30 standard questions for the quiz competition. The top three achievers were presented the prizes during the occasion. Total 45 students participated in the competition.
Nanded
Gram Swachchata Abhiyan

Rallis Nanded Area Office Volunteers participated in the "Gram Swachchata Abhiyaan" in Gram Sabha on the occasion of Gandhi Jayanti at Gram Panchayat Karyalaya, Lalwandi. The volunteers gave an awareness talk on cleanliness, health and hygiene in the surrounding areas of the residences. They apprised the villagers lack of cleanliness and Swatchchata lead to health problems. The Volunteers then swept the village along with the participants and the farmers.
Tata Advanced Systems
Hyderabad
Free medical check-up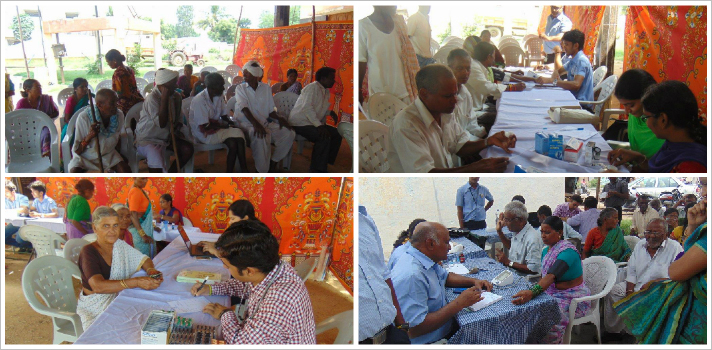 As a TVW-IV initiative, Free Medical Camp was conducted for local people in nearing villages. It was spear-headed by doctors and a team of 24 volunteers. The response to the camp was overwhelming. The people were screened for Hyper-tension, blood sugar levels & Hemoglobin levels. Based on the test results, free consultation was provided along with distribution of multi-vitamin tablets. Medicines were also prescribed for ailments like fever, anaemia, joint pain, etc. The lady doctors gave the much needed consultation to women & girls of the village and emphasized the importance of sanitation & self-hygiene.
Tata Chemicals
Mithapur
Distribution of wheat flour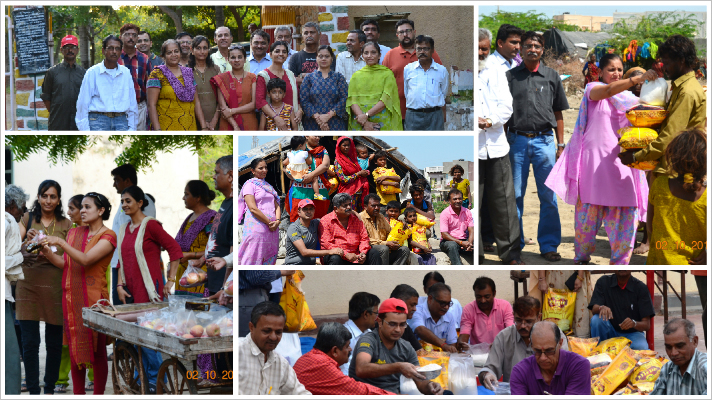 The Joy of Giving program started at Tata Chemicals, Mithapur, on 2nd October '15 with much enthusiasm and fervour. A survey had been carried out earlier for need identification in connection with Joy of Giving. Required funds were raised and half a ton of wheat flour was arranged, packed and gifted to families of less fortunate brethren around Mithapur and at Arambda village. Later in the evening, employee volunteers, family members and contractor volunteers visited the TB Hospital at Varvala and gifted fruits to TB patients. A fixed deposit was arranged for gifting milk and meal to TB patients at Varvala Hospital every year on 3rd March- Founder's Day.
Tata Housing
Delhi
Visit to an old age home

A team of 16 volunteers visited Gharaunda, an old age home situated at Fatehpur Beri, Chattarpur. There were 35 inmates in the house, age ranging between 60 yrs to 80 yrs. After arrival, all volunteers were engaged in spending quality time with each of the inmates, sharing thoughts and feelings and introduced themselves. Breakfast was served to them & Volunteers. We played Antakshari which was thoroughly enjoyed by all inmates and they actively participated. Few have shared some poetry/shayaris and their life experiences. Many talented inmates, despite their age, participated in solo singing, which made the whole environment lively. A music system was donated to the NGO. At the hour of bidding goodbye, it was heartening to see the happy faces of the inmates. Volunteers moved off with a promise to visit again very soon.
Visit to a hostel for the blind

A team of 16 volunteers from our company visited Blind Hostel (Boys) situated at Safdarjung Enclave, New Delhi. This Blind Hostel runs by NGO – Humanity Foundation who works to the needs of non sighted differently able and other destitute in the field of education. Currently they are running a blind hostel for 12 visually impaired students. All the 12 students . Our Team donated Bed sheets, Pressure Cooker & Blank CD's box. These items will be helpful to student's. After arrival, all volunteers were engaged in spending quality time with each of the students, sharing thoughts and feelings and introduced themselves. Evening snacks was served to them. Few of the students briefed us about the study they do. The students has briefed us how the make their college notes in Braille Script and how they operate computers. The team and students shared some poetry, songs, jokes etc. with other. The experience was wonderful and was an eye opening experience with our eyes shut
Visit to an orphanage

A team of 27 volunteers & 4 family members visited Khushi Rainbow Homes, an Orphan (Girls Hostel) situated at Okhla. There were 96 children in the house, age ranging between 06 yrs to 17 yrs. After arrival, all volunteers were engaged in spending quality time with each of the children, sharing thoughts and feelings. Children recognized few of the volunteers as we have visited their starting of this year too. Snacks was served to them. They played Kabaddi & Cricket with children's which was thoroughly enjoyed by all children's and they actively participated. We have donated Cricket Set, Sketch Pens, Towels to children's through NGO partner. Volunteers moved off with a promise to visit again very soon.
Tata Metaliks
Kharagpur
Visit to Missionaries of Charity

Volunteers from TML & TMDIPL visited Missionaries of Charity at Kerchand. The volunteers distributed donations collected from employees and played games and spend 2 hours with them. Volunteers also visited the T.B Hospital run by Missionaries of Charity for the benefit of villagers. In the remote village of Kharagpur , due poverty and lack of awareness there are large numbers of Leprosy and Tuberculosis patients . The mission of Charity keeps children of those patients whose parents either died or are under treatment in the hospital of Missionaries.
Tata Motors
Ahemdabad
Cleanliness drive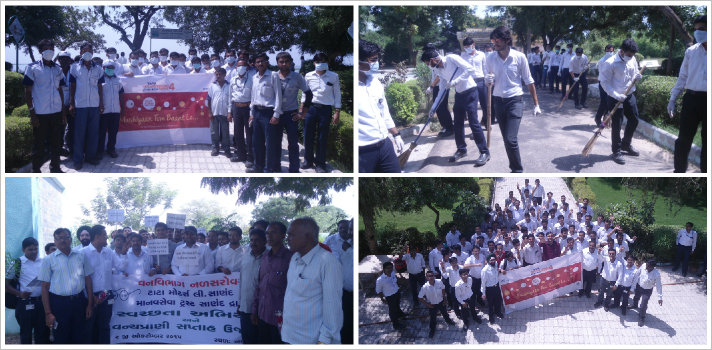 A cleanliness drive was organized at the Nal Sarovar Area as part of Tata Volunteering Week-4 on 2nd October. TML-Ahmedabad plant employees volunteered their time and helped to clean the area and maintain it properly for people to use. However, it was not only TML employees, but also contract workers from Service providers supported the activity and put their best foot forward to ensure cleanliness. RFO (Regional Forest Officer) inaugurated the drive in the presence of some senior volunteers from the Plant along with TDO (Taluka Development Officer). Around 102 employee's volunteered in this drive.
Pantnagar
Skill development

The core volunteers from the background of motor mechanic and autotechncian & 5S trainer visited the Kausalya training center run by the CSR cell of the Tata Motors at Rudrapur. The team interacted with center team and had active participation in trades being run at center. The core trainer from the volunteers group imparted industrial 5S skill training to center team and technical tips to trainees enrolled in autotechncian course.
Nature Trail Walk to understand Biodiversity

In coordination with forest department ,Tanda Jungle a nature trail walk organized for the volunteers to a distance of 8km. The volunteers from the shop actively participated in the nature trail. The local guide from the forest department voluntarily guided the team in the forest and volunteers came to know types of forest trees, birds, species and wild animal in the forest close to the plant.
Visit to tribal communities
The volunteers across the shop and offices visited one of the primitive tribal communities Vangujars residing in the Forest for last 60 Years. These type of communities had very less interaction with external communities. The volunteer carried out home to home visit to access the socio economic status, health issues, livelihood pattern social custom. The volunteers organized quiz session for the vangujars children and awarded token of gift to each children in the communities.
Mentoring to underprevilged scholarship grant students

The volunteers groups from the TCF Shop volunteered for day long session and mentoring to scholarship grant students under Vidyadhanam programme. The 20 volunteers comprising of senior team and diverse population had one to one interaction and group interaction with students on subjects like English, Maths & Science.
Training session
The team comprising of 9 members under the leadership of wife of the Plant Head visited the women livelihood engagement center ,where they interacted with trainees coming from the slum area and shared their inputs. The team assured for volunteer support at the center.
Pune
Visit to Nirmal Balvikas asharam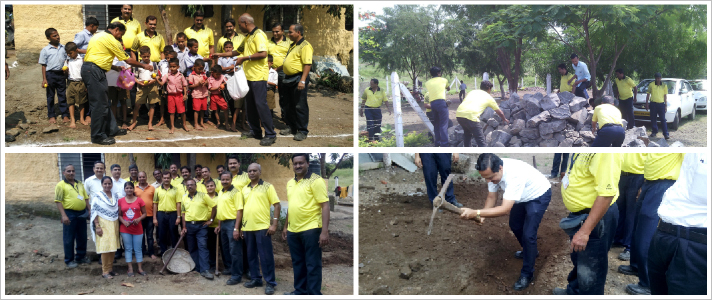 A team of 17 volunteers from Project Sankalp visited Niramal Balvikas Ashram, Thakkur Pimpri near Chakan, led by the AGM-SQ, CVBU-Pune. All volunteers contributed there physical efforts for building stage, did 'SHRAMDAN' – transporting stone to site, plinth marking on land & digging plinth pots. They also donated two tippers of gravels & sand for construction purpose. The team interacted with children, played games for fun & distributed fruits, sung songs. Ashram requested all team member for their sustained associate for future.
Visit to an ashram

Volunteers from Supplier Quality (CQ- Current Quality & VQA- Vendor Quality Assurance) lead visited " Sindhutai Sapkal Mamta Bal Sadan " near Kumbhar valan, Saswad on 28th Sep 2015. Mamata Bal Sadan has been founded in 1994 by the famous philanthropic lady Smt. Sindhutai Sapkal. Today 52 destitute and neglected girls between the age group of 4 to 20 years are residing in Bal Sadan. A team of 40 members, devoted Quality time with children understanding there day to day life. Team interacted with inmates & trustee regarding background & support required for the inmates. Volunteers distributed sweets to all inmates of the Bal Sadan. Team donated set of ceiling fans for newly built dining hall, washing detergents & daily required groceries.
Cleanliness drive

Team of 52 volunteers from Light and Precision Machine Shop of Production Engineering (PE) Division visited Nirmal Balvikas Sanstha, at Pimpri Budruk , Tal- Khed, Dist. Pune. Team interacted with children & done some recreational activity. Team engaged in cleaning of the premises. Team donated Cloths, Eatables, other cleaning items to the Organization. The team planted Rose saplings in the premises of the organization and also donated some potted plants to the children along with cash donations.
Waste management session

Three volunteers from CC& E Pune visited "Krishnagari Society at Dighi. The session Named "नातं निसर्गाशी - ...चला बदलू या मार्ग आपला …" (Relation with Nature – Lets change our way of living) presented in society. Session aimed at creating awareness on Waste Management. It was explained with the help of presentation and live examples which are visible were shared with the group. How role of each individual is important and how each one can be a contributor in this journey was shared with the group. Senior Citizens of the society appreciated the program and initiative of Volunteering taken up by Tata Group.
300 Medicinal Plantations

Team of 19 volunteers from PPPM, Cars in association with Dr. D.Y. Patil Ayurveda College organized Tree Plantation event at its Neharunagar Campus on 25th Sept 2015. The team planted a total of 300 Medicinal saplings. D.Y. Patil Ayurveda college will take care of these plants & will use for preparing Medicines. PPPM team thought planting trees will serve the purpose for future. Tree plantation is going to help to increase oxygen level, decrease pollution, prevent soil erosion, clean air, keep atmosphere cool. Along with tree plantation, the team took guidance about Ayurveda & Yoga for Healthy Living.
Team took an oath to plant as much trees as possible along with the College. This team has taken a target to plant 3000 saplings in coming 6 months in and around Pune.
Tata Projects
Secunderabad
Visit to a school

Tata Projects, planned to support students of schools at Ghanpur, lingapur, Tikya village in Primary Schools at Ghatkesar in continuation to extend our supports in the area of social and Education, the volunteers visited the schools and taken up the following activities. They distributed Educational kits to 70 Students and Interacted with the students and counseled them through motivation talks on future goals and also distributed chocolates, Balloons to Students and Teachers. They also conducted extracurricular activities and motivation sessions for teachers and students.
Awareness session on safe drinking water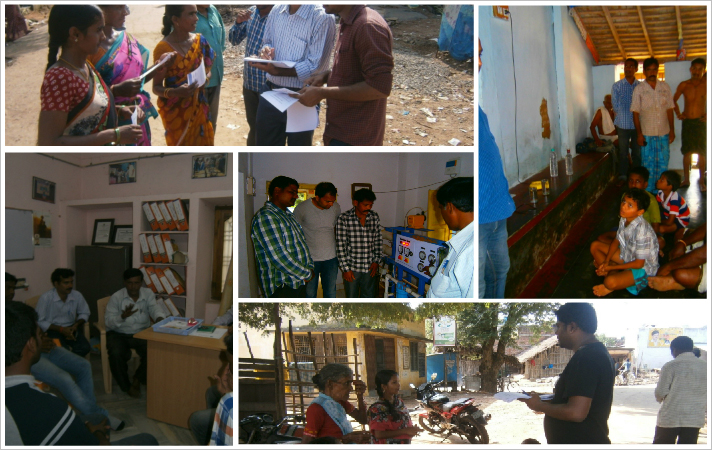 Tata Projects undertakes activities in water and sanitation and provides awareness on safe drinking water , clean sanitation and hygiene to the rural community.
For the first time TPL gave an opportunity to the rural communities in other locations and TPL gave an opportunity to the employees to travel long distance by train and next day organize the door to door awareness program and returned the next day to Hyderabad each volunteers almost spent around 43 hours for the volunteering . From Hyderabad the team visited Vijayanagaram and back. Volunteers expressed great joy in these activities. They interacted with the community and conducted some Awareness sessions on safe drinking water and its benefits through flip chart presentations, electrolyze demo. They collated feedback from that area and provided the required training/suggestions to the operators and entrepreneur for better prospects.
Tata Steel
Jamshedpur
Spending time with children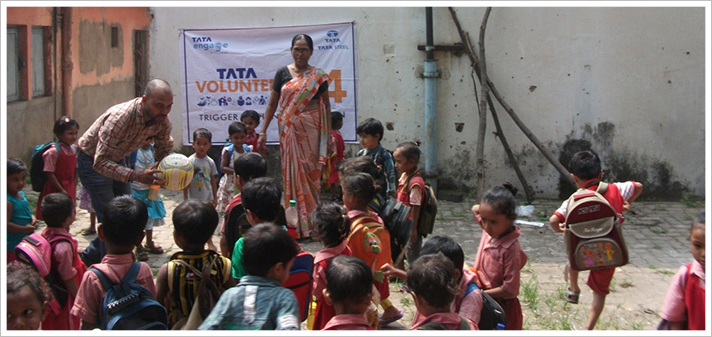 As a part of volunteering week 4 volunteers of New Bar Mill Dept, of Tata Steel visited Kasidih centre and interacted with the children and shared some time with some young boys & girls for happiness & joy
Save water awareness session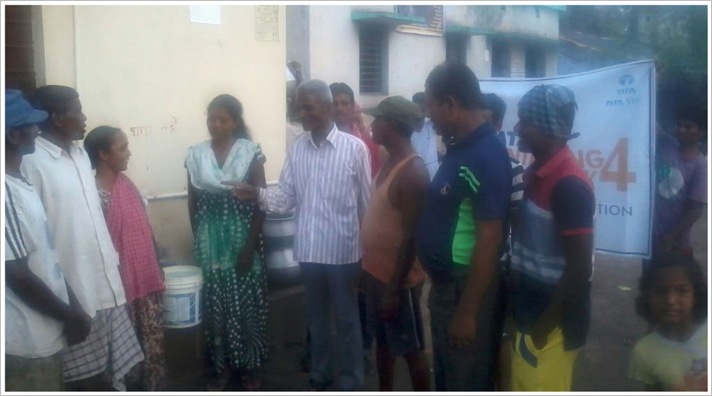 As a part of volunteering week 4 Urban Services organised awareness campaign on Save Water at Baridih Bustee.
Importance of meditation

Under Tata Engage week 4, Sports Department organised a talk at JH Tarapore School. Mr. Charles Borrommeo, Padmashree gave a talk on importance of meditation in sports as well as education. The volunteers talked about sports as a career option. Yoga was also demonstrated
Visit to a residential center

The employees of R & D Department, Tata Steel, visited R.P. Patel Cheshire Home, Residential care for girls with multiple disabilities (Jamshedpur). Volunteers interacted with the children with a smile on their face and shared a few light moments with them. The volunteers collectively brought items like Rice, Masur Dal, Chura, Refined oil, Milk powder were distributed amongst them. All girls were equally surprised and contented after receiving the gifts. The day ended with some joyful moments like singing and dancing of volunteers with all disable girls, which was full of learning, wonder & fun with each other. With this visit the Volunteers resolved to continue their support to the Cheshire Home.
Cleanliness drive

As a part of volunteering week 4 Safety & Fire Brigade department organized cleanliness drive at Sonari near Carmel School.
Tata Technologies
Bangalore
Village game stall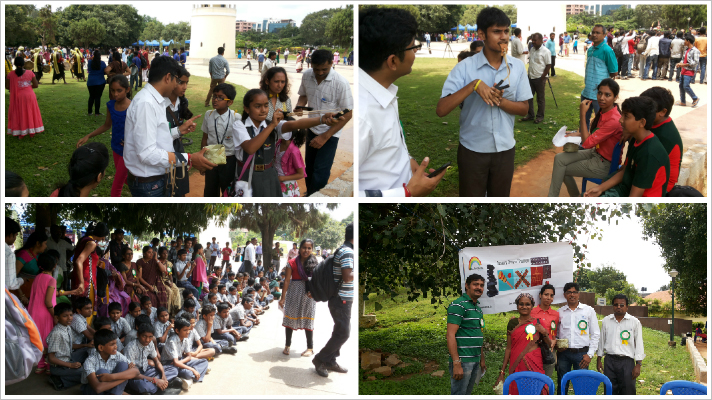 Volunteer Service was provided by 04 Tata Technologies employees to Vidyaranya (NGO) in carrying out ''DAAN UTSAAV, JOY OF GIVING WEEK''. Organizer asked the volunteers to run village game stall (Gulati or Gavandi) and employees were able to generate coupon worth Rs. 350/- by motivating visitors and children's to play the game in just 4 hours. The coupon was handed over to Organizer along with list of children name after end of the activity.
Tata Teleservices
Delhi
Painting of diyas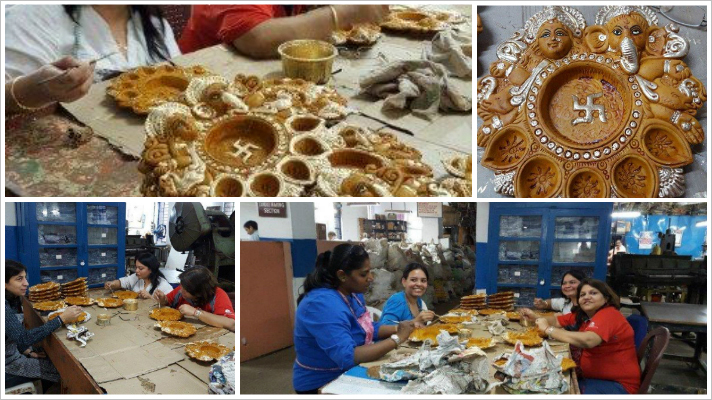 Four volunteers from Delhi office went to BRAD on October 1 to help them with the painting of diyas which will be displayed and sold during their upcoming Diwali Bazar a week ahead of Diwali. Diwali Bazar @ BRAD is a hugely successful event held every year and people from all over Delhi & NCR visit the stalls put up there.
Titan Company
Mumbai
Painting of railway station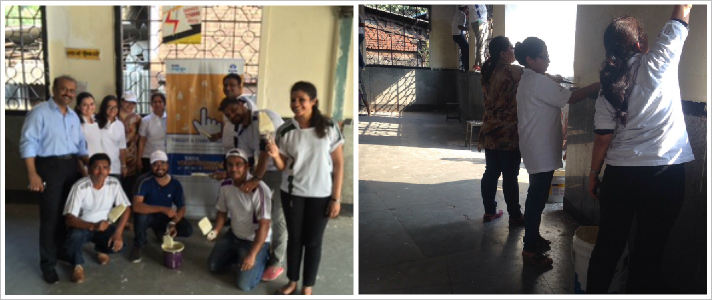 On 30th September, 2015, 11 volunteers from Titan Company Limited, Mumbai, painted the inside walls of Sion Station, partnering with an NGO - Die Hard Indian. Utilizing 20 litres of paint they covered an area of approximately 500 sqft. in 3 hours. The station was left looking clean and bright. All volunteers enjoyed the experience. The artists of the group will be returning to the venue to draw theme based caricatures.
Exhibition cum sale of products

Titan Company Limited - RO-West, had facilitated an exhibition-cum-sale of products created by the underprivileged women of Aftertaste.
Aftertaste, it is a grass roots social enterprise, working in a bottom of the pyramid slum in Mumbai, with the vision to empower the women using art and craft and enable them to earn a sustainable livelihood. These women have undergone a steep learning curve and transformed themselves from unskilled to skilled artisans, who earn a dignified livelihood from the sales of their handcrafted products.
Aftertaste received a very encouraging response. The women said they had a great time exhibiting their work. They went back feeling happy and motivated. They wish to return in the near future through more exhibitions and orders.
Tata Power Delhi Distribution Limited
Delhi
Walkathon and Awareness Rally

'Navras' (Tis Hazari & EAC) Cultural Club and 'Harmony' (Rohini) Cultural Club of Tata Power Delhi Distribution Limited organized a Walkathon for sensitizing common masses. 250 TPDDL & business associate employees participated in the Walkathon carrying placards on energy conservation, electrical safety and tree plantation. of Tata Power Delhi Distribution Limited organized a Walkathon for sensitizing common masses.
Distribution of School bags, Note books and other stationery items to BA Security Personnel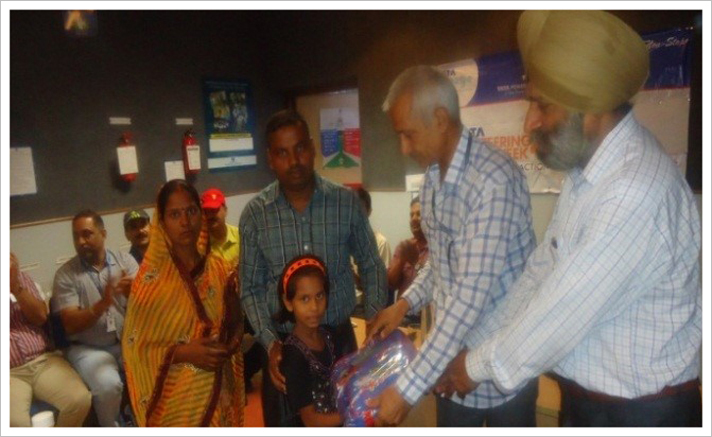 On the occasion of Tata Volunteering Week 4, Security & Disaster Management group organized a function at Conference hall, Gulabi Bagh under which the 20 volunteers from the group distributed School bags, Note-books and other stationery items to 22 school going children of BA Security Personnel deployed across TPDDL.
Drug De-addiction Camp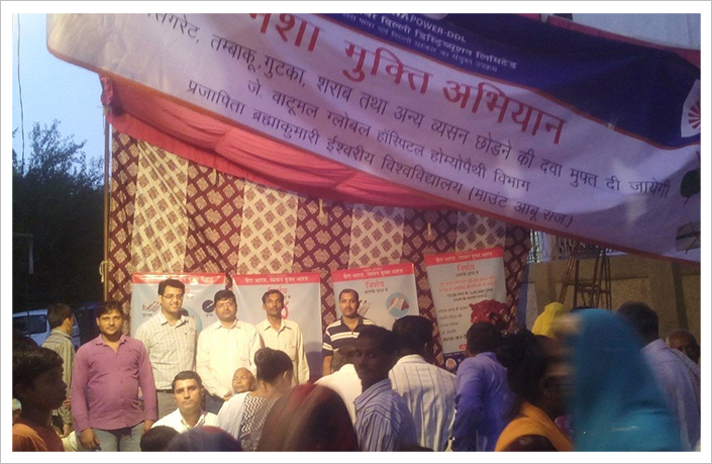 TPDDL, in association with Prajapita Braham Kumari's organized drug de-addiction camp for the needy ones at JJ Clusters, L-Block, Mangolpuri. 8 volunteers took the lead and whole heartedly contributed in the cause. Mr. Yatin Arya from Tata Services shared his interested and participated in the camp. 150 beneficiaries participated and got benefitted with the free medicines.
Inauguration of Vocational Training Center

Tata Power Delhi Distribution Ltd. inaugurated its eleventh vocational training center at Shahbad Dairy, New Delhi on September 26th' 2015. The center was inaugurated by Mr. Praveer Sinha, CEO & MD -TPDDL. The center will cater to 240 beneficiaries annually through Computer Training and Tutorial classes. Shahbad Dairy is a resettlement colony of North Delhi which is home to migrants from different nook & corner of country. The inauguration program was facilitated by 65 TPDDL employees including the senior management team. Women Literacy Program beneficiaries along with other NGO partners were also present during the ceremony.
Visit to Vocational Training Centre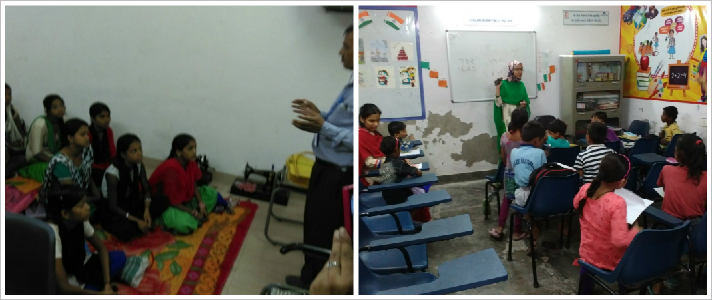 As part of the Tata Volunteering Week-4, a visit was made to the Vocational Training Centre at Shakurpur & Wazirpur by 03 Volunteers. They taught mathematics to the tutorial class students. Few valuable tips were shared with the students of computer classes. It was a fun-filled experience for the students. Few vital tips related to energy conservation, were shared with the students. Volunteers also delivered a talk on importance of good education and career. There exists no age-bar, when it comes to learning and the volunteers proved it right.
Visit to Old-Age Home

As a part of the Volunteering Initiatives plan in Tata Volunteering Week 4, the staff of Kolkata office visited Mahila Seva Samity at Rajpur on 24th September. The Samity - a nonprofit organisation - is the home for the orphaned children, aged ladies and ladies with social risks. Since the Samity had conveyed their requirements to us in advance, we requested all the staff to voluntarily make cash contribution to meet the expenses for this purpose. Within a very short span of time, a sizeable amount was collected. With the generous contribution of the staff, the volunteers could donate one LED TV, 50 Bed Sheets and Pillow covers for the old ladies, 50 Pencil Box sets with pencils, erasers etc and books for the children and INR.22, 000/- in cash for the purpose of buying the inmates new clothes for Durga Puja.
The Children of the Samity welcomed them with Songs and performed dance as well. During the visit, the staff spent the quality time mingling with the inmates who were really delighted to see us which was evident from their expressions. During the interaction with the inmates, the staff talked about the Health, Hygiene and personal safety which was very well received by all. Chocolates and Cakes were distributed to all.
The aged members of Mahila Seva Samity who reside in another dedicated building (Ashoka Niketan) greeted them like their own children. They interacted with each one with enthusiasm and shared their sorrows and interests. They mingled sang chorus songs and asked us to visit again. It was really a heart touching experience for all. The Management of the Samity was very appreciative and thanked for all the efforts.
Visit to Jivodaya Ashralyam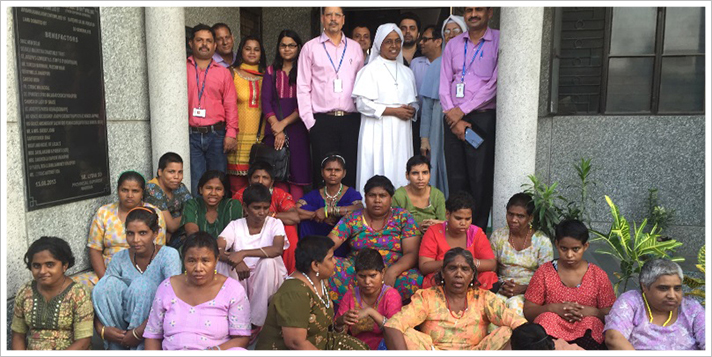 In order to mark departmental contribution towards Tata Volunteering Week-4, DOSEC Team visited Jivodaya Ashralyam, a home for the abandoned ladies (mostly women at this place are mentally challenged) in Vikas Nagar, Behind Vikas Puri, Near Hastsal Village, New Delhi – 110059. Items like grocery, clothes and other eatables worth Rs. 8000 were donated to this Ashram. Beautiful moments were shared with the residents of the Ashram. It was an unforgettable experience for the volunteers.
Tree Plantation organized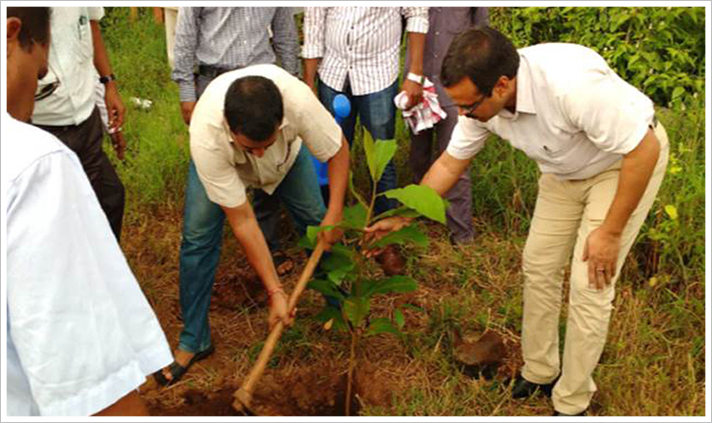 Business Development team of TPDDL based at Goa organized tree plantation drive at Panaji, Goa. MLA of Panaji constituency graced the event and planted saplings with the team of 12 TPDDL employees.