Coastal Gujarat Power
Gujarat
Musical night for differently abled children

The challenged children housed in Shree Navchetan Andhjan Mandal – Madhapar, BHUJ came on a single platform at a musical night "Guzaarish" at Coastal Gujarat Power Limited (Tata Power) Aashiyana multipurpose hall on 23rd September, organized by CGPL CR Team to commemorate the Tata Volunteering Week 4.
A group of visually-challenged, Low vision, Deaf and Dumb and Low Vision person performed a mime on "Side effects of Mobile and Corruption" which turned out to be an instant hit. Approximately 200 people/engineers/enthusiastic employees along with their family members visited and participated in the programme. Volunteers interacted and got an opportunity to personally meet these children and served sweets & dinner to them. The ED and CEO CGPL along with other senior Leaders inaugurated the event. Each Children along with their staff members & care takers were felicitated by CGPL. After spending quality time with them volunteers left the home with a heavy heart with a promise to visit them again and meet them to bring some smile on their faces.
Indian Hotels
Nashik
Donation of Weighing Machine

The Gateway Hotel, Nashik during the Tata Volunteering week donated the weighing machine to the Prabhidhini Trust. Prabodhini trust is one of the first institutions for the care of mentally challenged, in Northern Maharashtra. More than 30 years the institution has grown from a sapling to a wide spread tree giving physical, intellectual and emotional support to mentally challenge and their families. Every week a doctor visits to check the health of the children at the hostel facility of the Trust. We observed that they don't have a weighing scale. They were very delighted to see this surprise.
Exhibition Of Handmade Articles By Prabohidini Trust

The Gateway Hotel, Nashik during the Tata Volunteering week organised a handmade article exhibition of Prabhidhini Trust. The Gateway hotel supported the organisation by organising an exhibition of the articles made by their student's .The articles include bags, diyas, files, and papads etc. The trust received the encouraging response from all of our associates and wishes to return in near future with more exhibitions.
Telangana
Donation of mattresses

In relation to the ongoing Tata Volunteering Week, Team Taj Krishna, Hyderabad extended its support to the local NGO Family Eduvision.
Family Eduvision is an NGO, with 10 institutes across the city which sponsor number of projects helping the local small orphanages and other local communities which lack basic facilities and amenities to support themselves. Hence, Family Eduvision seeks sponsorships to support such projects also they reach out the MNC's, organization etc. Team Taj Krishna to support this noble endeavour driven by this NGO, has extended its support by donating 18 mattresses and old uniforms. NGO representatives were deeply touched and expressed their gratitude. They even conveyed their desire to have such venture on continuous basis, which was endorsed by team Taj Krishna, Hyderabad.
Swachh Bharat Abhiyan

On the eve of the 1st anniversary of the Swachh Bharat Abhiyan, the team at Taj Krishna came together to clean the periphery of the building a few neighboring localities and some areas of the hotel premises. The team divided itself into 4 groups each group took an area and in teams of 8-10 the teams disbursed to clean the localities. More than 60 volunteers from the hotel came together at around 5 pm in the evening and the drive went on till 6:30 pm, after 1.5 hrs of cleaning there could be seen some remarkable changes in the areas that were taken up by the teams. The teams disbursed with a spirit of togetherness and belongingness for the society.
Jodhpur
Medical camp

Medical camp was organized at Umaid Bhawan Palace on September 30th, 2015 for the associates of the Palace and Marudhar Hotels Pvt. Ltd. The Doctors included General Physician, Homeopathic and ENT Specialist. The camp was very beneficial for the Palace associates and their families. Total beneficiaries were 280.
Donation drive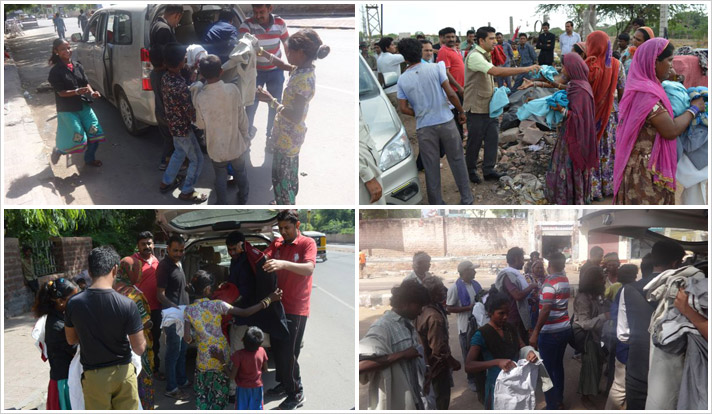 Semi used clothes and linen were distributed by team Umaid Bhawan Palace in the slum areas of Jodhpur as a part of the TATA Volunteering week 4. Used clothes which are in good condition and used in the Hotel operations and by the Palace associates personally were collected to be distributed among the needy. The team distributed clothes to the homeless people living in the slum areas in Jodhpur and experienced the true Joy of giving.
Cleanliness drive
Umaid Bhawan Palace team organized a cleanliness drive on the World Tourism day on September 27th at Tourist spot - Heritage Chattri near Hanwant Mahal in Jodhpur. The heritage site is well known in Jodhpur for tourists and was a fitting location to spread the awareness on conservation of Heirtage sites in India.
Tata AIG General Insurance
Mumbai
Visit to schools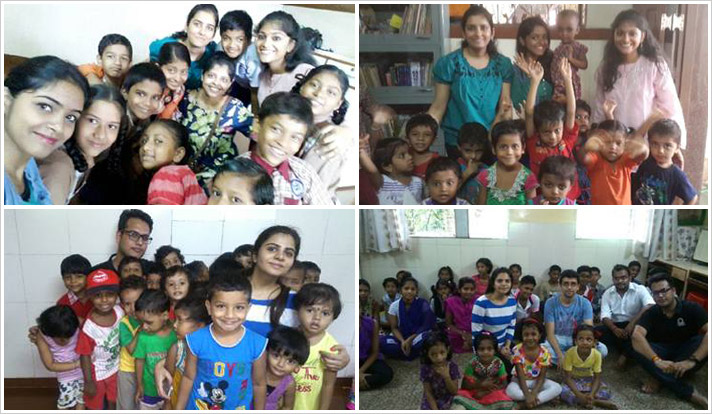 Nine Management Trainees from Mumbai joined hands to visit 4 schools with the NGO Toybank on 1st October and met ecstatic kids. They played games and did activities to learn and have fun. It was lovely experience.
Chennai
Donation of essential items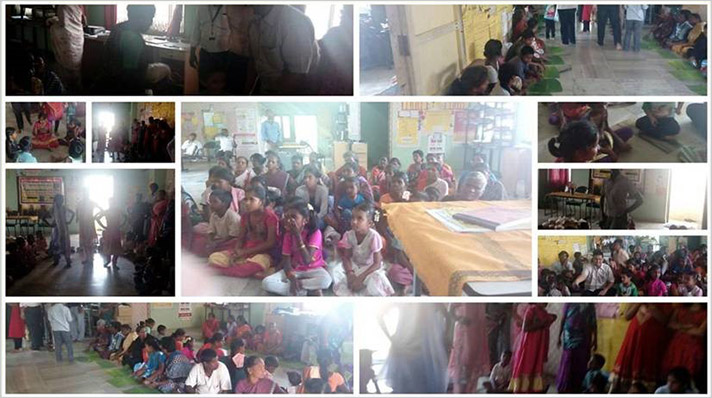 The Volunteering team visited NGO Sri Sai Social Welfare Trust in Tirutanni. There were around 30-32 children and around 20 women in the trust. Most of them were affected by HIV and were abandoned by their family. Volunteers provided them with Rice, Toiletries, Old clothes, Blankets and Lunch.
Tata Chemicals
Mithapur
ECO Fair for rural school students

Climate Change is a global issue which will affect us in multiple ways. It is important that we create awareness for making united efforts to address this problem. Continuing with the Climate Change awareness drive – "Think Global, Act Local", TCL organised an ECO Fair at Mithapur on 4th October. The theme for this ECO Fair was "Impact of Climate Change on our village". More than 150 students from 27 rural schools of 14 villages around Mithapur participated in the fair. These students presented their understanding on the likely impacts of Climate Change on biodiversity, environment, agriculture, water resources, salinity ingress etc. in their village and the resulting livelihood threats and the social implications it is likely to have through models, charts, photographs, posters, write-ups etc. The exhibits also covered information on remedial steps for mitigation and developing a climate resilient community through carbon reduction, organic farming, tapping of non-conventional energy sources and the need for living a simple lifestyle. The purpose of organising this Fair was to create awareness on Climate Change amongst the rural masses and to provoke the young generation to think as to what could be done to mitigate this problem.
The program did help "Trigger a Change Reaction" as apart from TCL employees, their family members and retired employees; contractors and community volunteers also participated actively and visited village schools on regular basis over the last three weeks for mentoring and guiding students in preparation of exhibits and in spreading awareness on the subject. More than 50 school teachers too volunteered and escorted the participating students to Mithapur for the ECO Fair.
Haldia
Inter – school meet

TCSRD (Haldia) organized an Inter school meet with seven high schools on 1st October '15.The programme aimed to provide a platform for the students to present their talent and skills and improve them in the process. There was participation of more than 400 students in the events like debate, elocution, extempore ,poster making, singing and dancing. The winners of all the events were awarded with prizes and the school winning the maximum number of prizes was awarded the best school of the year. There was involvement of employees and their family members as volunteers where they contributed in helping in organizing the event and in the judgment in different events.
Tata Coffee
Bangalore
Visit to a special school

As part of the TVW4, our colleagues at Tata Coffee Bangalore visited the Karnataka Welfare Association School for the Blind and interacted with the children.
The company has partnered with them on a regular basis, where colleagues will be visiting to conduct sports sessions, quiz contests for the children, help with office administration and have discussions on various subjects (leadership, motivation, English speaking etc) which will help to integrate the differently-abled children into mainstream society. The children put up a special cultural performance for the volunteers as a surprise which was thoroughly enjoyed by all present.
Tata Consulting Engineers
Chennai
Donation of books and stationaries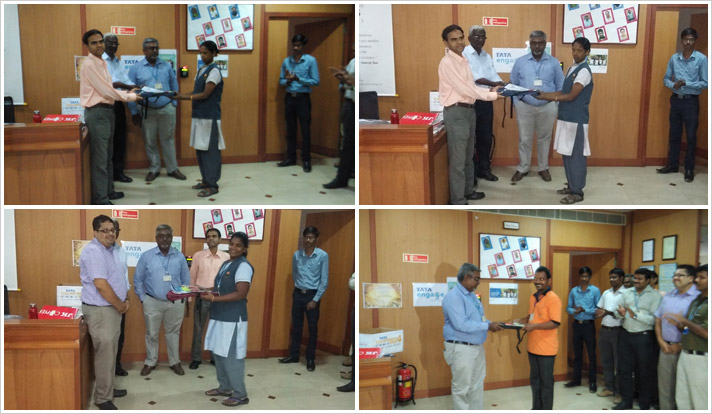 TCE Chennai celebrated "Joy of Giving Week" by donating books and stationaries to the children of Group L housekeeping staff. They were happy to receive the contributions for their children. All the volunteers felt happy to experience the "Joy of Giving".
Tata Metaliks
Kharagpur
Distribution of donation collected from employees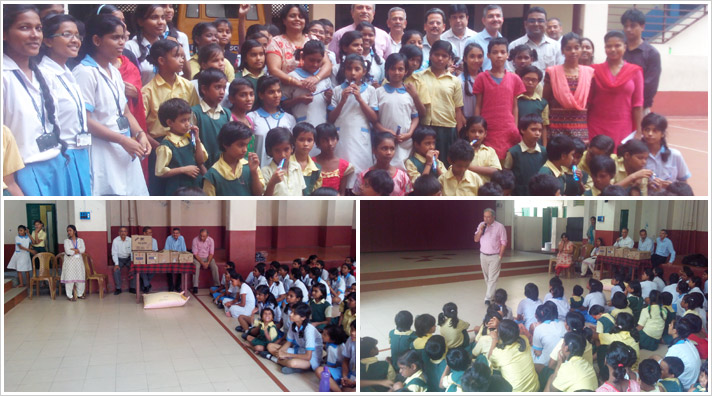 Ten employees of Tata Metaliks along with ED & CEO , Tata Metaliks DI Pipes Limited and other senior colleagues visited Loreto School, Shealda distributed Brown Chana, Parle G Biscuits, Horlicks, Nihar Natural Hai Oil, Colgate Dental Cream, Surf Excel and spend two hours with them. The M.D spoke about the Tata Group initiative on education and shared his views about education . The M.D promised the children's that he will regularly visit and meet with them.
Tata Motors
Pantnagar
Caring & support at orphanage center

Team from the paint shop comprising of 125 volunteers visited the orphanage center and understand the scope of volunteer work at center. The center incharge briefed the team about the objective and urge for support to such center. The volunteers from the shop performed group activities at center ,which in turn creates smile on the faces & multiplication of happiness for the day.
ONE DAY Teaching

The volunteers from SUMO shop conducted a classroom session under "One Day Teaching Program " where they undergone experience sharing session by the government teachers and conducted half a day session in teaching to the students. The volunteer enjoyed the teaching and experience the gaps between the target and action.
Swachta Abhiyaan

Volunteer along with students of the government school conducted swaschta abiyaan under Clean School Green School having maximum participation from the volunteers , teachers and students.
Visit to Lepers Girls Orphanage Center

Joy of Giving Week was observed at orphanage center ,where volunteers from the ER team ,training division and material department shared the time and service. The team voluntarily donated winter clothe to 84 orphanage girls as winter is about to strike the region. The team assured for all support ,especially ECA in the center at regular interval.
Tata Projects
Secunderabad
Awareness on safe drinking water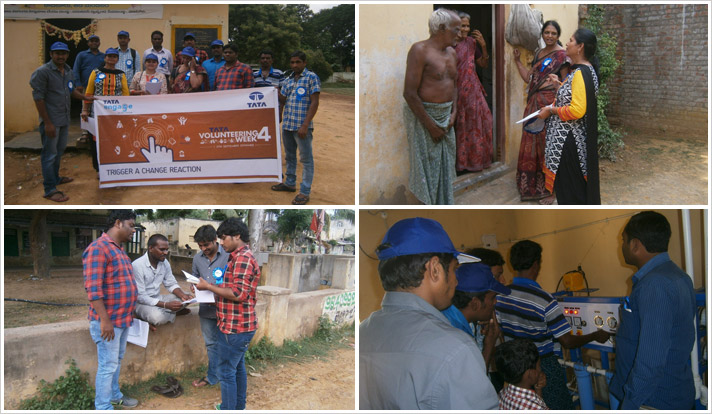 Tata Projects is focusing on awareness in rural communities on safe drinking water, clean sanitation and health. In continuation of this activity, and extend our support in the area of social and awareness program TPL has planned a program in 2 villages in Nellore district. TPL invited volunteers to visit to Nellore. The visit is an overnight journey; employees travelled on October 3rd night and provided door to door awareness to the communities on 4th and returned to Hyderabad on 5th. The team returned very excited and have requested for more such programs.
TPL team visited Nellore to give, awareness on safe drinking water program to the village people. The activities were organized at Nellore villages named Kaadulur, Mallam. They interacted with the community and did Door to Door survey. Team was involved in Awareness program on safe drinking water, clean sanitation through flip chart presentations, electrolyze demo.
Tata Realty and Infrastructure
Mumbai
Spending time with cancer patients

As a part of the TVW4 initiative and in commemoration with the Rose Day Celebrations, Tata Realty & Infrastructure Limited invited 10 children to the office on 1st Oct for a get-together. The children in the age group of 5 to 10 years are currently undergoing treatment for survival against Blood Cancer. The volunteers welcomed the children to the office with roses and started off with an inspirational movie which the children thoroughly enjoyed, followed by a cake-cutting. The children were very happy with the gifts and it was indeed rewarding to see the smiles on their faces. It was a heart-wrenching experience for TRILians mingling with the children, which has inspired all even further to do something more special for these little warriors.
Tata Steel
Jamshedpur
Visit to a primary school

As a part of volunteering week 4 employees of Design Cell, TGS of Tata Steel visited Primary School Ladaidungri, a predominantly tribal school and distributed some useful items like water filter, school stationary, Chocolates, biscuits, durri & Sports items. They also interacted with the small tribal children and understood their day to day needs and living style.
Donation of batteries for hearing aids

Employees of Long Product Planning of Tata Steel celebrated Joy of Giving by donating 240 pieces of cell (battery) for hearing aids at CHIC. This stock will be very useful for the small kids who are hearing impaired. These kids use various types for hearing aids for their communication. These aids run on dry cells.
Fire safety talk

A talk on fire safety was organised for the bustee people of RD Bhatta. The session was taken by employees of Safety Department.
Blood pressure camp

A blood pressure check-up camp was organised at Vijaya Gardens for the contractual staff, security personnel, housemaids etc. Doctors of the area volunteered their service for the same.
Distribution of gifts

Under Tata Volunteering Week IV celebrations (5th September to 7th October, 2015) a Joy of Giving Programme was initiated by JDC CRM Bara and JDC Corporate Services on 06.10.2015 at Utkramit Vidlaya, lalbhatta, Bagunhatu. A team of employees from JDC of CRM Bara, JDC of Corporate Services and Urban Services, CSR of Tata Steel visited Mukhi Bhawan at 4:30 pm. The idea was to spend some time with these children, share some lighter moments, and try and help the children.
At the start of program the children welcomed all volunteers with their gleaming smiles and warm heart. The volunteers collectively brought gifts items like pencils, eraser, sharpener, note book etc which were distributed amongst the children. The teams were also distributed some ceiling fans to the school. All children were equally surprised and contented after receiving the gifts.
Tata Power Delhi Distribution Limited
Delhi
Visit to Vocational Training Centre

As part of the Tata Volunteering Week-4, a visit was made to the Vocational Training Centre at Narela and Sultanpuri by 12 Volunteers. They had an interactive session with the students of computer course. Students shared their experience of studying at the vocational training centre. For the students of tutorial class, story-telling, poem-reciting competition and a quick round of quiz on general knowledge was organized. Small packs of goodies were distributed to the winners.
Walkathon and Awareness Rally

'Abbhuday' Cultural Club of Tata Power Delhi Distribution Limited organized a Walkathon for sensitizing common masses. 150 TPDDL & business associate employees participated in the Walkathon carrying placards on energy conservation, electrical safety and tree plantation. A stretch of nearly 2 kilometers in the area of Bawana, was covered by the volunteers.
Voltas
Delhi
Skill development training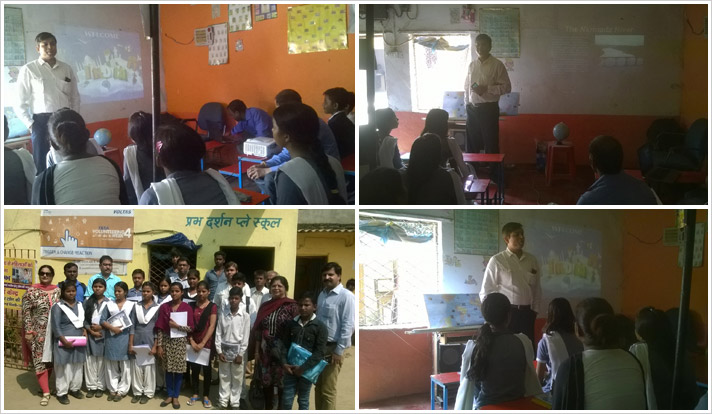 Seven volunteers conducted a very interesting session of our ongoing skill development program at Shri Ram Shiksha Peeth, Madanpur Khadar, Delhi. The topic was general knowledge and general awareness. The volunteers gave information about our Country, States, Capitals, Union Territories, Chief Ministers, Important Monuments in the Country, Main Rivers, Leaders and so on. They also covered the famous 7 Wonders of the world, continents and Oceans. Students were thrilled to get so much information and this is definitely bringing a good addition to their knowledge. With this the volunteers completed first batch of Skill Development Program. Educational tour, which was also planned in this phase will be conducted towards the end of the month due to half yearly exams going on in the school.
Mumbai
Visit to an orphanage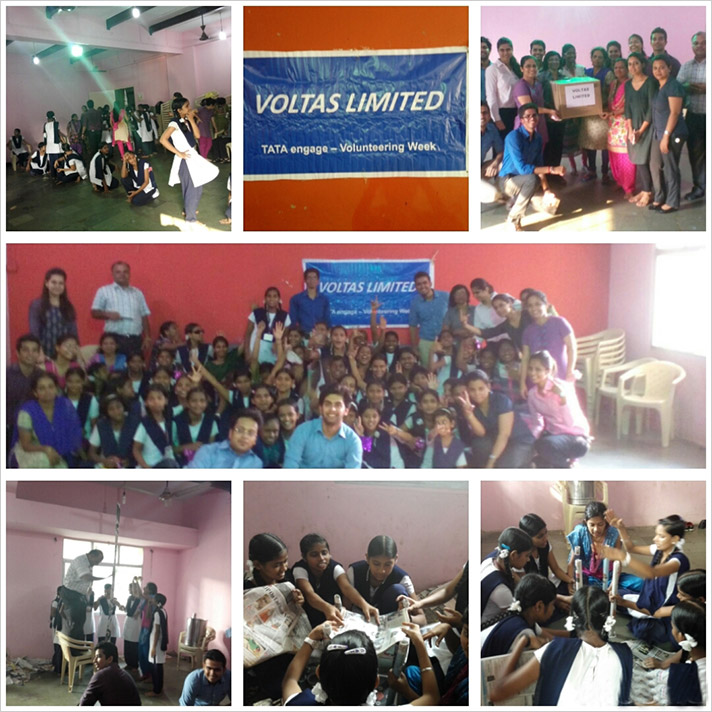 As a part of the Tata Volunteering week, Voltas, Mumbai organized a visit to an orphan home for girls, "Maze Maher" on 05th October 2015. The home takes care of more than 70 girl children, who are basically abandoned, single parent or does not have parents to look after them. As small as 6 years to 18 year girls are given shelter in here. There are 15 care takers who look after these children in shifts. 18 associates from various departments volunteered in spending time with these children and care takers today.
A series of fun filled events were organized for the girls between the age group of 6 to 10 years. For the elderly group of girls, a learning activity "Making of Paper Tower" was organized with the focus on developing their skills. The several activities ended with giving away of exciting prizes, gifts to girls as per their age group. At the end it was a day to remember- to spend time with the young ones and show them that we care.
Nagpur
Visit to a home for homeless

Team Voltas Ltd -Nagpur visited Bal Sadan , Katol Chowk , Nagpur, a home for the homeless and destitute Children. The home is run by 55-year-old Vidarbha Relief Society since 1990s. The programme started with a short introduction of the Bal Sadan children. The volunteers conducted a cultural program which includes the Drawing competition, Motivational Talk, Prayer, Singing & Short Drama .Colleagues gave a motivational talk to the children explaining the importance of Study to grow in life. They organised the drawing kits and conducted the competition among the inmates. All the Kids were very much enthusiastic and made colourful drawings. The children performed a very emotional short drama about the burning issue of farmer suicide. They then presented gifts individually to all the children to encourage them and a carom board for their indoor games . TATA Swach water purifier was personally presented to the BalSadan. It was a wonderful experience for the team to share happiness with the kids . The best take away from this activity is the feeling of gratitude for all the things which we are blessed with.