Tata Global Beverages
USA
Cleanliness drive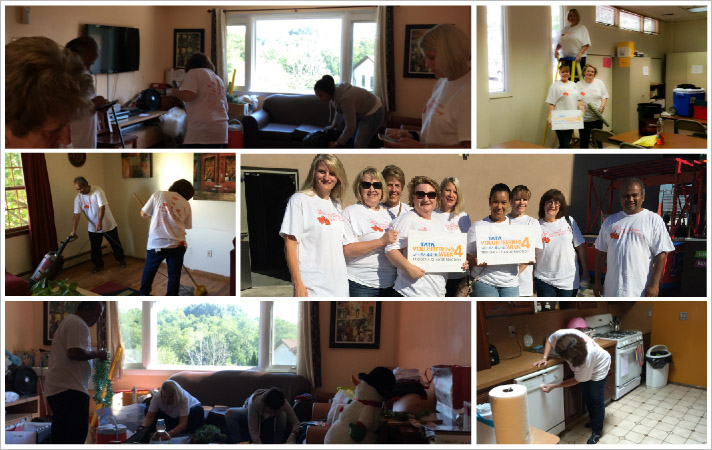 A team from the Montvale NJ office participated in the United Way Day of Caring. The United Way organizes volunteers from local companies and matches them with projects from the local county's non-profit agencies that need help. Our team was sent to two different organizations. At the Child Care Resources Center of Rockland County, three members of the Montvale team performed cleaning services. At a Group Home for developmentally challenged adults the other group reorganized a storage room and cleaned the home. They felt so good for having helped!
Helping a charity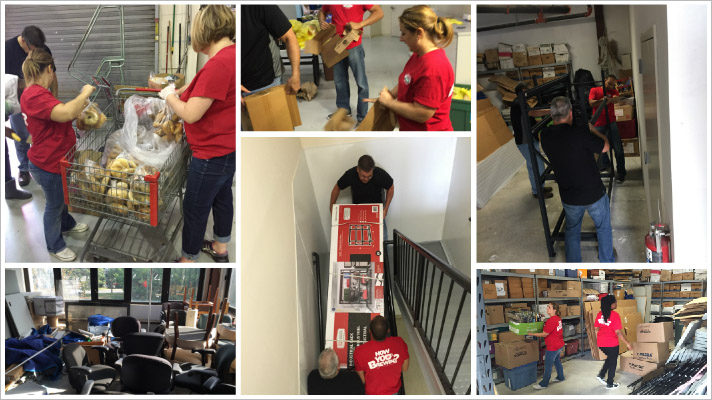 A team from the Montvale NJ office went to the People to People Food Pantry where they carried in and assembled a shelving unit, organized a storage room, restocked grocery shelves and checked food for expired dates. People to People is Rockland County's largest food pantry working to help struggling people in this county through difficult times with dignity. When the volunteers saw how great the need was, they wanted to do more. When they got back to the office, they put out a call for food donations that they could bring to People to People and help the following Friday.
Donation drive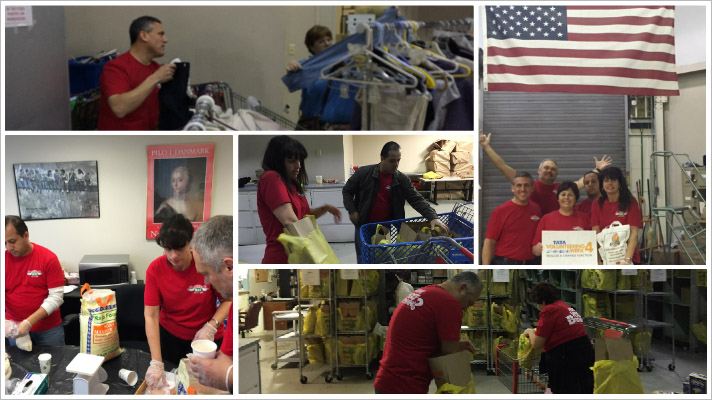 A team from the Montvale NJ office brought the 250 pounds of food that the office employees had donated and returned to the People to People Food Bank. They hung and displayed donated clothing and home goods, then packed bags of food that would be distributed to the hungry. Participating in these activities made the volunteers realize how much need there is to feed people in the community, how much the Food Pantry relies on volunteers, and how good it feels to help.
Amalgamated Plantations Pvt Ltd
Guwahati
Drawing competition for the children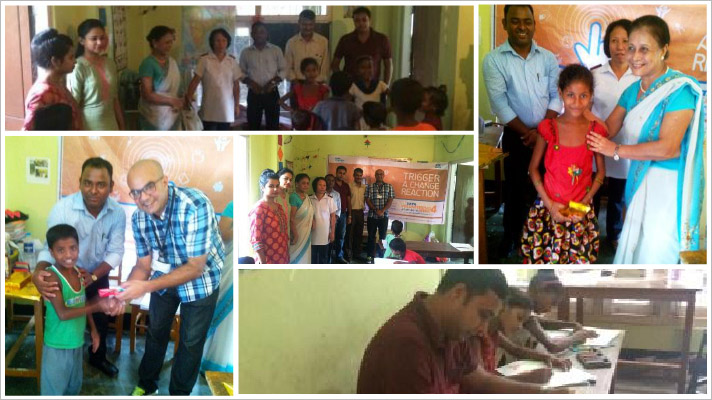 The Volunteers from the APPL HO at Guwahati visited the Salvation Army School for the under-privileged children on the 7th October. They interacted with the Staff & the Students on various topics and heard of all the noble work being done by the Team for the children, whose mothers mostly work as house maids and often have no choice but to leave the children at home, un-attended.
The volunteers then organised a Drawing Competition for the Senior & Junior Sections of the school and after judging, awarded three Winners from each Section, with Prizes and also distributed gifts and refreshments to all other children present.
Indian Hotels
Chennai
Safety Awareness Session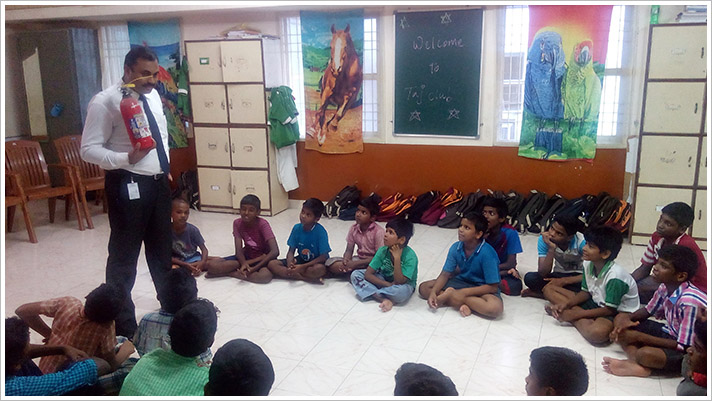 As a part of Tata Volunteering week, CSR team at the Taj Club House organized a Safety Awareness session at the Nesakaran ,Orphanage for Streets children welfare . Safety is the most important part for the Human being , all due care was taken to discuss the same in detail with videos and presentation. CSR team along with the HR-Manager, Security Manager visited the Orphanage . More than 25 students participated and one could see the curiosity and happiness in them. Security Manager was taken to discuss the same in detail with practical demo and presentation .Security Manager emphasis on the personal safety , fire safety and Road Safety .
Mangalore
Site visit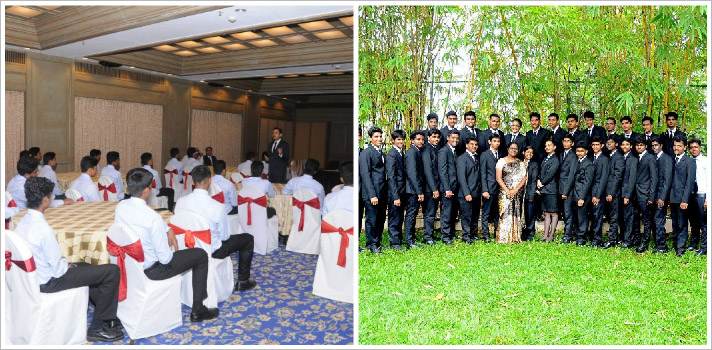 The volunteers invited the First Semester students of Sarosh Institute of Hotel Administration, Mangalore to the hotel on 8th and 16th September and created awareness among the students regarding the atmosphere /decorum in a Star Category Hotel.
Cooking class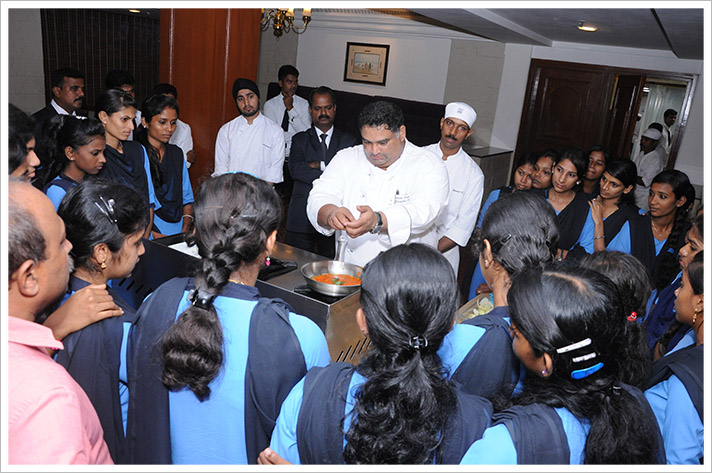 The volunteers invited the students of the Government ITI (Women), Mangalore (The hotel is the Industrial Partner) to the hotel on 23rd September and demonstrated live cooking classes to them.
Donation drive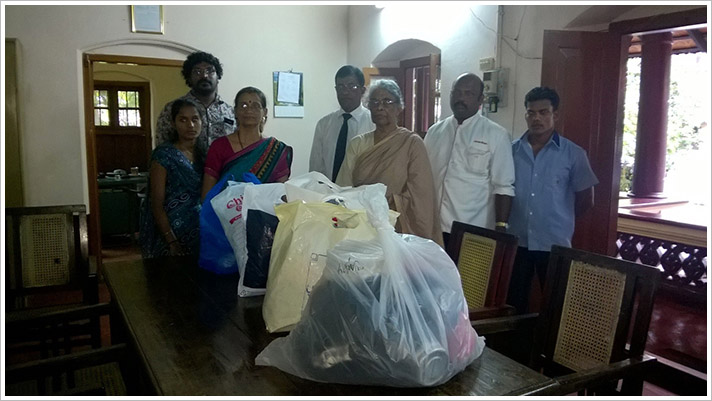 The volunteers visited PRAJNA Counselling Centre, Mangalore, an NGO Partner in Mangalore and donated clothes for the use of beneficiaries of this Centre as part of the "Joy of giving week".
Tata Coffee
Karnataka
Awareness session

Volunteers of Tata Coffee Limited, Pollibetta participated in creating awareness to the inhabitants of the tribal hamlet named Majjikere in Rajiv Gandhi National Park, Thithimathi, Kodagu District on 29th September.
Tata Housing
Mumbai
Animal week celebration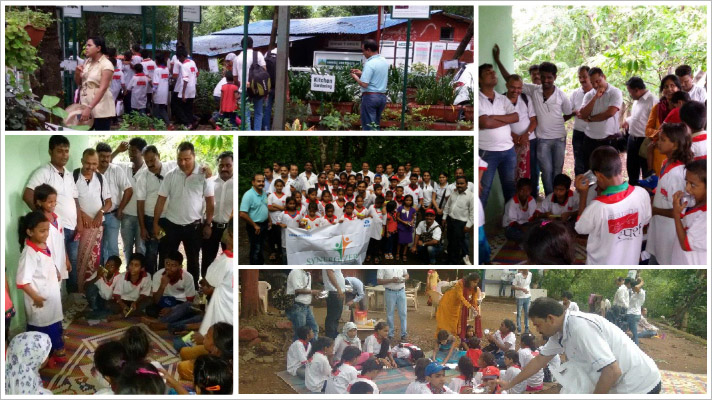 As a Part of Tata Volunteering week-4, Group level Tata Engage Platform -Tata Housing Development Company- Mulund Team conducted Volunteering event with remedial coaching center children at Karnala Bird Sanctuary on the occasion of Animal Week Celebration from 1st to 7th –Oct-2015.
At the start of the event, Information on variety of colorful migratory birds such as the ashy minivet, red-breasted flycatcher, blackbird, black-headed cuckoo, peacock, Parrot blue-throat, the blue-headed rock thrush was given to children.
Various games like Antakshari, Dancing, Singing, quiz session etc. was done. Lunch is served to all children along with employees during the event .Later gifts & prizes distributed to all children.
At the end of the event a small thank you gift was presented to all the children. They all were very happy and thanked the Tata Housing Mulund team for inviting them. Overall it was a heartfelt, fulfilled and warm experience for one and all.
Tata Motors
Jamshedpur
Interaction with village women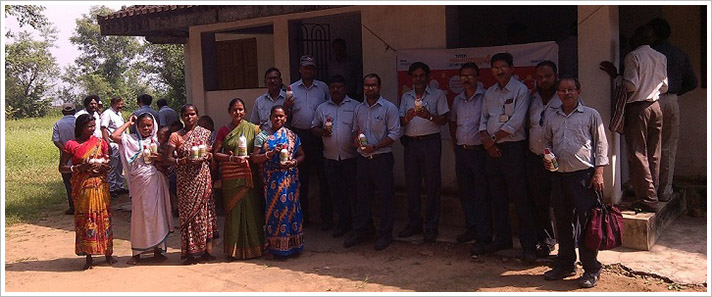 30 volunteers from various Divisions visited Luabasa village and interacted with women members of three SHGs at Luabasa village who prepare phenyl, grow oyster mushroom and make snack items as part for supplanting their income levels. The volunteers interacted with the village women and saw the process of phenyl making. They encouraged the women by buying their products and said they would be very eager to have a regular supply of mushrooms from November,15, the crop being seasonal. The volunteers boosted the morale of the women for taking forward their journey towards economic prosperity, improved lifestyle and visible women empowerment.
Tree Plantation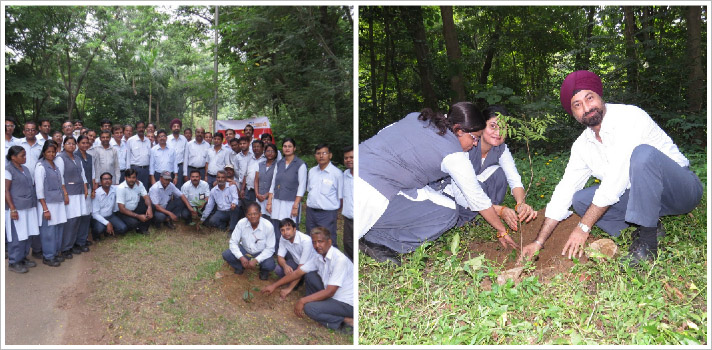 Sixty four volunteers from Foundry took part in a tree plantation drive at Hudco Park. The volunteers planted forest and fruit plants and enjoyed being near the Hudco Lake perched amidst the sylvan surroundings. Some expressed their reminiscing memories of visits to the place decades ago and were charmed to get an opportunity to see the place again.
Save Girl Child & Educate Girl Child

Female Apprentices undergoing training at Tata Motors carried out an awareness drive on the theme 'Save the Girl Child & Educate the Girl Child' at Sunderhatu village. The young trainees presented five skits on the importance of rejoicing births of girl children, girl's education, eliminating gender bias and on other touching issues. They had painstakingly prepared the skits, one in 'Santhali', and read out slogans from posters they had prepared on the theme. The villagers, particularly the mothers, were moved by the powerful messages which was palpable in the engaged audience which listened and saw the performances rapt attention. Fifty nine volunteers from HR & PS engaged themselves in the drive under the ongoing TVW4 edition
Blood Donation camp

A mass blood donation camp was organized at the Blood Donation Centre where a total of 71 units of blood were donated from volunteers largely from Frame Shop and also from other Divisions. Present during the occasion were senior colleagues along with President and General Secretary of Telco Workers' Union for encouraging the donors.
Distribution of sports materials at Youth Resource Centre(YRC)

Volunteers from Employee Relations distributed indoor and outdoor sports materials to a Youth Resource Centre at Birsanagar. Led by the AGM, the team was given a warm welcome through traditional tribal dance, presentation of garlands and welcome song by the adolescent members of the YRC.Prizes for a drawing competition with appreciation gifts to all participants were also given by the volunteers. The AGM addressed the children with a motivational talk on the importance of continuation of studies, inculcation of healthy habits, upholding of family and societal values and engaging in sports. The interaction was mutually enriching which concluded with a friendly carom and football match. The YRC Members and the community leaders present, profusely expressed their gratitude, to the volunteers and the 'Rishta' Team carrying out the project on adolescent health.
Tata Power
Jamshedpur
Swacch Bharat Abhiyan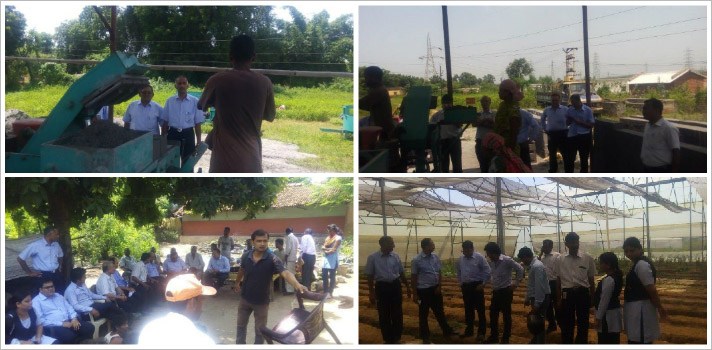 As part of Tata Volunteering Week 4, a visit was organized to Sarjamda community where the employees witnessed a triggering session for ODF Toilets. In line with national initiative of Swacch Bharat, Tata Power is inspiring community members to construct toilets so as to make Jharkhand open-defecation-free. More than 300 toilets have been made so far by the community people themselves, encouraged by us. The employee Volunteers also visited the ash-brick machines run by Scheduled Tribe SHGs and cheered them (the SHGs generated 10 lacs bricks so far). The Volunteers also paid a visit passionately to the Integrated Agriculture Project. Drip Irrigation system was laid in 8 acreage land for Agricultural crop. Nursery has been laid out for tomato & chilli production. Crops has been sown in field.
Visit to a school for differently abled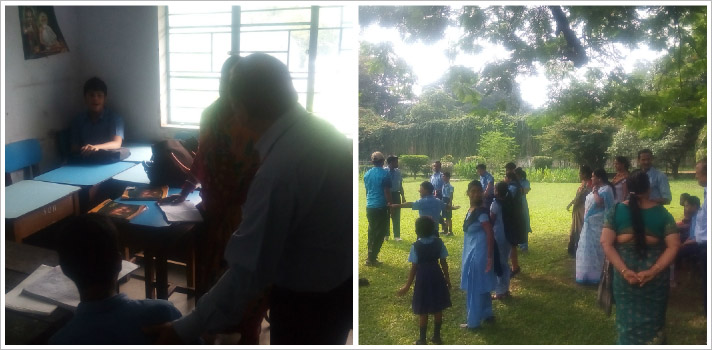 As part of Tata Volunteering Week, we visited School of Hope. Chief-Jojobera station led employees in this volunteering initiative. This school is meant for mentally challenged children and our visit cheered up the children, teachers and school staffs. Every year children of this school accompany them on 3rd March procession when they pay homage to our founder on his Birth Anniversary. The volunteers contributed to this school financially during the visit as donated by the employee-volunteers themselves.
Visit to Cheshire home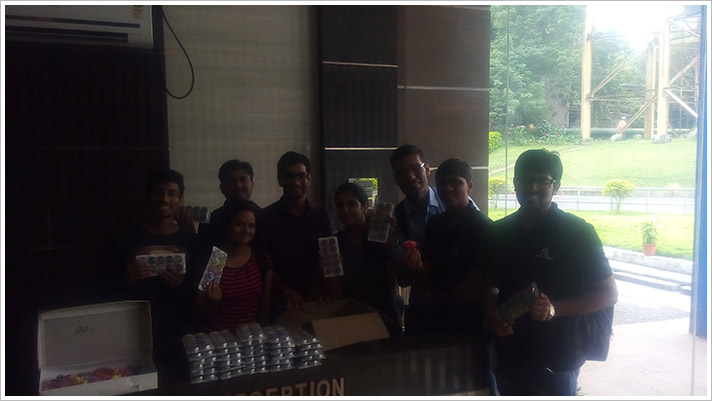 As part of TVW4, for the noble cause associated with R P Patel Cheshire Home, where the volunteers have visited many times to serve the specially challenged Orphans, they organized a Candle-selling initiative, the candles being made by the physically and mentally-challenged orphans of the said Cheshire Home. It was a whole-hearted Volunteering by employees who purchased those special candles.
Tata Projects
Indore
Swastha Program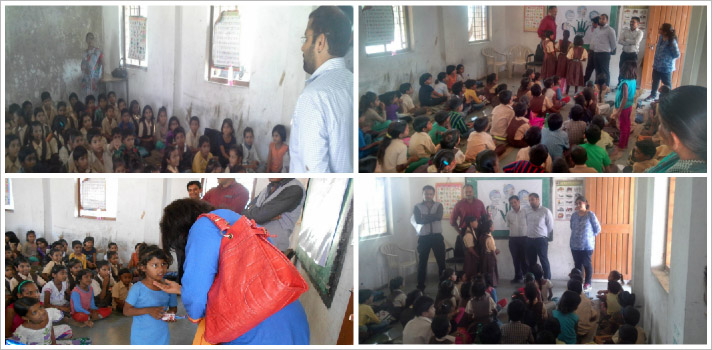 A huge Initiative was taken at TCS Indore Project with primary school children regarding awareness on health, hygiene & Sanitation. The volunteers explained the school children about safe drinking water, better sanitation, personal hygiene, Kitchen management and Waste Management. They also explained about importance of hygiene and the activity ended by distribution of soaps and chocolates.
Tata Steel
Jamshedpur
Medical camp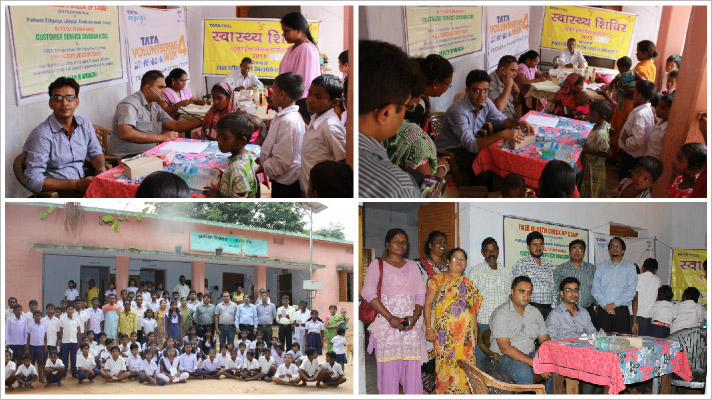 A medical check-up camp was organised by the doctors of CSD Department. Approx. 200 patients were checked and treated. Session on health and staying fit was also arranged. The communities benefitted a lot as the nearest medical centre is 20 kms away.
Visit to a tribal school

As a part of volunteering week 4 JDC, Equipment Maintenance Services of Tata Steel visited Primary School Chimti, a predominantly tribal school and distributed some useful items like school bags, school stationary, Chocolates, biscuits, durri & Sports items. They also interacted with the small tribal children and understood their day to day needs and living style.
Joy of giving

Employees of Business Performance Enhancement of Tata Steel celebrated Joy of Giving by donating chairs and tables for the students, at CHIC. They interacted with the teachers and students and understood their daily needs. They also distributed water bottles, sweets, biscuits chocolates, etc.
Visit to Sishu Bhawan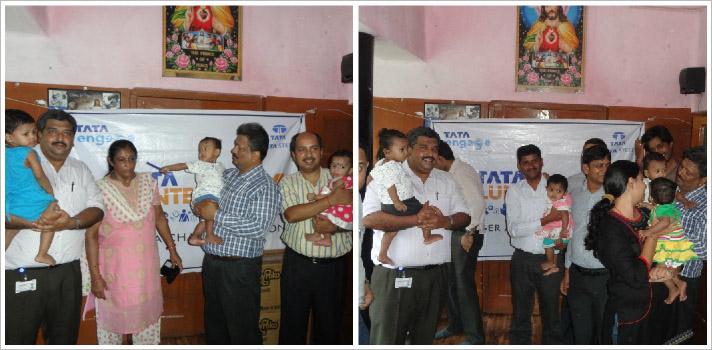 As part of Tata Engage Week 4, SSTG Department visited Shishu Bhawan, a place for the homeless infants. They donated 50 kg rice and diapers for all the infants. They also spent quality time with the motherless kids.
Donation of essentials

21 employees had visited the school today and we had a jovial and fun filled time there. There was an impromptu decision to perform a nukad-nattak including the students of the school. Children from class 5-10 participated. There were 5 teams of 5 members each and 2 mentors. Also, the team members gave them the correct guidance as to how to react in such situations in real life, after each act. The children enjoyed a lot, and so did the volunteers.
As a token of love they donated, Stationery items( Pen,Pencil, Eraser, Sharpener) to each student with bananas for good health and a football for sports.
Tata Technologies
Pune
Donation drive

Tata Technologies volunteers are collecting stuff such as cloths, toys, reusable home stuff through local communities at city area. Goonj is the charity partner for this Joy of Giving month and drive will be continued till end of this month for all employees.
Tata Power Delhi Distribution Limited
Delhi
Visit to Vocational Training Centre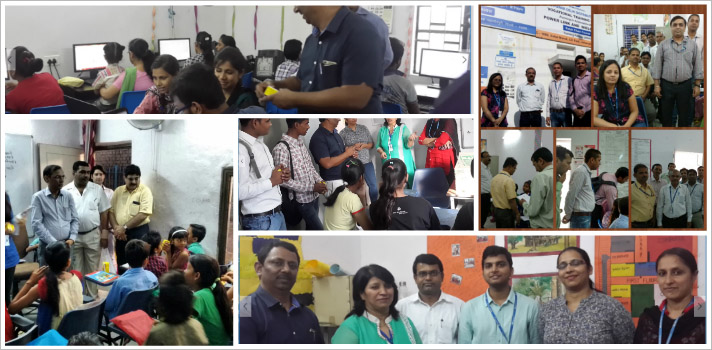 21 Volunteers from Expenditure Control & Accounts Payable Department and Finance & Accounts team visited vocational training cum Tutorial Centre based at Jahangirpuri, CSA Colony, Sarai Rohila and Wazirpur industrial. They had an interactive session with the students of computer course. Course co-ordinator of beautician course, demonstrated an impressive curriculum. An interactive session was held with the students of tutorial class. The knowledge shared ranged from promoting the use of LED Bulbs for energy conservation, being cautious while working with fire in kitchen to contributing their share in prevention of the spread of Dengue. It was an enriching experience for all. This was followed by a quick quiz and all the winners were awarded goodies. Students of tutorial class were found to be very keen on learning some vital energy conservation tips.
Tree Plantation Drive

As part of the Tata Volunteering Week-4, Expenditure Control & Accounts Payable Dept. of TPDDL organized a tree plantation drive at the Civil Lines-III office. 125 saplings were planted in this green initiative. 45 volunteers took part in the plantation drive.
Visit to an ashram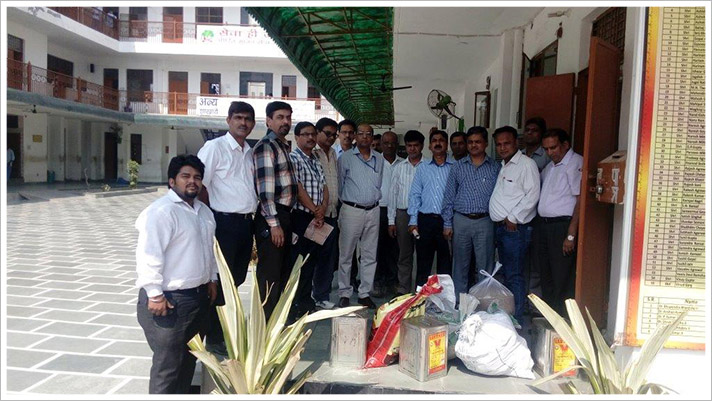 Celebrating Joy Of Giving Week 35 volunteers from Estate Management & Civil Deptt. Of TPDDL visited Apna Ghar Ashram, a home for old and destitute. Employees pooled and brought food items for more than 200 residents staying at the ashram.
Walkathon and Awareness Rally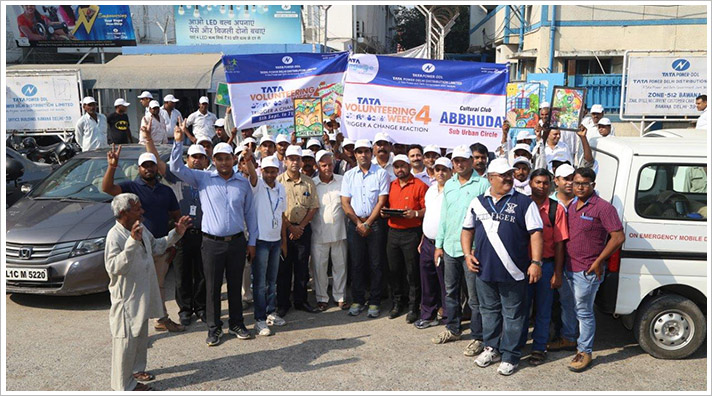 'Abbhuday' (Sub-Urban Circle) Cultural Club of Tata Power Delhi Distribution Limited organized a Walkathon for sensitizing common masses. 150 TPDDL & business associate employees participated in the Walkathon carrying placards on energy conservation, electrical safety and tree plantation. A stretch of nearly 2 kilometers in the area of Bawana, was covered by the volunteers.
Voltas
Cochin
Visit to an orphanage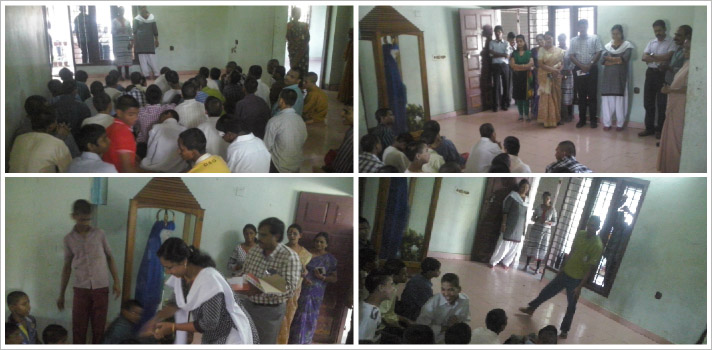 As part of Tata Volunteering Week -4, Voltas Ltd, Cochin Volunteers – a group of 15 members , headed by the Territory Manager organised a visit to Capernaum Charitable Trust, situated in a small rented house. Capernaum, is a Charitable Trust providing shelter to 200 orphaned, mentally and physically challenged and those found stranded from the road side
The children were very much delighted to see the group . They expressed their love and gratitude by praying, singing songs and showing monoacts. The volunteers spent about almost an hour with the children and other inmates.
Sweets and ladoos were distributed to all the inmates and they were very happy. They also donated an amount of INR 20,000/- to the orphanage.
Tata Communications
London
Coffee morning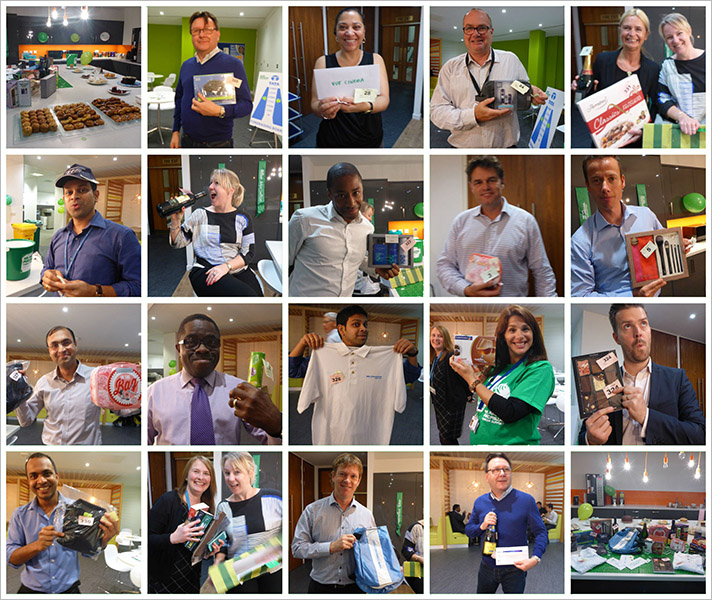 Tata communications volunteers at London had a coffee morning for the cancer patients supported by Macmillan charity at UK and raised £400. Charity believes and tries to reach and improve the lives of everyone suffering from the deadly disease, as they believe no one should face cancer alone.
Mumbai
Daan Utsav- Seva Sandwich making activity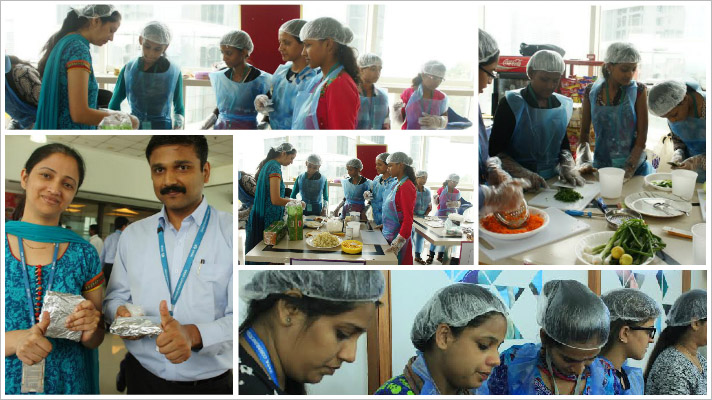 All too often, those in need are the easiest to overlook. Busy in our lives, we hardly get time to stop & share a word of comfort with them
As part of Daan Utsav, 80 Volunteers from Tata Communications Limited Mumbai BKC and Fort offices took part in Seva Sandwich making activity on 5th and 6th of October. Volunteers along with 20 beneficiaries from Niramay health foundation and Astha Parivar made 250 sandwiches. Volunteers interacted with beneficiaries and made them understand the nutritional value of the ingredients used in sandwich. Later the sandwiches were distributed among the communities near Dnyaneshwar Nagar in BKC and communities located near Grant Road. Beneficiaries felt very happy and special from such volunteering deeds.
Blood donation camp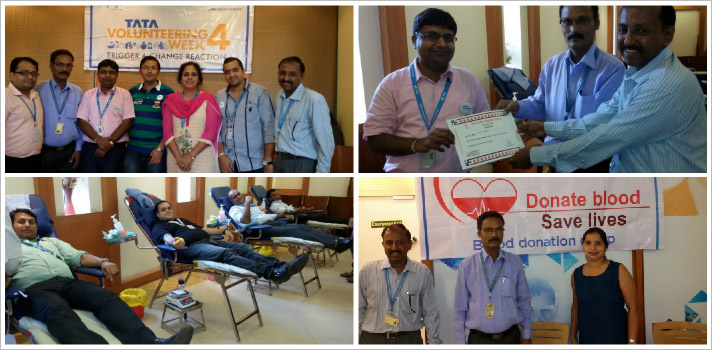 The gift of blood, is the gift of life. Just 15 minutes of our precious time can save three lives. Blood is a lifeline for everyone, but shortage of blood can also be life threatening and blood donors are the only saviors in such emergency situations. Keeping the importance of blood donation in the mind a blood donation was organized in Mumbai fort office on 1st October 2015 in association with Tata Memorial hospital Mumbai. 70 generous volunteers came forward to donate their blood to save precious lives. Tata Memorial team thanked Tata communications volunteer for their generosity of donating blood in the hour of the need.
Pune
"Under the stars"-Volunteers raise awareness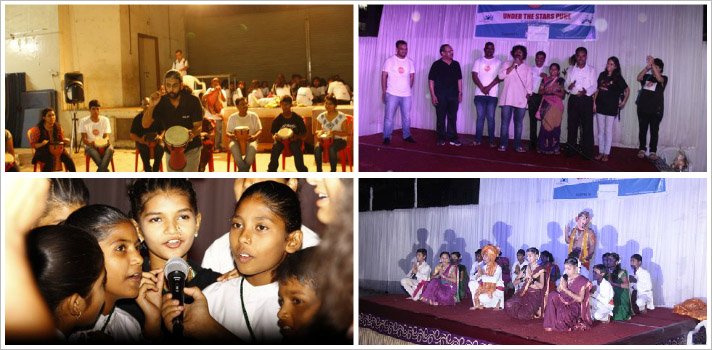 Sleeping 'under the stars' is a romantic concept for a one-time event, but for many children in our city and across India who live without shelter, it is a harsh and very real way of life. While we do not expect to achieve an understanding of the everyday challenges of a child's life without shelter in just one night, at least we can raise awareness and funds for the NGOs working toward the protection and service of children who are living in destitution. Tata communications volunteers joined the "Under the star" event organised by IDEA Foundation with collaboration of other 3 NGO's namely CYDA, Nirman and SMEF to raise awareness of the issues of homeless and underprivileged children which took place on 1st October, 2015 through the night. Children were very happy to have volunteers with them and they sing and dance throughout the night.
Seva sandwich

30 volunteers from Tata Communication Dighi sprung into action as part of cafeteria volunteering for the SEVA Sandwich making activity for Daan Utsav on 7th October 2015. Armed with Aprons, head caps, gloves and butter knifes within a span of three hours the volunteers made 50 cheese and Jam sandwiches, 100 peanut butter sandwiches and 100 butter Jam sandwiches. The arrangements were made in such a way that there was a separate table for sandwich making and separate table for the packaging of the sandwiches. All precautions were taken to make the sandwiches as per standard hygiene practices by providing gloves, aprons and head caps so that the food did not get contaminated. The end result was fabulous with 250 sandwiches made in roughly 3 hours' time including the making, assembling and packaging. In total 250 sandwiches were made and distributed to the children of Bophkel PCMC School and Vedprakash Lacchi School for disabled children as part of Daan Utsav
Kolkata
Go Green-Trigger a change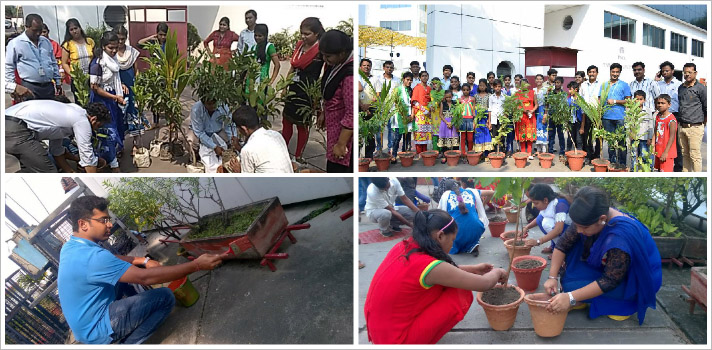 "Tiljala SHED" Kolkata based NGO works to bring about change in the lives of children, young people and vulnerable individuals. They educate children, provide healthcare and train young people and women in skills for livelihoods. Tata communications Kolkata volunteers on 29th September interacted beneficiary children and encouraged to make posters on civic responsibilities like save water, keep our surrounding clean and make environment green. To emphasize our duty towards clean and green environment, A short video on "How to keep our surroundings clean" was shown to the children by volunteers followed by the quiz. Post this volunteers along with beneficiary children painted and planted the pots together and triggered an environmental change in true sense.