Natsteel
Singapore
Packed our hearts out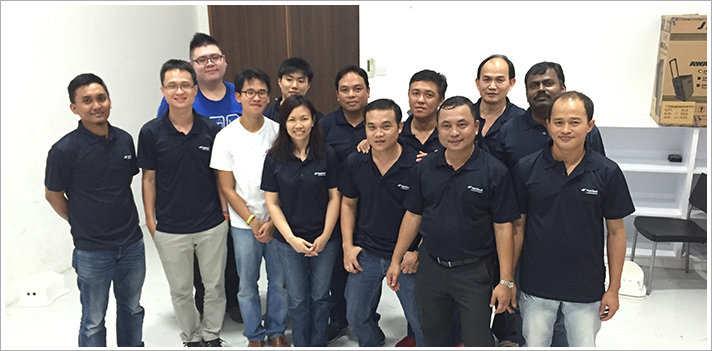 Food from the Heart (FFTH) is a non-profit organisation, established in February 2003 to reach out to the less-fortunate and brighten their lives by alleviating hunger through a food distribution programme and bringing joy through the distribution of toys and birthday celebrations. FFTH now works with over 1,700 volunteers and together, reach out to 14,500 beneficiaries across Singapore. FFTH was delighted to have the volunteers over at their facility on October 7, as the volunteers were really proficient and dedicated. The visit was well spent sorting food donations from various institutions and packing food necessities for the people in need all over Singapore.
Tata International
Africa
Tree plantation for conservation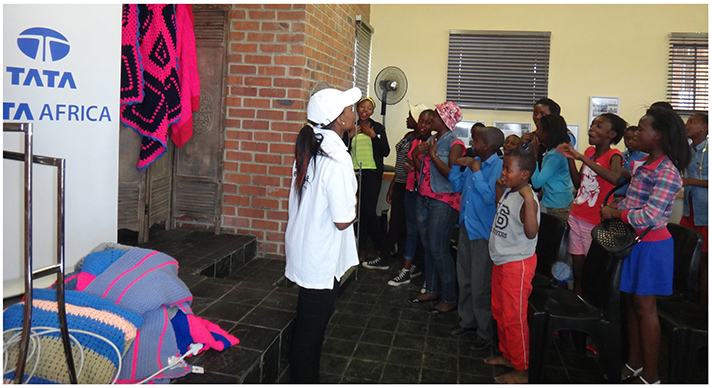 Tata Africa employees visited the Father Louis Blondel Youth Center in Diepsloot. The Center has various programmes that include; education, food gardens and agricultural and women empowerment. The day's program included planting trees and handing out stationery to children at the Center. The stationery include was donated by the Tata Africa's stationery supplier Kyra Compu – Media who gave reams of paper. The day was rounded off with a beautiful performance from the children, who, with a song thanked Tata employees for coming.
Amalgamated Plantations Pvt Ltd
Assam
Health awareness session

TATA Voluntary Week-4 has been observed at Lamabari TE in presence of Management staff, Workers, Staff and Welfare & Medical team at No. 2 Line Govt. LP School on 24th September. In presence of 58 children, the volunteers conducted health awareness campaign on Health care, good habits and personal hygiene.
Swachch Bharat Abhiyan

The Tata Volunteering week (4) has been celebrated on 6th & 7th Oct in the Diffloo Pre-primary school and Bokakhat children home. Cleaning of whole school campus of Diffloo Pre-primary school was carried out(Swachch Bharat Abhiyan) by Welfare officer & staff members on 6th Oct'15 and on 7th Oct'15, management visited the Bokakhat children home and distributed sweets & chocolates to the orphanage children.
West Bengal
Recycle paper

Volunteers decided to recycle the newspapers by making paper bags. Old newspapers were collected from Management staff / staff house and paper bags were made by the volunteers. Paper bags were distributed to shopkeepers in the weekly bazaar for packing their grocery items. Volunteers have encouraged the shopkeepers and the general public to avoid plastic and use paper bags which are degradable to save the environment. Volunteers also taught the shopkeepers the art of making the paper bags. The activity will still continue for some more time.
Coastal Gujarat Power
Gujarat
Inauguration of Sagarshala ( A centre of Education ) for the Children's of the migrant fishermen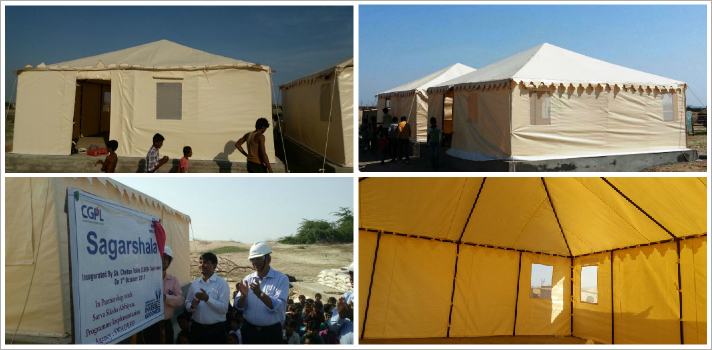 A school "Sagarshala" in Tent House was inaugurated and handed over to the Village Development and Advisory Committee (Formed and constituted by CSR-CGPL Team) on 7th October. This School will benefit 90 children. During the event the CHRO of Tata Power along with CEO & Executive Director and a large number of Volunteers interacted with the Children and the fishermen community. Coastal Gujarat Power (CGPL), has been carrying out various activities with a thrust to enhance educational standards of students living in and around its areas of operations. Earlier the this intervention was running in the makeshift structure/temporary sheds but this year, the fully folding Tent Structure was planned so that it can create more enthusiasm among the children's and reinforce the value of Tata Culture. At this bunder the fishermen stay for 9 months along with their children then they go back to their permanent place of residence after the completion of the fishing season. The Fishermen community appreciate the continued commitment and care for the community by Coastal Gujarat Power Limited (Tata Power).
During the Day, 84 Health Kits were also distributed to the Boatman fishermen so that they can carry the kit when they are going into the deep sea for fishing.
Indian Hotels
Bangalore
Painting competition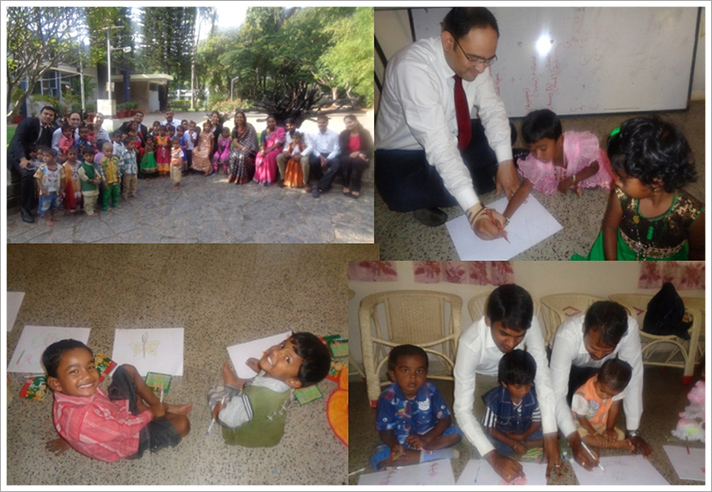 Painting Competition was organized by the associates of Vivanta by Taj Whitefield – Bangalore for the Children of Balwadi which is run by Ecumenical Christian Centre which runs Balwadi for the children of construction workers in the Whitefield area.
International ozone prevention week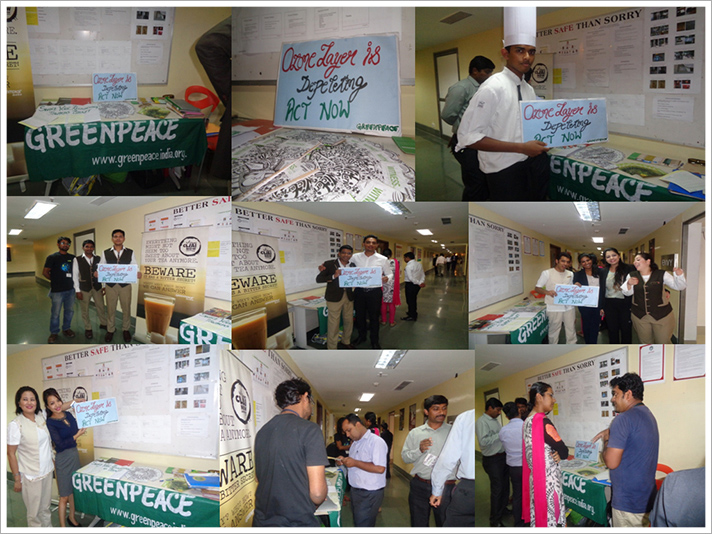 On the occasion of International ozone prevention week Vivanta by Taj Whitefield joined hands with Greenpeace organization and arranged an Environment Awareness Drive for all employees. The session was held on 24th September. Three volunteers from Greenpeace enlighten our employees with the current problems faced in environment. They provided with useful tips to save our Mother Nature, showed the video of current environment scenario and distributed sapling to the employees to grow in our hotel premises. Employees took pictures with placard & gave their valuable tips to preserve our ecosystem.
International Charity Day

The associates of Vivanta by Taj, Whitefield, Bangalore marked September 5th, the International Charity day by serving the inmates of Cottollengo, Whitefield-an association for people with disabilities. HODs along with associate volunteers gathered at the home to spend the day with them. Team Vivanta by Taj, Whitefield had organized a wholesome pure vegetarian meal for them that were personally served by the associates. The inmates were touched by the warm and kind gesture of the associates. The associates too were moved by the gratitude and love they received from the inmates.
Swachh Bharat Abhiyan
Swachh Bharat Abhiyan was taken up by the associates of Vivanta by Taj Whitefield – Bangalore. During the drive the periphery of the Hotel was cleaned and fumigated.
Visit to Cheshire home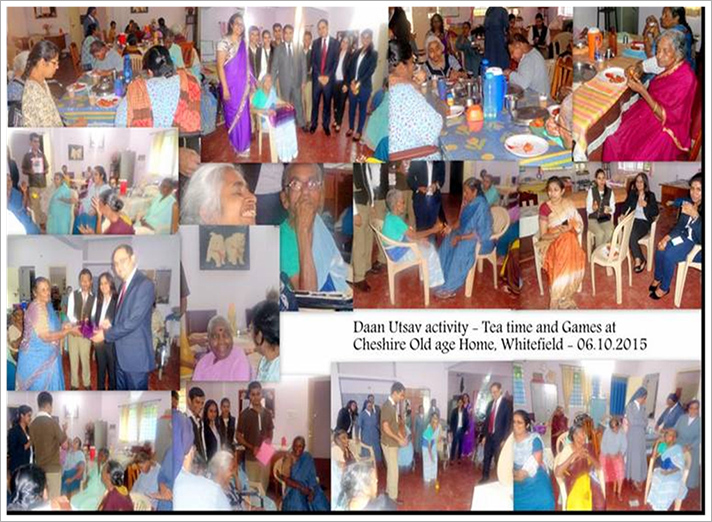 Fun and games activities were organized for the old age home , Chesire Home by the associates of Vivanta by Taj Whitefield – Bangalore. The ladies participated with full enthusiasm and the volunteers were happy to spend such quality time with them. The session ended with their valuable prayers & blessings.
Goa
Donation drive

Distribution of old clothes was conducted after collecting from associates of Taj Exotica as a stepping stone to provide shelter for street children
Beach cleaning

Beach cleaning drive of 300 mtrs stretch of coastline fronting Taj Exotica, Goa was conducted as a part of Tata Volunteering Week 4
Distribution of stationary items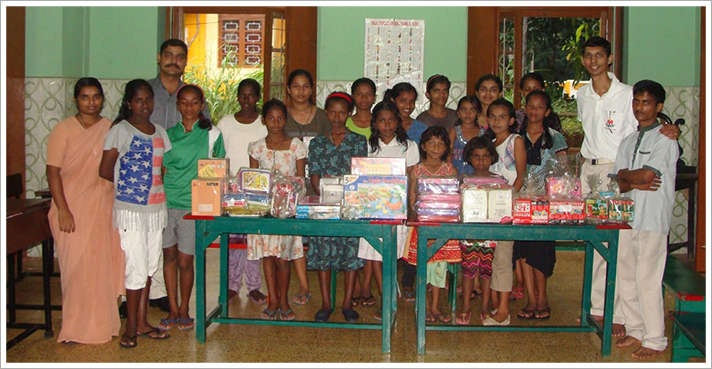 The volunteers distributed stationary items to girl child orphans at St. Anthony's Girl Child Orphanage, Verna - Goa
Rallis India
Akola
Safety awareness

Safety is very importance in daily life, so the volunteer provided necessary information regarding use of pesticide in field like always use mask at the time of spraying and check spray pump leakage before spraying. Use handholds, goggles, sprayer dress at the time of spraying. Don't chew tobacco or smoke while handling pesticide and wash hands with detergent before lunch or dinner after spraying pesticides.
Nashik
Cleanliness and sanitation awareness

Rallis Nasik territory employees along with R & D manager has organized a programme on cleanliness and sanitation for the primary students of Z.P. School at Village Khedanwadi , Tal. Karjat, Dist. A,Nagar. The children were given information in local language on how to remain clean and maintain hygiene. Told them about taking bath, cutting hairs, nails, washing hands and develop this as a habit. They also conducted a drawing competition for drawing a Indian flag. The programme ended by giving the children's snacks and biscuits.
TAL Manufacturing Solutions
Pune
Distribution of Utensils to Orphans and Tree Plantation at a school

TAL organised tree plantation in Ushatai Lokhande Trust's Madhymik Vidyalay,Sangise. The ED & CEO, Head-HR along with Sr. Leadership Team Members , Union representatives & Volunteers planted trees of Ashoka, Palm, Morpankhi etc. in the school premises.
TAL also donated plates, spoons, glasses, serving dishes, bowls to Orphans and also distributed health supplementary nutritious to all the school students.
Cleanliness drive

TAL Volunteers including Sr Leadership contributed by actively participating and contributing their time in cleaning sport ground (40,000 sq feet approx) of Chinchwad Deaf and Dumb School. TAL Volunteers also interacted with deaf and dumb students and encouraged them to play outdoor games.
Health Check up Camp

Velhe village is a primarily rural area and is located 60 Kms away from Pune
TAL organised health camp in the Village in collaboration with TML, Health Services. A total of 188 Villagers were benefited through this Health Camp. Haemoglobin of all females were checked which was followed by distributing folic acid and iron tablets and also additional health consultation was given to individuals wherever required.
Tata AIG General Insurance
Kolkata
Visit to an orphanage

The volunteers visited ACTT (All Children Together Trust, Kolkata). ACTT is an organization working for orphans, street children as well as those who have their parents , but they are not being able to provide the necessities to their children. The Children are provided shelter, food, clothes, education , health and motor skills development. We organized drawing competition for the children and gave away prizes to the winners . It was an absolute delight to see the children perform; they had prepared beautiful group dance, song and recitals based on Durga Puja. The volunteers distributed school shoes to children between 2yrs to 9yrs and T-Shirts to children above 9years. They also arranged snacks for them.
Pune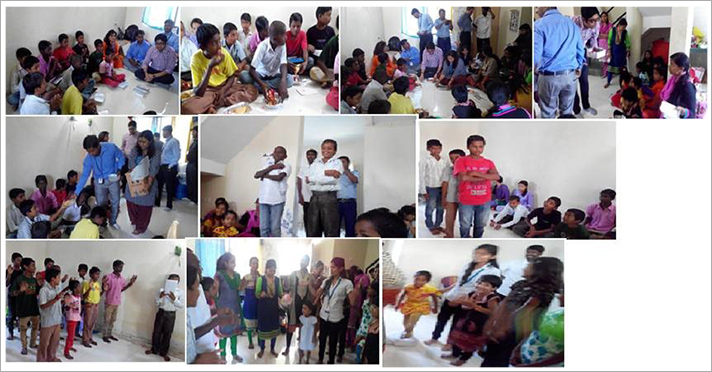 13 volunteers from Pune zone visited an orphanage "Child Relief Inter Mission (CRI)" on 7th Oct. It's an Organization, run by Mrs. Usha & Mr. Navin Karne, sharing and imparting Life's values and sharing love by giving a home to the streets kids, who are abandoned & rejected of Pune City-India, focusing on Girl Child, educating Children, teaching them the values of a family, speaking on their behalf for their rights in society. The volunteers visited orphanage in the morning, children welcomed us with the welcome song and prayer, they were around 35 children. The team had a breakfast with the children, spent time with kids, played games with them, They also encouraged and guided them on how important is Education and distributed Stationary(Compass Box, Pencil Box), Mats, First Aid, Used (clothes, water bottle, Tiffin Box, Toy, Foot wear, Utensils etc)
Manglore

The Mangaluru Branch did CSR activity in "Chetana School of Physically & Mentally challenged children" by distributing the fruits to all and spending time with all the children.
Mumbai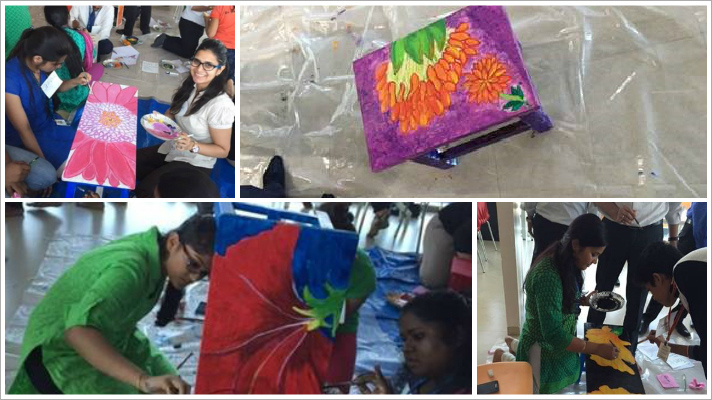 35 volunteers at the Corporate Office, Peninsula participated in Art for Akanksha program and painted pieces of furniture which will soon be auctioned and the proceeds shall go to the NGO for promoting art among children.
Tata Capital
Mumbai
Visit to an old age home

Change is the only constant was the notion in the hearts of 9 volunteers who gave all their efforts to bring in smile to the old age people and the children of Corp India Thane through fun activities like antakshari, dance and birthday celebration of two Grannies.120 sandwiches of three kinds were made as a part of the activity to add in more colors to the celebration for 80 people within a time span of 3 hrs . The event started at 2.30 pm and lasted till 5.30 pm.
Ahemdabad
Diya painting

Volunteers from Tata Capital office went to Prabath Education Foundation on 6th Oct 2015 to help them with the painting of diyas which will be sold during their upcoming Diwali Bazar a week ahead of Diwali. It was a hugely successful event.
Hyderabad
Feeding street children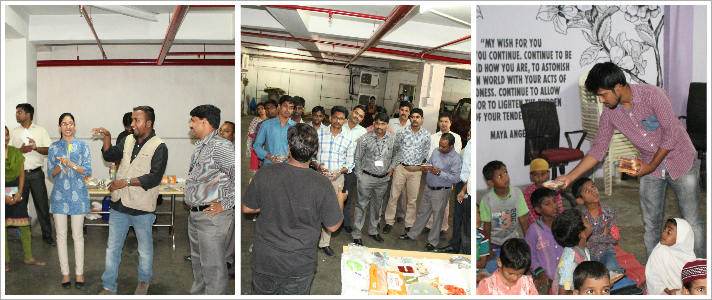 The activity aimed at feeding the street children and the children from lower economic background. With 45 passionate volunteers shared the time and service ,the activity turned out to be a big success as the Coordinator from the NGO partner specifically mentioned that the children were having sandwiches for the first time ever . The older kids were given vegetable chatni sandwich whereas the younger ones got Sweet jam and butter sandwich. The children were overwhelmed throughout the session.
Tata Steel
Jamshedpur
Visit to Sishu Niketan

All the employees contributed money & 11 out of 44 employees have visited Shishu Niketan, AIWC, (Kadma,Jamshedpur) on Oct 8th and distributed New Bedsheets, Video games and Chocolates to all the kids. In addition to that they spent quality time with the kids playing Antakshari and dancing too.
Tata Chemicals
Mithapur
Arts and Craft Workshop

TCSRD conducted an Arts and Craft Workshop at the Ladies Club, Mithapur. The Handicraft Workshop had artisans from Bead work, Bandhani work, Applique work and Coconut fibre work sharing their expertise with everyone while learning from the valuable suggestions and feedback from the township ladies who pursue these crafts out of their hobby or interests. The Craft Station was abundant with craft supplies, specially curated to inspire the creativity among the volunteers, including children who encouraged with their overwhelming participation and gave interesting design inputs. 121 volunteers participated in the workshop were also made aware about TCSRD and Okhai's work through discussions and presentations.
"Joy of Giving" at Varvala Aashram Shala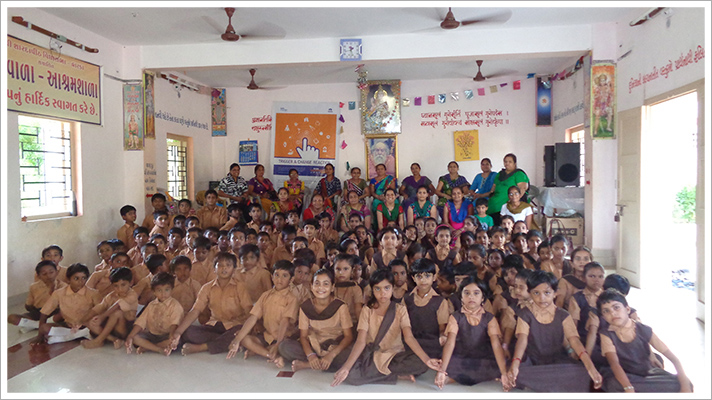 Volunteer Program was organized at Varvala Ashram Shala for the students of Std. 1st to 7th who are studying there. Approx. 100 students participated in this program. 17 non-employee women's from Township had done volunteering at Varvala Ashram shala. Students were distributed biscuits and chocolates by the volunteers. Also different Encouraging Games were arranged for the students in this program. All the students & volunteers had taken enthusiastically participation & enjoyed a lot in this volunteering program.
Tata Communications
Delhi, Hyderabad and Bangalore
Seva Sandwich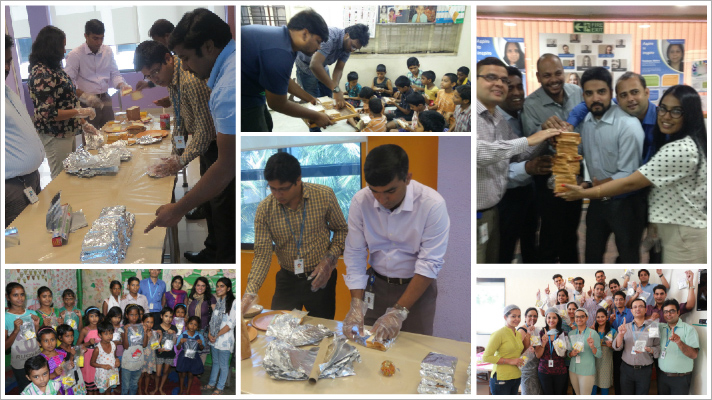 Tata communications Delhi, Hyderabad and Bangalore volunteers touched the young hearts of the beneficiaries from three NGO partners by distributing a total of 600 sandwiches across three locations made by volunteers at the office on 7th October. It was surely a motivation for the employees to know that the sandwiches were going to be distributed to the underprivileged. The sandwich making activity was set up similar to an assembly line. From tasks of peeling and chopping the vegetables, spreading butter and adding salt & pepper on to the bread, making the sandwiches to packing them in foils and lastly an experience of "Joy of Giving" by one and all. These students were treated with a wholesome lunch and a light hearted interaction with the volunteers on the importance of nutritional food in life. They happily carried the freshly made sandwiches to their school for their other friends.
Chennai/Ambattur and Bangalore
Wish Tree
Wish tree was placed in Tata Communications, Bangalore, Ambattur and Chennai marina Offices on 6th & 7th Oct 2O15 respectively. The wishes pertaining to stationary and sports items were received by Arvind Foundation, Parikrama and VVMVP. Considering the need of the children Volunteers generously fulfilled the wishes and raised INR 17,300 to support the NGO. The wishes mainly included the Stationery items, Education Aids and Sports equipments. Employees generously came forward to fulfil the wishes of young children and raised INR 5000+ to support the children. In an event held on 7th Oct 2015. 7 special children from Arvind Foundation along with Tata Communications employees made over 75 colorful and creative greeting cards and paper bags.
Kolkata
Visit to Eco-Park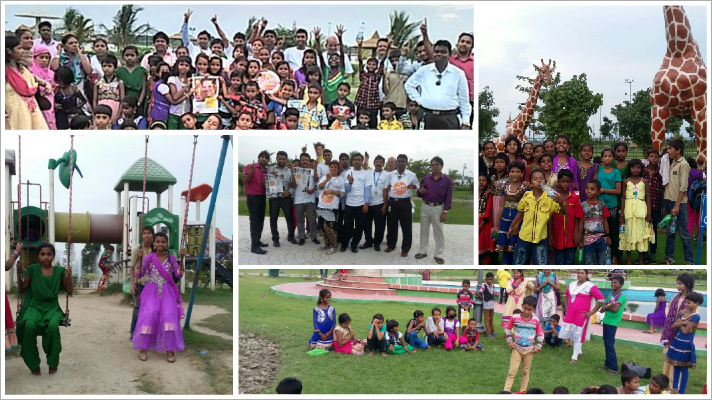 Tata communications volunteers along with 50 children from Tiljala SHED together had unforgettable moments spent at ECO Park Kolkata on 7th October. Eco Park is an urban park in Rajarhat. Which have different areas like wild flower meadows, a bamboo garden, grasslands, tropical tree garden, butterfly garden and play area.
Event started with an orientation on the flow of the day followed with ice breaker, energizers and quick games which was run and led by children. Volunteers and beneficiaries were so comfortable and excited for fun tour that they couldn't wait long to go for it.
Volunteers encouraged children to share stories and with the help of some posters they mentor the children on civic responsibilities like save water, make environment green. The enthusiasm and energy of all the children for all the activities were amazing
Tata Consulting Engineers
Chennai
Training the students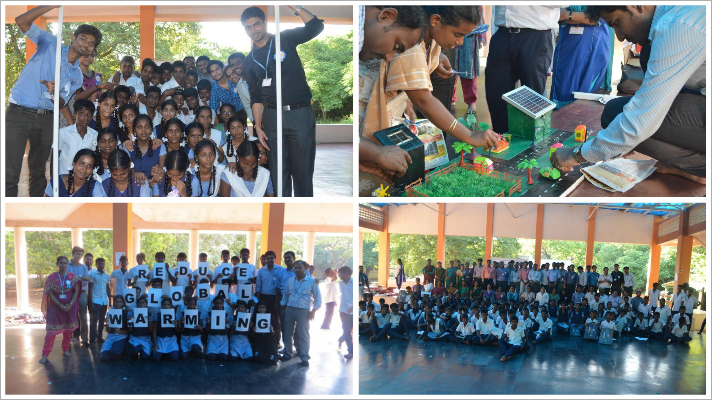 TCE Chennai Visited Olcott Memorial School for the under privileged to conduct a Speech competition and a quiz on Environmental Awareness. They also played a few Team Building games and trained them on Renewable energy. Through the contributions from employees TCE Chennai were able to distribute )Note books, School Bags, Pens, Pencils, Sketch Pens, Erasers, Sharpeners, Calculators, Books and much more to distribute to the children of the school along with one Set each containing 1 A4 folder, 2 Notebooks, Pens, Pencils, Rulers, Eraser and Sharpener to students of 9th, 10th 11th and 12th standards.They provided Nutritional Snacks to all children. All Students clarified their doubts on renewable energy, environmental pollution and Power of Team Building. It was an overwhelming experience to see the happiness of the children who received the basic educational needs. All the volunteers experienced the combined joy of "Joy of Giving and Training the Students".
Mumbai
Career Counselling Program for students from Antarang Foundation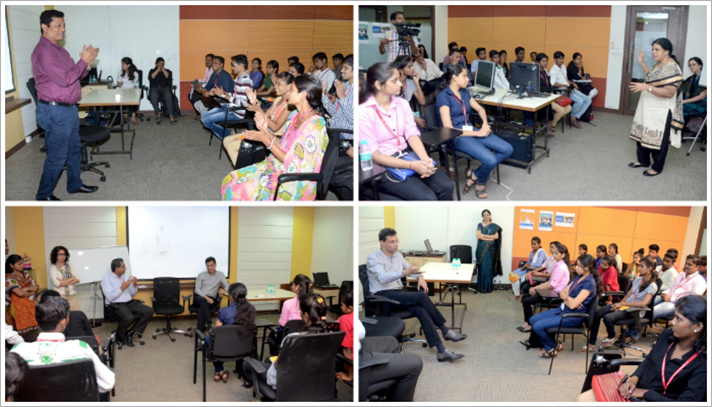 Tata Consulting Engineers conducted a career counselling cum industry exposure program for 2 batches of students from the Antarang Foundation who are being helped by the NGO to take up skill building courses and with placements. The first batch of 30 students had a surprise visitor – Dr Nirmalya Kumar from Tata Sons. He enthralled the students with his candid recount of interesting anecdotes and guidance. The students were extremely motivated and felt very important that such a senior member from the Tatas took time off to guide and counsel them. The MD, TCE also spoke to the students on various career opportunities and how they could use their skills to get into the work force. Volunteers from TCE also introduced students to Autocad and drafting tools. Other senior personnel from TCE provided counselling on careers in HR, attending interviews, careers in the armed forces, careers in journalism, IT, Architecture, Engineering, etc. In all 60 students were guided through career counselling and motivation by senior Tata management personnel 13 TCE volunteers signed up to provide one on one mentoring to students to guide them through for one year term.
Tata Global Beverages
Assam
Visit to a child care center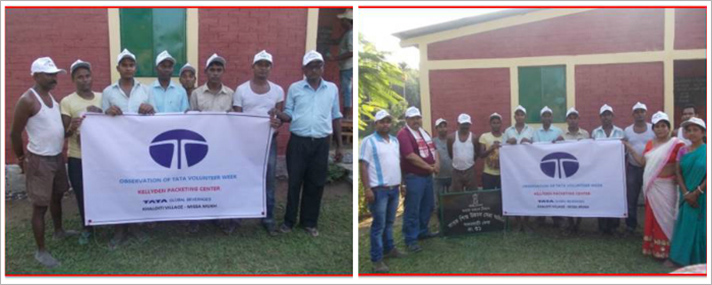 Kellyden Packeting Centre in Assam organized a volunteering activity at Child Care Center, Khaloti Village, Missa Mukh located near the factory. The volunteers carried out Cleaning of the Child Care Center premises, painting of the building wall with Red color, enamel paint MS door and off white paint to face lift the child care center, replacing the broken CI ridging of roof top to arrest roof leakage, repairing of the Concrete Verandah, and providing Tata Swatch water filter for clean and potable water.
Health camp

Nonoi Packeting Centre observed the Tata Volunteering week by organizing a health camp on 3rd Oct'15 at Indira Gandhi LP school and the adjacent Anganbari. The volunteers organized the presence of doctor and checkup of children, and provided iron and vitamin tablets. The factory management staff, staff and worker representatives had an interactive session with the children where the importance of health, personal hygiene, and academic studies were discussed.
Aurangabad
Cleanliness drive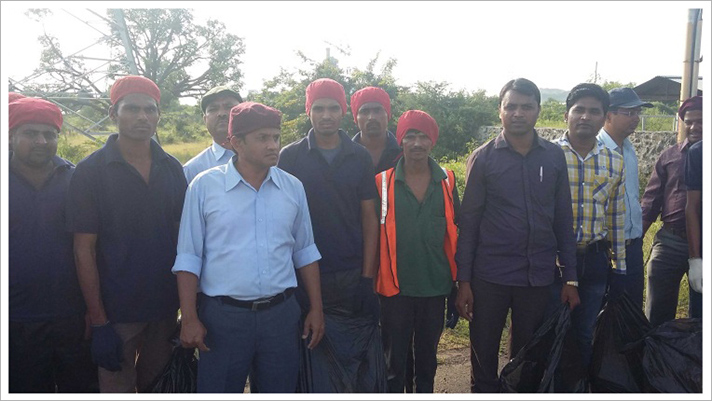 Tata Global Beverages Aurangabad Packeting Centre & Dover Tea factory team conducted a volunteering activitiy. The volunteers undertook roadside garbage & waste cleaning activity. The volunteers were divided into 4-5 teams along the roads, for collection of road side waste & debris around our Shendra premises. They collected about 10 large garbage bags of material.
Bangalore
Health check-up

Volunteers of Tata Global Beverages organized a medical camp for students of HMT School, Jalahalli, Bangalore. About 300 students of the school underwent health checkup by a team of doctors from People Tree Hospital & Foundation, Bangalore. Dental, health and hygiene education was also provided to the children; and dental & stationary kits were distributed to them.
Knowledge sharing session with children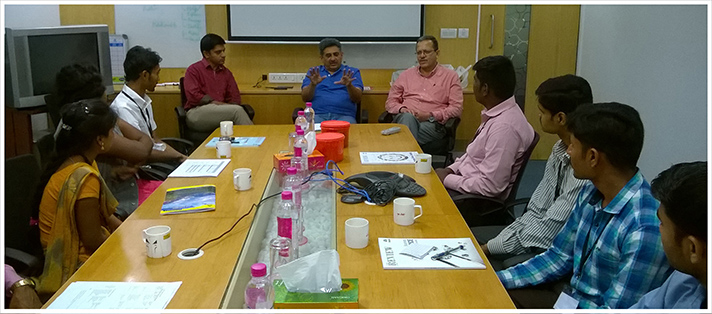 Tata Global Beverages organized volunteering activities with Unnati in Bangalore on 30th September and 1st October 2015. The volunteering activity involved sharing experiences and teaching the youth life skills, business communication skills, retail & sales and computer skills. Unnati was started in 2003 with the purpose of enabling underprivileged, unemployed youth to become employable. Tata Global Beverages has partnered with Unnati to support this training and we are proud that so far 425 of our students are now employed in reputed organizations.
Kolkata
Blood donation camp

Keeping in line with the focus of the last leg of TVW4 on "Joy of Giving" , Kolkata Packeting Centres ( Coalberth, Sonapur, and Hoboken unit) organized a Blood Donation camp on 3rd October 2015 through Life Care Blood Bank-Kolkata. Over 50 employees donated blood for a noble cause.
Mumbai
Art activity
Tata Global Beverages organized a volunteering activity at St Jude Child Care Centre in Parel, Mumbai on 5th October 2015. Volunteers from TGB taught the children arts, crafts, drawing and colouring. These centres ensure that children suffering from cancer have a hygienic, safe place to stay while undergoing treatment.
Paonta Sahib, Sirmour
River bank cleanliness drive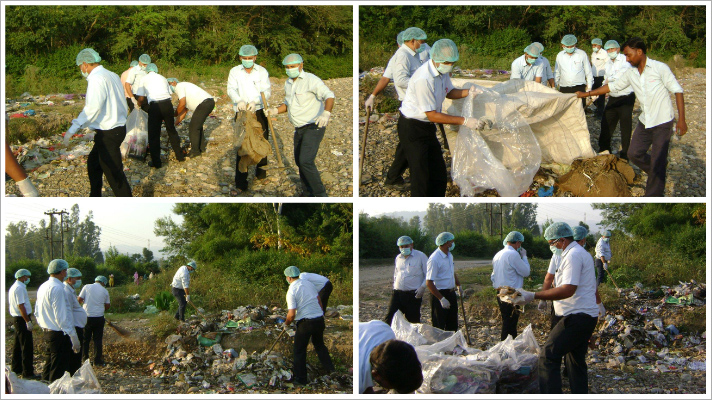 On 5-6 October 2015, volunteers of Himalayan factory in Paonta Sahib cleaned the bank of a seasonal river adjoining the plant. TGB is concerned that there is dumping of solid wastes on the river bank, and we are ensuring the safe disposal of these wastes during the volunteering week. With reference to The Fourth Edition of Tata Volunteering Week TVW4. The volunteers cleant the bank of Seasonal River near the plant where local peoples throw their garbage every day & it became almost stinking dump yard. Initially the company had spoken to the local gram Panchayat Pradhan to stop this practice but all in vain.
Tata Interactive Systems
Mumbai
Career guidance session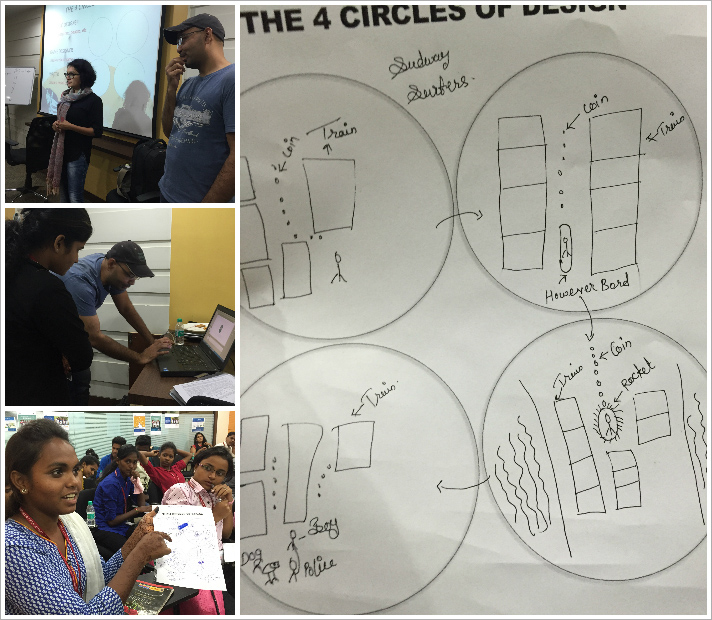 Team TIS conducted a session to impart 'gyaan'/knowledge about alternative careers to a group of precocious teens.The aim was to expand their mind and horizons to options that are non-traditional and significantly different from the ones they were familiar with. For e.g., beautician, teacher, computer technician etc. Narratives created in a few minutes jumped out of the paper, comic strips were packed with action, and short complex, visually defying game levels were crafted within 4 mere circle-shaped panels. This was followed by a nail biting car racing game. The classroom was divided into groups who worked with us on a program that let them customize their race cars using Flash. The volunteers saw much excitement and loud cheering as each group egged their car on in a competitive race. They explained a career in game design and eLearning and showed them some demos of the work.
Tata Motors
Jamshedpur
Distribution of desks and benches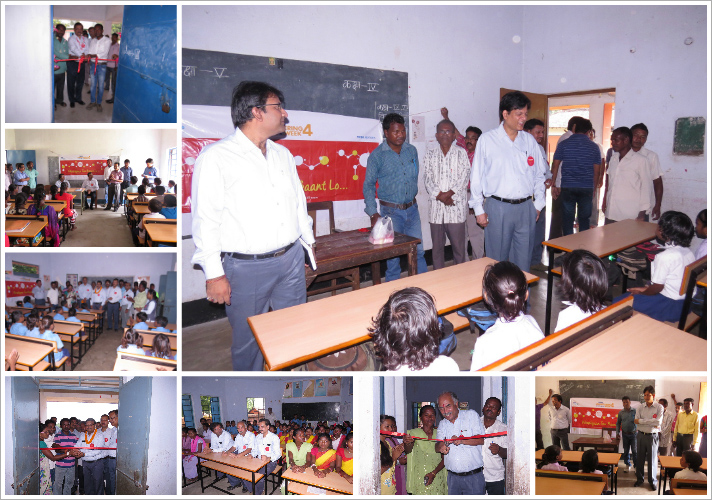 The volunteers distributed desks and benches at the Primary School in various villages. The Division during previous editions of TVW had arranged furniture, medical camp levelled and put goal posts at the playground. Cheerful smiles emanated from children's faces who comfortably sat on the benches and placing their hands on the desks. Village Mukhia, Pradhan and teachers and parents were present in the ceremony. The volunteers also interacted with the women SHG members who are gainfully employed through training imparted on sewing and tailoring and provision of sewing and pico machines provided by Team CSR. They also interacted with women who undergo adult literacy classes and saw the renovated toilet facilities at the school. The volunteers committed to take forward the electricity connection at the school by arranging wiring, ceiling fans and organize health camp for the villagers and children.
Blood Donation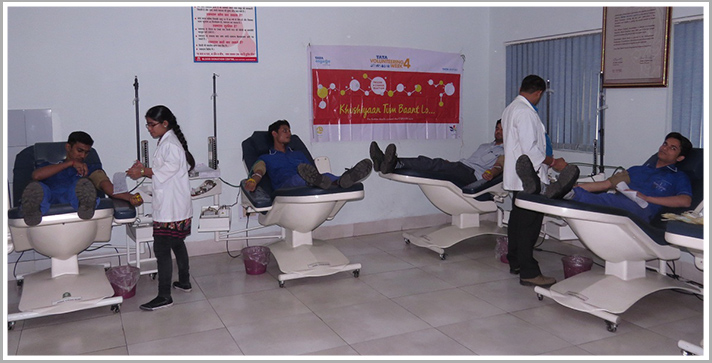 A blood donation camp was organized where 26 units of blood were donated by volunteers.
Lucknow
Co-Curricular Activities in Primary School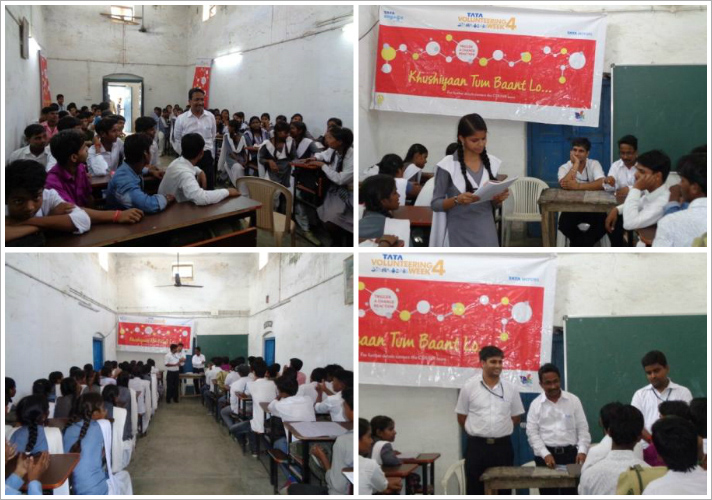 The volunteering initiative continued on 01th October 2015 with active involvement of employees of Service Department. The volunteers along from Service Department successfully conducted an awareness session on Value of Education and Career Counselling for the secondary school students of RU Ashram Inter College. The awareness drive involved around 300 children and school teachers. The teachers and children thanked the volunteers for successful conduction of the program.
Pantnagar
Community Meeting & Swacchta Abhiyaan at Village

Team from the power train comprising of 30 volunteers visited the village Bhagwanpur and had meeting with community and transact walk to understand the social set up & issues in the village. The village Gram Pradhan welcome the team and share the village status. The team carried out clean drive near the Panchyat Bhawan.
Pune
Climate awareness sessions

Three volunteers from CC& E Pune visited Two Schools at Talegaon Dhamdhere. The interactive session were taken with students. Posters on Environment made by were displayed in Anand Ashram School. Topics like "Climate Change", "Ozone Depletion" and "Environment Value Education" were covered. TheTeam elaborated on Environment protection awareness and Individual role through Stories, Games and interactive discussions.
Tree Plantation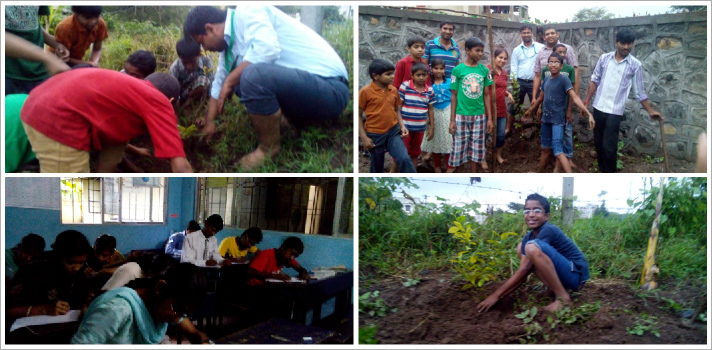 GDC representative visited Manavya for tree plantation on 02nd October. Volunteers planted 8 fruit plants in Manavya premises which include (Guava, Citrus-limetta, Gooseberry, Sugar apple). It was fun-filled evening to plant with children in rain and mud. On the same day, GDC launched Training program on Communication for all the college students to enable children with better English communication both speaking and writing skills. As an ongoing activity, weekend (Sunday) training program will complete for the first batch by November-15. Team GDC is working with Manavya for more than a year. GDC along with JLR(UK) completed kitchen renovation for Manavya, volunteers from GDC visits Manavya on weekends and conduct recreational activities, sessions for personality development and team is doing mentorship for students who have passed out from 10th std
Visit to an old age home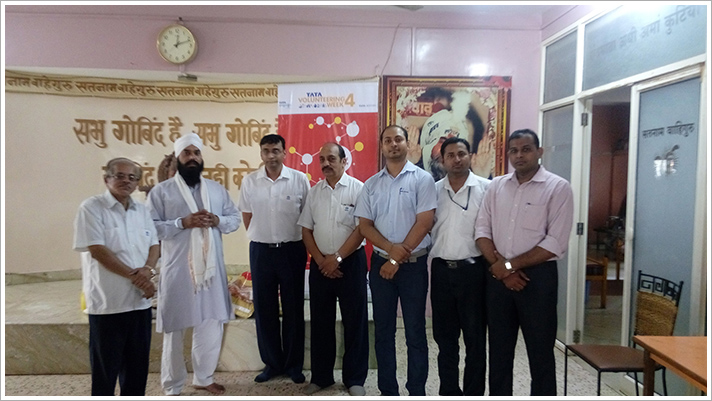 PPPM XO PVBU team of 13 volunteers visited Sant Moni Saheb Vriddh Anand Ashram, Akurdi on 5th October 2015. The team interacted with aged people of Ashram who have been staying there away from their family members. 93 old men and women are supported by Ashram in attending their daily requirement like accommodation, food and medical assistance. The team discussed their problems with Trustees of the Ashram and as per their requirement donated grocery items to the Ashram – Wheat flour (50 kgs), Rice (30 kgs), Cooking oil (10 kgs), Tea powder (2 kgs), Sugar (5.3 kgs), Colgate tooth paste (2 nos), hair oil (2 bottles), whole moong (4 kgs) and sweets.
Donation of solar lights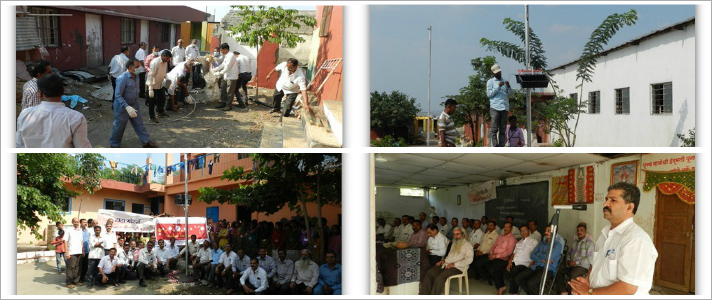 Team of 26 volunteers from Steering group donated 2 solar Street light to Asharam shala wagholi. It will be benefiting 400 students. Team distributed biscuits pack & cleaned all premises of Asharam Shala Wagholi
Visit to an ashram school

Team of 13 volunteers led by Mr Uttam Biswas (Plant Finance Head, Finance - PVBU ) volunteers at Yeshwantrao Chavan Primary and Secondary Ashram School located at Gulae vasti, Bhosari. Team interacted with students and conducted recreational activities with the group. Team donated a mixer which was a need of the school.
Spending time with inmates

Team of 10 Volunteers from ERC AED Pune visited the Sanjivani Balikashram for Girls at Talegon on Sept 25. Team spent quality time with inmates. Some girls exhibited art of drawing. Team donated grocery items, eatables, cloth and other daily requirements. Team shared some inspiring videos with inmates
Tata Power Solar
Bangalore
Knowledge sharing session on climate change & Solar Energy Awareness programme.

Volunteers from TATA POWER SOLAR Bangalore had visited Govt. Primary & High school near electronic city, Bangalore on 9th Oct 2015 and conducted a knowledge sharing programme to the high school students. Global warming subject was explained in detail with the causes and effects. Many practical examples were given to the students to minimize usage of electricity , fossil fuels & means and ways of reducing the carbon foot print. Awareness programme on Solar energy was imparted. The priniciples of solar energy was demonstrated using solar education kits, advantages and benefits of using the solar products was explained to ignite the minds of the young students on energy conservation and environment protection. A safety survey was also conducted at the school premises and necessary consultation were provided to the school authorities including the advantages and possibilities of solar energy usage in the school campus. The top scorers in the 8th 9th & 10th grade students were donated a bicycle as a token of appreciation and motivation for the other students
Tata Projects
Secunderabad
Donation drive

TPL celebrated Joy of the giving week by donating the unused clothes to the underprivileged and needy people. Employees donated clothes liberally for the cause as a part of "Joy of Living "– event was successful with active participation from most of the employees.
Tata Technologies
Pune
Fundraising through exhibition

Tata Technologies volunteers raised direct funds by purchasing handmade articles for SAHARA ALHAD HIV/AIDS Care Home ware house workers. Three days exhibition was organised at Tata Technologies Pune Campus and more than 500 employees visited stall. Sahara Alhad id an NGO which provides multi-layered services to extremely marginalized populations, affected by HIV/AIDS, TB and Drug use. Total 3000 funds were generated from employee volunteers from this exhibition & stall.
Tata Teleservices
Chennai
Skill training

Volunteers from Tata Teleservices conducted a session on Interview Skills at NIIT Foundation. They emphasized on the importance of education, skill development, confidence, grooming & time management to the youth. It was an interactive session where the students freely interacted with the volunteers.
Delhi
Personality development training

Two volunteers conducted a session on interview skills & personality development. The students at the centre are enrolled from local communities for courses like computer training, stitching, typing etc. and have very less exposure to the competitive world outside. Keeping this in mind, the volunteers conducted a friendly and interactive session on interview skills and personality development.
Titan
Mumbai
Cleaning railway station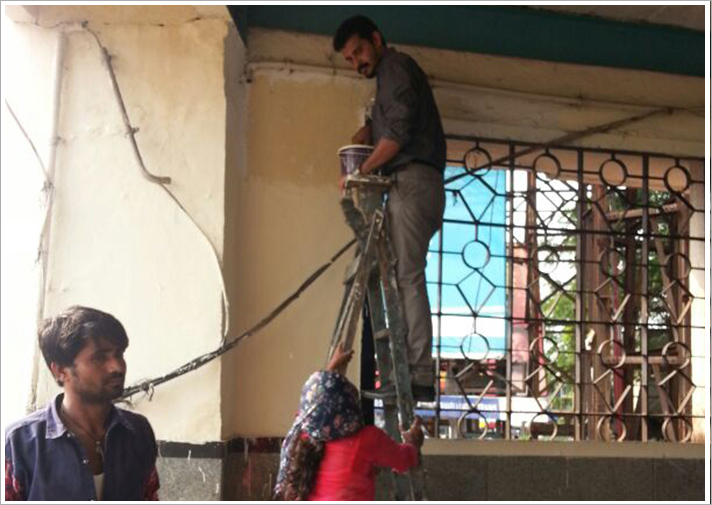 12 Volunteers from Titan Company Limited went to Sion Station on 8th October to paint some more walls with Primer, Distemper and Oil paint.
The artists of the group will be going today at 2:00 pm along with some more team members who will help them, to paint some artwork related to prominent landmarks around Sion station.
Tamil Nadu
Titan Kanya award ceremony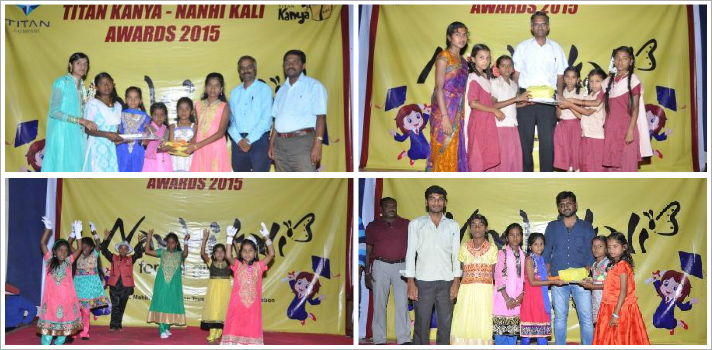 Titan and Project Nanhi Kali organized the first Titan Kanya Nanhi Kali Awards on 12th September 2015 at Denkanikottah Taluk, Krishnagiri District, Tamilnadu. These awards were instituted to felicitate the Titan Kanyas, who performed exceedingly well in the academic year 2014-15. A total of 375 Kanyas were awarded certificates and mementos in an enthusiastic ceremony, which attended by the parents, head masters of the schools and community activists. The three best communities who did outstanding work in spreading awareness n girl child education were also recognized. 17 Volunteers and 3 Senior Management people from TITAN participated for organizing the event and felicitating the memento and certificate.
A Day out with under-privileged Children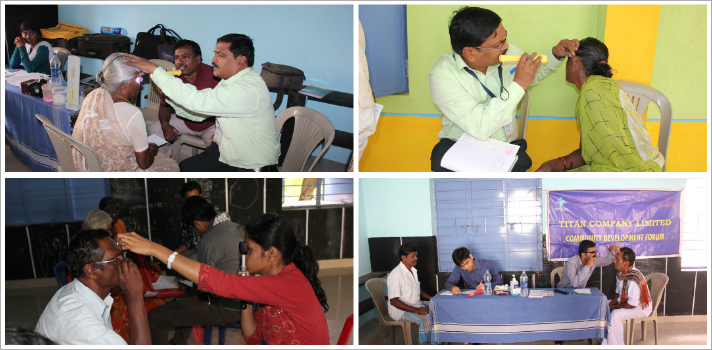 Titan CDF, Employee Volunteering wing of CSR has celebrated Gandhi Jayanthi with 380+ under privileged children from 13 homes in and around Hosur on 2nd October 2015 at Titan School, Mathigiri, Hosur with lots of fund games, sports and cultural events. Distributed hygiene Kit to all 380 children…. Volunteers and … family members have actively participated to organize the event and spend their valuable time to cheer up the children. Titan CDF members organized an EYE and ENT camp along with Narayana Nethralaya Medical team and M/s Oxford Medical Collage ENT team in Bettamugilalam, a dense forest and tribal area. 490 people were screened, issued 99 spectacles and drops given to 29 patients.
Tata Power Delhi Distribution Limited
Delhi
Tree Plantation Drive

True to the commitment for a green & sustainable future Safety Dept., EHV team and Sub-Transmission System (N&NW) & Maintenance Planning Group of TPDDL under the leadership of senior management, carried out a tree plantation drive at Motawala Bagh, Shalimar Bagh and Bhalswa Golf Course. 2000 saplings were planted in this green initiative. 75 volunteers whole heartedly participated in this event.
Visit to Vocational Training Centre

A team of 06 volunteers made a visit to the vocational training centre at Shakupur. Volunteers inspired the students to perform different activities like small acts, poem-recitation and songs in front of class. They shared their experiences with tutorial class students and motivated them to study well. Students of computer class and beautician class shared their learnings. Valuable tips and tricks for basics of computer was shared with computer class students.
Drug De-Addiction Camp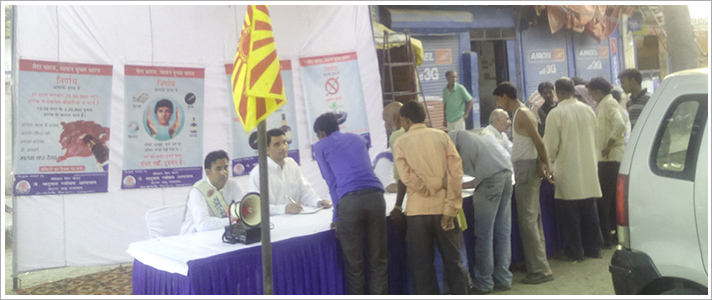 TPDDL, in association with Prajapita Brahm Kumari's organized drug de-addiction camp for the needy ones at Haiderpur in North Delhi. Organising team with help from employee volunteers made home visits to the residents of the clusters motivating them to attend the camp and avail benefits from it. The team of 06 volunteers also counselled the 172 attendants of the camp and free homeopathic medicines were distributed to them.
An initiative to reduce carbon foot-prints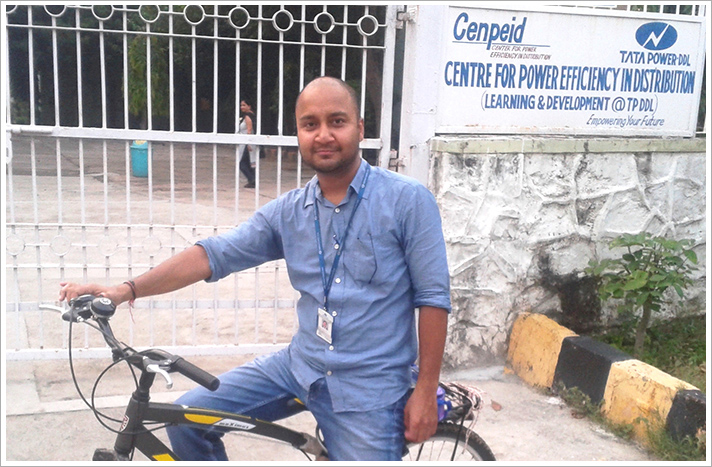 An employee of TPDDL took an initiative to reduce carbon foot-prints by travelling via bicycle from home to CENPEID, i.e around 7 kms (one side). The activity was not just a fitness mantra for him but was an opportunity to contribute towards a greener environment.
Visit to 290 Energy Club member schools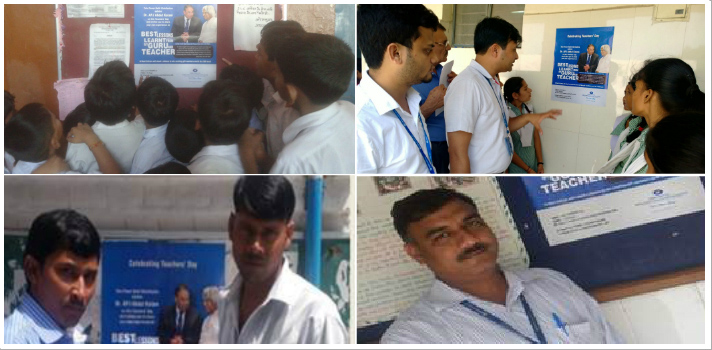 On the occasion of Teacher's Day, i.e. 5th September, 192 TPDDL employees of 46 Zonal teams visited in 290 Energy Club member schools in North & North-West Delhi. Volunteers distributed posters/banners informing about an online competition about sharing of experience of students about their mentors/teachers. This competition has been initiated in commemoration of Late Dr APJ Abdul Kalam, Former President of India.
Tata Steel Processing and Distribution Ltd.
Kolkata
Art and craft workshop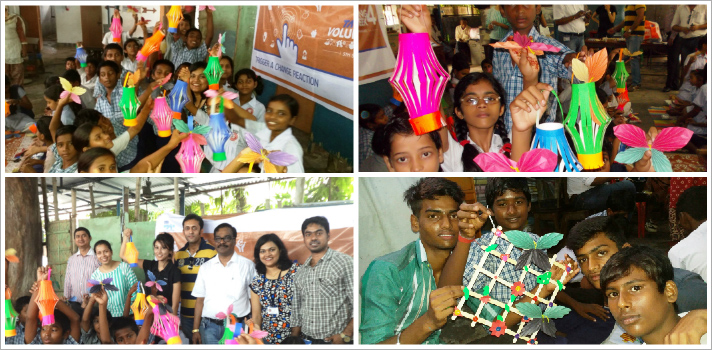 Calcutta Rescue is an institution for underprivileged children. This institution aids in providing quality pre-school education to such children. A group of TSPDL volunteers organized a workshop on art & handicrafts for the children from Class 5 to Class 10. It was a fulfilling day with cheerful children, who all were very excited and the Kolkata weather didn't deter their enthusiasm and whole-hearted participation in any way. Volunteers enjoyed demonstrating to them few simple crafts using variety of chart papers, ice-crème sticks and coloured clay. At the end of the workshop, a 15-minute competition was conducted among the children to create anything they wish using coloured clay. Their untapped talents took the volunteers by surprise and the creations were overwhelming. It was heartening to see that the children showed extraordinary talent and interest for the craft. Prizes were distributed to the first three of the lot, which were decided with much difficulty by the volunteers. The children were promised that such workshops would be conducted again, and the teachers were requested to nurture such talents in the regular classes.
Voltas
UAE
Donation drive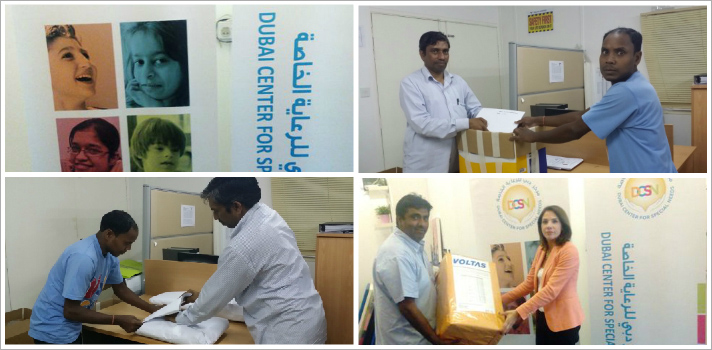 In Line with the Tata Volunteering Week ( TVW4), Voltas UAE has planned to support Dubai Center of Special Needs(DCSN) by undertaking a Charity Drive. The Dubai Center for Special Needs(DCSN) is a charitable, non-profit organisation dedicated to serving the needs of individuals with special needs of all ages. Currently, the Center has 150 students receiving specialized and individual academic instruction, therapies and a variety of life enhancing activities in order to bring purpose and value into their lives. This drive encompasses collection of gently used old clothes, old toys and old books and will run from 3rd October ~ 7th October 2015 at the various sites,divisions and Voltas offices.
Mumbai
Career guidance session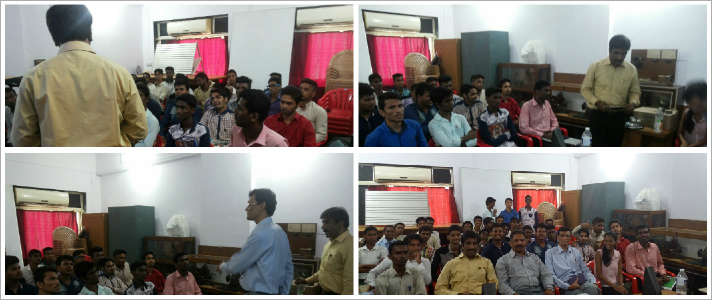 We the team of 4 from Voltas had visited JCTS Technical School on 5th October, 2015. The Learning & Development Team conducted a session on " Your Goal and Vision " and " Customer Service " . The Security Incharge took a session on " Health & Safety" . HR took a small session on " How to be focussed in life". The volunteers also conducted a quiz competition and distributed Chocolates to the winners and all the students. The Principal and the students found all these sessions very useful for their future career path.
Gift paper bag making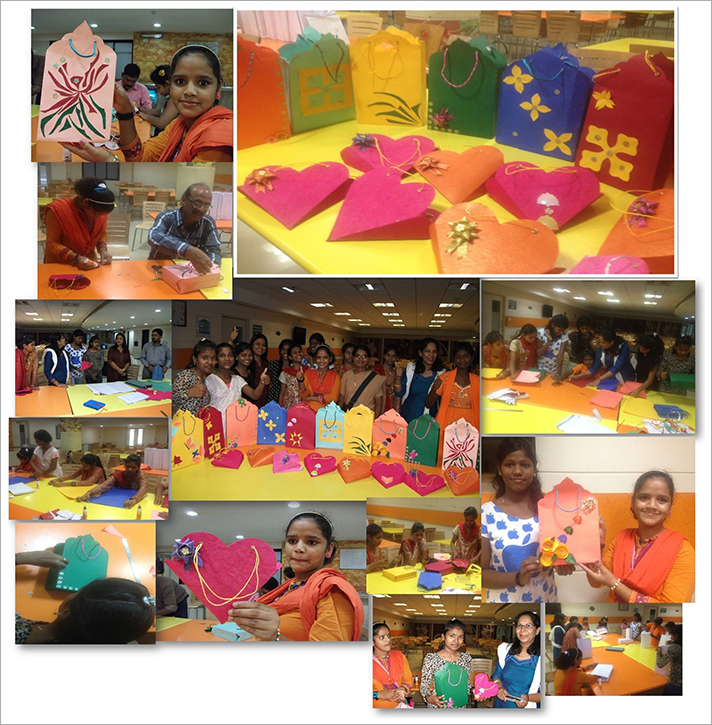 Voltas organized a training on 4th October 2015 on making Gift Paper Bags for the girls of Divya Prabha. It was a day of learning and fun for the girls. A seemingly simple and easy activity of making paper bags turned out to be the center of everyone's attention and interest. All the girls took great interest to learn how to make attractive bags. They observed the trainer and then tried their hands at making bags out of handmade paper and tinted paper. Bows, paper cut-outs and glitter was used to decorate the bags. The end result was attractive bags that can be used for many purposes. The day ended on a high note and the girls expressed their thanks that they learnt the technique of making paper bags.
Visit to a widow home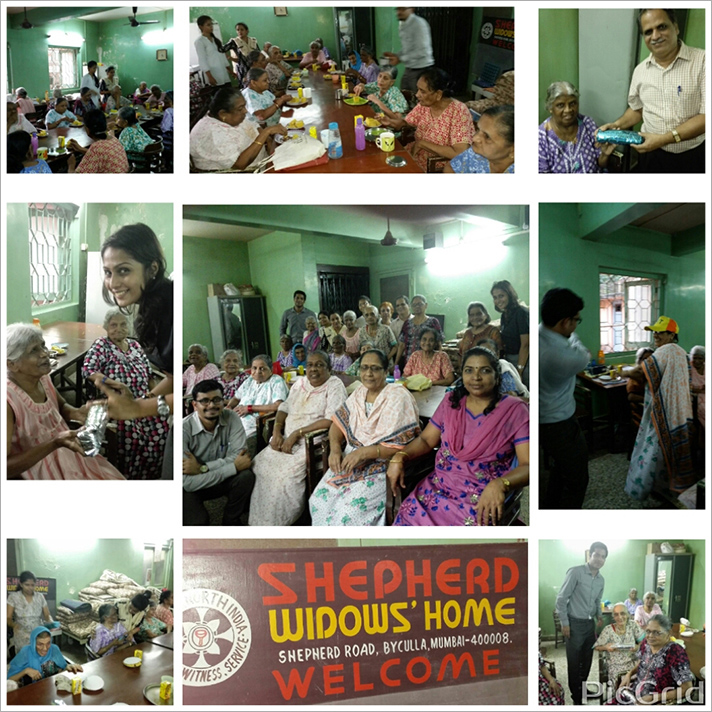 As a part of the Tata Volunteering week, Voltas, Mumbai organized a visit to an oldage home for widows, "Shepherd Widows Home, Byculla" on 07th October 2015. The home takes care of 16 ladies, who are basically abandoned or widows. There are 6 care takers who look after them.9 associates from Mumbai office volunteered in spending time with them. They served them dhokla, fruity. Farsan & Biscuits for the evening snacks. The volunteers played "Musical Hat" game. The ladies sung old melodies, shared jokes & shared their experiences also. At the end it was a day to remember- to spend time with the old age ladies and show them that we care.