Tata Technologies
Pune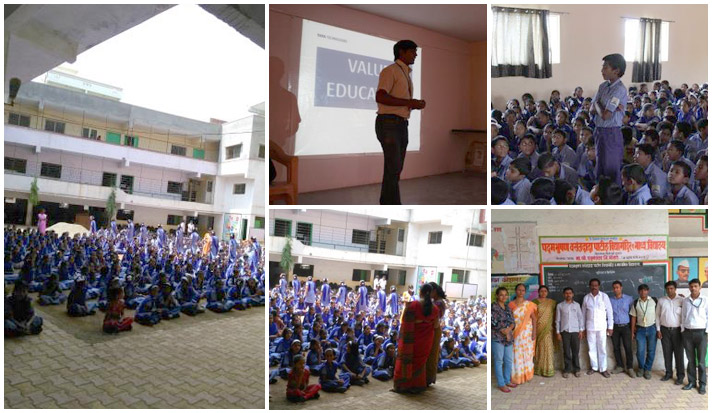 Value Education
Tata Technologies volunteers disseminated a successful value education Program with underprivileged children of the community. This activity was conducted with a focus on 'Education' which aims to create huge IMPACT for marginalised communities. Value Education is a volunteering activity where the employees visit NGOs or schools and spend two hours of volunteering to teach them about various social & education related topics like hygiene, values, safety and ethics. We have our own syllabus prepared by our employees. This syllabus is divided in different sessions for secondary class of students. Employees themselves created syllabus for school children which is useful for them in their personal as well as social life.
Rallis India
Lote

Building boulders to store rainwater
On 10th September, 2015, a group of 7 Volunteers from Rallis India Lote Unit visited an Ashram School, Prayogbhoomi, Kolkewadi, Taluka Chiplun which is a beautiful green valley near by Koyana Dam. There are 32 students in the Ashram School studying from Std 1 to 7. They met all the students, teachers and the staff and had a good interaction with them. The children with the help of volunteers then went to their open land area and made three small Loose Boulders. This will help them to store the rainwater in their premises. They also cleaned a pond / stream and made one more Loose Boulder on it. This was a wonderful experience for the students, teachers and volunteers. The students, teachers and the School Chairman expressed their gratitude to Rallis India and Tata Group for this initiative.

Jewellery making competition
Six Rallis India volunteers organized a jewellery making competition for women group of Kolkhe village. 18 women participated in the competition. They were asked to make "Thushi" from golden beads within a given time. All women were excited to perform in the competition. First two prizes were given to the winners after completion of competition.
Exposure Visit to Mumbai
Rallis India Volunteers organized an exposure visit for Akola women beneficiaries at a whole sale market in Bhuleshwar in Mumbai. These women were given the training of jewellery making and the women were interested in doing the business and earn the money to support family income out of jewellery making. The volunteers took them to the jewellery market and there they visited 2 to 3 shops where they checked the rate and finally purchased the material at reasonable rates.
Tata AIA Life Insurance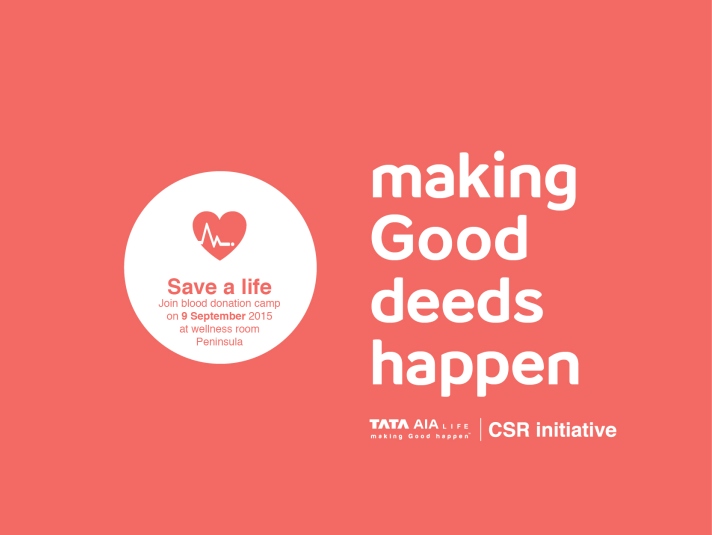 Blood Donation Drive
A blood donation camp was organized at Tata AIA Life Insurance Company's head office in Lower Parel wherein the employees donated 10 blood units during this camp. The camp was organized in association with The Red Cross Society. The activity was initiated in line with ongoing Tata Volunteering Week IV. The employees have shown a great level of enthusiasm in this noble cause.
Tata Capital
Mumbai
18 employees volunteered at Anandi organization on 10th September 2015 as part of the employee volunteering engagement TVW IV. Anandi works with differently abled children and requires colorful teaching aids which is used by the faculty to teach children. Volunteers were given stationary material and they enthusiastically created different teaching aids depicting Shapes, Numbers, Alphabets and Fruits.
During the three hours activity, the volunteers had a great time to prepare vibrant teaching aids and interacted with the children freely. Once the aids were made, they volunteered to serve snacks to the children and staff at the center. The NGO spokesperson thanked them for the wonderful creations and bid them good bye
Tata Motors
Jamshedpur

Visit to Nirmal Hridalaya
The launching of TVW4 triggered colleagues from Administration with spouses, Construction and TML Drivelines to visit Nirmal Hridalaya run by the Sisters of Charity which houses children, adults and the elderly who are abandoned by their families. Many of the residents are differently abled with whom the volunteers had one to one interaction for encouragement. The volunteers also visited the Day Care Centre where they played with the tiny tots and helped serve lunch. These children belong to parents who are daily wage earners in the unorganized sector. They were moved by the yeomen services extended by the dedicated and committed Sisters of the Centre for the cause and committed all help that they could possibly extend to touch their lives.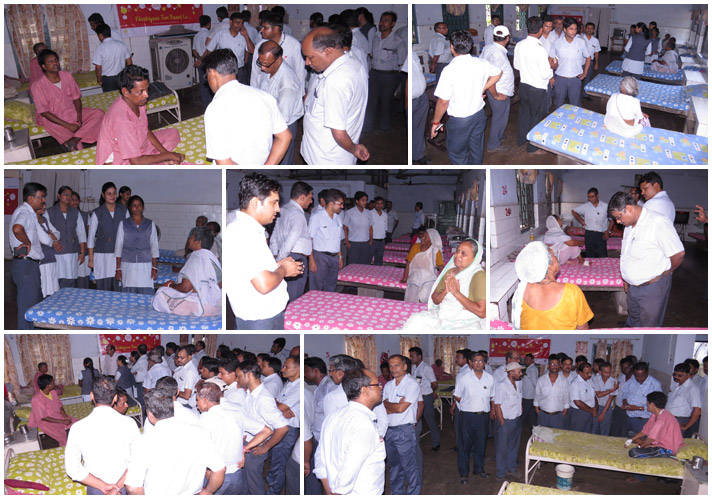 Visit to an Old Age home
46 volunteers from Cab & Cowl and Foundry Divisions visited Antyodaya Bhavan (Old Age Home) where destitute patients cured of leprosy live. The Centre is being run by CSR Division of Tata Motors, Jamshedpur. The volunteers interacted with the residents, both male and female who have been ostracized by their families, who looked melancholic and morose. They were moved to meet them and pledged to sponsor their meals and extend whatever possible help.

Youth Conference
Senior Executives of Tata Motors from HR, Medical Services and Tata Technologies volunteered as Resource Persons in a Youth Conference organized under Project 'Rishta' being carried out by Team CSR in collaboration with David Lucile & Packard Foundation, USA. They took sessions on value education, adolescent health and mental hygiene for over eighty lead adolescent representatives of twenty five Youth Resource Centres created in semi-urban and rural areas being the area of operation of 'Rishta'.
Pune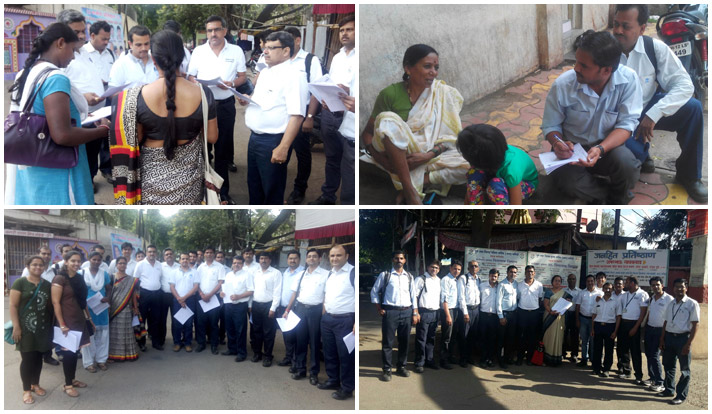 Conducted a baseline needs assessment
Team of 43 volunteers from AQ-PVBU led by the Head -Advance Quality-SQ, PVBU, P&SC), volunteered at Seva Sahayog Foundation in communities at Aundh, Pandavanagar and Vadar Vasti Gokhalenagar. Seva Sahayog Foundation is an NGO working in the sector of Education, Health and Skill Development. Seva Sahayog Foundation aims to start some skill based training programme for women in communities for women.
Team participated in conducting Baseline Need Assessment Survey for exploring need and possibilities of initiating skill based training programmes for women in 3 communities. The team was given orientation by Seva Sahayog Foundation volunteers. 250 women were interviewed by the team.

Celebration of Janmashtami
Team of 7 volunteers led by the Head HR- PVBU participated in Janmashtami Celebration in an orphanage Bharatiya Samaj Seva Kendra (BSSK). Family members of these volunteers were also part of this activity.
It was an event where BSSK invited all adoptees and their parents as well as their well-wishers. This was a celebration wherein all adoptive families got an opportunity to come together, a platform where more and more people got associated with the NGO and its cause. Presently there are 60 children in BSSK's care who are awaiting to be a part of a "FAMILY".
Team participated in the celebrations of Janmashtami. It was a cheerful evening for all.

Setting up a library
31 volunteers from HR team visited Vigyan Ashram at Pabal to do their bit on the occasion of Tata Volunteering Programme. The team got divided in two teams-One team dug pits for planting of saplings and the other focused its efforts to catalogue the library consisting of over 3000 books. Vigyan Ashram is located 50 kilometers from the plant is working with school dropout youth by imparting skills which makes them self-sufficient. The Ashram runs a one year course on called Diploma in Basic Rural Technology. Nearly 50 youth from all over the country reside in the campus and graduate as changed persons. Tata Motors through its CSR programmes supports 30 such students through a scholarship programme.
Lucknow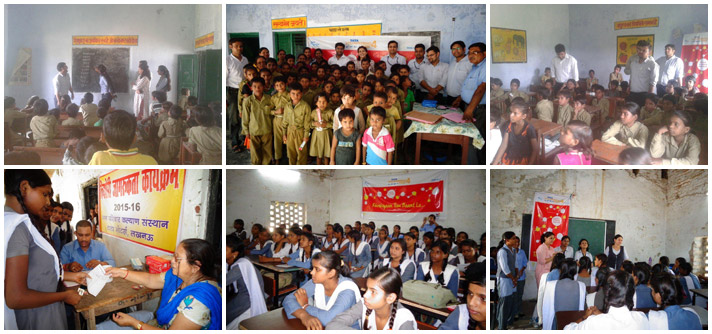 A camp was organised at R U Intermediate College for adolescent girls for their medical check-up, haemoglobin and counselling them for free of cost by Jan Parivar Kalyan Sansthan, one of the NGO supported by Tata Motors. The female employees of the company coordinated the event and counselled the girls of the Class 9 and 10. The topics covered were reasons why to avoid early marriage and early pregnancy with a focus on health. The volunteers also helped them understand different hobby courses that they could undertake as well as concentrate on their studies.
Tata Projects Ltd.
Secunderabad

Donation of a water purifier
Being a Tata Group company, we are committed to make a positive contribution to society in a number of ways. Therefore, in continuation to extend the support in the area of social and health care, at Kalinganagar site employees visited schools in rural villages, spent time with the teachers and students on various issues.
The volunteers donated one RO+VU water purifier for providing pure and safe drinking water and organised an awareness program on Computer literacy & basic training program. The volunteers also distributed sweets & health drinks to around 85 Students. They undertook housekeeping activities for 4 hours along with Teachers & Students.

Counselling of students
To provide education and develop social entrepreneurs, the TPL team has visited schools in two villages and spent around four hours with the students and teachers. As a part of the visit, they conducted activities in Kandlakoya Primary School and Suthariguda Primary School. They distributed educational kits and chocolates to around 264 Students. The volunteers provided counselling to teachers and students.