Rallis India
Lote

On 11th September, 2015 a group of seven Volunteers from Rallis India Lote Unit visited 'Jidda School' running for the disabled children at Chiplun. There are 85 students attending the school. We organized a drawing and colouring competition for the students. All the drawings had been planned according to their IQ level. With the help of our volunteers and their teachers we could complete the drawing and colouring sessions. We also conducted a physical exercise session for the disabled students. All the students participated in the exercise session happily and they enjoyed with the volunteers and teachers. This drawing competition and exercise session was their first experience. Our volunteers whole heartedly participated in this programme.
Tata AIG General Insurance Company Ltd.
Mumbai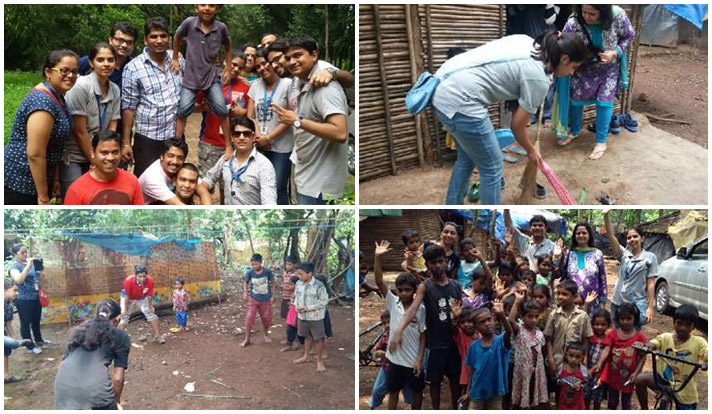 On 13th September, 14 Tata AIG Volunteers from Mumbai Zone went to the Sanjay Gandhi National Park to join YIF (Young Innovator Foundation).
The Young Innovator Foundation (YLF) has been working towards the development of the tribal inhabitants since the last 7 years. Their focus has been primarily educating the villagers about cleanliness and child education. They are associated with 4 small villages (padas) currently.
After instructions received from the coordinators they were divided into groups and taken to the 4 different villages. This Sunday was earmarked towards cleaning the school and surroundings, separating dry and wet wastes, spending time with the children, having gaming activities, singing rhymes and drawing. The volunteers helped the coordinators in each of these activities.
The Volunteers also donated dustbins, blackboards, mats, door mats, waste bags, basket, white board markers, chalks, duster, chart papers, crayons, etc. for the schools. The YLF does not force these children to attend schools, they just send such positive vibes around every Sunday that the children anxiously wait for the few hours of fun and activities. What really struck and happily surprised us was the way the older children (9-10 year olds) were confidently shaking hands and introducing themselves.
Tata Chemicals
Mithapur
Climate Change is a complex global issue and will impact us in a big way. One of the themes selected for volunteering programs at TCL, Mithapur, is "Climate Change – Think Global, Act Local". Multiple activities have been planned under this theme and these shall continue throughout the year. One of the areas to be affected by Climate Change is biodiversity. A Training of Trainers workshop on Biodiversity Assessment was organised at Mithapur on 12th instant which was followed by a field training session at Momai forest. 62 volunteers including employees, family members and retired employees participated. These volunteers, in turn, shall help train ECO Club students and teachers in monitoring biodiversity in villages around Mithapur.
Tata Communications
Pune

Volunteering for Mentorship Program:-
Tata communications Limited organized a mentor-mentee interaction program in Dighi office on 6th September 2015.
8 enthusiastic volunteers from Tata communications accepted the challenge of being a mentor for 30 students of various engineering colleges, in Pune i.e. COEP, VIT, Govt engineering college and Cummins. In a close, one to one interaction TCL volunteers assured their whole hearted support as a mentor to the students in their academics, personal life, career guidance & communication and other soft skills. The energy and enthusiasm of the volunteers (Mentors) and students (Mentees) was amazing and commendable. This program was organized under project "Tata Samarth".

Volunteering for capacity building of NGO partners:-
In an effort to support the CSR project partners for monitoring and reporting using P3cloud and mobile IT platform, a day long workshop was orgnaised in TCL Dighi office on on 8th September in partnership with Next Gen- A leading CSR and sustainability management company. While the Nextgen shared very useful information on CSR legislations and reporting requirements with the partners, TCL volunteers supported our NGO partners in understanding the reporting formats and entering the data during practical session of workshop. 15 representatives from 7 NGO's attended the training conducted by Nextgen and greatly benefited for the reporting and monitoring for their respective projects.
TML Drivelines Ltd.
Jamshedpur

Survey for needs assessment:
A Padhyatra was organised at Khursi Village Panchayat on 3rd Sept. 2015. A team of 8 CSR volunteers of TML Drivelines Ltd. walked around interacting with the villagers and conducted a needs assessment of the village. The team concentrated on the immediate needs which can be addressed by TML Drivelines Ltd. It was a heart-warming experience wherein the villagers not only actively participated but also graciously invited the team to have snacks with them and showed them their fields.

Cheshire Home, Jamshedpur
Cheshire Home, Jamshedpur is a part of the noble chain of homes started by Leonard Cheshire in 1949 all over the world. 50 mentally challenged children reside there under the care of 10-15 Sisters. On 9th September our team from TML Drivelines, visited the home. The team spent time with the children and provided them with Tiffin Boxes and Hand Towels for their day to day use. The day also happened to be the Founders Day of the Cheshire Home. The children played various games. It was a happy occasion for both the children and the volunteers. The volunteers felt privileged to be able to help the organization with their small efforts.

Teacher's Day Celebration, UFHE
TVW4 was launched by TML Drivelines Ltd. on 5th Sept. 2015 evening at UFHE (United Forum of Health & Environment), an NGO working for social upliftment through education, self-help groups and elderly care. Teacher's Day was celebrated in the presence of Senior Executives, Employee volunteers & their family members. Singing, dancing, a debate competition and a fun quiz took place involving the students of the NGO. Also teachers were felicitated by the children for their immense contribution in their life.
Tata Motors
Pantnagar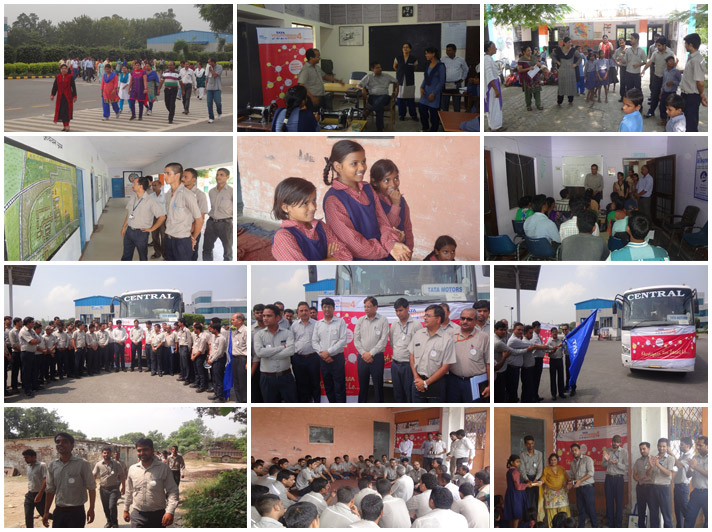 Tata Volunteering month was launched at Pantnagar on 9th September ,2015 by the Plant Head in presence of the Union President, Secretary, union members along with Senior Management from the plant.
Plant Head in his introductory speech emphasised over the group culture of volunteering, a platform which provides ample opportunities for volunteers to engage with society and learn /relearn the social skill to exhibit the volunteering spirit & culture of the group among the stakeholder.
He also stressed over the Group Chairman's desire expressed in the Annual Group Leadership Conference to clock in a million volunteering hours every year collectively by the Tata group of companies and urged all to strive to achieve the goal.
He read out the chairman message over volunteering & plan for the volunteering. The day also witnessed the volunteering work by 175 volunteers in areas like rapid rural appraisal study in the village, school education at government school, talent hunt at the blind schools & Outreach skill training center across the shop (TCF, BIW & Common Services).
Pune

A team from Supply Chain Management from Car Plant Pune, volunteered at an Old Age Home at Chikali, which is run by Shri Maharaj Natekar Morya Trust. The team of 19 Volunteers carried out the event on 11th September 2015. The team cleaned two grounds, cleared all plastics, papers and other waste material, and helped in cleaning the Cow Shade, sprayed disinfectant (Mosquito repellant) at the Cow Shade and around buildings. The team also donated food grains and utilities (Wheat, Sugar, Tur Dal). The team also spent time with children who are living in a gurukul which is managed by the trust.
Tata Steel
Jamshedpur

Jyoti Fellowship Award ceremony
Tata Steel felicitated 341 meritorious and economically weak SC/ST students at its Jyoti Fellowship Award Ceremony organised on 11th September at the Tribal Culture Centre (TCC), Sonari. Aside from the disbursement of over INR 14 lakh towards Fellowship, computer tablets and wristwatches were also given away to selected students during the felicitation function with the Vice President, Corporate Services, as its chief guest.
President, Tata Workers Union, UCM and other Sr. Officers of Tata Steel gave their time and interacted with the students and counselled them on the various career opportunities ahead.

Handball Training Centre
The Urban Services dedicated a handball training centre on 12th September for the community and youth to train and become professional handball players. The employees volunteered their time and service to train the young youth from local communities in handball techniques.

Set up of a Community garden and cleanliness drive
Area Officers of Urban Services came together to help grow community garden at the office complex. The AOs volunteered and planted organic saplings as part of the initiative.
A cleanliness drive was organised at the Urban Services office. Area officers and officers of Urban Services also volunteered their time to clean the office premises.
Tata Steel Processing and Distribution Ltd
Kolkata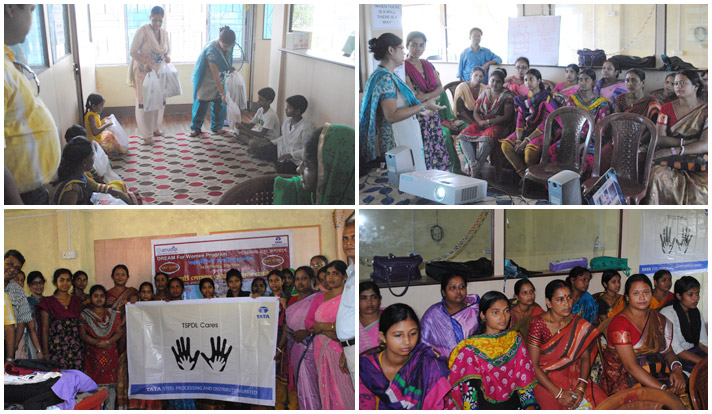 Anudip Foundation for Social Welfare is a centre for vocational training dedicated to underprivileged youth. The volunteers met a group of 16 women who are undergoing tailoring classes for the last 2 months. The duration of the course is 3 months. The volunteers discussed with them about their opinion on the course and their future plans. The women also showed some of their work.
The volunteers presented a powerpoint on health, hygiene, healthy cooking, home decoration, safety, sanitation, insurance and entrepreneurship including the social schemes launched by the Government. They also screened a short film "After my garden grows" on self – reliability. They then distributed goodies, sewing items and drawing kits (for children). There was whole hearted participation from the ladies and the Anudip team.
Trent Hyper Market Ltd-Star Bazaar
Mumbai

Visit to YMCA
As part of Tata Volunteering Week – 4, Volunteers of Trent Hypermarket Ltd- Star Bazaar Andheri visited YMCA. The volunteers prepared & distributed sandwiches to 80 children who stay there. The children enjoyed spending time with the volunteers and had a great meal.
Pune
Products of Snehalaya
As part of Tata Volunteering Week – 4, Volunteers of Trent Hypermarket Ltd- Star Bazaar Pune set up a stall in the store displaying various handmade articles prepared by kids of Snehalaya NGO which works towards betterment of life of differently abled children and promotion of education for them. The products were displayed and customers were encouraged to buy them as the proceeds would then be utilised by Snehalaya towards the same cause.
Aurangabad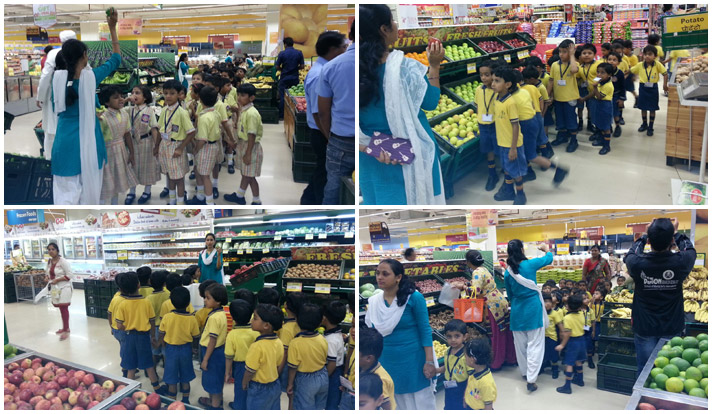 Visit of Chate School
As part of Tata Volunteering Week – 4, Volunteers of Trent Hypermarket Ltd- Star Bazaar Aurangabad organised a visit of kids from Chate school to the store and gave them an overview of retail. The volunteers explained the concept of retail marketing to the children in details and also answered their queries in regards to the store.
Bangalore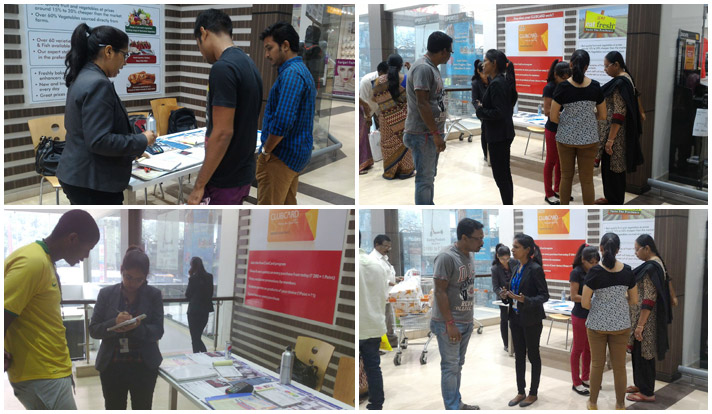 Cancer awareness and fundraising camp
As part of Tata Volunteering Week – 4, Volunteers of Trent Hypermarket Ltd- Star Bazaar Bangalore organised a cancer awareness campaign for making people understand and support the cause. The volunteers also raised funds in association with Global Vision NGO that works with cancer affected children. The funds raised would be used to help these patients.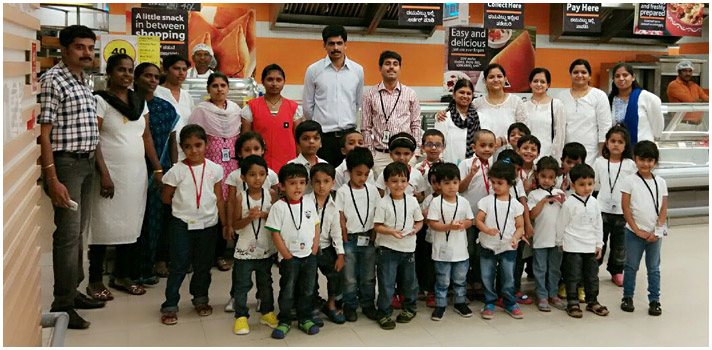 Visit to Trent Hyper Market Ltd-Star Bazaar
As part of Tata Volunteering Week – 4, Volunteers of Trent Hypermarket Ltd- Star Bazaar Bangalore organised visit of kids from a school to the store and gave them an overview of retail. The volunteers explained the concept of retail marketing to the children in details and also answered their queries in regards to the store.
Indian Hotels
Jodhpur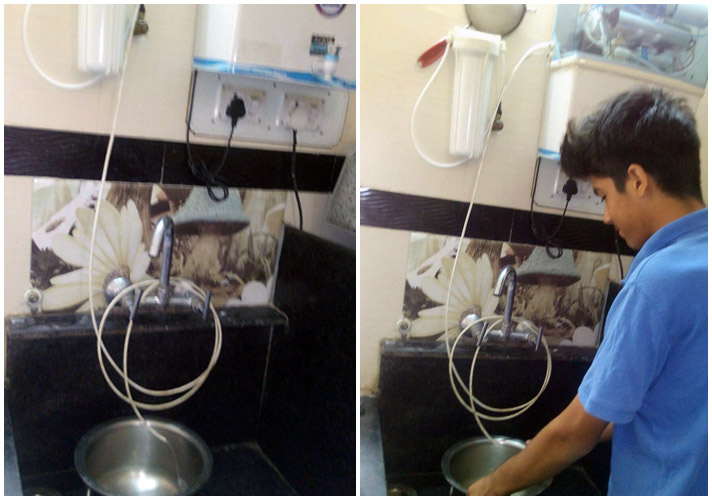 It is noticed that every RO system installed at private residence generates waste water. This water is normally drained and people tend to ignore its recycle aspect. One volunteer took the initiative of displaying this at his residence. They recycled this water and therefore to drive this initiative they collected the waste water into 5 litre pan and then used it for the plantations. They also maintained a tracker to check the quantity which depends on each day's drinking water consumption. They observed that on an average they will be able to save 15 litres of water. They encourage everybody to start conserving water.