Rallis India
Lote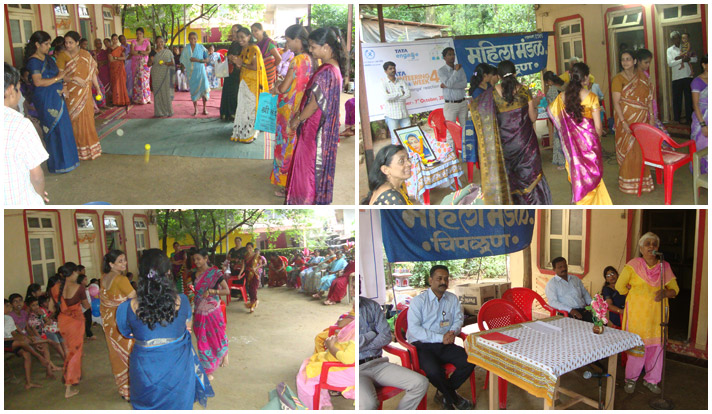 On 12th September, 2015, Volunteers of Rallis India Lote Unit organized a common meeting with the Women Self Help Group Members of Mahila Mandal Chiplun, headed by Mrs. Sumati Jambhekar, Secretary of M/s KOWYAS. 45 women were present in the meeting. Few key personnel of the society were also present. The volunteers arranged a few games for the group like Musical Chair with an aim to develop their interest and involvement in small business activities, thereby increasing their level of self-confidence, improving team work and leadership qualities. The programme was well accepted by all the SHG members and the Secretary.
Tata AIG General Insurance Co. Ltd.
Bhopal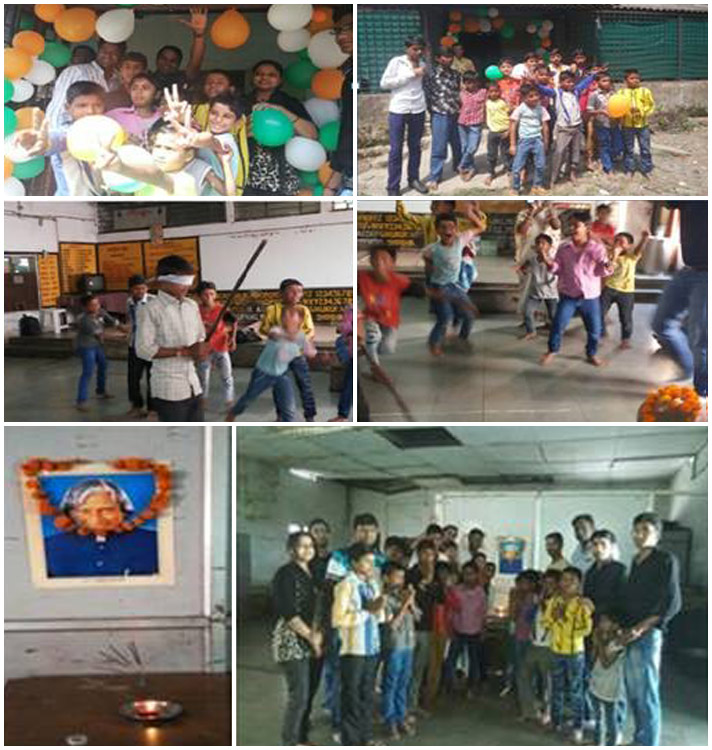 A cricket match was arranged for children. Employees & Producers of our Bhopal Branch did the opening batting on behalf of Tata AIG in the TVW4 by reaching out to Disha Plate Orphanage.
The day started with paying homage to the Late President APJ Abdul Kalam. The volunteers also provided a wholesome breakfast for kids. They decorated the rooms together and the day being Janamashtami as well, a fun filled Dahi Handi and other games were organised for the kids. It was three hours of non-stop fun for all.
Mumbai, Chennai & Hyderabad

A Blood Donation Camp was organized at all the 4 centres with nearly 200 employees donating blood and another 40 odd volunteering to set it up but feeling disappointed in missing out on donation due to health reasons. At Infinity Park we had a whopping 101 volunteers donating- phenomenal by all standards.
A grand salute to the 200 Brave Volunteers who donated their blood. One should have seen their beaming faces with the badges hanging from their chests- I Saved 3 Lives.
Mumbai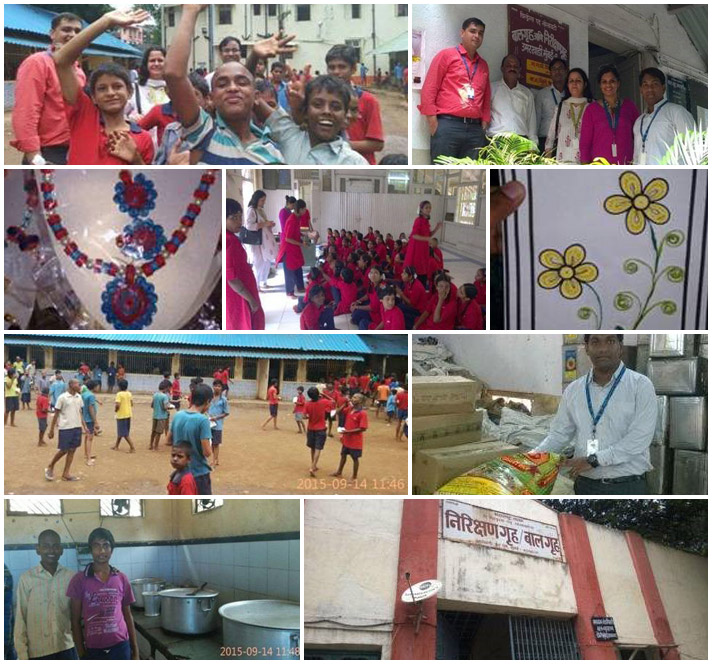 Five volunteers visited the Juvenile home at Dongri (the biggest in Asia) inhabited by over 400-500 young children who have run away from homes, are involved in crimes, or have been abandoned, physically or mentally abused. There are also mentally and physically challenged boys and girls in the home. This shelter is a semi govt. organisation managed by Mr. Jadhav and his very competent team of teachers, medical staff and assistants.
Their main objective is to counsel and educate these children, search for their parents within 3 to 6 months and once the verdict is out, handover the children back home. Only those involved in crimes are kept under strict vigilance and there are court cases filed against them. Their one time meal consumption on any particular day is about 50 kgs of rice. The most important need of these inmates for now is food, so the volunteers donated 500 kgs rice to them. Besides they also distributed some chocolates and sports kits to the children. They also make beautiful products. The volunteers sincerely hope that each of these small children unites with their parents soon, are given the childhood they deserve and have a safe and bright future.
Tata Motors
Dharwad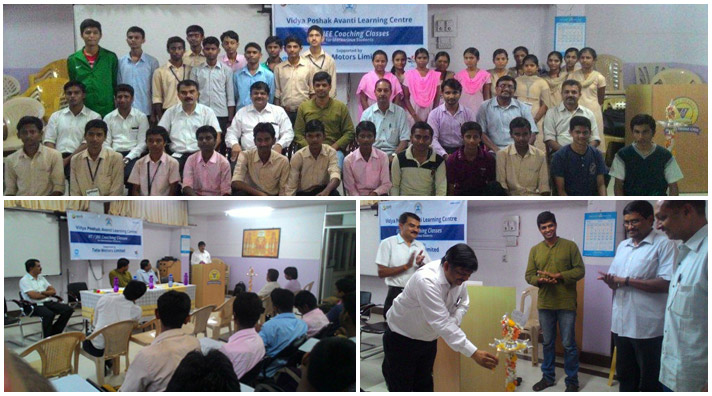 Inauguration of an IIT coaching class
As a part of Tata Volunteering week IV, a series of activates planned by Tata Motors Dharwad.
On 12th September 2015, Dharwad Plant Head Inaugurated an IIT coaching class. 34 students who aspire to enrol in an IIT have been selected on merit and considering socio economic background are undergoing coaching classes.
During the interaction session the Head advised the students to make the maximum benefit of the coaching and be successful. Head - Human Resources and other employees are volunteered their time for this event.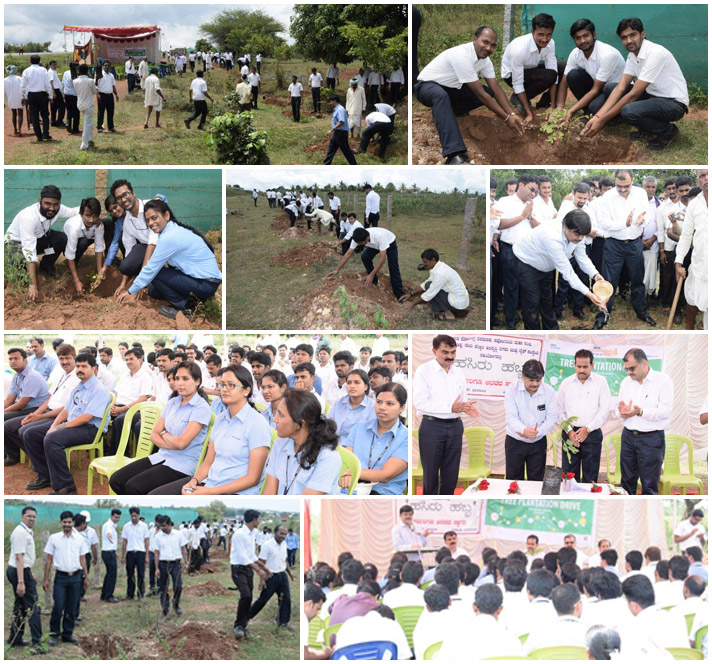 Plantation of saplings
On 14th September 2015, as a part of Tata Volunteering week IV, more than 120 employees participated and planted 1000 saplings on National Highway 4 (Hubbali - Dharwad Bypass).
Plant Head inaugurated the event. The Head P & SC, Head Technical Services, Head - Human Resources, Head Finance, and many more plant leadership volunteered their time to give back to Mother Earth. GETs of 2015 batch also participated and volunteered their time in this initiative.
Tata Steel
Jamshedpur

Visit to an Old Age home
The Vigilance Department head visited the Old Age Home to do a needs assessment of the Home. He interacted with the elderly people and shared a few lighter moments. He has assured his support towards their wellbeing.

Yoga training
An aerobic training session was organised at RD Bhatta Community centre for the community youth. Aerobics is a form of physical exercise that combines rhythmic aerobic exercise with stretching and strength training routines with the goal of improving all elements of fitness.
It also inculcates a sense of staying healthy and fit. The youth really enjoyed it and have assured that they will follow a healthy regime

Health Checkup Camp
A health check-up camp was organised at the Government Ashram School located at Chingudipal in Jajpur Dist of Odisha. It is s residential school, about 7kms from the Sukinda mines, where 250 students (both boys and girls) stay and study. Prior to the health camp, the Sukinda team had also visited the school with Doctors from SCM Hospital, to assess the existing health concerns amongst the students. Accordingly the team went prepared on 12th Sept, 2015 and organized a health check-up and provided free medicines. A total of 88 inmates are having health related complains have been checked by doctors of SCM hospital.

Visit to Utkramit Vidyalaya
Under Tata Volunteering Week IV celebrations (5th September to 7th October, 2015) a Joy of Giving Programme was initiated on 14.09.2015 at Utkramit Vidlaya, lalbhatta, Bagunhatu.
A team of employees from CRM Bara and Urban Services, CSR of Tata Steel visited Utkramit Vidlaya at 8:30 am.
The idea was to spend some time with these children, share some lighter moments, and try and help the children.
At the start of program the children welcomed all volunteers with their gleaming smiles and warm heart. All employees of CRM Bara and Urban Services interacted with the children and had fun with them. The volunteers collectively brought gifts items like pencils, eraser, sharpener, note book, educational charts, etc. which were distributed amongst the children. All children were equally surprised and content after receiving the gifts.
The 4 hours spent with the children was indeed filled with awe, excitement and interest amongst the volunteers.

Cricket Match
Going forward with the TVW4 activities (5th September to 7th October,2015) a team of employees from JDC Raw Material Management of Tata Steel visited SC/ST Primary School, Barudih, Patamda on 14.09.2015, 20 km away from the steel city. The School has 82 students all of whom are SC/ST.
The idea was to spend one whole day with these underprivileged children of the community, share some fun time, and try and understand them through Volunteerism.
At the start of program the school children welcomed all volunteers with their gleaming smiles and warm heart. All employees of Raw Material Management interacted with the children happily. A cricket match was conducted by the volunteers for the children. It worked wonders as the children had a great time and enjoyed thoroughly. The volunteers collectively brought items like pen, pencil box, crayons, notebook, biscuit, football, badminton, cricket kit, durry which were distributed amongst the children for healthy engagement. All children were equally surprised and content after receiving the gifts.
Senior employees gave a comprehensive talk covering topics like personal cleanliness, hygiene, basic health care tips, right things to eat and what food items to be avoided. It was a good time spent with the children.

Coaching session for competitive exams
A coaching session for competitive exams was organised at Adivasi Primary School, Babudih, Jamshedpur. Urban Services senior employees took the session and also counselled the students for better career opportunities. They answered all their queries and helped them understand concepts better.
Tata Technologies
Pune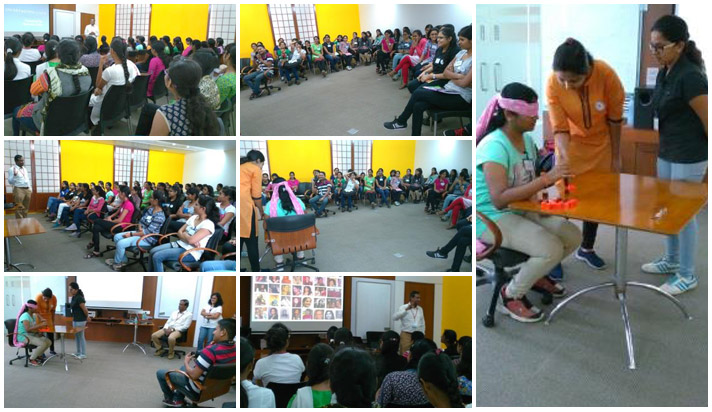 Skill development for Lila Poonawalla girls
TVW 4 Skill Development Session for Lila Poonawalla Girls was organised. Volunteers from Tata Technologies India, Pune organised an 8 hour program called Smart Genius Lady with 50 young girls from Lila Poonawalla Foundation. The session was taken by Pune's leading Skill development institute called Smart Champs. The session covered special assessment for women, through which they were able to understand their ability to behave confidently in working environment at various sectors like IT, engineering companies, corporates, multinational, manufacturing. The session was helpful to increase the women's personal ability to speak in interviews and also freedom at its best and motivated them with the confidence that "Yes they too have the ability to create wonders" All Lila girls were enlightened from this program and were thankful for conducting this session for them.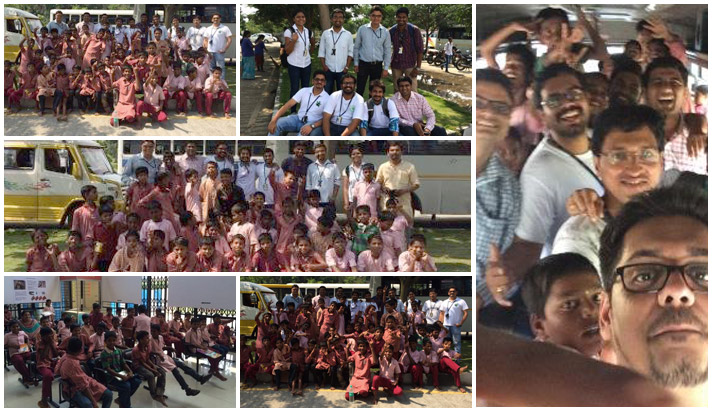 School Children visit to Science Park
80 underprivileged children of Punarutthan Samarasta Gurukulam Schools took thrilling experience of science knowledge with real experiments at PCMC Science park. The visit was followed by a 3D show called Tara Mandal globe session. The volunteers went to the park and played funny scientific games which was the unforgettable part of their lives. The children were enlightened by the knowledge they got from this visit. Tata Technologies volunteers were very excited to help children understand about various machines
Tata Consultancy Services
Hyderabad

Talent contest for visually challenged children
"Roshni" – a talent contest for visually challenged children was held at Potti Sriramamulu Telugu University Auditorium on Saturday – 12th September 2015. This initiative was organised to encourage the talent of the visually challenged children who do not have a platform to participate in competitions of this scale. Around 120 children from 5 different schools from Hyderabad were part of the event accompanied by their teachers.
The program started at 10:30 am with the children settling down and a welcome dance was performed by the special children. By 10:45 am the talent contest started. 40 children participated in different categories like Solo Singing, Group Singing, Dance, Mimicry and Mono Acting. All the participants enthusiastically participated in the event. Sponsors and Volunteers from different corporates helped the children during the contest.
The "Baahubali Sisters "- Damini Bhatla and Mounima Bhatla were called to judge the event . Both the sisters performed for the children.
The judges selected three winners each in the solo singing junior and senior category and two group winner in singing category. The prize winners were given medals, trophies and braille watches. There were 2 consolation prizes and two prizes for special category. All the children and teachers were given snacks box and return gifts.
The event was a great success and it would not have been possible without the support from volunteers and family members from TCS Hyderabad Maitree.

Visit to Mahima Minitries
Love and compassion are the crowning grace of humanity, the holiest rights of the soul, the redeeming principle that chiefly reconciles the heart to life, and is prophetic of eternal good.
Volunteers from TCS Hyderabad Maitree visited Mahima ministries. The team of 20 spent some quality time with the kids of the Mahima fraternity. The volunteers donated material needs relating to food and education worth INR 30,000 for their well-being. The visit concluded with a hope to bridge the gap between the underprivileged and their aspirations a bit more, a bit fast.
The volunteers were pleased to see 75 kids and few old people at the organization who seem to be an example of courage and self-respect despite their grievances in life. They interacted with them and tried to know their pains in life and how they overcame all those hurdles. Their perspective towards life is very appreciable and stood as an example for life winners. The volunteers were very happy to spend time with kids and interact with old people. In the end, they returned with a feeling of self-contentment.
Taj Pamodzi Hotel
Lusaka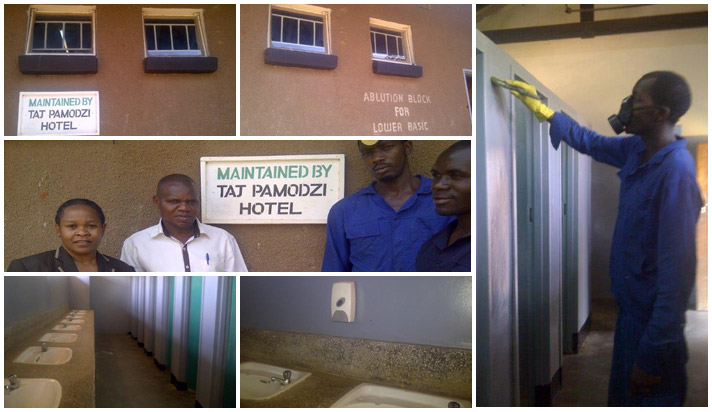 On 07th September, 2015, a group of 6 volunteers from Taj Pamodzi Hotel, Lusaka visited a community school that is situated in the Rhodespark area that caters to some vulnerable youths and children called Jacaranda School.
Taj Pamodzi Hotel in Zambia has adopted two of the Ablution Blocks, one for girls and the second for boys, and the volunteers went to Jacaranda and replaced broken windows in the ablution blocks. This was done during the school holidays which made it easier for the works to be completed in the quickest possible time.
They also painted the walls of both the girls and boys ablution blocks.
After the painting was complete, the volunteers also did some basic cleaning to ensure that when the children return from school holidays, they find a pristine environment.