Four Tata companies' volunteers visit Tata Memorial Cancer Hospital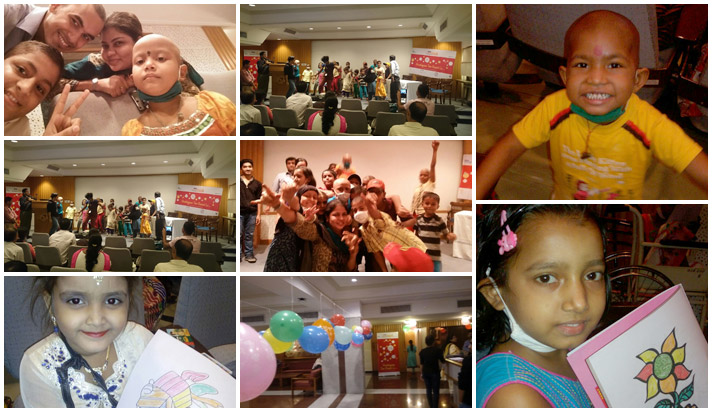 Twenty one employees of Tata Group Companies (Tata Motors, Tata Technologies, Tata Interactive and Tata Industries) volunteered their time on 15th Sept 2015 spending fun-time with over 50 cancer afflicted children and their families at Tata Memorial Cancer Hospital, Parel from 3-5 PM. An animated film was screened for the children followed by a jam/dance session wherein volunteers shook their leg along-with the children on latest Hindi film songs. Goodie bags were distributed to the children along-with refreshments. Mr. Humayun Jafri, PRO of the Hospital and Ms. Geetali Pawar of NGO 'Little More' facilitated this volunteering activity organized by Tata Motors. The program concluded with an interaction session by a doctor from the Pediatric section of the hospital who stressed on the importance of donating blood / platelets which was followed by the volunteers sharing their feelings, feedback of the volunteering activity and expressing their willingness to volunteer in individual personal capacity on sustained basis in myriad ways.
Tata Steel Processing and Distribution Ltd.
Kolkata
A visit to Prem Dan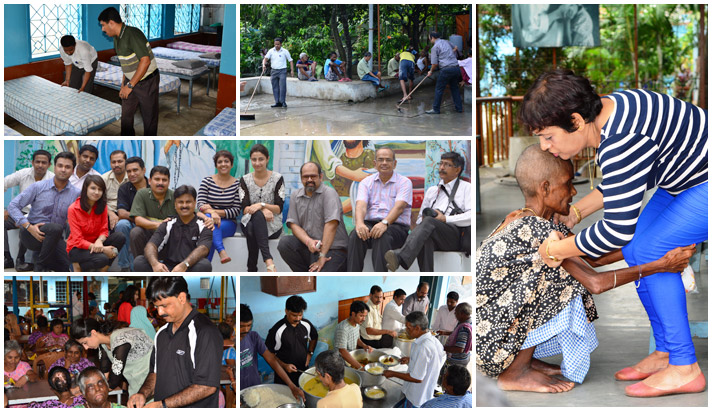 On 10th September a team of 15 people from TSPDL visited Prem Dan a Centre which is managed & run by the Missionaries of Charity. Prem Dan primarily houses destitute from the streets of Kolkata & around. The residents include elderly people, people who are mentally challenged and some who are diseased / injured / ill. The team spent over 5 hours in Prem Dan spending quality time with the inmates, talking to them, laughing with them & listening to their stories. The team also helped with cleaning and making the beds of the inmates, washing their clothes and cleaning the walkway. Team TSPDL had carried 450 goodie bags for all the inmates consisting of biscuits, juice, wafers and chocolate. These were happily enjoyed by the inmates. The team also helped in serving lunch to the people. One of the highlights of the visit was helping in loading the ambulances with dry food/ rice/ oil/ pulses which the Missionaries of Charity were arranging to send to flood victims in the interiors of Bengal.
Tata Steel
Jamshedpur
Needs assessment of tribal schools

Under Tata Engage Week 4 five employees of Engineering & Projects department and two employees from Corporate Audit of Tata Steel visited the school comprising of tribal students to interact with the children and understand their day to day needs which can be addressed by the volunteers. The joy and excitement on the face of the students was amazing. During visit the needs identified included that there is currently no playing facility for students, drinking water is contaminated, no trees around with only one tree at the entrance, no power and fans in the classrooms and the students have no footwear. The volunteers took note of it and will take the necessary steps to address the needs.
Cleanliness drive

Under Tata Engage Week 4 the Urban Services team undertook a cleanliness drive at R.D.Bhatta Community centre ground and Sonari bustees with a spate of activities during the month of September, 2015. Retired employees from Tata Steel also participated in the above mentioned cleanliness drive. The retired employees and their spouse took a pledge to clean their homes & surroundings.
Visit to SC/ST Residential High School

Going forward with the TVW4 activities (5th September to 7th Octoberl,2015) a team of employees from Tata Football Academy & Sports department of Tata Steel visited SC/ST Residential High school of Sabar Nagar, Goalkata with a big heart to make the day memorable for budding youth on 11th September, 45 km away from the steel city. The School has 250 students all of whom are ST.
The 8 hours spent inside the school ground with the youth was indeed filled with awe, excitement and interest amongst the volunteers. Volunteers also ensured their continuous presence in the school to help these children.
Career Counselling

A Tata Steel senior professional took a counselling session for the 90 students of TSTI Burmamines for selecting various career opportunities. He explained the pros and cons of each opportunity. He also gave a presentation on positive attitude and healthy living
World Suicide Prevention Day

An event was organised by Jeevan to observe World Suicide Prevention Day. Jamshedpur off late is witnessing a lot of suicides and attempt to suicide. A senior professional employee addressed the gathering and talked about various motivational ways from getting out of depression and seeking family help to overcome it.
HIV / AIDS awareness

As part of an awareness programme a session on HIV/AIDS awareness was conducted at Sonari Community Centre in association with TSFIF. Large female section of the community attended the session. A senior employee volunteered for the activity and gave valuable inputs of the spread and prevention of HIV/AIDS
World Literacy Day

To observe World Literacy Day, employees of the Lime Plant of Tata Steel organised a one week literacy drive for the female contract employees. All employees of Lime Plant contributed towards this event and were given awareness of the importance of literacy.
Visit to a primary school

As part of TVW4 activities (5th September to 7th Octoberl,2015) a team of employees from Process Technology Group of Tata Steel visited Primary school of Bhuridih with a big heart to make the day memorable for children on 15th September, 10 km away from the steel city. The School has 33 students all of whom are ST.
Employees of Process Technology Group spent one whole day with the underprivileged children. The team of PTG was greeted with folded hands and prayers by the young children. Few were excited about what is going to unfold while a few sitting timid and nervous.
Senior officials and all others employees of Process Technology Group interacted with the children with a smile on their face and shared a few light moments with them. Sweets and chocolates were distributed first to the children to break the ice, participate and feel free. Volunteers personally gave slippers to these children which to some was a very new experience. Members of the team helped each student to put on the slippers, which was also overwhelming. Each student was also provided a school bag with basic stationaries.
The team also distributed few sports items and the children got involved in a short cricket match while the ladies played ball with the girls.
Cricket Coaching Session

A Cricket coaching session was organised at Namda Centre for budding young cricketers. Mr. Rajiv Seth, an ex-cricketer gave his time to teach the new skills to the excited youth. He also explained the new rules of ICC. The children asked many question which were then answered by him.
A visit to Sishu Bhawan

A team of LD#1 Department visited Shishu Bhawan for a need assessment of the children. The volunteers interacted with the infants and shared some lighter moments. They also promised to come back to make a difference.
Visit to an Old age home

Under Tata Volunteering week 4 activities (5th September to 7th October, 2015) a team of employees from Vigilance department of Tata Steel visited Old age home, Baradwari on 15th September. There are 20 inmates in the Old Age Home
The idea was to spend some time with these old age inmates of the community, share some lighter moments, and try and help them through Volunteerism.
At the start of program the inmates welcomed all volunteers with their gleaming smiles and warm heart. Senior officials and all other employees of Vigilance Department interacted with the inmates with a smile on their face. The volunteers collectively brought items like toiletries (oil, shop, shampoo bottle, toothpaste, toothbrush, towels etc.), which were distributed amongst the inmates for healthy engagement. The six hours spent with the inmates was indeed filled with awe, excitement and interest amongst the volunteers.
It was a joyous experience for all the employees who visited the old age home and interacted with the inmates. The most inspiring thing was in spite of facing so many hardships these aged people have brave hearts and are still trying to find endless ways to be happy to live.
All the Inmates and the Management expressed their thanks and gratitude to the volunteers.
Multi-specialty Health Camp

Tata Steel - West Bokaro Division through its CSR wing - TSRDS has organized the 4th Mega Health Camp of FY'16 – A Multi-Speciality Health Camp at Urdu Middle School, Bhadwa, Chainpur under Sondhia Gram Panchayat for nearby villages.
The camp was organized in coordination with Tata Central Hospital (TCH), West Bokaro Division.
The camp was inaugurated by the Chief CB, West Bokaro, Tata Steel Ltd in presence of Head (Logistics), Mukhiya-Sondhia panchayat, ward members, all doctors in the camp & other opinion leaders.
A total of 572 patients (Female - 340, Male – 232) including 184 children below 12 yrs of age availed the health check-up facility with free medications and on-the-spot pathology investigation.
Disease profile of the camp as Paediatric cases – 136, Dental cases – 162, Skin diseases – 144, Obstetrics & Gyane – 77 (ANC- 9), ENT – 66 & General medical cases – 286 out of which about 21 different cases (Dental, ANC & Skin) were asked to visit Tata Central Hospital for further investigations and management. Further to that people were counselled on personal & oral hygiene
Most of the children were found to suffer from skin diseases, Gastroenteritis and about one-fourth of all patients suffering from Dental problems like Carries, bleeding gums, gingivitis etc.
Volleyball Tournament

Under the banner of Tata Volunteering Week 4 activities (5th September to 7th October, 2015 Urban Services, CSR organized an Inter Bustee Volleyball Tournament in association with CRM Bara on 15th September 2015 at Bagunhatu Stadium.
The idea was to provide a platform for these underprivileged budding players of the community through volunteerism.
About 16 teams from the local bustees participated in the event. At the start of the program all volunteers interacted with the players with their gleaming smiles. Employees of CRM Bara and Urban Services volunteered their service in the day-long tournament and helped the budding players to prepare for performance at state and national level competition.
Senior officials gave a motivational speech to the budding players covering topics like personal cleanliness, hygiene, basic health care tips, right things to eat and what food items to be avoided.
The volunteers had organized prizes for the winning team Old Baridih Boys Club and runner-up team Kanu Bhatta Bhuiyadih Club. Volunteers also ensured their continuous presence in the specific area.
About 500 people gathered at the venue. Most of them were spectators of the cheering teams. This excited tournament was enjoyed by all. The day ended in a happy note with youth of bustees saying thank you's and goodbyes!
Promotion of a healthy life

Promoting health and fitness, employees of Urban Services donated two sets of parallel bars to the community. The bars will be used by the local bustee youth for regular exercise and physical training. Employees volunteered their time and skill to install the iron bars at the ground.
Tata Projects Ltd.
Secunderabad
Visit to primary school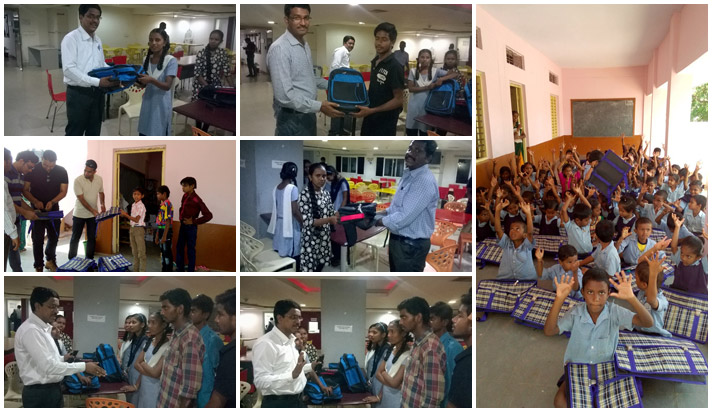 As a part of Tata Group, all are committed to contribute to our society in a number of ways. In continuation of extending the support in the areas of providing education and developing social entrepreneurs, the TPL team visited a school at a village and spent four hours with the students and teachers.
As a part of the visit, the volunteers distributed educational kits and chocolates to over 300 students in Kandlakoya Primary School and Suthariguda Primary School. In addition they also provided counselling to teachers and students.
Awareness session of safe drinking water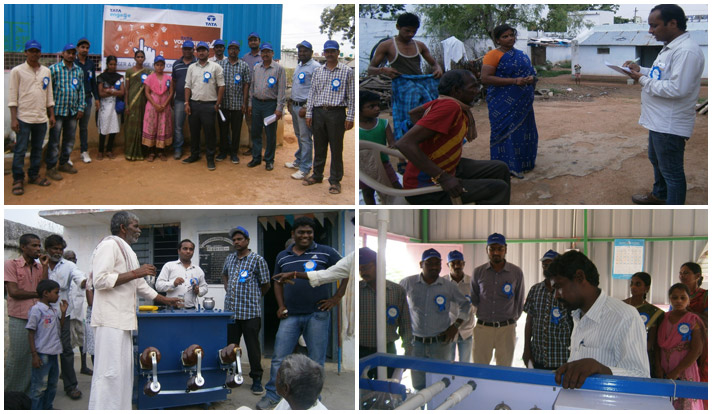 The TPL team visited Mehaboobnagar to conduct an awareness session on safe drinking water program to the village people.
The volunteers proposed and performed a number of activities at Mehaboobnagar villages named
Kodur, Ramachandrapuram & Appaipalli. This initiative touched lives of more than 1000 people.
They interacted with the community and did a Door to Door survey. The TPL team conducted an Awareness Session through flip chart presentations, and electrolyze demo. They also provided a special training to operators and entrepreneurs for business development and enriching their technical expertise.
Rallis India
Mumbai
Road Safety awareness

Rallis India volunteers organized an awareness session on Global warming, present water crises and Road safety for 9th to 12th standard students at Shenve Tribal School. Volunteers shared important information on global warming and present water crises. They also shared small tips to overcome the problems. Students were shown the small clips of road accidents that happen due to negligence and also explained them how to avoid such type of accidents by following safety rules. Seven volunteers participated in the event.
Diya painting workshop

Rallis India volunteers organized a Diya painting workshop for 9th standard students of Divalegao school. 30 students and eight volunteers participated in the event. Each students painted 4 Diyas. Volunteers also enjoyed Diya painting with the students.
Lote
Awareness session of road safety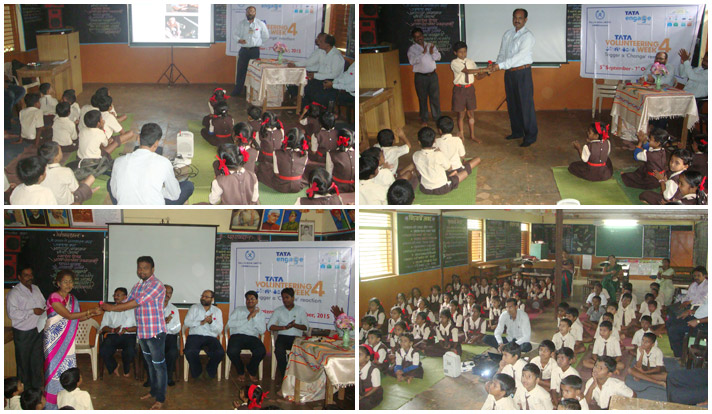 On 14th September, 2015, a group of eight Volunteers from Rallis India Lote Unit went to Z P School, Gavthan, Pir Lote. The volunteers had a good interaction with the students and teachers in general. The volunteers conducted an awareness session on Road Safety, Global Warming and Climate Change by Power point Presentation. Road accidents are happening on daily basis in all areas and we should take maximum care to reduce the number of accidents by way of arranging awareness programmes to different levels of people in the society. The volunteers also shared about few accidents with its reasons. At the end of the programme few students expressed their willingness to work towards reducing road accidents, work on water saving, energy saving and tree plantation. The programme was well accepted by all the participants and volunteers.
Tata Motors
Ahemdabad
Tree plantation

A team from TML, Ahmedabad plant visited a school on 18th August, 2015 located in the vicinity of Sanand Taluka, and volunteered for tree plantation under "Vasundhara Program". Tree plantation activity was volunteered by senior leadership team from Ahmedabad plant along with partnered NGO at the village.
Science Fair

Science Fair was organized by Block Resource Center on 11th Sept, 2015 where the employees volunteered for guiding students on their projects and motivated them for their career. Out of 112 primary schools, total 156 students participated in the event.
Awareness session on de addiction

An awareness session was organized on 15th Sept, 2015 with the help of Manav Seva Trust- a partner NGO.
Employees got the opportunity to interact with more than 100 students and sensitized them on health hazards of any type addiction. A group of female students were also counselled by the female employees on the same.
Jamshedpur
Inauguration of Library and Science laboratory in Schools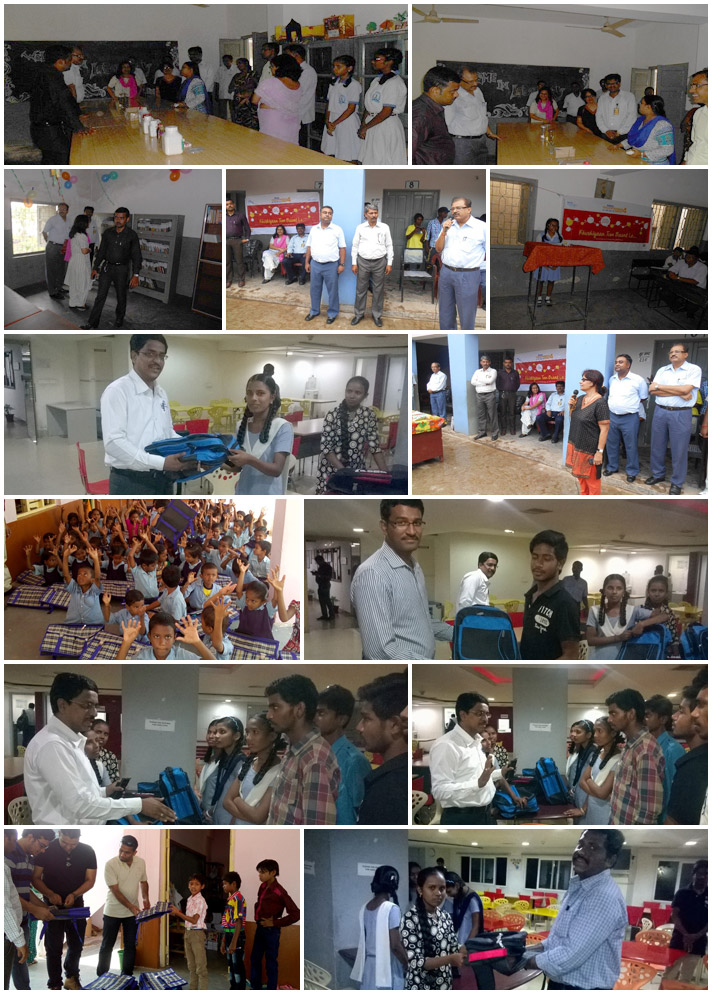 Senior colleagues inaugurated a library and a chemistry laboratory at Samudayik Uchch Vidyalaya, Baregora and Vidyasagar Vidyalaya, Bamangora in the presence of the Secretary and Treasurer of the schools and Team CSR. The schools are supported by Shiksha Prasar Kendra of CSR, Tata Motors which serve children who belong to families which are not so privileged. TTL during visits to the schools in the previous edition of TVW 3 assessed the need for the facilities and pledged to contribute the same during TVW 4. The school Principals, teachers and the students were overwhelmed by the help extended during the inaugural programme.
Voltas
Delhi
Skill development session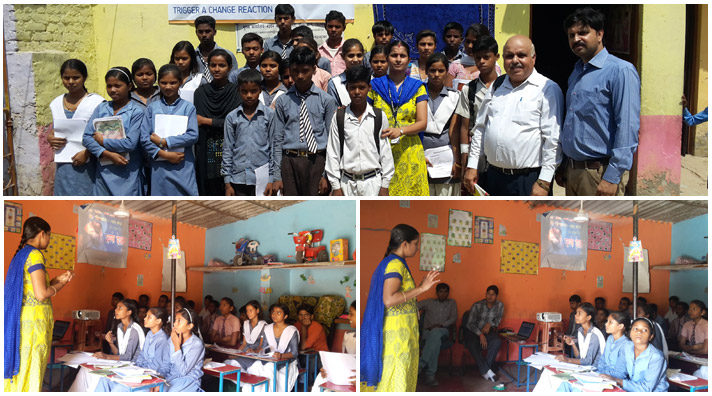 Three Voltas volunteers conducted the second session of skill development program at Shri Ram Shikshapeeth, Delhi, as informed earlier, this school is located in the area of Madanpur Khadar and near the Bank of River Yamuna and locality is full of economically weaker section of society like Rikshaw Puller, Vegetable Vendors, Slum Dwellers, daily wage labourers and so on.
This session's topic was English Communication Skills and they conducted activities in the school. The topics include introduction of your friend / neighbour to complete group, highlighting any one or two specific qualities (Like he is a good runner, good dancer, good cyclist etc), news reading in the style of TV News Reader, essay speaking on my school and talking about " My Future Plans" It was a very interesting session and was appreciated by School Faculties and Students.
Trent Hyper Market Ltd-Star Bazaar
Bangalore
Drawing competition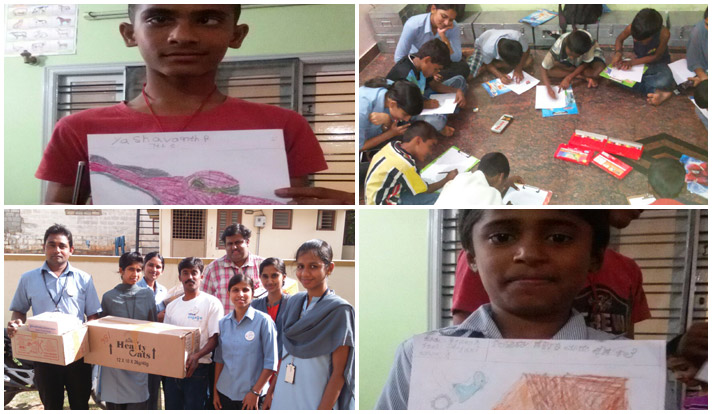 Volunteers of Trent Hypermarket Ltd- Star Bazaar Bangalore visited Jana Seva Samruddhi Ashraya Kendra organised a drawing competition for kids. The volunteers also distributed snacks and spent quality time with them.
Distribution of a meal

Volunteers of Trent Hypermarket Ltd- Star Bazaar Bangalore prepared a nutritious meal in the store and donated to Seva Sadan Anathashram to feed it to the children. The children were very happy to receive the meal and thank the volunteers.
Aurangabad
Visit to Kanifnath school

Volunteers of Trent Hypermarket Ltd- Star Bazaar Aurangabad visited the Kanifnath School of Differently Abled which works for Street & Differently Abled children. The NGO takes care of their entire education until they are prepared to go to College. The volunteers distributed food to 50 children in the school. The meal was prepared in the store by in-house cooks and was appreciated by the children.
Kolhapur
Distribution of a meal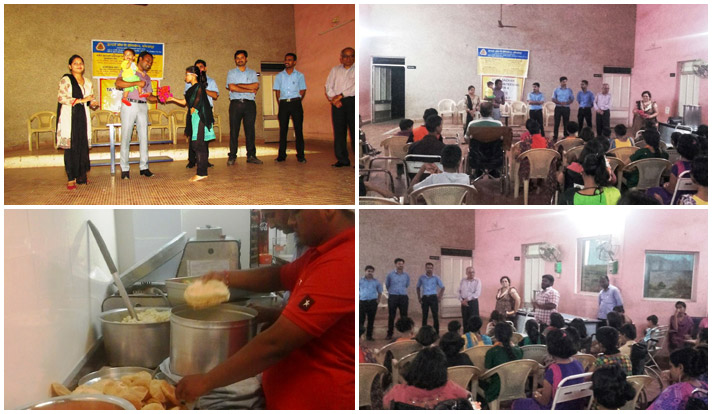 Volunteers of Trent Hypermarket Ltd- Star Bazaar Kolhapur visited Helpers of Handicapped" organisation and distributed meals to 85 kids who stay there. They also spend a few hours with the kids playing games and smiling with them.
Guest lecture on Retail Management

Volunteers of Trent Hypermarket Ltd- Star Bazaar Kolhapur visited Kamla College and a guest lecture was delivered by the Assistant Store Manager on Retail Management for students pursuing a specialised course in Retail. Later they were invited at the store for Practical training.