Tata Sons and Tata Consultancy Services
Beijing
Donation of a Library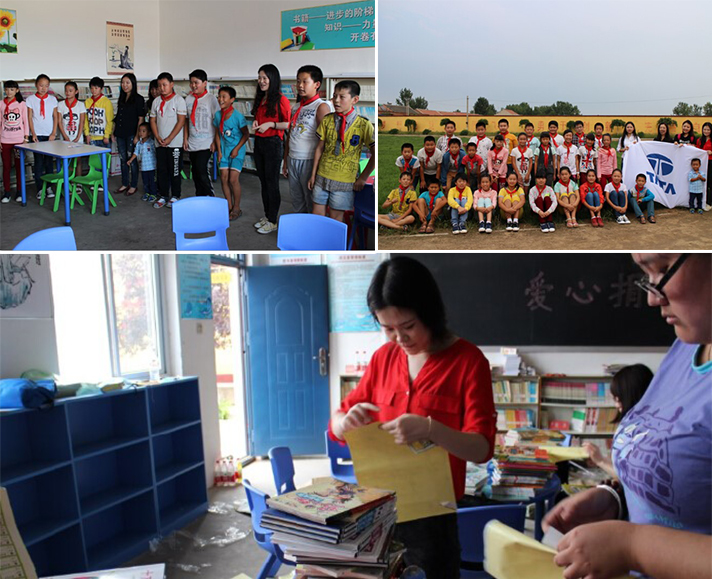 On September 9, 2015, 6 volunteers from Tata Sons Beijing office, TCS Beijing and Tianjin office jointly donated a library to Hebei Zhangtuqiao Elementary School.
Hebei Zhangtuqiao Elementary School located at Yutian County, Tangshan City, Hebei Province, 2 hours drive from Beijing. The school has 160 pupils from grade 1 to grade 6, and 10 teachers in total. A reading room is for all pupils to do reading and learning in their spare time. Tata volunteers brought 1,000 books and 5 bookshelves. These books contained encyclopaedias, classics and stories, which are suitable for pupils of different ages. In addition, those books can be references for teaching.
Tata volunteers categorized all the books by ISBN code under the help from The Library Project people, which can make easy for the pupils to find the books they want. A short donation ceremony was held after the library settled down. And then Tata volunteers had a reading class with grade 6 pupils, reading books, and discussing what they've learned from the books. It was really a happy afternoon for all of the pupils.
Tata volunteers wish the pupils in the school fully utilize these books, enrich the spare time, open their eyes, and learn more knowledge in the future.
Indian Hotels
Chennai
Imparting Knowledge

During the Tata Volunteering Week-4, team Taj Coromandel partnered with Chennai Amirta College. The team was represented by the Learning & Development Manager, Microbiologist and Human Resources.
The team joined together on 14th September 2015 at the Time Office and reached together at the Amirta College. The hotel team greeted all the students and staff at the college.
All the students and staff were extremely excited to know what was going to happen in the class. There were two sessions. The first one was on grooming and personal hygiene and the second was on food safety. The grooming and personal hygiene session was taken by the Learning & Development Manager and the Food Safety was taken by Microbiologist for about 60 students.
The students participated in the session by clarifying their doubts and queries about the grooming, hygiene as well as with regards to food safety and made the event very interactive. This was first of its kind of interactive class room session for them with the hotel team. The college principal thanked the hotel team for investing their time.
PET Bottle donation

As a part of the yearly initiative in collaboration with the Samarpan Foundation, on 05th September, 2015 the hotel donated 3000 PET bottles, collected from the Banquet events. These used- empty PET bottles are utilized by the Samarpan Foundation on a regular basis in the construction of building, instead of bricks for the under privileged people.
This practice is an environment friendly initiative and also considered as a waste management practice. Taj Coromandel has been partnering with Samarpan Foundation for over 3 years and the Stewarding Manager personally coordinates the collection of PET bottles and its storage post the Banquet events.
It's a Bingo with the Senior Citizens!!!

During the Tata Volunteering Week-4, Taj Coromandel partnered with the Little Sisters, an Old Age Home at Harrington Road, Nungambakkam, Chennai. The Team Ta j Coromandel comprised of the Human Resource team, EAM Food & Beverage, Microbiologist, House Keeping Supervisor, Front Office, Engineering, Industrial Exposure Trainee from SRM IHM and Learning and Development Manager. The team came together on 12th September, 2015 at the Time office and reached together at the Little Sisters, Old Age Home. During their Tea break the hotel team greeted all the Senior Citizens and invited them to participate in a Bingo game. All the residents were extremely excited with the format of the game and the prizes for 1st row, 2nd row, third row, 1st Full house and 2nd Full house. As the game progressed, the excitement and thrill with the game also reached its peak and therefore the prizes had to be extended for 3rd Full house and 4th Full House as well. After completing the game, the hotel team joined in the Birthday Celebration of the residents for the month of July, August and September by cutting the birthday cake. Snacks arranged by the team were distributed to the residents and a fond farewell was bid to them. The management and residents at the Little Sisters extended their sincere gratitude to the Taj Team for organising such a splendid evening.
Food Allergens - A Learning Session

On 11th September, 2015 at the training room Chef Kishore Kumar, Sous Chef of the All Day Dining Kitchen, Anise and a Certified Taj Departmental Trainer conducted a Learning session on Food Allergens for the students participating in the Skill development initiative of Taj Coromandel. The session comprised of the knowledge about various Food Allergies and the necessary precaution to be taken to avoid those. At the end of the session, each participant were given a Handout on the same.
Tata Chemicals
Haldia
Blood donation camp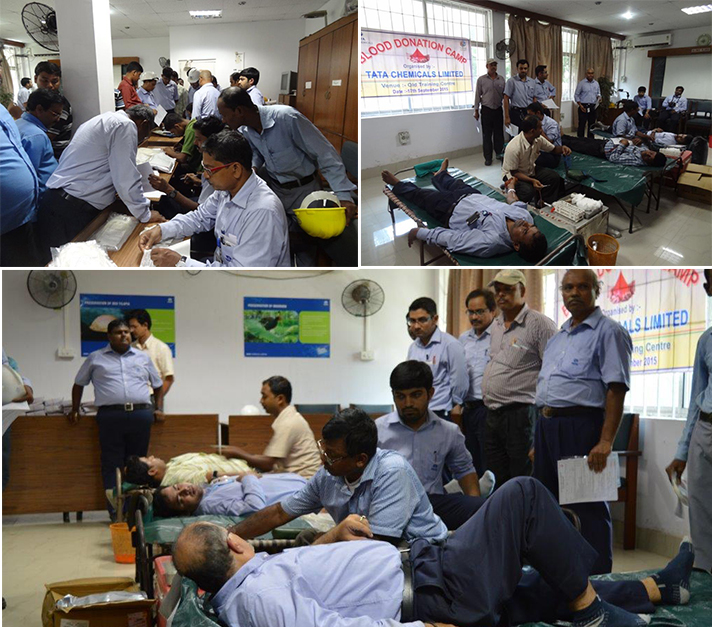 Tata Chemicals society for rural development organized a blood donation camp at the TCL plant premise Haldia on 17th September. 61 TCL employees along with contract workmen donated blood. The camp was organized in cooperation with the Haldia Subdivision Hospital. TCL volunteers helped in making the camp a success.
Pune
Visit to an adiwasi school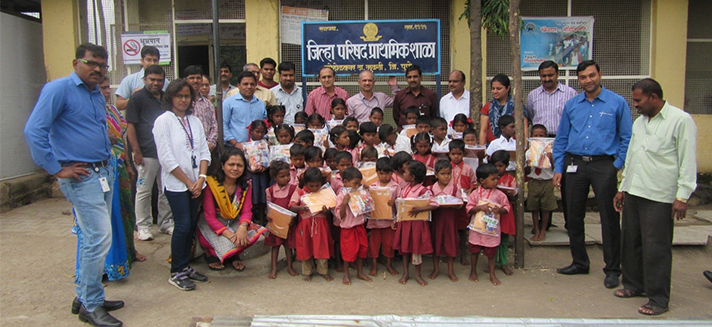 The Mohal nagar basti is a small hamlet in Ambervet village, Mulshi Taluka, Pune Zilla. It is about 32 km from Pune. It has 31 households, having a population of 280 people It is 20 year old community and falls under Ambervet gram panchayat. They belong to Tribal Katkari community. Maximum fall under below poverty line, low literacy and poor health. Majority of the people do not have their own agriculture land and therefore work as agriculture labour. Some work in the brick kiln and does fishing for livelihood in the Mula River.
Literacy rate is very poor. Only 2 families are literate, rest all are illiterate. Only one primary school with 21 children and an aganwadi having 19 children is there. For further studies, they have to go to Ghotawade which is 7 km away from the hamlet. Only 6 children from the hamlet went for higher studies.
To increase the awareness of education in the Adiwasi school, Tata Chemicals has taken various initiative to help the school children. Tata Chemicals partnered with the school to help children in providing educational and hygiene materials. 20 volunteers from Tata Chemicals distributed educational materials like note books, pencil, pen, compass box and hygiene materials like coconut oil, talcum powder, Dettol to the school children. A ceiling fan and an UPS for a computer (that was donated by TCL 3 weeks back) were also handed over to the school.
Tata Coffee Ltd.
Tamil Nadu
Girl child nutrition program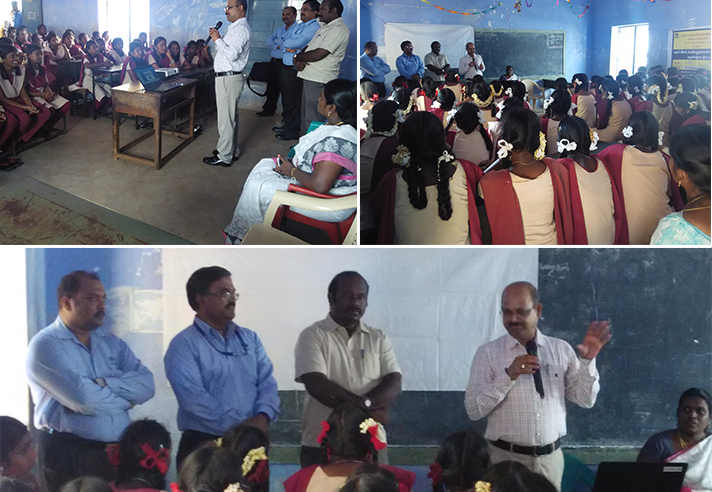 On 10th September, 2015, a group of Volunteers (employees from all levels) from Instant Coffee Division of Tata Coffee Limited, Theni, Tamilnadu, led by the Executive Director (ICD), visited the Government Higher Secondary School, Jayamangalam Village and interacted with students (studying in class 8th,9th &10th) on how nutritious food is necessary for the girl children at the adolescent age in order to maintain a healthy ratio of Male: Female. Further they were taught about the hygiene standard which has to be followed by each one of them in their day to day life to lead a healthy life. The students, teachers and the School Headmistress expressed their gratitude to Tata Coffee Limited for this initiative program. During the program representatives of M/s IMAI Trust NGO were also present.
Tata Power Delhi Distribution Ltd.
Delhi
Tree plantation drive

Over 150 volunteers participated in TPDDL's mega tree plantation campaign Harit Ek Pahal and planted 600 tree saplings at employee residential colony in Narela and Mangolpuri. As an occasion to celebrate TVW 4 as well contributing to restore the ecological balance entire department took part in the plantation drive enthusiastically. . This was followed by a short meditation, giving a glimpse of peaceful and productive life. The session was concluded by distribution of refreshments.
Blood Donation Camp
TPDDL, in association with Indian Red Cross Society, organized blood donation camp at District Shakti Nagar. The camp had a registration of 50 motivated and enthusiastic employees of which 33 units of blood were collected. TPDDL is a corporate donor of Indian Red Cross Society and have been recognized regularly for the contributions made by the employee volunteers in saving lives in distress.
Visit to Old Age Home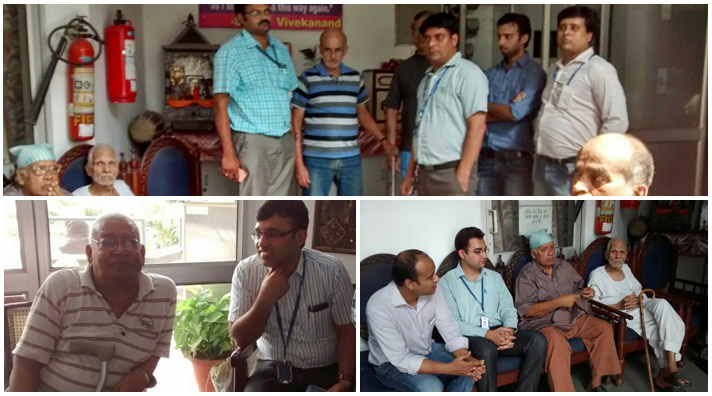 Some memorable moments and thoughts were shared with the esteemed senior citizens at Vanprastha Ashram an, old age home situated at Sec-11, Rohini. 61 employees from Power System Control Department TPDDL and spent cherish able moments in order to celebrate the spirit of TVW-4. The group had lunch together with the residents of Old age home and had sharing of their life experience to give them self-confidence and strength.
Energy Sensitization session in school

Volunteers under Tata Volunteering Week-4 took a step forward to make the students more aware of their surroundings and environment. 4 employee volunteers conducted an Energy Conservation sensitization session for 700 students of Govt. Boys Sr. Sec School-2, at Model Town 3, New Delhi.
All the students along with the teachers were sensitized on a number of issues, like- Electrical Safety, Climate Change, Energy Conservation etc. A question and answer session was organized where the students were asked a few questions on the topics covered and for every right answer students were given a token of appreciation.
Rally on disseminating mass awareness for Environment & Safety

'Pratihit' Cultural Club of Tata Power Delhi Distribution Limited organised a Walkathon for sensitizing common masses on morning of September 16th' 2015. Around 278 TPDDL & business associate employees participated in Walkathon carrying message on energy conservation, electrical safety and tree plantation. The walkathon started with Safety Pledge of TPDDL. A stretch of nearly 2 kms was covered by volunteers going through residential areas. Senior leadership team of TPDDL also took part in the drive and encouraged the volunteers.
Tata Steel Processing and Distribution Ltd.
Kolkata
Tree plantation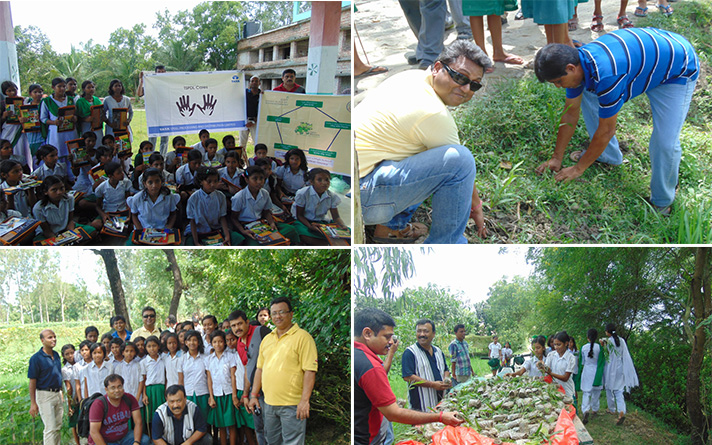 A team consisting of 10 volunteers were formed and started off with a meeting. They created a budget for this activity and accordingly sanction was accorded. They purchased school bags to be distributed on the day of activity. The volunteers started from Tata Centre at 8 in the morning. They reached the school at Kultali block at around 12 noon. The volunteers were very excited about the whole activity. There were many small girls from age group 8-16. They are experts in tree plantation and are slowly gaining knowledge about the benefits of tree plantation. The Green Rhinoes (champions) were also aware of the demerits of the huge plantation of non-native eucalyptus trees. These trees were planted long ago in huge quantities which deplete the water table. They happily assisted the small children in saplings plantation. They also carried out successful interaction session with the children and listened carefully to them. They asked them about any other requirement so that they can happily extent the help to make Sundarbans (World heritage site) greener. School bags and other things were distributed to the children. The volunteers departed after having lunch.
Visit to an orphanage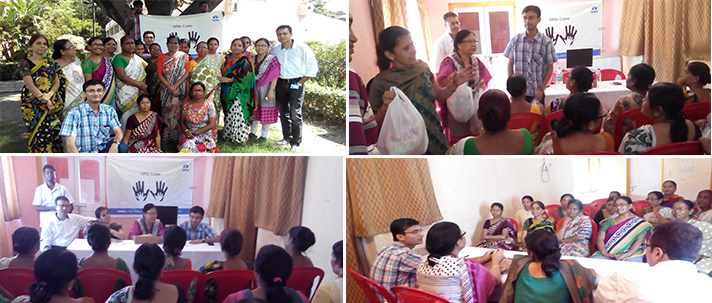 Six volunteers visited SOS village Salt Lake Sector III on 12th September 2015.This organization has pioneered a family approach to the long-term care of orphaned and abandoned children in India. Destitute mothers take care of orphaned and abandoned children. Each mother has at least 10 children of different ages. Some of them are infant, some are school goers and even some are working at reputed organisations. Every child belongs to a family. Family is the heart of society. So within a family, each child is protected and enjoys a sense of belonging. Here, children learn values, share responsibilities and form life-long relationships. A family environment gives them a solid foundation on which to build their lives.
The volunteers met 12 such mothers out of 15 mothers. They interacted with them. It was a totally informal interaction, where they shared their thoughts on different topics like health, hygiene, general awareness, and nutritious foods to be prepared for school going children. It was almost a 3 hours session. Each mother stays in one flat with her children provided by the organisation. They visited one of the flats and found that she (Mother) had decorated the rooms with the children's drawings, art & craft as well as their pictures. The volunteers gave each Mother some nutritious food, detergent powder and soaps for their children as well as for them. The children as well as mothers have many extracurricular activities like singing, drawing, art & craft, etc., which they shared with us. It was a very nice experience.
Voltas
Delhi
Skill development session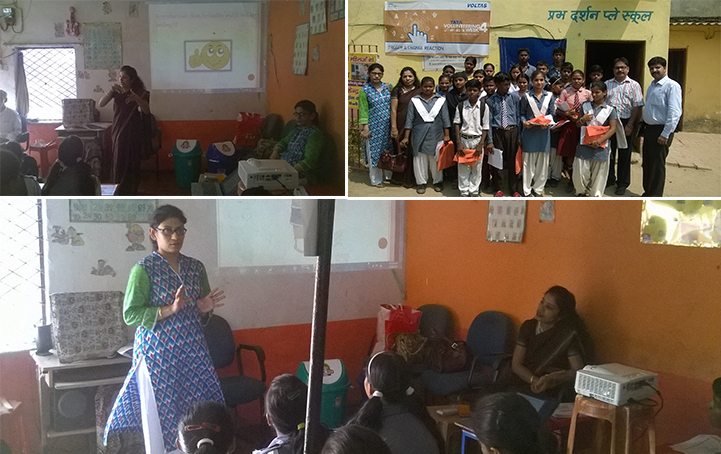 Five volunteers conducted the 3rd session of skill development program at Shri Ram Shikshapeeth, Delhi, as informed earlier, this school is located in the area of Madanpur Khadar and near the Bank of River Yamuna and locality is full of economically weaker section of society like Rikshaw Puller, Vegetable Vendors, Slum Dwellers, daily wage labourers and so on.
This sessions topic was Health and Hygiene awareness and they conducted activity in the school. They showed a power-point presentation on Health and Hygiene and its importance in daily life. They also distributed Hygiene Kit to all participants. The volunteers held an interactive session on spreading awareness in the society- challenges and how to overcome.
The next session will be on Health and Hygiene covering Food Habits, Healthy Food, Fruits, Vegetables etc.
Mumbai
Visit to a widows home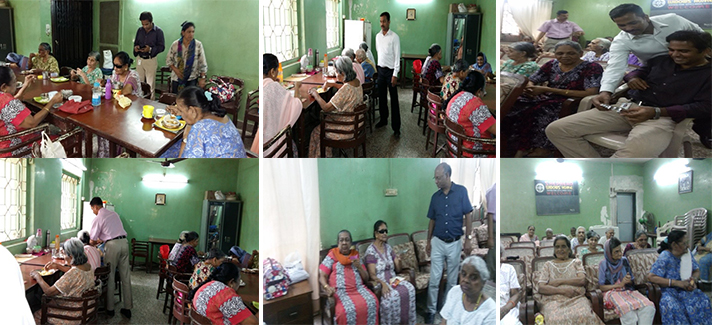 A team of five Voltas Volunteers decided to spend time with the inmates of Shepherd Widows Home, Byculla. They took idli & sambar for the evening snacks for the inmates. They volunteers played housie. They also played antakshari by dividing the team. The inmates sung old melodies and refreshed the yesteryear songs.
Tata Motors
Ahemdabad
De-addiction camp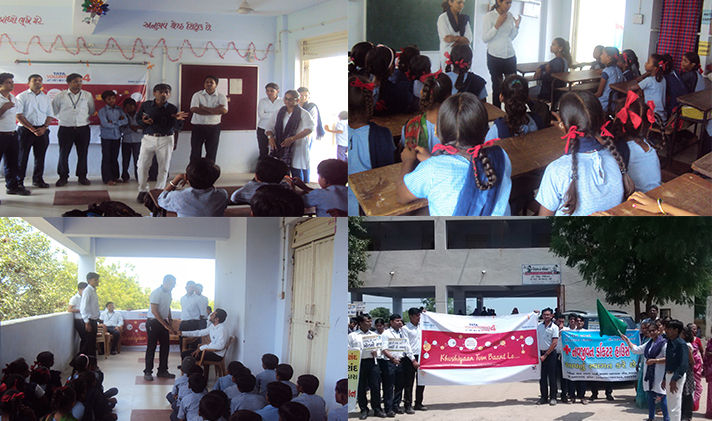 On 16thSeptember'2015, in co-ordination with Manav Seva Trust NGO , a drive on de addiction was organised for school children and expectant mothers. 12 TML employees volunteered in the event by participating in a rally with the school.
The awareness session was conducted by employees in unique way of presenting a small skit on the theme of "Addiction kills us". They also interacted with small groups of students. Women employees interacted with girls' students and mothers on the same theme.
Awareness session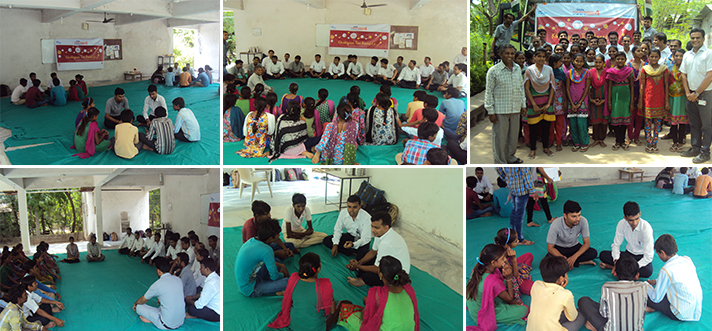 On 17thSeptember'2015, in co-ordination with Gantar NGO, a team of 18 employees from TML, Ahmedabad plant interacted with school dropout children. While interacting with the children, they were taught regarding importance of education and life development opportunity available for them by our employees.
The day ended in a happy note with children saying thank you's and goodbyes to all our volunteers!
Rallis India
Lote
Essay writing competition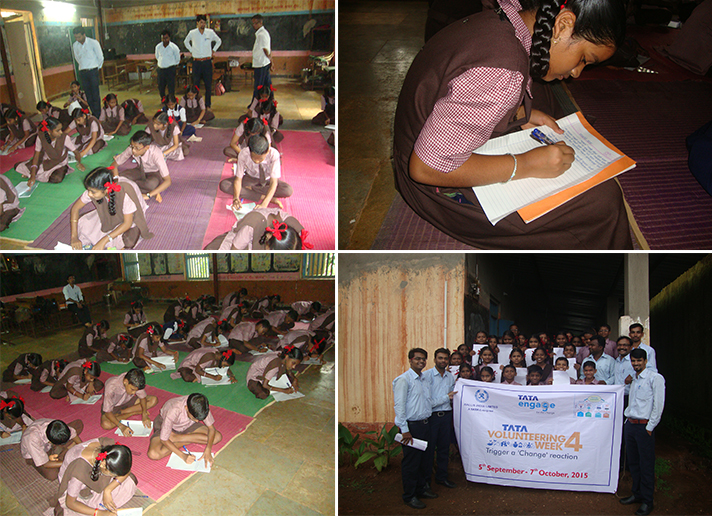 On 15th September, 2015, seven volunteers of Rallis India Lote Unit went to Z P School, Matwadi, Songaon. The volunteers arranged an Essay writing competition for the students of 7th and 8th standards on 'Good Housekeeping" and "Clean Environment'. The volunteers distributed papers and pens to the students and helped the students by giving ideas about good qualities of an Essay and few tips on the given subject. Thirty students participated in the competition and completed the essay within the time given. While taking their feedbacks, they expressed that this will help them to improve to keep good housekeeping and clean environment in the school premises and at their home. The programme was well accepted by all the students and the volunteers too. The students and the teachers expressed their thanks to Rallis India and TATA Group for this initiative.
Tata Global Beverages
Bangalore
Back-a-thon

As part of TVW-4, Tata Global Beverages colleagues and families participated in a volunteering activity with Make a Difference (MAD) on Sunday, 13th September at Freedom Park, Bangalore. Make a Difference (MAD) organized a Back – A – Thon to walk backwards with them as a campaign to draw attention to the needs of neglected children. Make A Difference mobilizes young leaders to ensure equitable outcomes for children in shelter homes.
Tata Communications
Bangalore and Chennai -Ambattur
Pledge a 1000 Diyas

The enthusiasm and creativity was laudable during "Pledge a 1000 Diyas" volunteering activity at Tata Communications Bangalore. 80 Volunteers from across teams participated to paint and and pledge a 1000 Diyas to Diya Foundation - that trains and provides employment to intellectually challenged adults. Volunteers spent from 30 mins to 2-3 hours towards painting and decorating these Diyas and the activity went on till late evening as volunteers poured in.
In an effort to spread light in the lives of underprivileged children, 200 Tata communications volunteers from Chennai-Ambatur office along with 15 children from Suyam Charitable Trust - who work to improve lives in poor communities and support youth in education and career guidance. Volunteers along with children painted over 350 Diyas and 15 photo frame. The colorful diyas has been sold to the employees and the sale amount has been contributed to Suyam Children for Diwali Celebration.
Mumbai
Basic computer training for Geriatric care givers

In an online era, the idea of learning basic computer skills is quite appealing to the elderly as this reduces dependency on others to communicate on their behalf and helps them remain connected with their loved ones. In support of this idea, Tata communications volunteers imparted basic computer knowledge to caregiver trainees who are undergoing training under "Helpage-Geriatric care giver program" supported & funded by Tata communications. With the great support of the volunteers 25 caregivers learned how to create e-mail ids, knowledge on word document and internet along with access of social networking sites.
Tata Steel
Jamshedpur
Visit to Burudih Primary School

Under the banner of TVW4 activities (5th September to 7th Octoberl,2015) a team of employees from Engineering & Projects department of Tata Steel visited Primary school of Burudih with a big heart to make the day memorable for children on 16th September. The School has 50 students all of whom are SC/ST.
Employees of Engineering & Projects department spent one day with the underprivileged children. The team of Engineering & Projects was greeted with folded hands and prayers by the young children.
Senior officials and all others employees of Engineering & Projects interacted with the children with a smile on their face and shared a few light moments with them. Volunteers gave slippers and shoes to these children which to some was a very new experience. Members of the team helped each student to put on the slippers and shoes, which was quite overwhelming. Each student was also provided chocolates, fruits, with basic stationaries. Seeing the immense need of purified water the team also provided a Water Purifier for better health of children.
Safety awareness session

Under Tata Engage a session on awareness on safety was given by retiree employees of Tata Steel. They talked about the various safe practices that can be implemented at home by children and housewives. A talk on road safety was also delivered as India has the worst road traffic accident rate in the world. Traffic Awareness Campaign at signals was administered for creating road safety awareness among people. Three employees of Engineering. & Projects volunteered for a campaign on Road Safety at Bistupur market.
Tree plantation
A tree plantation drive was organised at Dhatkidih Bustee where employees and family members actively volunteered and planted saplings.
Say no to plastic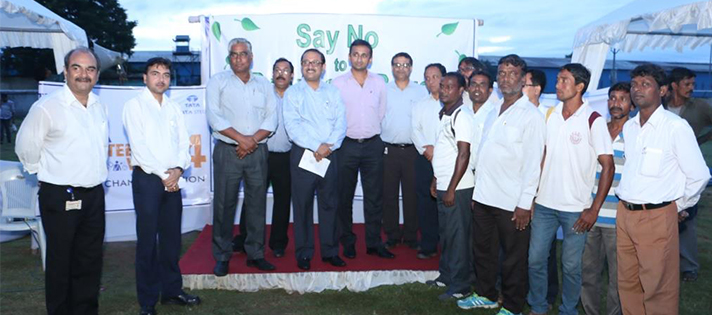 Going forward with Tata Volunteering Week 4 activities, TSPDL, Tata BlueScope & Urban Services, CSR jointly organized "Say No to Polythene Bags" campaign on 16th September 2015 at Bagunhatu Stadium.
The employees of Tata BlueScope, TSPDL & Urban Services joined hands and created a general awareness on environment protection with theme "Say No to Polythene Bags". The idea was to create a general awareness on environment protection through Volunteerism.
Disability camp

A Single Window Camp for the especially able persons was held at Dhatkidih Community Centre on 15th September 2015 in partnership with the local administration. Specially-abled persons were being certified by the doctors and Disability Certificates along with other government facilities like railway concession, ID card etc. were distributed.
Health camp

Under Tata Engage a health camp was organised by Urban Services at Kasidih bustee for the needy people. Doctors from TSRDS gave their voluntarily services for this event.
Awareness programme on snakes

Urban Services organized awareness programme where the employees of Tata Steel volunteered thier service on preventing and managing snake bites, if a snake is seen or reported on or near the site: How to note the location of the snake and ensure that this area is isolated until the snake is removed, remove all staff and students from immediate area or evacuate the room until snake is removed, DO NOT approach, attack or otherwise provoke the snake. Prevention: Minimize the food sources for snakes by removing anything that may attract rodents or frogs, reduce rubbish/materials where a snake could shelter, during high risk times or after holiday breaks, remind staff and students of the increased risk of the presence of snakes, wear gloves and boots when moving stored materials and rubbish.
Cleanliness drive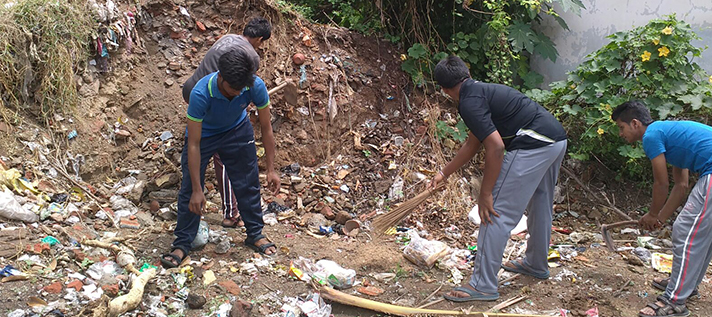 A cleanliness drive was organised at the Pursudih Area. Employees volunteered their time and helped to clean the area and maintain it properly for people to use.
Football Coaching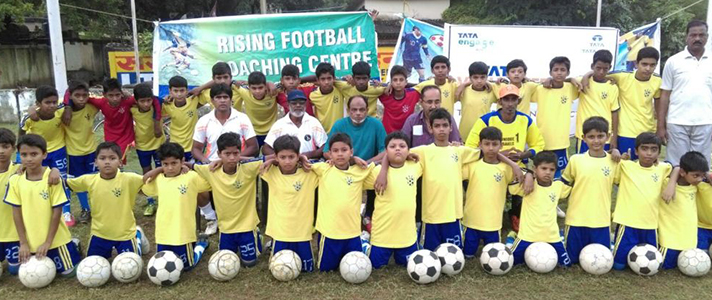 Under the mentorship of a football coach of Urban Services, all ST/SC youth of Dhatkidih Community Centre had undergone rigorous training to improve their skills in football. Ex and current Footballers of Tata Steel volunteered their time and skill to train the young budding footballers
Training on Change Management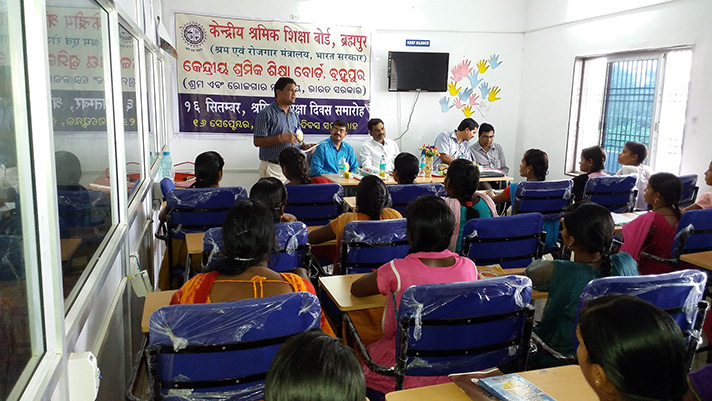 TSRDS Gopalpur firmly believes 'CHANGE' is the other name of 'DEVELOPMENT'. But, not every one of us including youths from our periphery community is immune to the change in their lives. In relation to this a two days special training on 'CHANGE MANAGEMENT' organised by TSRDS in collaboration with the Central Board for Workers Education (CBWE), Berhampur for 30 periphery girls who are now undergoing Sewing Machine Operator training by M/s Shahi Export Ltd. Senior officials of Gopalpur gave their time to counsel the young trainees.
Painting session

Painting is the art of expressing yourself, going by this under Tata Engage employees of Tata Steel volunteered to teach basic painting skills to the bustee children at Sitaramdera.
Awareness on dengue prevention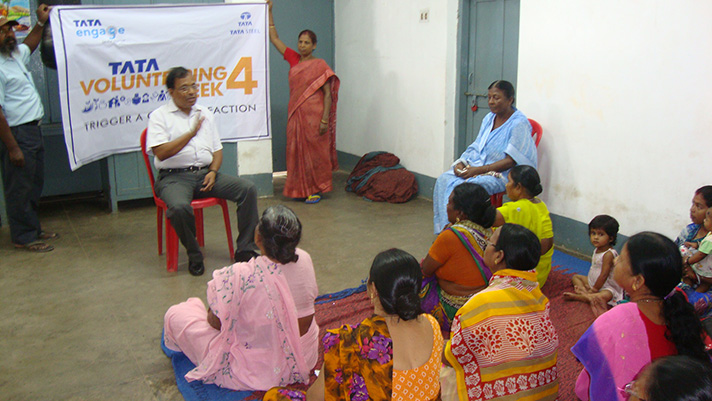 Dengue has become prevalent and has created a lot of problems for the citizens of Jamshedpur. One of the major causes for spread of dengue is lack of awareness. A special awareness session was organised at Sitaramdera bustee for the community. Doctors of Tata Steel took the session.
Swimming coaching

Under Tata Engage Week 4 Sports Department organised swimming coaching for the Beldih club youth. Tata Steel employees volunteered their service for this camp.
Jharkhand
Visit to Maniqui

JUSCO as a part of its CSR activities is running an Informal Academic Centre at Maniqui, Chandil. 30 children attend the coaching post school hours to bridge the learning gap. During Tata Engage week the CSR team visited the centre and provided the children with basic study materials, school bags and stationery.
Visit to Missionaries of Charity
46 Employees of Integrated Customer Services & Fleet Management Centre visited Missionaries of Charity, contributed to provide the basic amenities for the people of "Missionaries of Charity" at New Baradwari.
Visit to Laxminagar Park, Old Age Home

JUSCO officials visited an old age home which is situated inside a park compound in Laxminagar, Telco which is built by JUSCO. A Carom Board, Chess Board was given to the old age home for the children and the elderly to play with.
Visit to School of Hope, Jamshepdur

JUSCO Employees spent time spreading happiness and joy with special children of School of Hope. 20 employees volunteered and engaged for two hours in the activity. Donated Rs.10,000/- for the purchase of wax for candle making activity.
Visit to R P Patel Cheshire Home, Sundarnagar, Pasudih

22 volunteers from USCO visited Cheshire Home, a house for 70 differentially able individuals. Sponsored lunch and other utility items of provision as requested. They spent two hours engaging in service activities.
Visit to Laxminagar Park, Telco

5 volunteers from IT and CSR Dept. of JUSCO visited Laxminagar and installed a computer at the playhouse in the Park for the children coming from lower strata to learn the skills.