CMC Ltd
Mumbai
ANTARCHAKSHU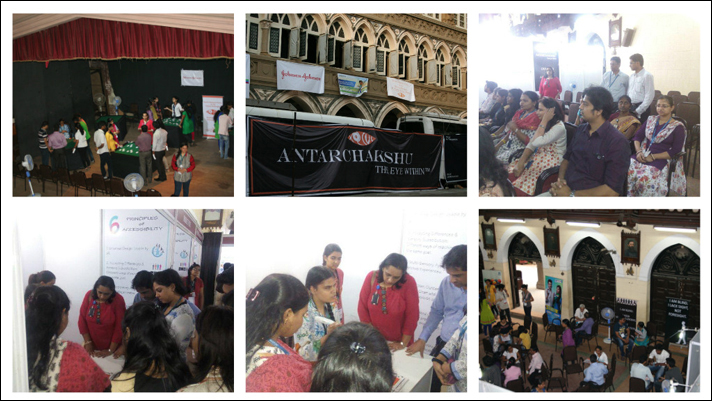 More than 50 volunteers visited an event organised by the visually challenged at St Xaviers college, Mumbai on 15th and 16th Sept 2015. The Xaviers Resource Centre for the visually challenged organised ANTARCHAKSHU – The Eye within thereby sensitising and creating an awareness in the world of the visually challenged and provided a stimulated environment to allow an insight into life of the blind. This included commute, read, play, transact and entertain the way blind do. CMC employees volunteered to be a part of this event and be with them. The experience was wonderful and was an eye opening experience with our eyes shut.
Voltas
Delhi
Skill development program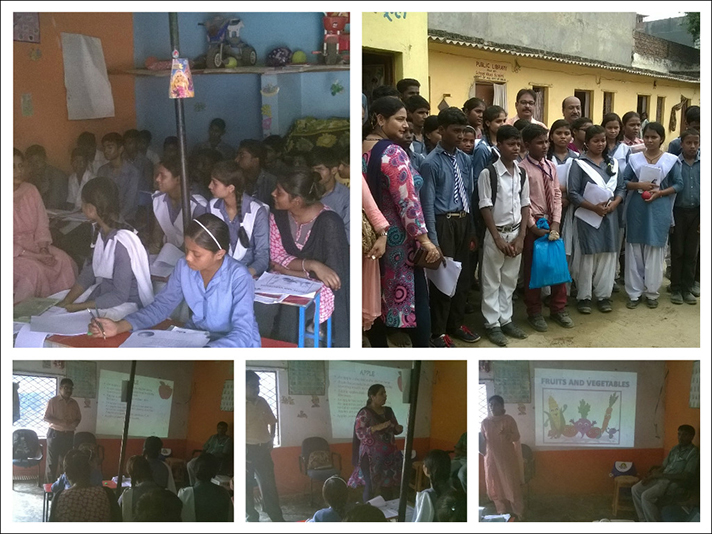 Four volunteers conducted the 4th session of skill development program at Shri Ram Shikshapeeth, Delhi, as informed earlier, this school is located in the area of Madanpur Khadar and near the Bank of River Yamuna and locality is full of economically weaker section of society like rikshaw puller, vegetable vendors, slum dwellers, daily wage labourers and so on.
This session's topic was Health and Hygiene awareness and the volunteers conducted the activity in the school, mainly through recap of last session on Health and Hygiene. They made a power-point Presentation on Fruits and Vegetables. They also held an Interactive session on their importance, daily food habits and Spread awareness in the family and neighbours. The volunteers distributed apples to all participants. The next session of Skill Development will cover behavioural English Speaking.
Jamshedpur
Visit to Sishu Bhavan, Mother Teresa's home

Voltas volunteers visited a benevolent organization in Jamshedpur on 19th September. It is an organization that nourishes 22 new born babies from 0 – 2 years. The babies, who have love of their own mothers or fathers and many of them do not have either father or mother. In this age group they are getting proper care with great dedication and affection of sisters and care taker of this great organization.
At the institute, the volunteers were greeted by –"SISTERS". The volunteers spent time bigheartedly with sisters and new born babies with lot of affection and love and were acquainted of the social welfare missions, undertaken by the organization. "The Voltas – Jamshedpur volunteers" spent about half a day and provided token of help as per requirement of the institution, Johnson baby soap, Towels, Lactozen 1, Lactozen-2, Lactozen-3, Cerelac Stage-1, Cerelac Stage-2 , Cerelac Stage-3, Huggies and a Wall clock . It will help these infants for their initial stage requirement for healthy growth between 0-2 years. Around 58 volunteers of Voltas Jamshedpur spent about half a day. Indeed it was a great learning. Thanks to Sishu Bhavan, Mother Tressa's home
Indian Hotels
Chennai
Hygiene Awareness Session

As a part of Tata Volunteering week, CSR team at the Taj Club House organized a hygiene and sanitation session at the CMS Children Home, Chennai. As hygiene and sanitation are the most important parts of human well-being, all due care was taken to discuss the same in detail with videos and presentation. CSR team along with the HR-Manager, Microbiologist and Security Manager visited the School. More than 80 students participated and one could see the curiosity and happiness in them. Microbiologist emphasized that personal hygiene and grooming is not only to look and feel good but also to prevent the onset of infectious diseases. The team also discussed cleaning habits, need of keeping their surrounding clean and eating disorder awareness to stay fit and healthy.
Connemara Public Library – Cleaniness Drive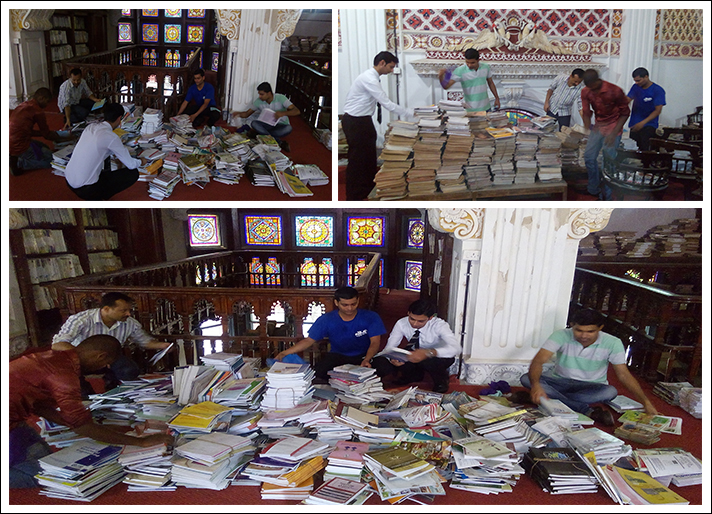 Connemara Public Library at Chennai is one of the four National Depository Libraries which receive a copy of all books, newspapers and periodicals published in India. Established in 1896 the library is a repository of centuries-old publications, wherein lie some of the most respected works and collections in the country. It also serves as a depository library for the UN. As an initiative the volunteers have coordinated with the library officials. 16 CSR Volunteers from Taj Club House were involved in this activity. They cleaned the part of library and arranged the books and gave a new look to the library.
Surat
Blood Donation Camp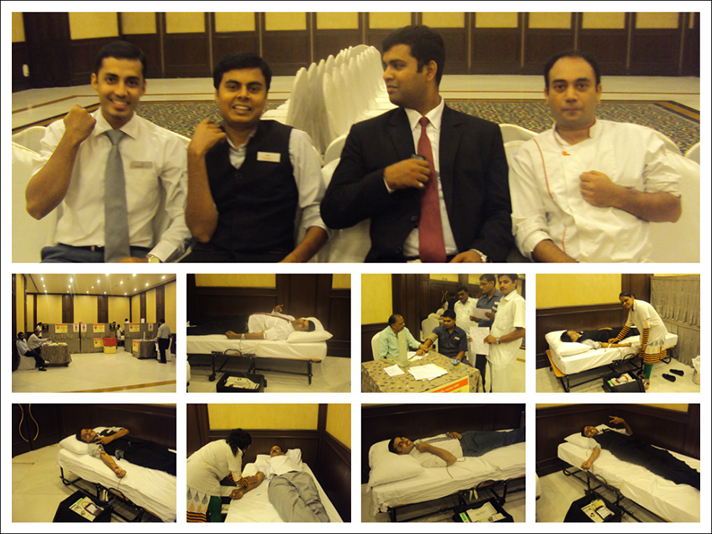 Blood donation camp was organized at The Gateway Hotel, Surat on 16th September, 2015. The activity was initiated in line with ongoing Tata Volunteering Week IV. The camp was organized in association with Surat Raktadan Kendra & Research center. Surat Raktadan Kendra is one of the biggest blood bank giving NAT tested blood i.e. safest blood to needy people.
Every year they give 80000 units of blood out of which about 20% of blood totally free of cost to Thalassemia children, patients suffering from Sickle cell, Hemophilia and patients of government civil hospital and hospitals of Surat Municipal Corporation. It was a great success with 46 associates volunteering for this noble act. All donors were given refreshments and a certificate of appreciation for their service to humanity. The employees have shown a great level of enthusiasm in this noble cause.
Tata AIG General Insurance Co. Ltd.
Bangalore
Visit to Samarthanam Trust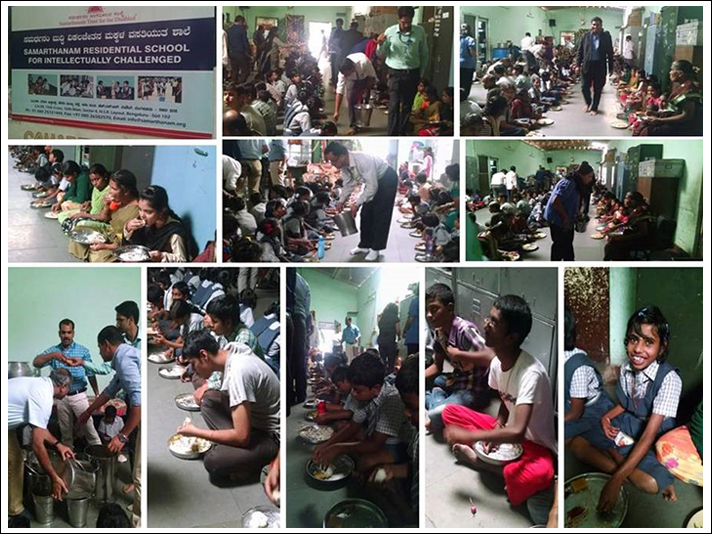 20 Volunteers from Bangalore led by Zone Head visited Samarthanam Trust for the Disabled on 18th of September. The employees collected funds in the office and then went on to serve the inmates to a wonderful lunch. The employees were impressed with what the people of the trust are able to do with care and direction and the Zone would like to be associated with the Centre to provide it regular meaningful volunteering & financial support in coming days.
Tata Chemicals
Mithapur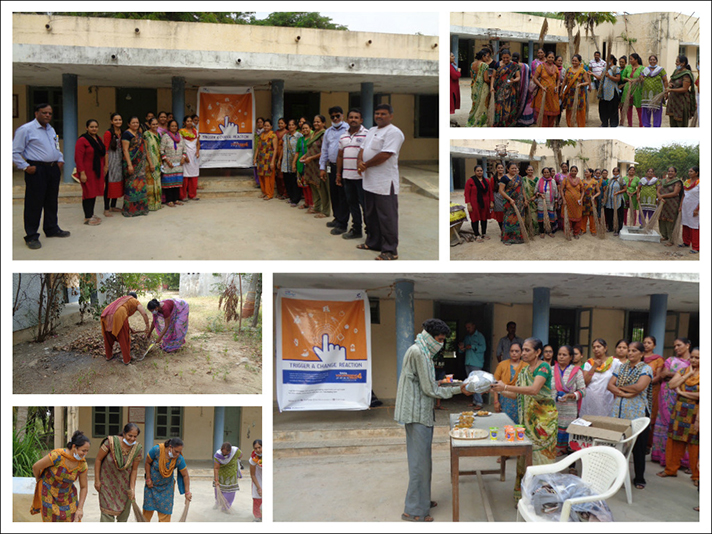 TCSRD facilitated the voluntary programme at T.B. Hospital Varvala village on 18th September. The programme was conducted by house wives of 16 Tata Chemical Limited's employees. The purpose of the programme was to spread cleanliness in the T.B. hospital and spread awareness about cleanliness and sanitation among T.B. patients. The volunteers cleaned the hospital rooms and ground in T.B. Hospital. They distributed clothes to T.B. patients. They discussed a food programme with them. They also campaigned for cleanliness and sanitation. 16 housewives, 5 team members of TCSRD, and 5 people from T.B. hospital staff participated in the programme.
Tata Coffee Limited
Telangana
Computer training session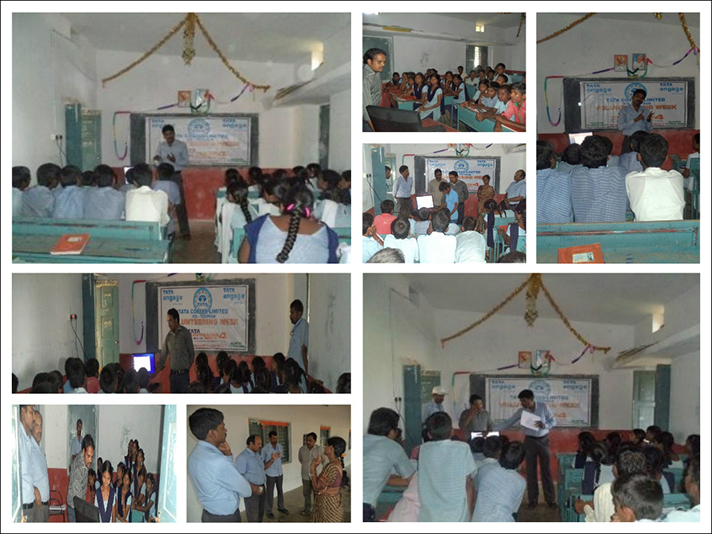 On September 15, 2015, seven Tata engage volunteers from Tata Coffee interacted with the Government Zillaparishad School, Brahmanpally teachers and discussed about their facilities. With the request of teaching staff, the volunteers initiated Ms-Office computer class to the students and framed the course for five sessions i.e., on Ms-Word, Excel & PowerPoint. Over 150 school pupils participated in two batches covering 8th, 9th & 10th standards. The volunteers also distributed Ms-word computer learning material to all the students. Volunteers explained about the importance of learning computers and necessity in this competitive world.
Tata volunteers conducted a practical session with 10th standard students on what they have learned from the session. It was really a happy afternoon for all of the pupils. Tata volunteers wish the pupils in the school for computer knowledge and learn more in the future.
Sharing of Leadership lessons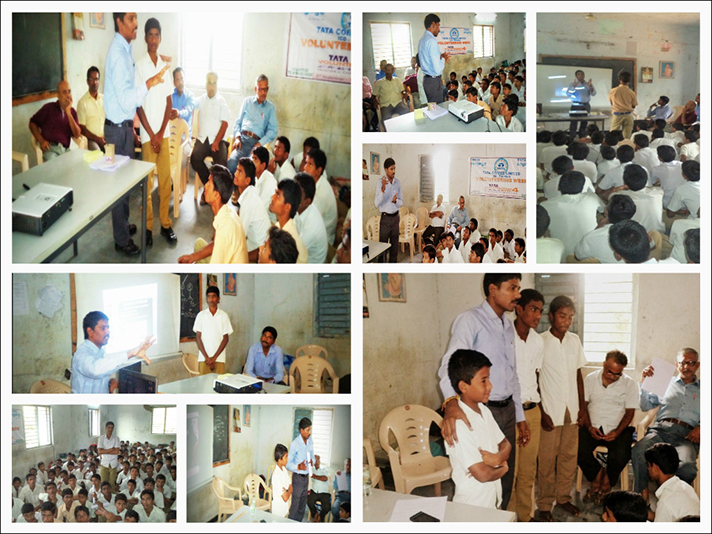 During the Tata Volunteering Week-4, team of Tata Coffee visited Government residential school, Manoharabad, Toopran Mandal. The team was represented by the Executive - HR&IR , Production executive & Quality assurance Assistant for sharing of knowledge on soft skills development, Motivational stories & Leadership lessons.
The team joined together on 16th September 2015 at the admin block of the Govt. Residential School & greeted all the students and teaching staff. All the students and staff were extremely excited to know what was going to happen in the class. There were three sessions. The first one was given the class on soft skills development and the second was Motivational stories & finally was leadership lessons for 160 students.
The students participated in the session by clarifying their doubts and queries about goals, objectives, strategies, extrinsic & intrinsic motivational factors, inter & intra personnel skills and made the event very interactive. This was first of its kind of interactive class room session for them with Tata. The school principal thanked the volunteering team for investing their time and sharing of valuable information.
Tata Communications
USA
Build a house for a family in need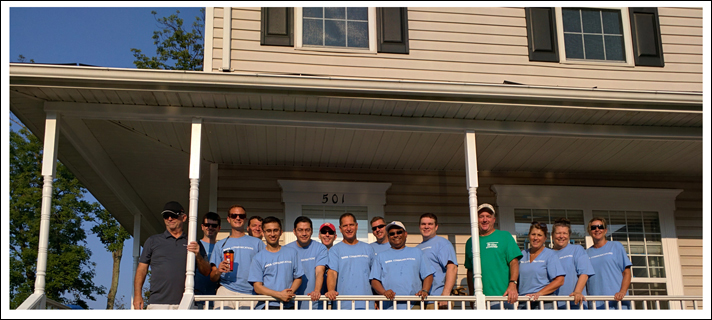 A team of Tata Communications employees based in Herndon, VA teamed-up with Habitat Humanity to build a house for a family in need. About twenty volunteers traded-in their desk jobs for a hammer and nail, and spent the day demolishing and rebuilding a town home located in Leesburg, Virginia.
The team arrived bright and early to start the demolition and rebuilding of the home. The volunteers were split in groups and tackled various projects such as building a deck, ripping out carpet, installing cabinets and getting rid of the unusable parts of the home. The team was able to meet the future home owner, Edith. It was a rewarding experience to see her eyes light up with excitement as she was able to walk through her future home for the first time.
"Stable housing provides families with physical safety, security, a sense of pride as well as an increase of educational and job opportunities," said the Executive Vice President & Americas Regional Head for Tata Communications. "This is the fifth year in a row that we have volunteered with Habitat for Humanity and we look forward to continuing this partnership with our local community."
Habitat for Humanity expects this particular housing project to take about two months' time, and will rely on various other individuals and organizations to donate volunteer hours to complete the build. Habitat for Humanity's international vision is a world where everyone has a decent place to live.
Tata Motors
Pune
Donation of sports equipment

Under the Tata Volunteering Programme, the Head PV Engg - ERC and his team visited Dada Maharaj Natekar Gurukul and Vriddhashram on Saturday 12th September. The trust runs a school for senior citizens. The team had planned activities for students. Team taught students to make Hand crafted environment friendly Ganesh idol. All students enthusiastically participated in the activity. The team interacted with the school authorities a preparatory round of discussion for planning volunteering activity. School authorities had shared need for sports equipment. Team donated 3 dozen lezims, 6 dozen dumbbells,3 dozen skipping ropes, Volleyball with net, weights and discs. These assets will be helpful to student's year on year.
Cleanliness drive

Team of 45 members from Canteen society Chinchwad visited Gurukulum Sanstha in Chinchwad on Sept 12, 2015. Gurukulum is a residential organisation for children from nomadic tribes. Along with regular studies students also get inputs for various skill based training. The team cleaned entire Gurukulum's campus.
Tree plantation drive

Team of 47 volunteers from Tata Motors Gruhini Udyog visited Kinara old age Home as part of Tata Volunteering Programme. Team interacted with inmates and did Tree Plantation around the old age home. Authorities of Kinara have communicated that they will take care of these trees.
Donation of mattresses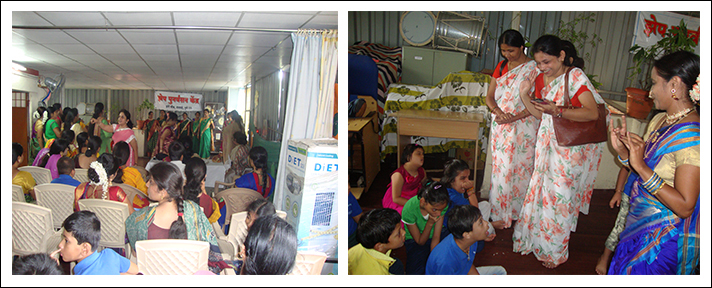 A group of 10 volunteers visited Zep a rehabilitation Center for specially abled children. Team interacted with inmates and conducted some activities with the group. Team donated mattresses to the organisation
Painting of a wall

Team of 65 employees from various departments, and from Plant Engineering shop volunteered at Kinara Vruidhanshram , Kamshet. Team interacted with all inmates. In pre volunteering visit authorities had requested for compound wall painting of the ashram. Team painted entire compound wall of the old age home. Team donated some furniture along with sanitary fitments required by the ashram. Team has made cash donation of INR 23, 500 which will facilitate fitment cost of all these items.
Visit to an ashram school
56 employee volunteers from Team QA led by the Head Quality- PVBU visited "Yeshwantrao Chavan Primary and Secondary Ashram School" on 14th September.This is a residential school, around 300 student from tribal community study from 1st std to 10th std with 24 staff members. The principal gave brief description about school activity. The volunteers distributed Drawing / study material (maps), sports material & fruits.
56 volunteers got divided into 10 groups & played various game like Kabaddi, Kho Kho , dance etc with the students,. Some group discussed with them about their future plans.
Rangoli competition was arranged in the school. This competition results were judged & prizes distributed by QA volunteers.
Visit to a special school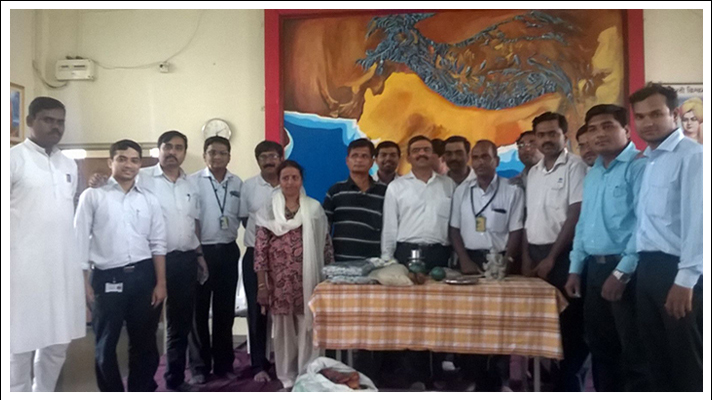 A team of 27 Volunteers from Indirect spend team led by the Head Indirect Spend visited Brahmadatta Vidyalaya Nigadi Pune, to do their bit on the occasion of Tata Volunteering Programme. It is a special school for hearing & speech impaired also mentally retarded students. Team interacted with children, had a chat with children regarding their daily activities in the school. There are 35 students in the school. Team distributed biscuits, sweets & sports equipment like tennis balls, rubber throwing rings among children. Team also donated cash amount for the school
Swachata Abhiyan

To celebrate Tata Volunteering Week 4, team of 32 volunteers were engaged in Swachata Abhiyan. Team comprised of the Factory Head, the Union Leader, staff members & operators. Team visited Shaunagar Lake and cleaned the premises. Many The activity got attention of many & organized a "Swachata Abhiyan" to clean the Lake & to increase the awareness about cleaning of Water bodies. Extensive efforts took place to clean the Lake, lot of people moving from the road stopped & saw the activity. Sahu Nagar Lake is used for "Nirmalya & Ganapati Visarjan" by the residents of Sahu Nagar for many years.
Tata Technologies
Jamshedpur
Inauguration of a library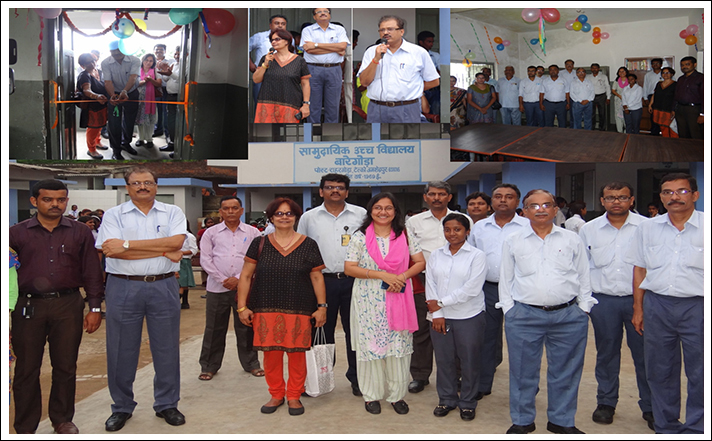 Tata Technologies Jamshedpur team inaugurated a library in Samudayik Uchch Vidyalaya, Baregora, in the presence of senior colleagues and CSR Team. The school is supported by Shiksha Prasar Kendra of TML Jamshedpur, providing education to over 580 students who belong to underprivileged families. The need of library for this school was assessed during last edition of TVW. TTL Jamshedpur team pledged for continuous support to the school.
Inauguration of a library and science lab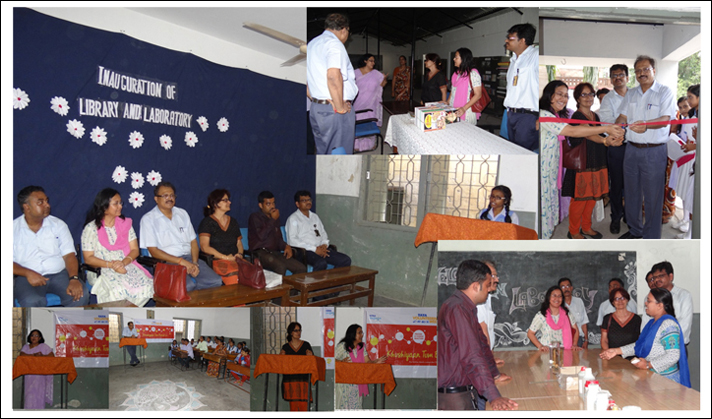 Tata Technologies Jamshedpur team inaugurated a library and a science lab in Vidyasagar Uchcha Vidyalaya, Bamangora, in the presence of senior colleagues and CSR Team. The school is supported by Shiksha Prasar Kendra of TML Jamshedpur, providing education to over 670 students who belong to underprivileged families. The need of Science lab and library for this school was assessed during last edition of TVW. TTL Jamshedpur team pledged for continuous support to the school. TTL team interacted with School principal & students and received remarkable response from them.
Trent Hyper Market Ltd-Star Bazaar
Pune
Distribution of a nutritious meal

Volunteers of Trent Hypermarket Ltd- Star Bazaar Pune visited Fr Agnel orphanage that takes care of 20 children and their education. The volunteers distributed nutritious food prepared in the store.
Thane
Donation of gifts and snacks

Volunteers of Trent Hypermarket Ltd- Star Bazaar Thane visited NGO Divya Prabha (works as a ray of hope for abandoned girls aged 5-16 years) and donated gifts and snacks to them.
Bangalore
Visit to the store

Volunteers of Trent Hypermarket Ltd- Star Bazaar Bangalore invited school kids in store and gave them an overview of retail.
Tata Steel
Jamshedpur
Yoga session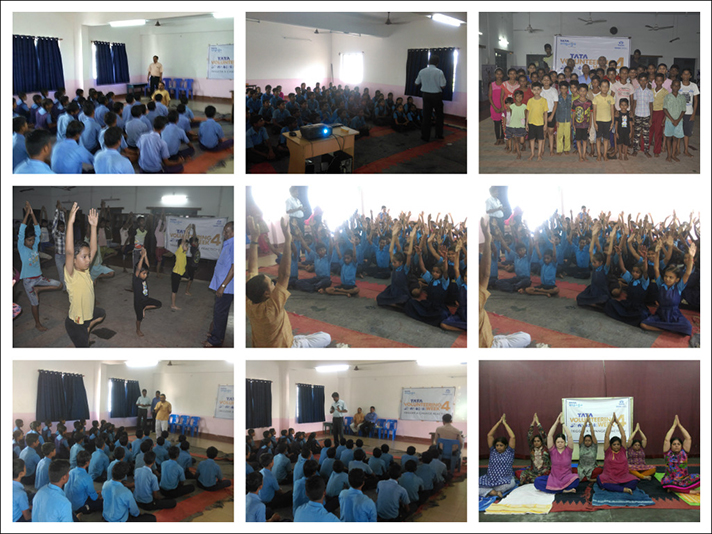 A special yoga session and a talk on sports as a career was undertaken at KPS NML Project School, Jamshedpur. Employees of Sports Dept. volunteered for the same. Mr. Avinash Kumar Ex Cricketer motivated the students to choose sports as a career. Basic yoga was taught an employee.
A Special Yoga session was organised for SC/ST youth of the surrounding bustees. Yoga is a art of relaxing the body and mind. Youth of these bustees are into all sorts of addiction and anti-social activities. Yoga would help them to re-think and rediscover their strength and abilities.
Volleyball coaching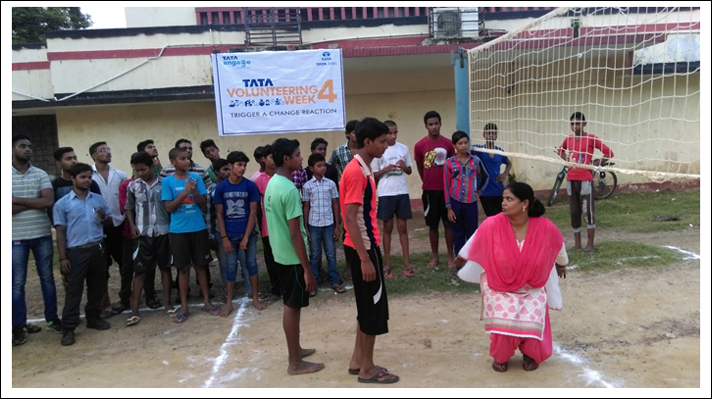 A special coaching session in new techniques of Volleyball was undertaken by an employee. She taught the young aspirants on how to use the new methods and also gave tips of new scoring areas.
A healthy body has a healthy mind. Going by this common cliché a new way to keep fit is being implemented by CSR for CSR staff. Four teams comprising of members from all age groups, sex, caste, creed etc. will compete against each other in different sports activity with the rules of the sports bent a bit to encourage participation of all. The uniqueness of the competition is that it is a pure voluntary activity as no professional officials would be officiating the matches. It will be managed by volunteers. The event was kicked off by a Volleyball Championship between the four teams.
Weightlifting coaching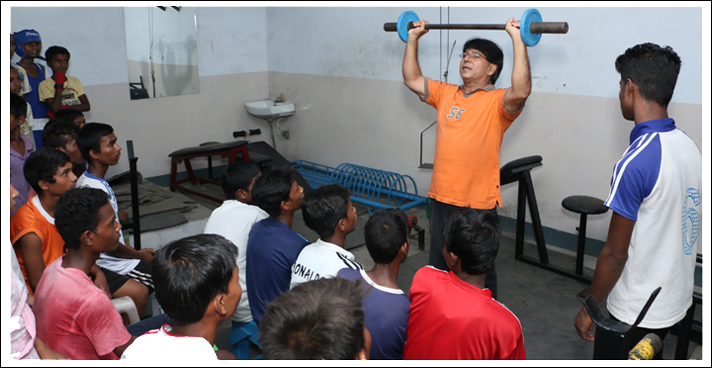 A special coaching session in new techniques of Weightlifting was undertaken at Namda Centre. An employee took the session and gave tips on proper use of weights.
Boxing coaching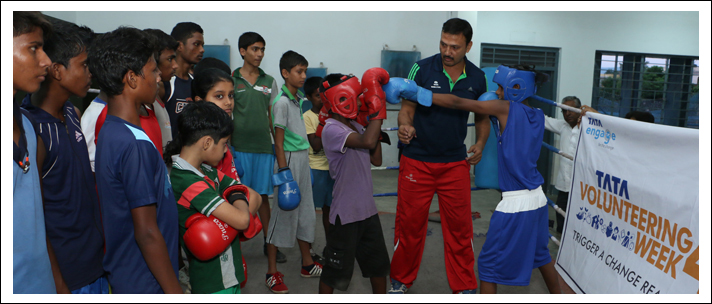 A special boxing coaching session was organised for boxing trainees of Namda Centre. Mr. Ajit Kr. Singh, ex-international boxer volunteered his time and skill to teach the young children.
Awareness on dengue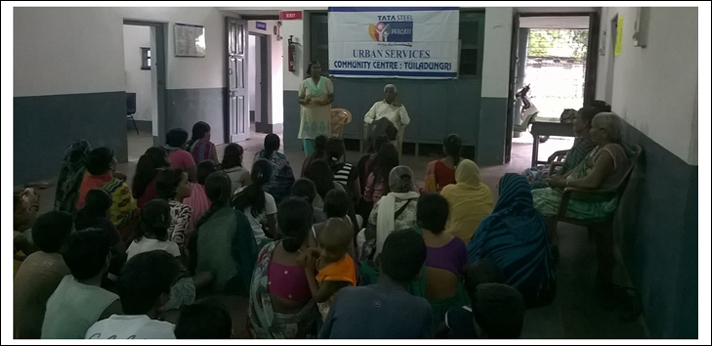 An awareness session on Dengue was conducted at Tuiladungri centre for the community. Dengue has become a serious health issue in India and doctors of Tata Steel are volunteering for generating awareness on the same.
Awareness on fire safety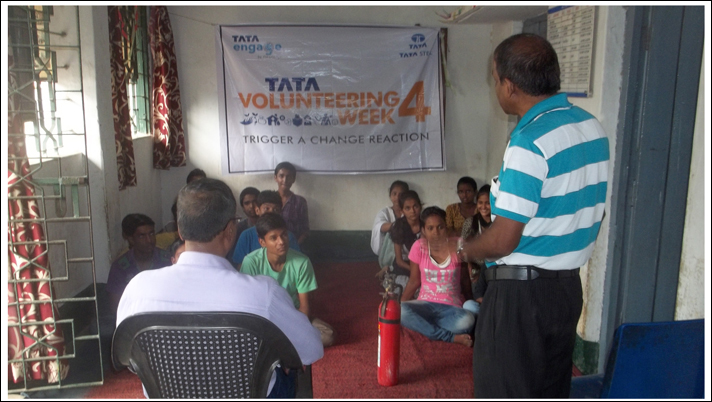 A set of rules prescribing minimum requirements to prevent fire and explosion hazards arising from storage, handling, or use of dangerous materials, or from other specific hazardous conditions, was explained. Ex-employee of Tata Steel took the session and gave tips on fire safety.
Visit to a school

Going forward with the TVW4 activities (5th September to 7th October,2015) a team of employees from SNTI, Tata Steel visited Primary School, Danger Tola, Boram Block on 19th September. The School has 43 students all of whom are SC/ST.
The idea was to spend one whole day with these underprivileged children of community, share some lighter moments, and try and help them through Volunteerism.
At the start of program the school children welcomed all volunteers with their gleaming smiles and warm heart. The Head, Planning & Infrastructure Capability Development (SNTI) and all others employees of Capability Development interacted with the children with a smile on their face and shared a few light moments with them. The volunteers collectively brought items like pen, pencil box, crayons, notebook, biscuit, durry, football etc. which were distributed amongst the children for healthy engagement. Each Child was provided a School Bag. All children were equally surprised and contented after receiving the gifts.
The six hours spent with the children was indeed filled with awe, excitement and interest amongst the volunteers. Volunteers also ensured their continuous presence in the school to help these children.
Visit to Cheshire Home

The employees of Blast Furnaces Department, Tata Steel, have been closely associated with R.P. Patel Cheshire Home, Residential care for girls with severe multiple disabilities (Jamshedpur). The chief interacted with the girls and shared a few light moments with them. He gave some chocolates and Dairy Milk to girls. Senior colleagues of Urban Services and all others employees of H Blast Furnace interacted with the children with a smile on their face and shared a few light moments with them. The volunteers collectively brought all grocery items like rice, wheat flour, Sunflower oil, Dal, sugar & Tea packets etc. All girls were equally surprised and contented after receiving the gifts.
The day ended with some joyful moments like singing and dancing of volunteers with all disable girls, which was full of learning, wonder & fun with each other. The Volunteers as always, were full of admiration for the girls, who against all odds are joyful, energetic and looking ahead for a better life. With this visit the Volunteers resolved to continue their support to the girls and grab every chance to spend time with them.
Free medical checkup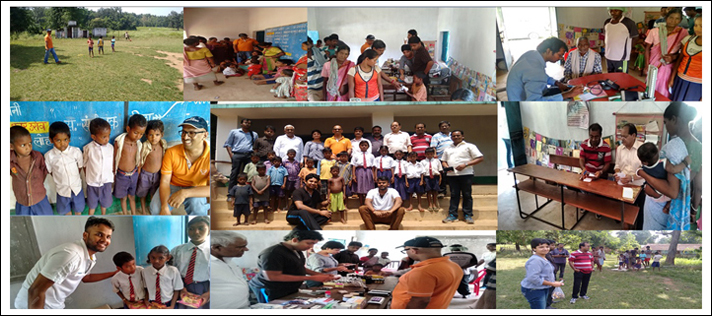 Employees of OMQ Division organised a Free Medical Health Check-up camp at Padapahar village. Around 110 patients were treated and given free medicines. The volunteers also interacted with the school children and distributed candies and chocolates. Lunch for all was served by the volunteers.
Donation of food

Going forward with the TVW4 activities (5th September to 7th October,2015) a team of employees from Corporate Audit, Tata Steel visited (Residential) Middle School, Lakhaidih Dumuria, Block on 19th September. The School has 140 students all of whom are SC/ST.
The idea was to spend one whole day with these underprivileged children of community, share some lighter moments, and try and help them through Volunteerism. The programme started with the anthem song and after anthem volunteers from Corporate audit distributed the breakfast to children. The volunteers collectively donated items like food items, Plastic mats, Sports items, Mosquito nets.
Training on stitching and cutting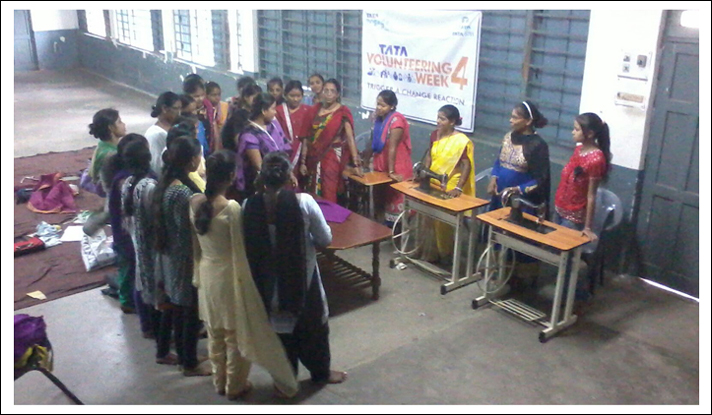 Under Tata Engage Week 4 Women Empowerment training on Stitching & Cutting given by Mrs. Rashmi Kumar, a family member of an employee of the CRM department. Training given to impart necessary knowledge & skill to the trainees in the trade so that they become employable as stitching machine operators/cutters/pattern making helper in the Garment making industry or tailoring establishments.
Pre Matric Coaching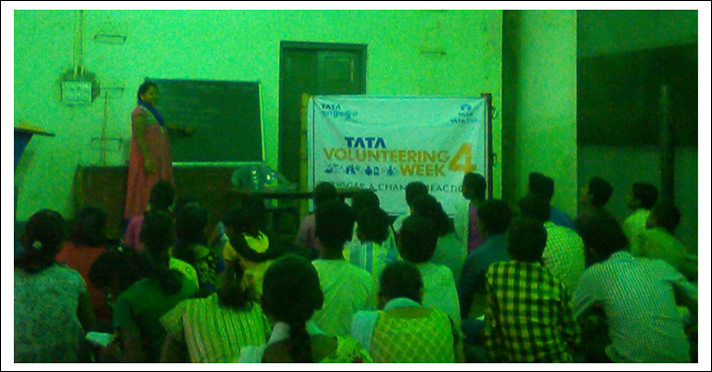 Under Tata Engage Week 4 Pre Matric coaching provided by Mrs. Nandita Marandi a family member of an employee of the Urban Services.
Needs assessment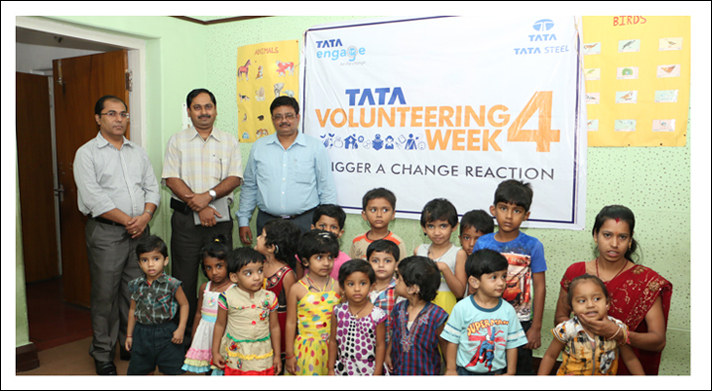 Centre for Hearing Impaired Children (CHIC) is a social organisation working towards mainstreaming hearing impaired children. They teach young children how to communicate with their disabilities. A team from Intelligence visited the school and did a need assessment.
Spiritual session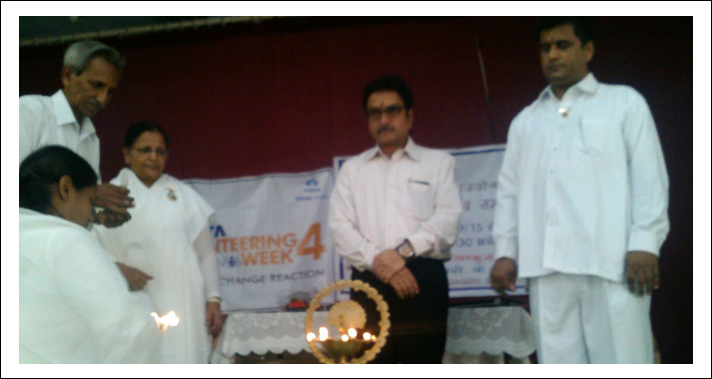 A spiritual session for the community was organised in association with Brahmakumaris. They practise and teach a form of meditation that relaxes the mind and nurtures a healthy balance between our inner and outer worlds. The participants benefitted immensely.
Sports talk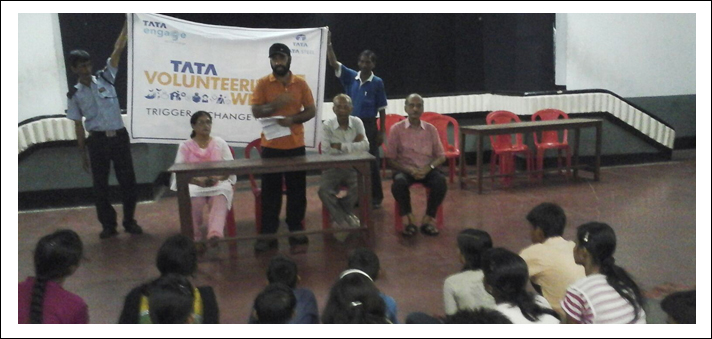 A sports talk for budding sportspersons was organised at Sonari Community Centre. The volunteer gave various motivational examples and advised all the young children not to lose hope and stay focussed. Winning is all about hard work and patience. The young kids were very satisfied and looked determined to do well for themselves and the country.
Security training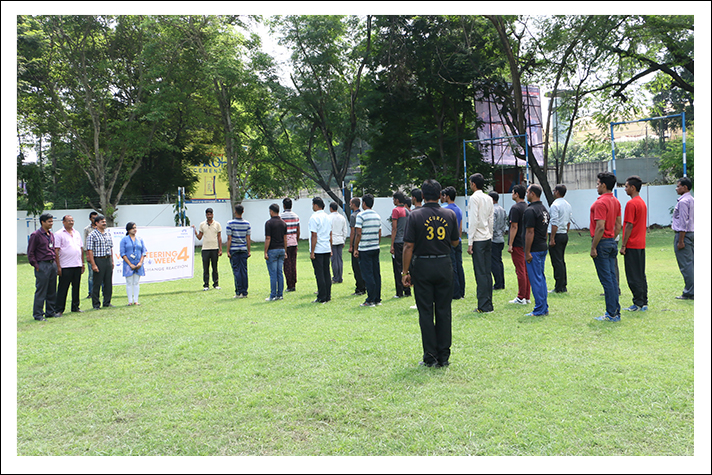 With the demand for jobs increasing day by day, knowledge of different options of livelihood available is very important especially for the community youth who are not very professionally qualified. Towards this an awareness cum short training session was organised for community youth at the Security Training Centre. Employees of Security Dept. trained the participants and also explained the responsibility.
Tata Metalliks
West Bengal
Medical health Check-up Camp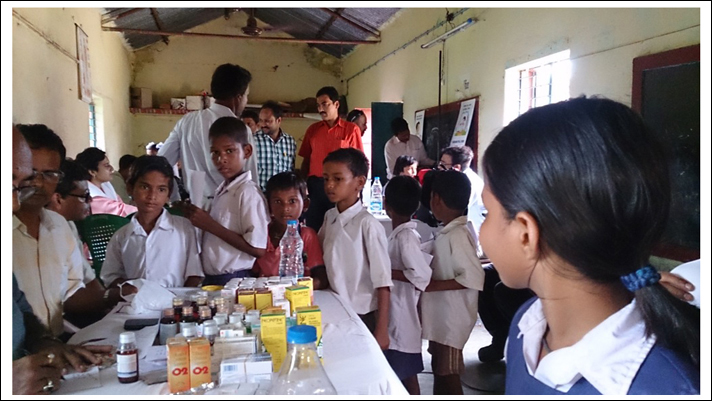 A medical health check up camp was set up at Maheshpur Primary School at Kharagpur , Dist : Paschim Mednapur, West Bengal on 16th September. 89 students of School were examined by a panel of Doctors and were also provided medicines. Tata Metaliks always takes care of the health of children in schools as well as the villagers of the community. 26 employee volunteers actively participated in this programme to support the doctors.