| | | | |
| --- | --- | --- | --- |
| | | Celebrating teacher's day in community schools | JUSCO Limited |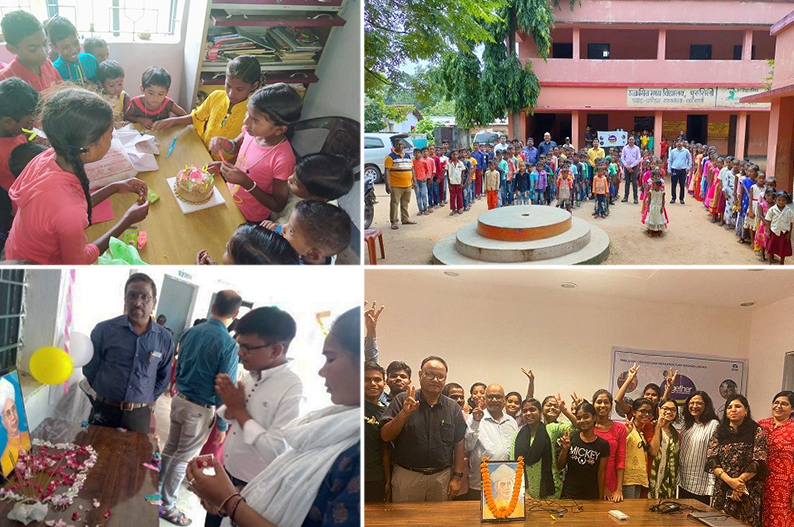 Volunteers from JUSCO Ltd celebrated teacher's day with children from the communities. From helping the students to organize a function to participating along with them with great zeal and enthusiasm, JUCSO employees from various team left no stone unturned to make the special day, even more special. The centres visited by the volunteers were, Parbatipur Academic Centre, Middle School Pudisili and PPP Model School, UHS Dugni. Additionally, the volunteers also engaged with students from the third batch of 'Super 20' to celebrate Teacher's Day. Super 20 is a CSR initiative that tutors 20 underprivileged kids, aspiring to appear for competitive entrance exams.
| | | | |
| --- | --- | --- | --- |
| | | Inaugurating a mobile clinic at Okhamandal | Tata Chemicals, Mithapur, Gujarat |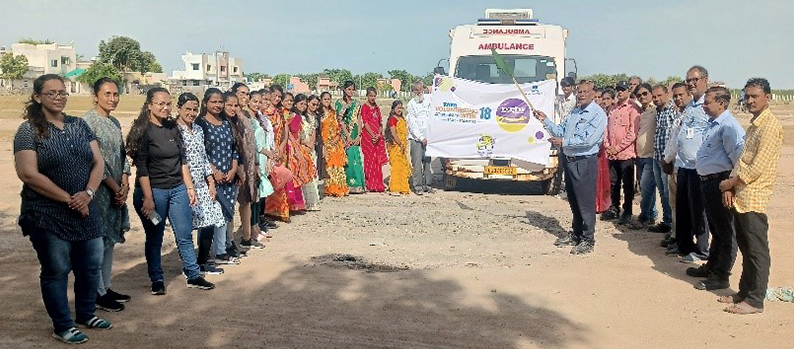 Tata Chemical volunteers from TCSRD, CSR/CD teams, flagged off the launch of a mobile clinic with the support of Mithapur Hospital. With a doctor and a supporting medical team, the van will provide primary medical care to the residents around the villages of Okhamandal. Retired Tata Chemical colleagues also joined to volunteer and make the launch of the medical van, a success.
| | | | |
| --- | --- | --- | --- |
| | | Blood Donation Drive | |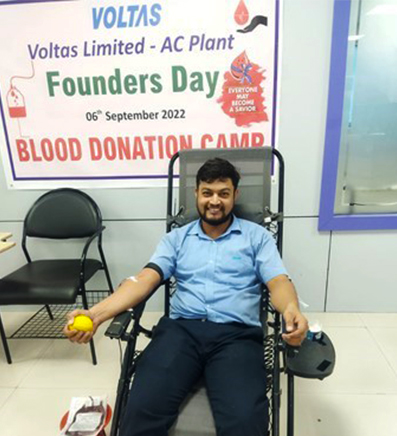 Voltas Limited
The team of Voltas Ltd organized a blood donation camp along with Jawahar Lal Nehru District Hospital and Indian Red Cross Society. All the volunteers of the HR & Safety team along with teams from Hospital, blood bank and Red Cross Society effectively managed the drive. Necessary safety and COVID protocols were followed, and a thorough check up of the donor was done prior to donating blood. Total of 86 volunteers including senior members from the teams participated in the drive. All donors by were provided with cards and certificates from the blood bank & Red Cross Society as a token of appreciation. The donor card provided to them not just helps them but also their families, to avail blood in a time of need at any health centre.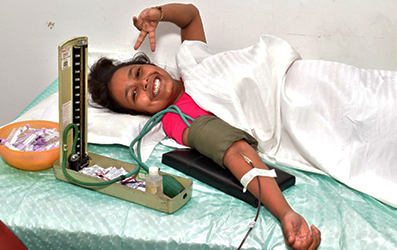 Tata Steel Long Products
Launching TVW 18 and to mark the International Day Of Charity, TSLP along with HDFC Bank and Lions Club of Adityapur Greater, organized a blood donation camp, 'Ye Khoon Tere Liye'. 223 volunteers of Gamharia signed up at the camp and a total of 172 units of blood was collected. The leading volunteers were recognized and awarded by Mr Mukesh Agarwal, Chief People Officer, TSLP.
| | | | |
| --- | --- | --- | --- |
| | | Talent search camp | Tata Steel Long Products |

The volunteers of TSLP along with the education department, organized a talent search camp at Joda. This camp aimed to support and encourage students to keep up their academic performance. The students were felicitated for their academic excellence.
| | | | |
| --- | --- | --- | --- |
| | | Farmer's Training on Improved Agricultural & Allied Practices | Tata Steel Long Products |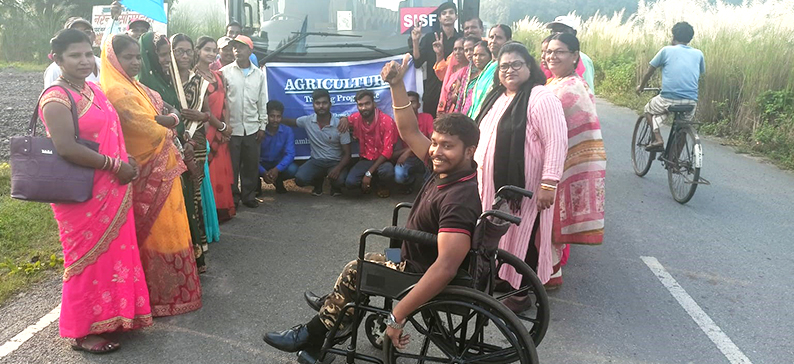 Thirty farmers from four periphery villages of Gamharia were selected by the newly formed Farmers Producer Organisation (FPO) for an intensive 5-days training. The training was based on improved Agricultural and Allied Practices at the State Institute of Rural Development (SIRD), Ranchi. A field visit has also been planned for the farmers to learn the best practices from fellow farmers. Subject matter specialists have commenced the training basis the modules. A team of volunteers actively participated in organizing the training and the field visit.
| | | | |
| --- | --- | --- | --- |
| | | Visit to a Primary School | Tata Steel |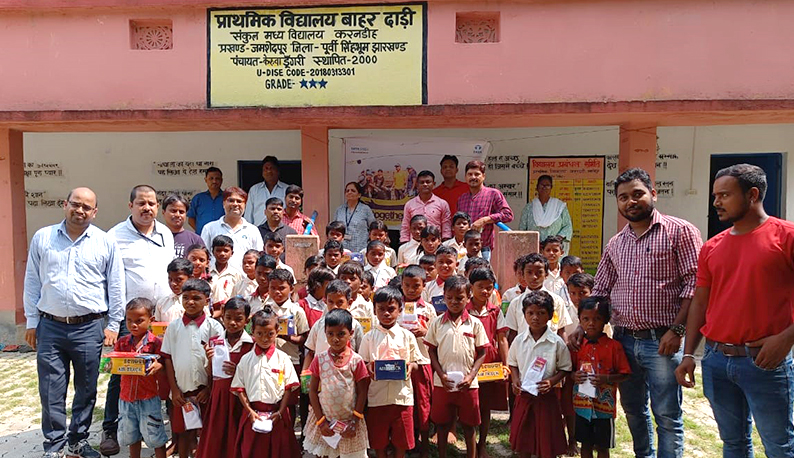 Volunteers of the Pellet Plant visited a primary school that has been adopted by the Plant in Jamshedpur. The volunteers interacted with over 40 children of the school, taught them the importance of education and encouraged them to attend school regularly. New set of shoes were also presented to all the students.
| | | | |
| --- | --- | --- | --- |
| | | Dental Camp for children | Tata Steel |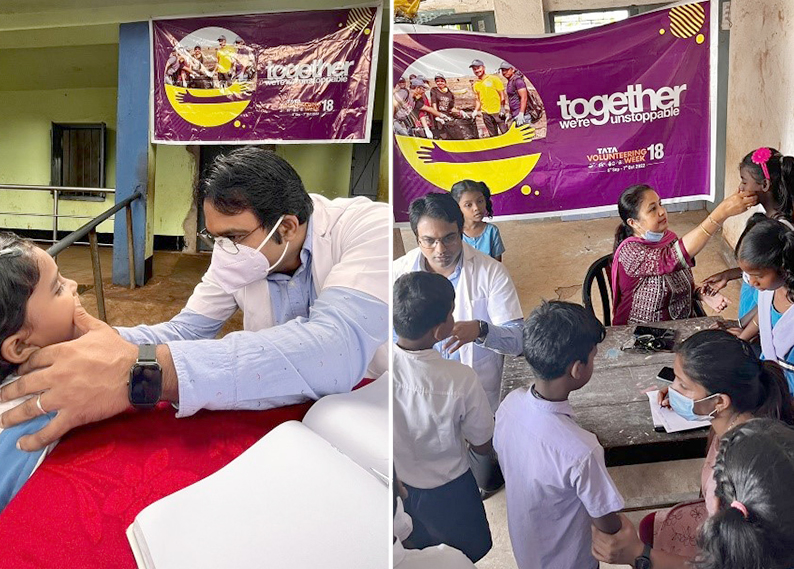 A health camp was organized in 3 schools to examine the dental health of the students and recommend treatment post further evaluation. The 3 schools that help the camps were

- Residential Bridge Girls School, Joda where 124 girls were examined, out of which 13 were identified for further evaluation.
- Joda Hindi Medium School - 145 students were examined, out of which 40 were identified for further dental treatment.
- Joda East Primary and UP School - 35 out the 145 students assessed, will be taken for further diagnosis and dental treatment.
| | | | |
| --- | --- | --- | --- |
| | | Road Safety Awareness | Tata Steel |
The volunteers of Tata Steel along with the students of the Tata DAV Public School, performed a skit on the theme of road safety awareness. This skit was performed for residents and patients of a Hospital, NRD office and the JCO office in Joda. This helped generate awareness among the communities by highlighting various traffic rules and consequences that one has to face if not followed.
| | | | |
| --- | --- | --- | --- |
| | | Tree Plantation Drive | |
What better way to bring together hundreds of volunteers than a tree plantation drive!
To mark the launch of TVW 18, various Tata companies organized plantation drives for their employees. With the aim to contribute towards a greener tomorrow, volunteers along with their families planted a range of saplings across regions including schools and surrounding areas of Tata office locations.
| | |
| --- | --- |
| | |
| Tree Plantation Drive at the Stewart School, Sukinda by JUSCO Limited – 18 saplings | Tree Plantation Drive at Joda by Tata Steel Long Products - Over 100 saplings planted by the volunteers |
| | |
| Environmental awareness session and tree plantation drive at Bagbandi village by Tata Metaliks Limited – A session was conducted for the women learners of the Adult Literacy Project and Self-Help Groups to educate them about the right way to plant and care for trees. | Tree Plantation Drive by Tata Chemicals, Mithapur, Gujarat – 25 different kinds of saplings |
| | | |
| --- | --- | --- |
| | *This update covers only some of the activities undertaken by companies. | |